Letters from Lodi
An insightful and objective look at viticulture and winemaking from the Lodi
Appellation and the growers and vintners behind these crafts. Told from the
perspective of multi-award winning wine journalist, Randy Caparoso.

July 13, 2021 | Randy Caparoso
Guantonios Wood Fired is revolutionizing the way we look at Lodi wines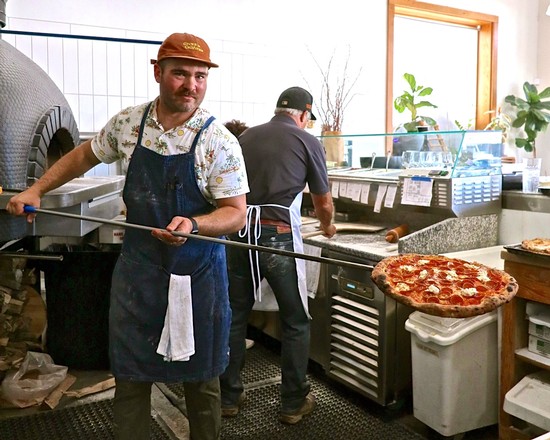 The first thing to know about Guantonios Wood Fired is that they are more than a little (60-seat), family-owned, wood oven pizza restaurant. The Lodi locals who have already been enjoying their offerings since opening during the pandemic in the spring of last year have also come to know these three things:
• Besides a dozen different pizzas, Guantonios offers at least half-a-dozen salad style dishes made from locally grown, seasonal ingredients. But these are no ordinary salads. These are salads that are as striking in their originality as their freshness, and just plain deliciousness.
• The pizzas themselves are also a cut above in terms of tangibly real, farm-fresh qualities. The Guantonios dough, as their website explains, is hand mixed and naturally leavened, using organic, non-GMO flour — differences anyone can taste, they're that clear-cut.
• Guantonios is also a wine destination, but not in the way you might expect.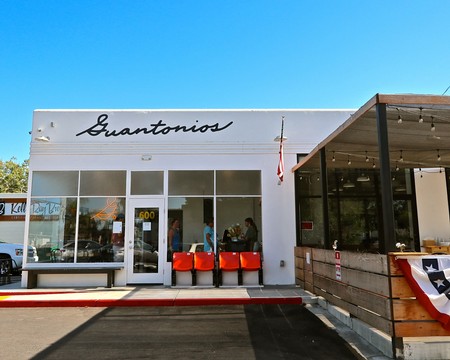 Regarding the third factor: Because of the recent loosening of the normal restrictions on restaurant sales (restrictions that may change at any time), Guantonios has been able to sell wine as a normal retail shop as well. The beauty of this is that Guantonios' retail pricing has also been applicable to the purchase of wines served in the restaurant as well.
As everyone knows, restaurant wine prices are typically more than twice the price of wines sold in most retail stores. Why? For the simple reason that restaurants are much higher cost, and far more labor-intensive, operations than retail stores. Of course, you pay more for wine in a restaurant than in a retail store, for the exact same reason you pay a lot more for chicken or pizza in a restaurant than you would in a supermarket.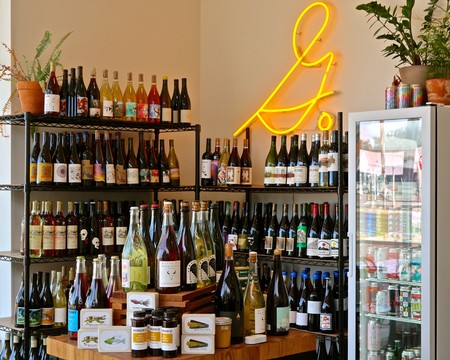 But one of the quirks of the pandemic (which we are all still going through, mask or not!) is that Guantonios opened its doors last year as a retail business, doing take-out food and wine. Only now, it is also a restaurant like it was always supposed to be. You can sit down inside near the open kitchen or outside on their patio, watching the entire Guantone family rolling the pizza dough, popping pies in the brick oven, whipping up salads, and serving up hospitality (the Guantone sisters also work the floor) from the comfort of restaurant tables and chairs. The wine prices, however, have not changed. You can sip wine in Guantonios for prices that are no different than a retail store!
All the same, like the cuisine served at Guantonios, we are not talking about the usual wines, found in any store or restaurant. Certainly not a "pizza" eatery, where you ordinarily expect the worse when it comes to wine.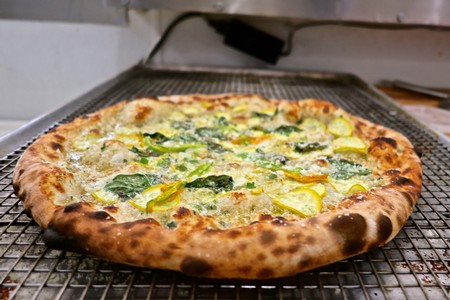 Guantonios' wine program is as specialized as its food: focused exclusively on wines that are handcrafted, virtually all of them native yeast fermented, and falling into styles that could be described as very contemporary in the sense of being very light, higher in acidity, softer in tannin and minimally oaked (in the case of red wines), and very food-versatile. The styles, in fact, are associated with the "cool" or cutting-edge wines of today. None of them would be considered conventional, but for Guantonios chef/founder Nick Guantone, who is in partnership with his parents/owners Nicholas and Shelly Guantone, this is a good thing.
Chef Guantone uses the "a" word — authenticity — to describe his wine selections. As he puts it:
Authenticity is being true to where you're at, what you're doing, and what's in your heart. Lodi really doesn't need another pizza restaurant, but I felt there was a gap missing in terms of high-quality food made from scratch. A menu is driven by talking to farmers, and seeing what they have that's current. If we weren't in one of the best agricultural regions in the world, I don't know if there'd be a Guantonios.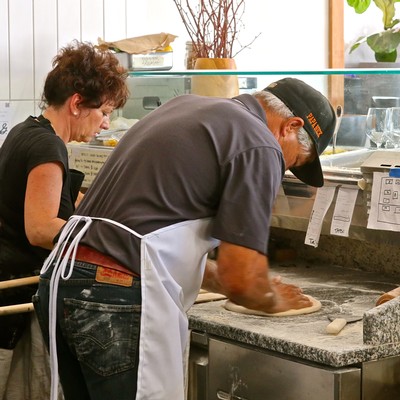 It's the same thing with wine. Not too many regions have what Lodi has — growing over 100 different grapes, which can make very diverse styles of wines that can go with any number of foods. That's authenticity — drawing produce and wines right from our own backyard. Remaining true to ingredients, and looking for wines that express the same true qualities.
Guantone did not come up with this overall concept after falling and hitting his head on a sidewalk one day, or from waking up from an "eureka!" dream. This came about after some 16 years working in Bay Area restaurant kitchens (one of them, a sister restaurant of Chez Panisse), chopping animals as a butcher, and (most recently) working in sales for a cattle meat company out of the Midwest, for which he has been traveling up and down the entire West Coast. "My inspirations came from talking to a lot of chefs and people in restaurants," says Guantone, "looking at wine bars and wine shops in Portland or Seattle, and picking the thoughts of a lot of professionals in the industry."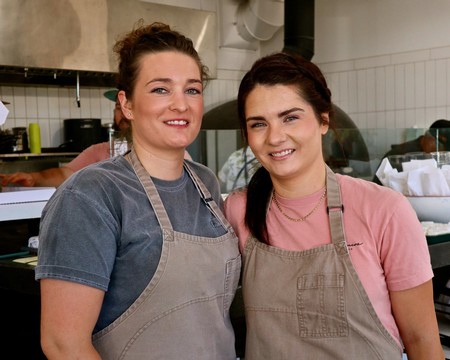 One of the other things the Chef noticed along the way was this: "There are a number of winemakers making natural-style wines from Lodi grapes." He tells this story:
I was in Austin once, and a server poured me an orange wine [i.e., a wine with a rusty orange tint derived from fermenting white wine grapes on the skins, the same way red wines are normally fermented] made from Pinot Gris. I'd never had anything like that before. It was fun and exciting. Not only that, the grapes came from Lodi. I asked myself, "How do I find a wine like this for my own restaurant?"
Things quickly came together last spring, when Chef Guantone started putting his menus together, and then went through the process of putting together his wine list with the same eye for freshness, and a striking uniqueness, as he was doing with the ingredients going into his dishes.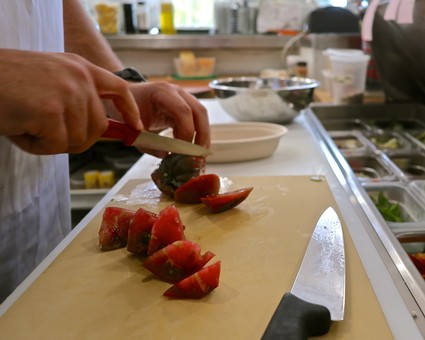 To begin with, Guantone offers three wines by the glass, two of them poured out of 5-gallon kegs and selling for $8/glass. One of the kegged wines is a 2020 Grenache Blanc/Viognier blend made exclusively for Guantonios by Lodi's Acquiesce Winery & Vineyards. It is bone dry, refreshingly crisp, and light as a feather — vinified without oak and as sophisticated as any white wine, yet ideal as a straightforward summer sipper.
Guantone's red wine by the glass is also made exclusively for Guantonios: the 2018 Bodega Lodi Red, a blend of Lodi-grown Zinfandel and Syrah selling for $8/glass and just $20/bottle. Guantone describes the red as "straightforward and approachable... hitting the mark in its food-friendliness and seasonality, just like our house white."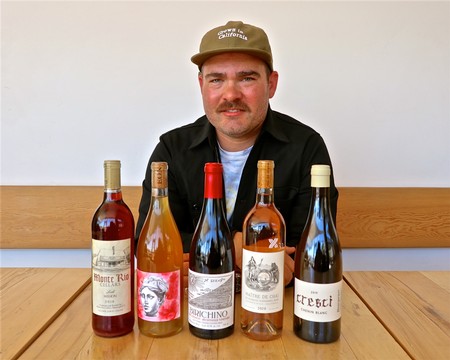 When I asked Guantone exactly what sensory qualities make his house wines "food-friendly" and "seasonal," he explained:
The Bodega Lodi Red, which is made for us by Haarmeyer Wine Cellars in Sacramento, is what I would describe as a lower extraction, lower alcohol style red wine. It has very good acidity, in a positive way, and is meant to be fresh and light rather than big and heavy. That's what makes it ideal for the season we're in right now. The other advantage of this style of wine is that it compliments the lighter-style dishes on our current menu, without overpowering any of them. The native yeast fermentation which makes it so different matches what we do with our pizzas — for instance, our naturally risen pizza dough, our house-made hot sauce, or the way we make our own pickles.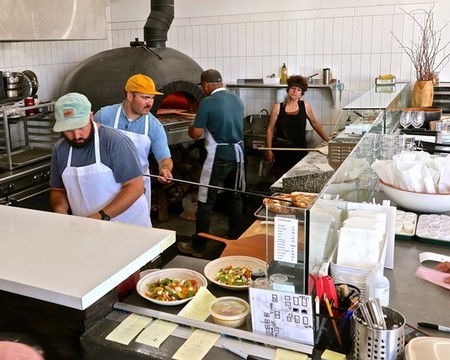 Elaborating on the same theme, Guantone picked out a few bottles from his wine shop shelf that are both seasonal and ideal for his cuisine. The wines, along with their restaurant price followed by the Chef's comments:
2019 Monte Rio, Lodi Mission ($28) — There is a really cool, Italian aperitivo quality, like a Negroni made with blood orange. It's a very light red wine, just 12% alcohol, and fits all the qualities we like as a wine that can go in any direction — something that is great with our Ezzo Pepperoni Pizza, but also most of our white pizzas, made with crema rather than red tomato sauces. I'd enjoy it with our Goldy Pizza, made with Goldmine squash, basil, garlic scapes, spring onion, ricotta, and spring crema; or our Bianco Pizza, with roasted fennel, walnuts, and red onion.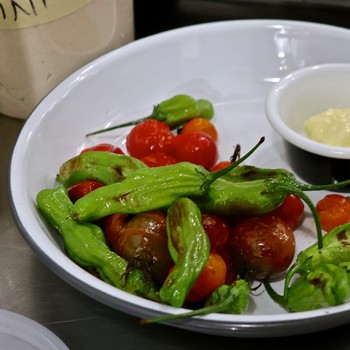 2020 The End of Nowhere, Lodi ($34) — This is a white wine made from Lodi-grown Verdelho by Chris Walsh up in the Foothills. It is skin fermented in a tank, and aged a short time in neutral French oak. At just 11.4% alcohol, it showcases Lodi fruit in its own way, yet is no higher in acidity than most white wines. Its flavor, though, is like a ripe melon, but I think the skin contact fermentation gives it an element that is like over-steeped tea. Like the Monte Rio Mission, if you had tasted blind, you would think it was made in Italy by some old-school winery, but it comes from Lodi and is the opposite of the big, brooding wines normally associated with Lodi. This is a beautiful wine with our Badger Flame Beets salad, which has apricots, snap peas, and cotija cheese, especially because it holds up to the spice in the salad's cream poblano spread. At the same time, the wine has enough guts to go with our Pepp Deluxe Pizza, which has pepperoni and a little bit of red tomato sauce, some Mama Lil's peppers, and our house-made hoagy sauce, made with olives, peppers, pickled peppers, and capers.
2019 BIRICHINO, Bechthold Vineyard, Lodi Cinsaut ($30) — It's not the same, but Cinsaut from this vineyard is not unlike lighter Italian reds made from Sangiovese, like Chiantis. Both the alcohol and the tannin level are very low, which makes the wine very food-friendly and versatile. This is exactly the kind of wine we like to showcase. It represents what we do at Guantonios — we're not the kind of restaurant where you come for super-oaky, 15% alcohol Cabernet Sauvignon. Obviously, because we don't offer meat, despite my background butchering and selling protein products. If we stand for fresh salads and pizzas, we want to be known for wines that go great with that.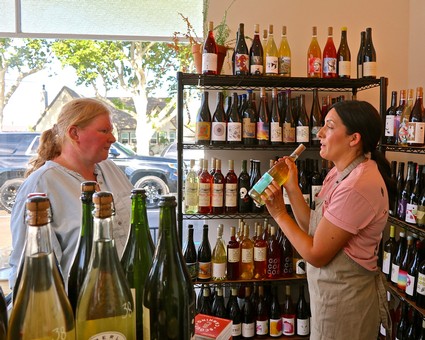 2019 Cresci, Palmero Family Vineyard, Borden Ranch-Lodi Chenin Blanc ($36) — The winemaker Craig Haarmeyer is known for his Chenin, and I actually helped him pick this vintage. Craig takes a different approach. It's very French; the wine sees some neutral oak, but avoids the oxidative qualities from the wood aging, tasting very crisp and dry. At the same time, there is a tiny bit of a "Chardonnay" feel. This Chenin blanc comes in handy because we do not offer big, oaky, buttery Chardonnays; at the same time, we get some ladies who occasionally ask for a buttery Chardonnay. Since this wine has just a touch of that oak quality, without having too much acidity, we can recommend this instead. More times than not, people are surprised by the wine, but happy with it.
2020 Maître de Chai, Stampede Vineyard, Clements Hills-Lodi Zinfandel Rosé ($32) — When I first started seeing these Zinfandels from this vineyard at wine shows I attended, while doing research to open this restaurant, I felt a lot of pride and excitement because I grew up right around the corner from this property in Clements. Besides the winery itself, I believe we are the only restaurant that offers this rosé, thanks to the relationship we have with the vineyard owner, Jeff Perlegos 2020 was their first vintage producing this dry, extremely approachable, and food-friendly wine. It has the fresh strawberry characteristics common to pink wines made from Zinfandel.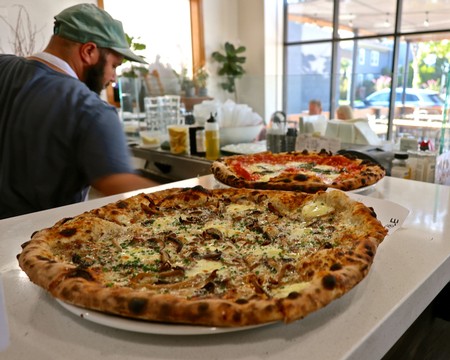 Mushroom pizza with roasted mushroom crema and oyster, shiitake, and crimini mushrooms
Our own recommendation with the ultra-dry Maître de Chai Zinfandel Rosé? Try out Guantonios' Whole Roasted Atlas Carrots with carrot harissa (i.e., chile sauce) and yogurt (even if you "hate carrots," you'll love this salad's sweet/spicy, succulent taste), or their enormously popular Porchetta Pizza topped by house-made porchetta (slow-roasted pig), burned onion cream, fresh mozzarella, and arugula.
Getting hungry... or thirsty? Guantonios Wood Fired is open Wednesdays through Saturdays from 5 PM (to 8 PM Wednesday/Thursday and to 9 PM Friday/Saturday). It is best to put in pre-order/to-go orders on Wednesdays through Saturdays from 10 AM to 2 PM. Enjoy!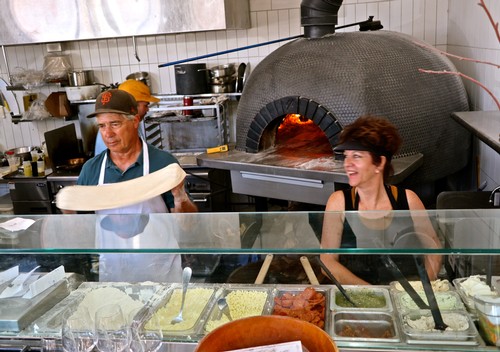 Comments