Letters from Lodi
An insightful and objective look at viticulture and winemaking from the Lodi
Appellation and the growers and vintners behind these crafts. Told from the
perspective of multi-award winning wine journalist, Randy Caparoso.

July 20, 2018 | Randy Caparoso
Grass Valley's Sierra Starr excels in Lodi Chardonnay (and conversation with Harney Lane's Kyle Lerner)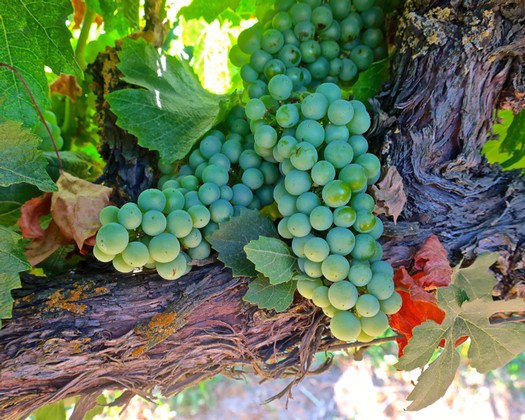 In a conversation this past week, Harney Lane Winery & Vineyards owner/grower Kyle Lerner lamented the challenge of being a Chardonnay lover these days. Says Lerner: "You go to a grocery store to pick out a bottle, and never know what you're going to get. It could be a light, lean, stainless steel style of Chardonnay, or it could be a big, fat, fruity, butter bomb style."
There is nothing, however, that Lerner likes more than a challenge. And so for his own bottlings of Harney Lane Chardonnay, he (with his vaunted winemaker, Chad Joseph) endeavors to produce a wine with, literally, "everything" in it. Explains Lerner: "We take the traditional approach – 100% barrel fermented, a touch of oak, sur lies aging (i.e. contact with spent yeast cells) and partial malolactic fermentation (i.e. conversion of sharper malic acid to softer lactic acid) – but it still has the acid and fresh fruit components that satisfy consumers that prefer a crisper, balanced style."
Judging from the results, it's been working for them: The 2016 Harney Lane Chardonnay sold out in less than six months; and it may be another five or six months before Harney Lane Chardonnay lovers are able to buy the winery's 2017 vintage (bottled just last week).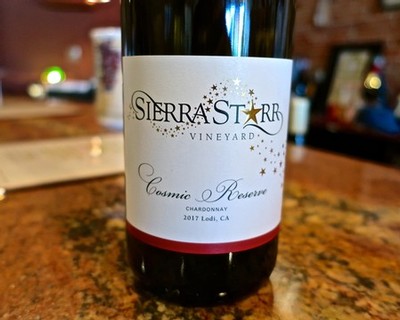 Last year (2017) about this time, Jackson Starr – the winemaker/vineyard manager of Sierra Starr Vineyard & Winery, located in Grass Valley (a relatively postage stamp sized Nevada County, CA wine region, northeast of Sacramento) – paid a visit to Lodi wine country specifically in search of Chardonnay fruit.
According to Starr: "I came down with my mother (Anne Starr, who co-owns the winery with Phil Starr), who was already very familiar with Lodi – she grew up there, attending St. Anne's and Tokay High. We were looking for Chardonnay in particular because we had had heard good things about what's happening in Lodi. Plus, we had just lost our own source of Foothills Chardonnay – something we had done very well with, earning a gold, a double gold and 'best of region' with our two previous vintages.
"In Lodi we met Kyle Lerner at Harney Lane. We looked at their Chardonnay vines, and were very impressed by their 2016 Harney Lane Chardonnay, which is done in a rich, barrel fermented style, similar to what our customers demand from us. So it seemed like a good stylistic match for both us." And so a deal was struck for some Harney Lane grown Chardonnay fruit to be sent up to Grass Valley.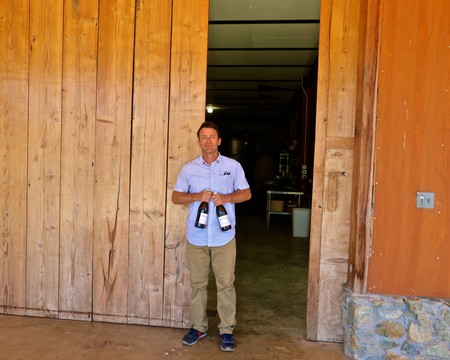 Continues Starr: "The Chardonnay load arrived just after Labor Day (September 4, 2017), in the middle of a heat wave. The sugars may have been higher than we expected, but the fruit was beautiful. It allowed us to produce what I consider an epitome of 'new' California style Chardonnay – very fresh and bright, with tropical fruit qualities."
As it turns out, the 2017 Sierra Starr Vineyard, Cosmic Reserve Lodi Chardonnay ($22) is an unabashedly opulent style of Chardonnay; sweet toned, downright lavish in its nose of honeyed, flowery, tropical fruit tones; yet crisply balanced in its full body (a svelte feeling 14% alcohol), with a silky texture and crisp acid edges.
Clearly proud of the results, Starr told us: "I like to think that we've developed our own techniques to produce our idea of ideal Chardonnay. We want it to be creamy, but not quite buttery; and so we barrel ferment in French oak (20% new barrels), and go 'big' on the lees (i.e. sur lies) by giving the wine a full bâttonage (i.e. "stirring") – only, by gently rolling the barrels rather than opening them up to actually stir. To further enhance the rich, sumptuous qualities we get from that, we filter only about 20% of the wine."
Kyle Lerner talks the talk
Continuing our conversation with Kyle Lerner – who co-owns and operates both Harney Lane Winery (with his wife Jorja and mother-in-law Kathleen Mettler) as well as Mettler & Son, the family's farming operation (focused primarily on wine grapes and cherries) – we gained quite a bit of insight on the state of Lodi winegrowing today.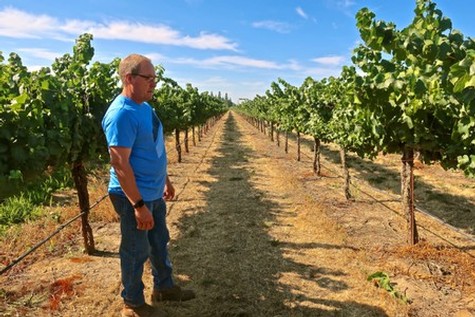 As Lerner tells us:
We farm about 550 acres, which we either own, lease or manage. About 10% of that goes into our own Harney Lane Winery production, which continues to grow each year.
About 80% of what we grow goes to wineries outside the area, to about 10 or 12 wineries. I can grow to any price range necessary. If a winery wants to pay a commodity price, we grow commodity grapes. But we have the ability to ramp things up. We've always grown grapes for premium quality wines; including, of course, for ourselves. Commodity grapes are not as challenging, and so we always look for opportunities to work on the premium side of things. It's always more challenging to work with wineries with demanding standards; who give us very specific grape growing parameters.
With Primitivo, for instance, I can easily put out 10 tons per acre, but is that challenging? I would rather farm my Primitivo like we do our old vine Zinfandel, and go for the highest quality possible. Yet there is still some old vine Zinfandel out there up for grabs – so you ask, why is that?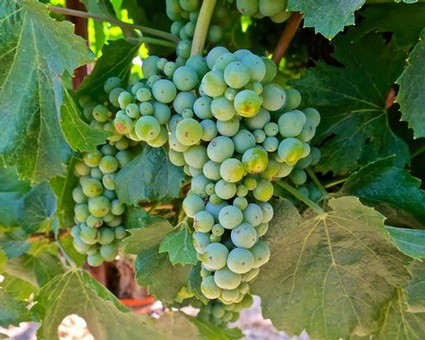 Demand for old vine Zinfandel is down because the market is teetering precariously; maybe like it always was – going in and out of balance, one day to the next. But sometimes the market forces get totally out of control. Right now, Lodi Zinfandel is like Cabernet Sauvignon was in the 1990s – something some growers can't seem to give away.
Everyone's experience is different. From my perspective, Zinfandel is caught up in a weird sort of vortex. A few years ago we transitioned from being a White Zinfandel region to a red Zinfandel region; which happened when Lodi got priced out of the White Zinfandel market. We expected a little burp in the market, but a slight surge in the sweet red wine blend market prevented that from happening.
But then 2012 hit, grape prices went up, and Zinfandel prices got too high for many of the commodity buyers. And so they backed away from it and turned to some of the new grape varieties being planted, which left us in the situation we see today, where demand is way down. Now there's a big hole.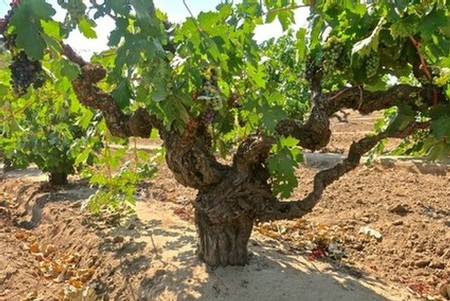 We own a winery, but I see things from a grower's side first. We're not a family with just one foot in the farming business. It's our life and livelihood, and has been for five generations. But we ended up building Harney Lane Winery precisely because of these constant market swings. The best-case scenario is being able to take everything we grow and turn it into Harney Lane wines, but that's not our reality.
In the end, our best approach is to protect our reputation as growers. That's why we're careful about who we sell to – we don't sell to just any winery. I can sell commodity level grapes all day to big wineries, but that's not my preference. It's certainly not going to get us to where we want to be as growers.
The great thing about Lodi is that there are a lot of people interested in what's going on in the region right now. We have more and more people coming out to meet us just to learn what we've been doing – to find out what they've been hearing so much about. Other wine regions are really starting to take notice. I was just recently in Napa Valley, where I met with a few of their top growers. They were talking shop when the conversation came around to what I was doing, and I said the word "Lodi." This sparked another half-hour conversation just about Lodi because everyone wanted to hear about what's going on here – for growers in other regions, not so much as competition, but for the opportunity to learn more.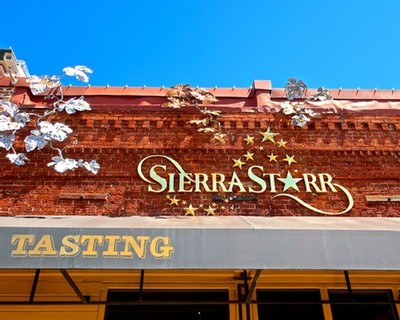 It's the same thing with the Starrs, who came down from Grass Valley last year because they heard we were doing some cool stuff. So we sold them some of our Chardonnay, and their reaction has been, "This is really good stuff – we need more of it!"
Lodi is really moving forward, which doesn't mean we can automatically double prices and give wineries the exact same things we gave them before. To really keep things moving, we need to understand the needs of the buyers; to make sure we're farming in ways that meet each winery's needs, which has more and more to do with premium quality grape growing.
To meet Sierra Starr's Chardonnay needs, we didn't need to make any adjustment in our farming because we were already farming for top quality for our own Chardonnay program. Don't get me wrong, we also grow some 10-ton per acre Chardonnay for commodity clients, but the Starrs' fruit came out of the same block next to the winery which goes into Harney Lane Chardonnay.
Besides, for any grape, it is never just about tonnage. It's always about vine balance, and what's best for each vineyard site. Our estate Chardonnay block never goes over 5 tons, but we're not focused on that. You can just as easily grow fewer tons but end up throwing the vineyard out of balance, and get lower quality fruit.
Still, Chardonnay is like any other grape in that at least 80% of what happens comes out of the vineyard. This is despite the fact that Chardonnay is, in fact, a "winemaker's wine" – something you can turn into a whole range of styles in the winery. This year (2018) we'll probably produce about 1,200 cases of Chardonnay. We love our Albariño because it stands for everything that we can do in Lodi that is unique. But the fact is, consumers are still strongly interested in Chardonnay – good, interesting Chardonnay.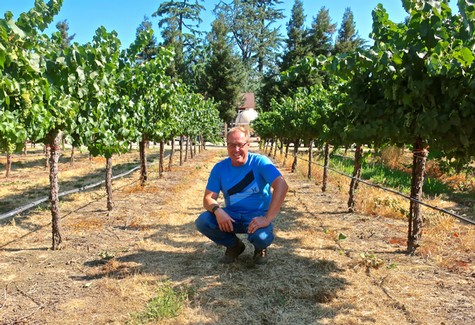 Our 6-acre block of Chardonnay next to the winery is an older planting, a 'steady Eddie,' dating back to the mid-1990s. Because it was planted just before I started managing the family properties, I'm not exactly sure of its clone and rootstock. But it was planted where there used to be Tokay (the table grape that once dominated Lodi's grape growing industry). I believe it was Gallo who first asked my father-in-law (the late George Mettler) to plant it.
Some wineries ask you to do aggressive leaf pulling to expose more of the fruit and get a little more bronzing on the skins, which gives you a more golden colored wine. For our own block, we prefer to keep the canopies intact to get a little more shading and protect the skins from over-exposure to the sun. This helps us keep our style of Chardonnay a little crisper and fresher.
In 2018 we're seeing a little more shot berry (i.e. uneven fruit set leading to uneven berry size) than normal in our Chardonnay clusters – something that's also happening in our Zinfandel blocks (our note: this can be a positive for Chardonnay as well as Zinfandel because it can accentuate fruit quality and also reduce chances of mold or mildew). The weather so far this year has been uneventful – not really cool, not really warm – and we're tracking close to average. We are really expecting some nicely balanced fruit in all our properties. We're still a month and half out from our Chardonnay and Zinfandel harvest – maybe lagging 10, 12 days behind last year. But of course, who knows what will happen between now and September, October?
Sure, recent harvests have been very early. But really, as growers, if we can get grapes picked earlier in the season with really balanced vines, that really is the optimal scenario. If everything is in by the beginning of October, we're very happy because anything can happen during the rest of that month. The worst-case scenario is early varieties coming in late and late varieties coming in early – then everything is coming in at once, with no place to put them. Lord knows, it's happened before, but we'll see what happens!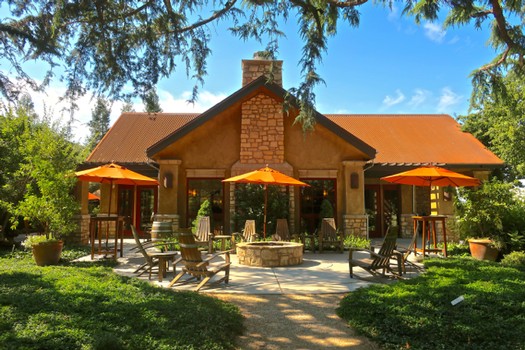 Comments