Letters from Lodi
An insightful and objective look at viticulture and winemaking from the Lodi
Appellation and the growers and vintners behind these crafts. Told from the
perspective of multi-award winning wine journalist, Randy Caparoso.

July 7, 2020 | Randy Caparoso
Galloping Hills Ranch in Lodi's far eastern hills grows distinctively hand crafted Merlot and Albariño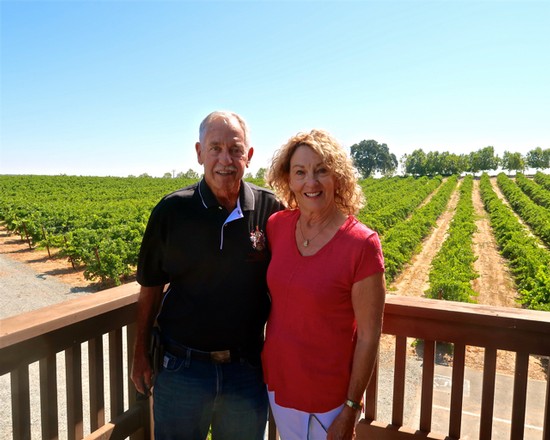 On its website, Lodi's Galloping Hills Ranch describes itself as a "winery, vineyard, bed & breakfast." All of this is true, except for the fact that the current pandemic has prevented owners Fern and MaryAnn Simoneau from welcoming their very first guests to their Airbnb, ensconced on the floor above their horse stable and modest little winery/tasting room, sporting spectacular views of their 8.7 acres of Merlot and Albariño planted in the rolling hills of Clements Hills-Lodi.
The Simoneaus did not plant their vineyard — the vines came with their property when they purchased it in 2005 — but they were smart enough to know that the possibilities for a Lodi estate in a hillside appellation unlike any other could be endless. And besides, according to Mr. Simoneau, "Lodi has never been known for great Merlot... we felt that this property was special enough to change that."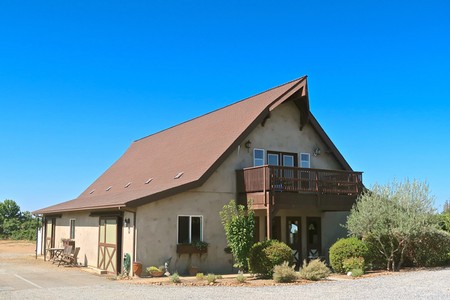 And you know what? The Simoneaus are correct for two unimpeachable reasons:
1. The Merlot grape has always been known to grow best — that is, produce the most interesting, and thus more desirable, red wines — in soils with high clay content, and Lodi's Clements Hills is dominated by a gravelly clay-based soil. This is true in France's Bordeaux, where there is more Merlot than Cabernet Sauvignon planted (mostly because in Bordeaux there are more sites with clay soils than the gravelly loams where Cabernet Sauvignon thrives), and it's also true in places like Napa Valley where some vintners have found that the higher the clay content in soils the greater the chance of producing an outstanding Merlot.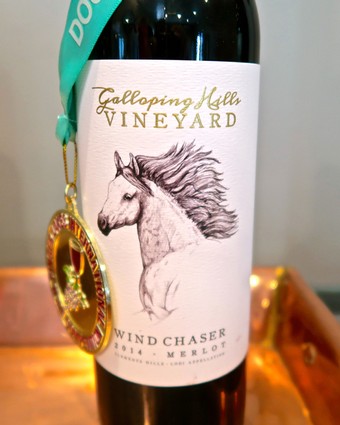 2. Simoneaus' current flagship, their 2015 Galloping Hills Vineyard Wind Chaser Clements Hills-Lodi Merlot ($25), is indeed one of the most interesting Merlots to ever come out of Lodi. It is intense yet round, velvety, and lusciously black cherry/fruit driven with a black forest cake-like richness, which is what all Merlot lovers look for in this varietal. But it is also very nuanced with smidgens of herby weediness and tobacco (or like the scent of cigar boxes in which all Boomer generation kids used to store their pencils at school). It is the latter qualities that give this Lodi-grown Merlot that little something "extra."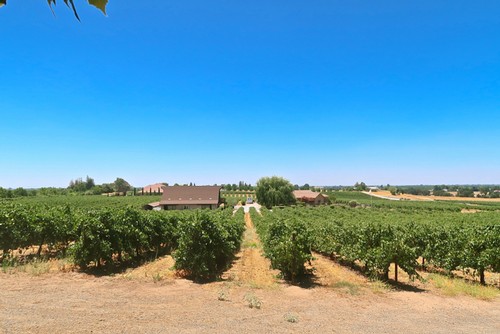 To get a grip on exactly why clay-based soils are so ideal for Merlot, we queried Marco Cappelli about his experience as the former winemaker of Swanson Vineyards (during this Napa Valley winery's first 17 years), which has hung its hat on Merlot. Cappelli, who is now a grape grower and consulting winemaker in the El Dorado AVA, put it in terms anyone can understand:
It was André Tchelistcheff (the legendary Napa Valley winemaker, and arguably the most influential consulting winemaker in California history) who first told us we needed to plant more Merlot than Cabernet Sauvignon — because most of our blocks (in the Oakville and Oak Knoll District appellations) were higher in clay content. The reasoning is that clay holds more water and keeps soils cooler, thus extending the growing season for Merlot which is an earlier ripening grape, especially when compared to Cabernet Sauvignon. Longer hang time is beneficial to Merlot and definitely contributes to its character.
Higher clay content sites also tend to have deeper and richer soils. My own intuition tells me that in this type of environment, your vines can grow bigger (leaf) canopies, which adds to the herbal and black olive components of a Merlot. André liked that, and I certainly felt this made for a much more interesting Merlot.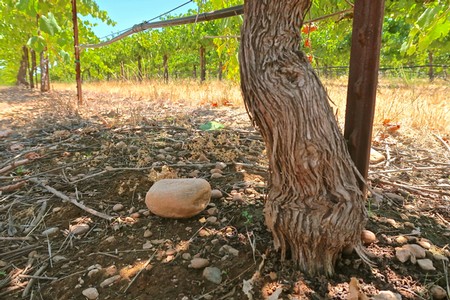 There is a third factor behind the Simoneaus' early success: They were savvy enough to hire a French-born winemaker named Franck Lambert. Mr. Lambert, who earned his Master's in Winemaking from the prestigious University of Montpellier, labored for 10 years in France's Bordeaux, Alsace, and Languedoc regions (also shortly in South Africa) before coming to Lodi, in 2002, to take on the job of Senior Winemaker at Michael David Winery. Permanently sold on Lodi life, since 2011 Lambert has been serving as a consulting winemaker for a number of Lodi-based wineries (including, at one point, Watts Family and Oak Farm Vineyards, and Stama Winery where he still consults).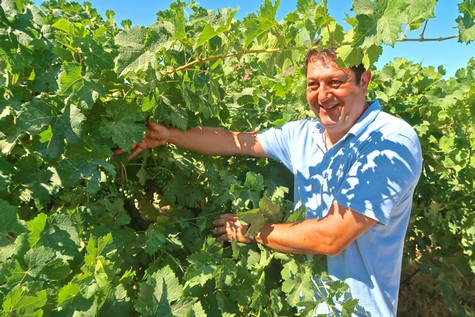 Mr. Lambert's unerring hand is all over the Galloping Hills Merlot: particularly the feel of finesse and a long and savory sense of balance instead of a front-loaded tutti-fruitiness, plus deft touches of toasted French oak that combine with leafy/black olive-like notes of the fruit to achieve that compelling, cigar box-like quality.
"We have a motto" explains Ms. Simoneau, "which is 'New World wines from classic vines' — and we feel that Franck is the perfect winemaker to help us achieve that."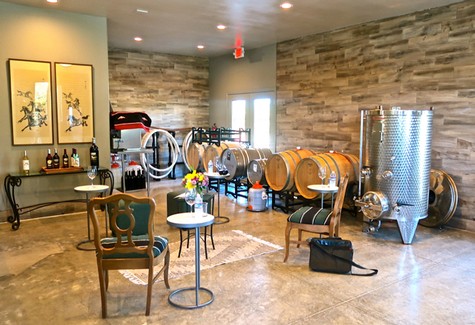 Although the Simoneaus have labored long and hard in Lodi in other occupations before establishing their winery estate — MaryAnn as an educator and travel agent, and Fern in the swimming pool service and repair industry (a business he still owns and runs) — they feel that winegrowing has always been in their "blood." Ms. Simoneau is particularly proud of her German ancestry and loves to show off medals garnered by her great-grandfather, who farmed a vineyard and orchard overlooking Germany's Elbe River.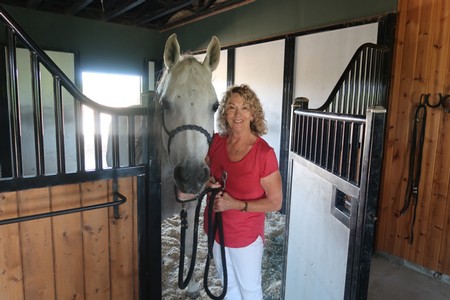 Anyone with a German background would have a natural penchant for white wine grapes, which is why they cultivate a few rows of Albariño, grafted over with plant material obtained with the help of Bokisch Vineyards that originated in Spain's Rías Baixas region (the grape's original home).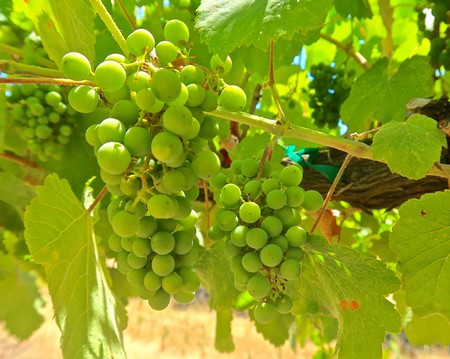 The shallow, root-restrictive, rocky clay hillsides of Clements Hills produce a style of Albariño as unique as this Lodi sub-appellations Merlot; mostly because the variety responds by putting out less canopy and tinier, smaller berried clusters than in, say, the rich sandy loams of Mokelumne River surrounding the City of Lodi.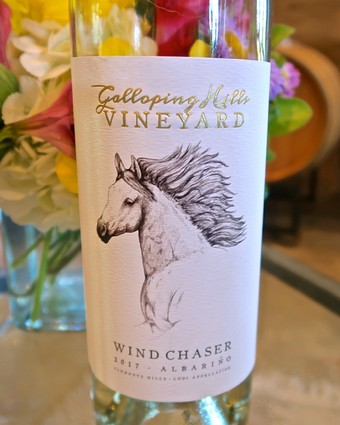 The result is a wine like the 2017 Galloping Hills Vineyard Wind Chaser Clements Hills-Lodi Albariño ($20), which has the snap, crackle, and pop of a much younger wine — a lemon bar scent tinged by suggestions of wildflower, honey, and hints of fusel oil, manifested in slightly minerally, lemony-crisp yet silky sensations on the palate.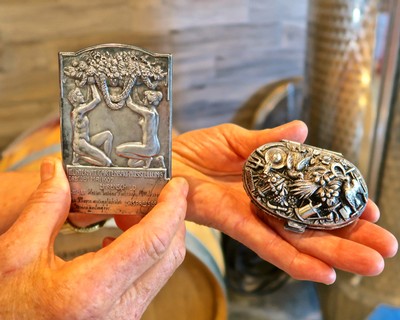 While most of the ranch's grapes are still sold to wineries or grape suppliers, according to Mr. Simoneau, "Someday we hope to become a 100% estate by bottling all our grapes under Galloping Hills label."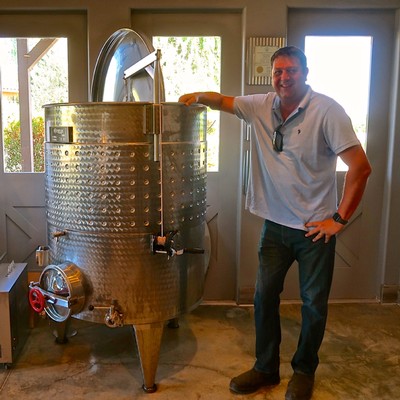 Ms. Simoneau adds, "Admittedly we haven't done much marketing yet. We've been in a few restaurants, like Zin Bistro and Thai Spices, and our website still is not yet complete — mostly because we prefer to do things ourselves, which means you end up going at your own pace. But I think that as soon as we get through this pandemic crisis, we'll be able to open up our doors to visitors."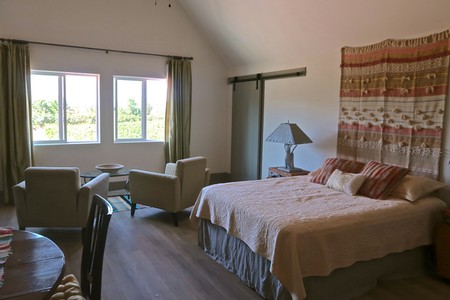 Meanwhile, if you are an undaunted lover of micro-boutique, Lodi-grown wine — especially if you like a distinctive, terroir-driven, impeccably hand-crafted style of Merlot or Albariño — you can certainly arrange for your own visit and tasting by contacting the Simoneaus through their website (all Lodi winery visits are by appointment right now). For sheer off-the-beaten-path adventure, any trip out into the higher elevation (around 200-ft.) vineyards at the eastern edge of the Lodi appellation, near Clements, is well worth the experience!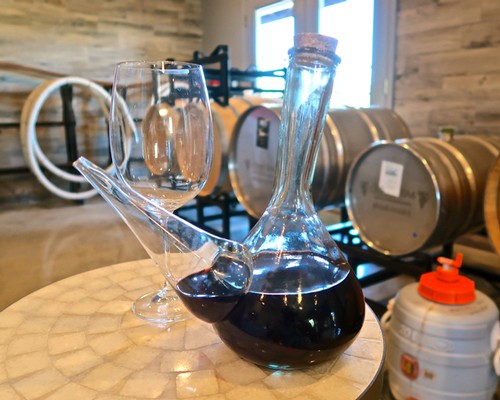 Comments