Letters from Lodi
An insightful and objective look at viticulture and winemaking from the Lodi
Appellation and the growers and vintners behind these crafts. Told from the
perspective of multi-award winning wine journalist, Randy Caparoso.

July 21, 2020 | Randy Caparoso
For summer sipping and shopping, a list of Lodi's finest whites for other-white-meats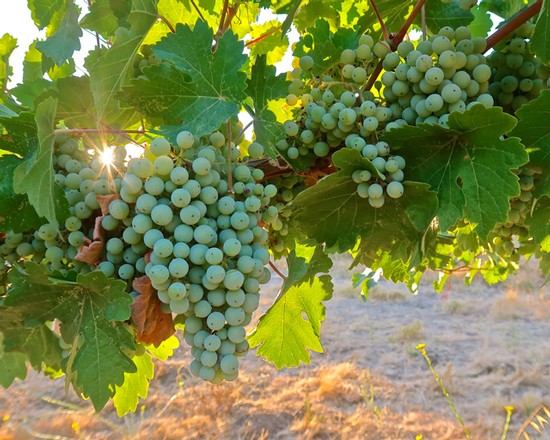 Forty or fifty years ago, shopping for a white wine to go with tonight's dinner used to be so easy. All you needed to do was look at the backsides of the wine bottles on the shelves.
Typical generic California "Chablis," for instance, was "recommended with fish, fowl, or veal." A "Burgundy" was for "beef, lamb, or pasta." A personal favorite was the old Almadén brand of Grenache rosé — we used to drink gallons (or as they were called, "jugs") of that stuff. It was an off-dry pink wine that, as its back label strongly suggested with a gaily marching chicken, pig, fish, and cow, could "complement any meal." Of course, that never stopped us from enjoying it with or without meals, preferably with ice cubes!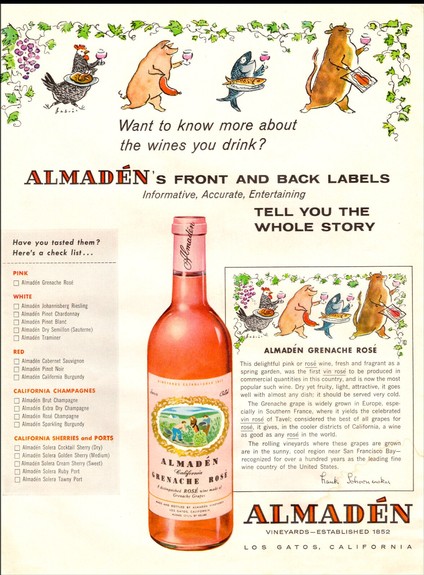 But somewhere along the line, it became a little uncool to recommend dishes on wine labels. How inappropriately droll — like showing up wearing a costume to a party that's not a costume ball.
Instead, what you are now more likely to find on the back of bottles are dissertations on the soil, climatic conditions, a vineyard's certain slant of light, the forest in France from where the oak barrels are sourced, or a winemaker's philosophy. Although I admit to having my own geeky inclination to like reading this information, I have a public confession to make: It's often a little too much. As if the more gobbledygook, the better the wine. Unfortunately, this is not always true. It just makes you wish wine labels would still recommend a good dish or two, which is still a major priority for most of us.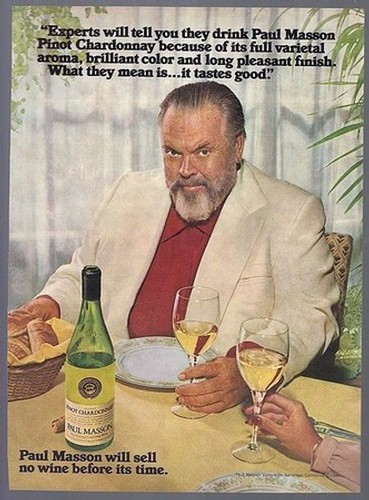 In any case, I learned long ago never to fall for everything you read on wine labels for two simple reasons, both having to do with what is most important:
1. How good the wine in the bottle tastes (not how good a label looks or reads)
2. How good wine tastes with the foods we actually like to eat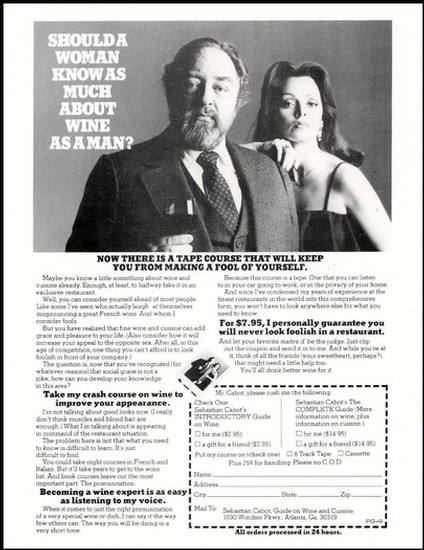 The ironic part is that if the wine has become more complicated or frou-frou over the past half-century, food has become at least twice as complicated. It's no longer just "fish, fowl, or veal." It's "cilantro lime cod with mashed squash and 8-garlic clove olive oil drizzle" or "miso-glazed sea bass with ginger garlic bok choy and soba noodles." It's not even veal "Marsala" or "Piccata," it's "loin of veal on a bed of beetroot julienne with apricot and cucumber chutney." And chicken is now "organic" and/or "free-range," more likely to be roasted with Moroccan spices and baby turnips, beets, parsnips, foraged wild mushrooms, or extravagant truffles. At least this is what the television personalities seem to want us to cook.
Fair enough. As Martha Stewart likes to say, it is "a good thing" — with so much stuff at our disposal these days, we should be expanding our culinary horizons.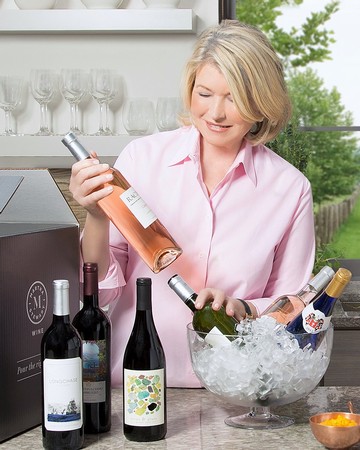 In Martha, we trust (image courtesy of marthastewartwine.com)
But not to worry, because I do have a solution based upon my own 40-plus years in the wine and restaurant business: When a seafood or "other white meat" dish gets a little complicated, stick to white wines that are
• On the lighter side (in terms of body or weight) — not heavy or plodding
• Fairly crisp in acidity, giving these white wines a refreshing, citrusy/lemony quality
• Not too ripe or fruity in aroma and flavor — but rather, a little citrusy and even minerally
• Not oaky in taste (exception: if you plan to grill or wood-char your "white" dish, which tastes great with oaky wines)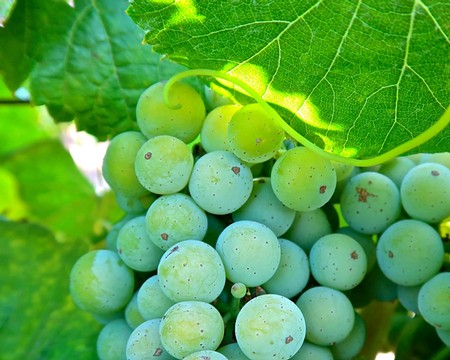 Why? These are the types of white wines that are more likely to go with more foods, even when prepared with exotic ingredients that may add Asian-influenced flavors —such as salty, sweet, sour, bitter, spicy/hot, or umami (i.e. savory) sensations on the palate.
That is to say: White wines that fall outside the usual realm of taste profiles that we expect in commercial white wines — especially typical California whites, which are soft, "smooth," filling, and fruit toned to the point of lushness — tend to have an easier affinity with seafood and white meats prepared with a flair outside the usual range of straightforward grilling, searing, sautéing, slow cooking, roasting or boasting, sous vide, or however you like to do it these days.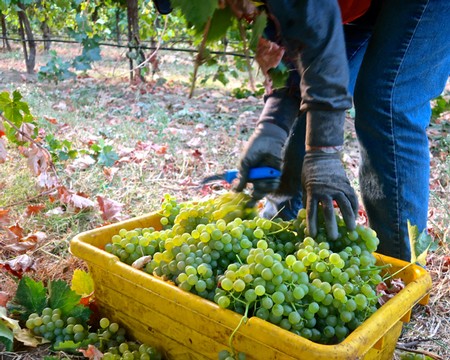 This is where Lodi's dependable Mediterranean climate and classic winegrowing soils (particularly the region's sandy loams and gravelly clay slopes) come in. The advantage of Lodi's eminently grape-friendly terroirs is that a wider range of grape varieties can be grown here; not only that but in a more economically feasible fashion than, say, coastal regions of California strapped by higher cost winegrowing, resulting in costlier wines. As good as we may feel about spending more than $40 or $50 on a bottle (like sticking strictly to designer clothes), there's nothing like the affordability of premium Lodi-grown wines — especially for everyday sipping and meals.
Lodi, for instance, has recently built up quite a reputation for naturally crisp, floral/minerally styles of Albariño, the classic white wine grape of Spain's Rías Baixas region. While Rías Baixas is located on the Atlantic coast rather than the Mediterranean Sea, Albariño has thrived in Lodi's Mediterranean-ish terroirs. You can't argue with the results; which is why, in Lodi, there are now more wineries producing Albariño than wineries producing Chardonnay or even Sauvignon Blanc.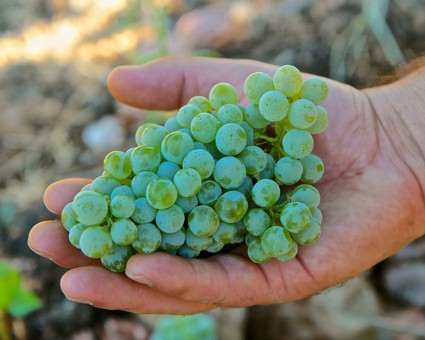 Last week I was asked to put together a list of Lodi-grown whites that exemplify Lodi's diversity of grapes. White wines also, on a sensory level, possess a refreshing natural acidity. Really, it took less than five minutes to come up with the following list of some (probably not all!) of the region's most consistently fine white wines fitting that description.
Hopefully, this will make your Lodi white wine shopping a little easier. And all these wines go great, incidentally, with "fish, fowl, or veal," no matter what crazy way you want to cook them. Re:
• Markus Wine Co. - Nativo (Kerner/Bacchus/Riesling)
• Sidebar (by Ramey Wine Cellars) - Kerner
• Klinker Brick Winery - Albariño
• Klinker Brick Winery - Grenache Blanc
• LangeTwins Family Winery & Vineyards - Jahant Woods 01 Vineyard Sauvignon Blanc
• Sand Point (by LangeTwins Family Winery) - Sauvignon Blanc
• Avivo (by DaVero Farms & Winery) - Vermentino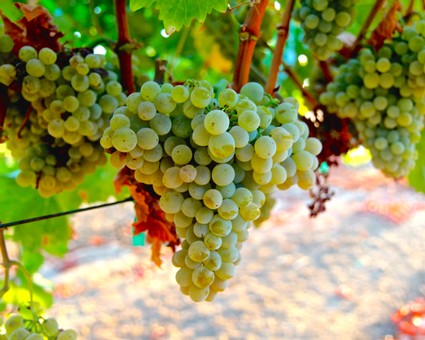 • Uvaggio Wines - Vermentino
• Harney Lane Winery - Albariño
• Harney Lane Winery - Scottsdale Vineyard Chardonnay
• The Lucas Winery - Chardonnay
• Oak Farm Vineyards - Fiano
• Mettler Family Vineyards - Albariño
• Mettler Family Vineyards - Muscat Canelli
• Heritage Oak Winery - Chenin Blanc
• Heritage Oak Winery - Sauvignon Blanc
• Fields Family Wines - Grenache Blanc
• Fields Family Wines - Vermentino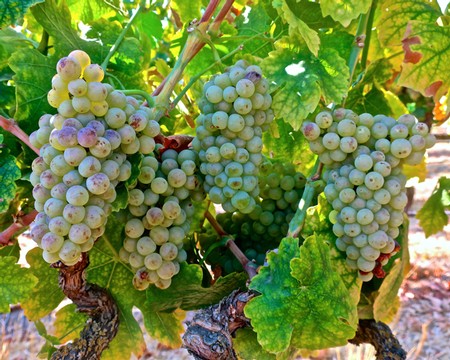 • Mensch (by Covenant) - Roussanne
• Peltier Winery - Vermentino
• Peltier Winery - Sauvignon Blanc
• Peltier Winery - Prééminence (Vermentino/Sauvignon blanc/Chardonnay)
• Bokisch Vineyards - Albariño
• Bokisch Vineayrds - Garnacha blanca
• Bokisch Vineyards - Verdejo
• Acquiesce Winery & Vineyards - Picpoul Blanc
• Acquiesce Winery & Vineyards - Grenache Blanc
• Acquiesce Winery & Vineyards - Viognier
• Acquiesce Winery & Vineyards - Clairette Blanche
• Acquiesce Winery & Vineyards - Bourboulenc
• Acquiesce Winery & Vineyards - Belle Blanc (Grenache blanc/Roussanne/Viognier)
• Acquiesce Winery & Vineyards - Ingénue (Clairette blanche/Grenache blanc/Bourboulenc/Piquepoul)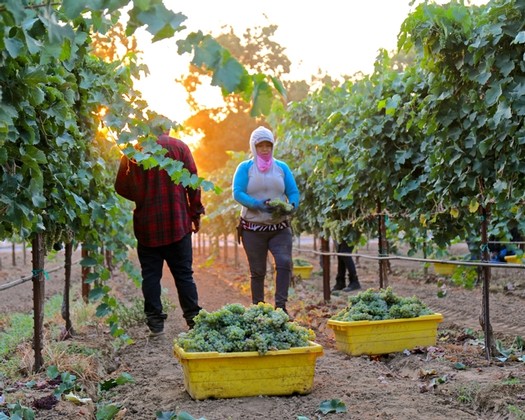 Comments