Letters from Lodi
An insightful and objective look at viticulture and winemaking from the Lodi
Appellation and the growers and vintners behind these crafts. Told from the
perspective of multi-award winning wine journalist, Randy Caparoso.

September 4, 2020 | Randy Caparoso
Estate Crush's four versions of Bechthold Cinsaut show off this historic vineyard's magic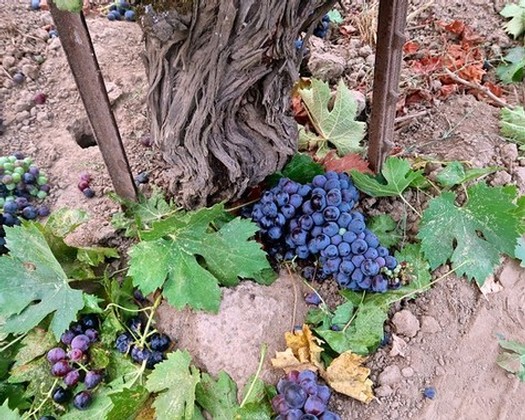 What better way to pay tribute to Bechthold Vineyard, Lodi's oldest continuously farmed vineyard, than to produce four different wines from its venerated fruit, which is 100% Cinsaut.
This is what Estate Crush (Downtown Lodi's custom crush facility) owner/winemakers Bob and Alison Colarossi have done. It's as much a tribute to the vineyard's diversity and the beauty of its fruit as it is to the skill and ingenuity of a couple of winemakers.
A little bit about that fruit: Bechthold Vineyard was planted in 1886 by Joseph Spenker, who became interested in the grape business after speaking with George West, who had founded a winery and nursery in Stockton in the 1850s. Although West had contracted a good number of other growers in the Lodi area to plant as many as 30 different grape varieties to supply West's El Pinal Winery, he and Spenker made the decision to go all-in with one particular black-skinned grape that was not just prolific in terms of yield, but also produced beautifully plump, large berries on hefty sized clusters.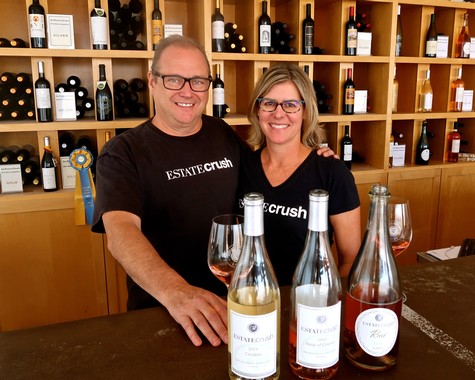 The grape was called "Black Malvoisie." Spenker planted an entire 25-acre block of this one grape just north of a water canal, fed by the Mokelumne River, he had dug out alongside a 32-acre native valley oak grove he had kept for perpetuity. The vineyard, now called Bechthold (after the late Al Bechthold, who was married to Wanda Woock Bechthold, Joseph Spenker's great-granddaughter), as well as the grove (now called Jessie's Grove, after Spenker's daughter), is still faithfully maintained by the family today.
In 2004 Bechthold's Black Malvoisie was identified by U.C. Davis as being, in fact, a grape called Cinsaut. All of a sudden, prestige wineries like Turley Wine Cellars and Bonny Doon Vineyard were clamoring for the grape. Michael David Winery's Phillips Farms took over the farming of Bechthold Vineyard in 2007, and have nursed it back to full health through organic and sustainable practices, replanting all the dead spots among the 10' by 10' spaced, own-rooted, double-layered vertical cordon plants.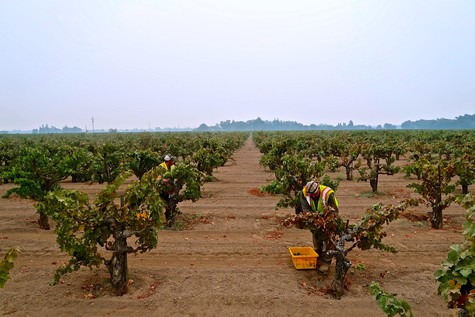 Estate Crush is among the dozen or so wineries that now produce Cinsauts from this historic vineyard, reputedly the oldest stand of Cinsaut vines in the world. Most of the vintners produce a soft, luscious, spice-scented red wine from it, and a handful uses the fruit to produce a dry, finesse rosé (including Estate Crush, Michael David Winery, and Onesta Wines, who do both a red and rosé). Cinsaut, after all, is one of the major black-skinned grapes of France's Provence region, easily the largest sea of rosé production in the world.
Bob Colarossi tells us: "We started with a red and rosé from Bechthold from the beginning, in 2010. But it occurred to me that this fruit is so beautiful, you really can do a lot more with it. Two vintages ago we started doing a 'sparkling' style, but not in the traditional way. We do it in a way called 'forced carbonation,' where we can take a base wine made in the style of the rosé, take its temperature down into the 20°s and put it through a carbonation process. It comes out beautifully light and effervescent and really shows off the fragrant fruit and spice of the grapes.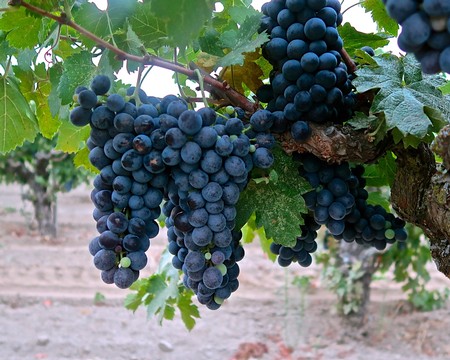 "Our newest iteration of Bechthold, starting with 2019, is our 'White Cinsaut' [a style often called 'Blanc,' but the Colarossis decided to forgo that moniker on their label]. You may ask 'why?' but I think it's more like 'why not?' Since Bechthold is just as famous for its rosé as its red, it makes sense to do a version of it that retains the crisp, balancing acidity and freshness of the Bechthold rosés, but is pressed off the skins immediately so it doesn't retain the pink color. We're really excited about it."
The proof, as in everything, is always in the pudding. All four of Estate Crush's current versions of Bechthold Vineyard Cinsaut, as a matter of fact, show off the raving beauty of the grape and vineyard. Even more amazing? The crazy nice price of these wines, made from downright ancient (134 years old!), historic vines. How "Lodi" can you get? Our notes:
2019 Estate Crush, Bechthold Vineyard Lodi White Cinsaut ($21) — Clear color with the slightest gold tint, followed by a beautiful scent exuding fresh cherry, a whiff of cranberry, and a suggestion of white peach. On the palate, the flavor and feel are light and airy in its medium-weight body, crisp, bone dry, and lightly tart with lemony qualities mingling with peach-like sensations on the palate. Adds Mr. Colarossi, "The white comes from the same part of the vineyard as our rosé, which is the south part of the block, closest to the canal [where the vines, which are dry farmed, and their clusters grow the largest because of the plants' roots' more immediate access to water]."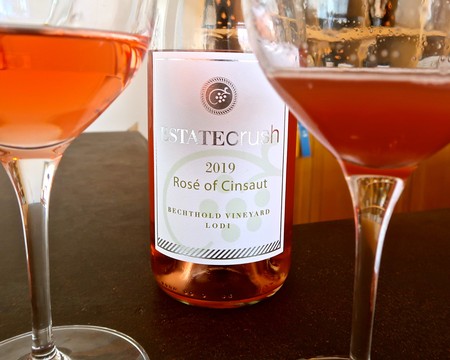 2019 Estate Crush, Bechthold Vineyard Lodi Forced Carbonated Rosé of Cinsaut ($26) — While theoretically, the only difference between this wine and Estate Crush's "straight" rosé is the carbonation, the process definitely changes the character, or sensory focus, of the wine. The pale strawberry-pink-colored wine pours out in a lively, finely beaded effervescence that holds well over the course of a few minutes. The scent is rose petal-like with cranberry/strawberry suggestions; and because this is not a traditional "champagne" style sparkling wine (where bubbles are created by a secondary fermentation), there is no yeastiness in the nose, but rather the pure, red fruit toned fragrance of Bechthold Vineyard Cinsaut. On the palate, a whisper of sweetness balances an edgy, crinkly-crisp quality pushed up by zesty natural acidity. Adds Mr. Colarossi, "We bump up the fruit quality by adding just a tiny bit of residual sugar, about a third of a gram. The bottle says it's 12.5% alcohol, but the real alcohol is just 11.7%. We really go for a lightness in this wine, and since we started doing this in 2017 people have been loving it!"
2019 Estate Crush, Bechthold Vineyard Lodi Rosé of Cinsaut ($21) — As much fun, and impeccable quality, that you find in Estate Crush's two latest versions of this vineyard, it is the still rosé that really captures the essence, or terroir (i.e., "sense of place"), of the vineyard. The nose of this pale, orangy-pink tinted wine bursts with super-fresh strawberry fruit with a tinge of rhubarb/cranberry zestiness (yes, it's possible to smell, not just taste, fresh acidity in wine because our brains function on synergistic levels). The vineyard character creeps in with a hint of lavender herbs in the scent, which follows through in the light, zesty, bone-dry taste, bumping up against a soft tartness and mingling with the strawberry/rhubarb sensations. Elaborates Mr. Colarossi, "This really is the same wine as the white and carbonated Cinsauts from 2019, but the difference is that it sees 4 to 6 hours on the skins, along with a few punch-downs, before the juice is pressed off to ferment. There is no wood, just entirely stainless steel. It's that short bit of time on the skins that give us the color we're looking for, which also gives you that 'Bechthold' flavor."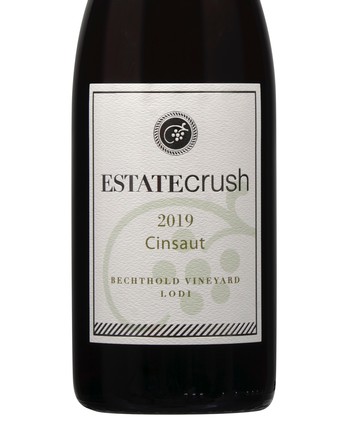 2019 Estate Crush, Bechthold Vineyard Lodi Cinsaut ($26) — It is in Estate Crush's red wine bottling, of course, where you get it all — the spice and lushness of Cinsaut fruit, the earth tones, and roundness reflecting the site, and all the intangibles that make this vineyard special out of all other vineyards in the world. Color is not a huge factor — this wine pours out as a pale, almost transparent ruby-red (not unlike Pinot noir) — but the nose is positively compelling: ultra-bright cranberry/strawberry/wild berry infused in lavendery herbes de Provence-like notes and smidgens of brown kitchen spices. Unmistakably "Bechthold." On the palate, the wine is soft and round in the entry and becomes bright and zesty in the middle, and the spicy, herby-tinged flavors roll through unimpeded by neither excess tannin, alcoholic weight, or intrusive oak.
Mr. Colarossi adds further insight on the 2019 Bechthold Vineyard read: "We're obviously bottling this wine earlier (this bottling, in June 2020) and releasing it sooner because, after all this time, we realize that we don't have to make a big, chewy wine to from this vineyard for it to be impressive. Just a few vintages ago, in fact, we were aging this wine in oak for up to 18 months, and looking to extract more.
"But I'm glad we stopped — there's something to be said for wines where the natural fruit is allowed to come through. Just the acceptance of what the vineyard wants to give each year. And this way, it's even better with food. Just the other day we had 2019 with grilled lamb — our 10-year-old helped by marinating it herself, in olive oil, garlic powder, salt, pepper, and rosemary. It was amazing!"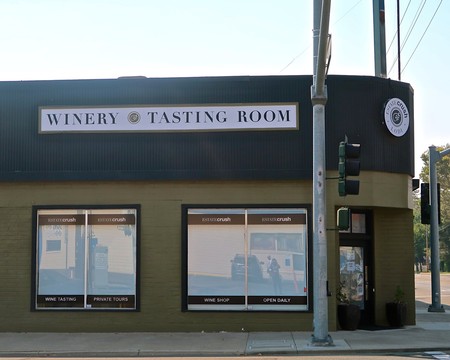 Comments