Letters from Lodi
An insightful and objective look at viticulture and winemaking from the Lodi
Appellation and the growers and vintners behind these crafts. Told from the
perspective of multi-award winning wine journalist, Randy Caparoso.

June 19, 2023 | Randy Caparoso
Discerning the pervasive styles of Lodi Albariño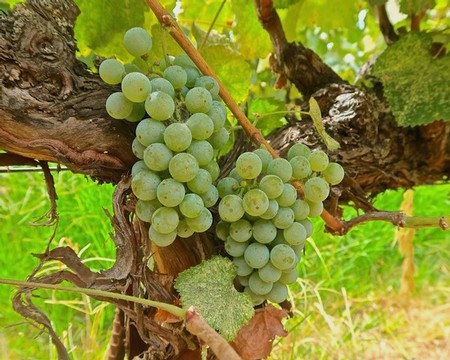 Some Lodi Albariño history
Back around 2005 when Kyle and Jorja Lerner were first drawing up plans to establish their Harney Lane Winery on the Lodi property that their family, a branch of the Mettlers, had been farming since 1899, they approached Jorja's parents George and Kathy Mettler with the proposal.
The elder Mettlers gave their okay, but Kathy had one stipulation: "You have to make Albariño"—referring to the white wine grape of Spanish origins to which Kathy had taken a strong liking.
Mr. Lerner dutifully grafted Albariño onto some existing Chardonnay in the family estate, and by the time Harney Lane Winery was open for business in 2008, the wine was already among the portfolio.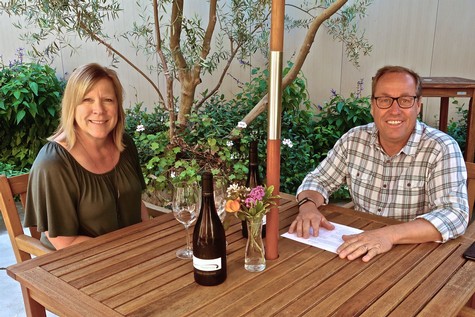 Full credit goes to Markus and Liz Bokisch of Bokisch Vineyards for pioneering Albariño in the Lodi appellation. In 1995 the Bokischs returned to California after a brief stint working in Spain's winegrowing industry. They purchased an expansive hillside property in the Clements Hills-Lodi AVA—dubbed Terra Alta Vineyard and now the location of the Bokisch Vineyards winery—and imported budwood from select vineyards in Spain.
In 1998 the Bokischs planted three of these Spanish selections—Albariño, Tempranillo, and Graciano—at their home ranch on Cherry Road, closer to the City of Lodi in the Mokelumne River-Lodi AVA. Hence, the name of the vineyard is Las Cerezas ("the cherries").
The Bokischs also refer to their home vineyard as their "Mother Block," from which plant material has been transplanted to a number of other blocks over the years. In 2001 an original selection of the Bokischs' Albariño was donated to UC Davis' Foundation Plant Services and is now identified as Albariño 01—one of the country's two most widely planted Albariño clones utilized by other growers or winery estates.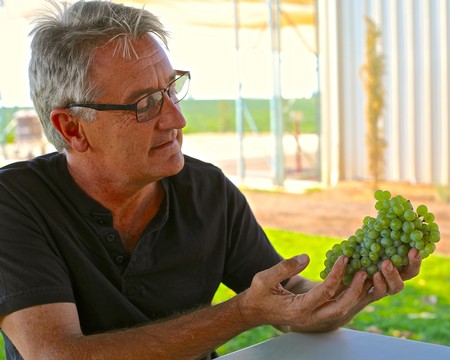 Years before putting down roots in Lodi wine country, Markus Bokisch was always struck by the resemblance of the nearby Sacramento-San Joaquin River Delta to Delta de l'Ebre in Spain, a rice-producing delta region where many of his close relatives live. Although Mr. Bokisch was raised in California, he spent many of his childhood summers in this area of Catalonia. Consequently, for the Bokischs, choosing Spanish grapes as a house specialty was a no-brainer. The entire American wine industry, as it were, has since benefitted from that vision and pioneering work.
Growing consumer tastes for Lodi Albariño
The first commercial vintage of Bokisch Vineyards bottlings in 2001 met, for all intents and purposes, with instant success. Clearly, there was a public thirst for those types of wines, even from the beginning when these grapes were still unfamiliar to the vast majority of American wine consumers. The Bokischs' success, if anything, was significant enough for other longtime Lodi growers and vintners to sit up and take notice, and they didn't waste time trying to duplicate it.
Why Albariño? Most likely because the grape, bottled as a pure, dry-style white varietal, immediately proved to be a crisper, more refreshing alternative to Chardonnay—back in the early 2000s (and still today, for that matter) the most popular white wine varietal in the country. Within twenty years, in fact, the appeal of Lodi-grown Albariño grew to the point where there are now more local producers of the varietal than producers of Chardonnay or Sauvignon Blanc.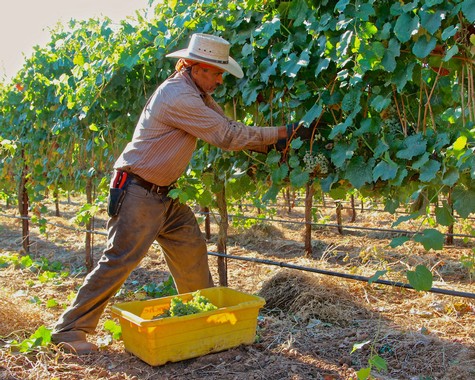 Stylistically, though, the varietal has gone through a few permutations. Perhaps because of the influence of the full-bodied styles of Chardonnay popular in the late 1990s, the earliest bottlings of Bokisch Vineyards Albariño were also full-bodied; generally topping 14% alcohol, and bursting with ultra-ripe tropical fragrances suggesting both citrus fruits and pineapple.
By 2010, however, the Bokischs learned to put more trust in the floral character intrinsic in the grape and began to pick their Albariño grapes earlier and earlier in the season; resulting in lighter, zestier styles with alcohol levels closer to 12%. Other Lodi growers and producers followed suit, putting a much stronger emphasis on natural acidity. All of a sudden Lodi Albariño styles became not just more refreshing, but in a way much more multi-faceted and more clearly defined—with nuances suggesting minerality or even brininess mixing in with flower, citrus, and tropical fruit qualities.
This emerging clarification of the varietal profile, in other words, only increased its appeal among consumers; especially those looking for lighter styles of dry white wines, as alternatives to big, opulent Chardonnay, or crisp, herby Sauvignon Blanc. Of course, there are many other varietal whites that could be described as "light," "dry," "crisp" or "refreshing." Pinot Grigio (better known as Pinot Gris in Oregon and France), for one, falls in the exact same category, and there's plenty to like about this grape's floral profile, flowing mouth-feel, and subtle mineral qualities. If anything, though, a preference for Albariño over Pinot Grigio (at least in Lodi!) may be due to the former's citrus qualities, which are typically more delineated than that of the latter's.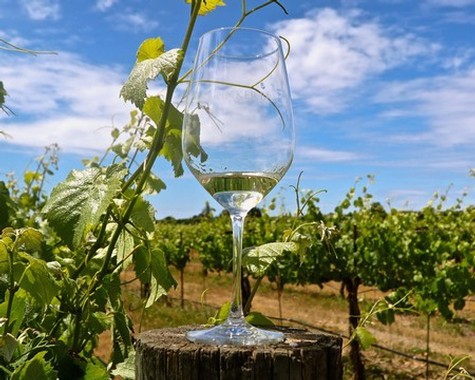 Twenty or twenty-five years ago, it was not uncommon to hear Albariño being compared to Viognier; although, as Lodi styles of Albariño began to lighten up and become more acid-driven, the contrast with Viognier in general (especially oak-influenced styles, which can be almost fat in their weightiness) became even starker. Moreover, whereas Albariños suggest citrus and minerals, Viogniers strongly suggest "Mediterranean" notes such as violet, lavender, white pepper, or honeysuckle—perhaps a little too strongly for many consumers, especially if they prefer the subtlety of Albariño's varietal profile.
Two more alternative varietals that can be used as points of comparison: Vermentino and Grenache Blanc are both grapes of Mediterranean origin, thus eminently suited to Lodi's Mediterranean climate. While svelte and fresh, with a melony appeal not unlike the ever-popular Sauvignon Blanc varietal category, Vermentino has not caught on nearly as well as Albariño over the past ten or so years—in all likelihood, mostly because the sensory profile of Vermentino is not quite as vividly defined as Albariño's. Grenache Blanc, on the other hand, remains a hugely promising varietal because the grape produces dry white wines nearly every bit as bright and refreshing as Albariño, only with characteristic lavender-like nuances; yet it remains to be seen if consumers will eventually respond with the same kind of enthusiasm they are already showing for Albariño.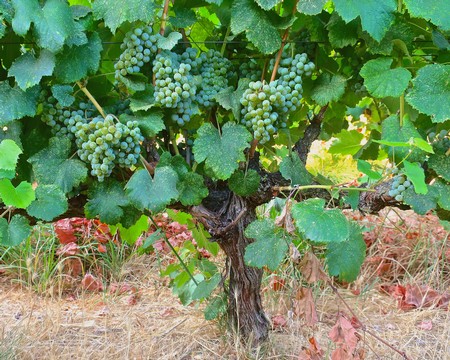 What, then, explains the nascent popularity of Albariño, at least among Lodi wine lovers? I'd say that it is the varietal's betweenness: It is slightly tart without being sharp or puckery; it feels light on the palate yet fills the mouth with distinct flavors from beginning to end; its fragrances are accentuated enough to be appealing, yet never so strong that they become tiresome to the nose or, heaven forbid, annoying (like a woman soaked in perfume, or a man with a bad taste in cologne).
Whatever it is, consumers have made up their own minds—like Kathy Mettler, many of them are hooked on Albariño!
Individual Lodi Albariño styles
As a group, Lodi-grown Albariños tend to be crisp, medium-bodied (i.e., neither light nor heavy), and multifaceted in the nose. The variations thereof are usually related to terroir—although most of Lodi's Albariños are grown in the sandy loam soils surrounding the City of Lodi—plus, as you would expect, individual house styles.
When it comes to winemaking, Lodi styles associated with the different brands have less to do with decisions related to, say, barrel aging; especially since stainless steel fermentation and aging sans oak is the predominant methodology followed in Lodi (why blur subtle fruit profiles with strong oak qualities?). Farming and picking decisions—having direct impacts on, say, levels of alcohol and perception of acidity—seem to factor in almost as much as individual sites when it comes to differentiating sensory qualities found in Lodi Albariños.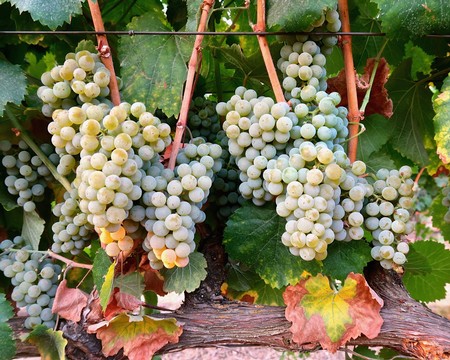 A run-down on some of the leading brands and bottlings:
Harney Lane Winery, Home Ranch, Mokelumne River-Lodi Albariño ($28)
This winery has refined its approach to the varietal over the past fifteen years to the point where it has become among the most precisely balanced and nuanced in the appellation. The nose is typically very "Lodi"—reflecting the sandy loam soil of Mokelumne River-Lodi—in its honeyed, tropical fragrances mingling with fresh citrus notes and suggestions of Asian pear. On the palate, very fine and silky tropical and citrus fruit sensations are lifted by a fine-edged balance of zesty, edgy acidity in a svelte medium body (typically just around 13% ABV). While most of this wine sees strictly stainless steel tanks, a tiny portion is aged in neutral French oak to round out the edginess of the natural grape acidity, giving the wine a light, deft, cannily balanced feel. harneylane.com.
Klinker Brick Winery, Mokelumne River-Lodi Albariño ($17)
A remarkable value, this Lodi-grown iteration grown on one of the sandier patches of the Mokelumne River appellation veers into more of the varietal's minerally toned aromatic range; the grape's naturally flowery notes underscored by quieter candied lemon and faintly lavender-like, fresh/leafy herb scents, suggesting a preference towards grapes picked at lower sugar levels, when expressions of "fruitiness" are not as pervasive. Related to the aforementioned factor, alcohol levels of Klinker Bricks are typically closer to 12% than 13%; hence, bottlings are invariably light-feeling—dry, mouth-wateringly tart-edged, somewhat lean, tight, mildly briny, but tingly in mineral sensations and a fresh lemon/lime zestiness. klinkerbrickwinery.com.
Mettler Family Vineyards, Mokelumne River-Lodi Albariño ($20)
Another bottling grown on the loamy sand of the east side of Mokelumne River, engendering a flowery nose, billowing with cut lemon and orange blossom fragrances. Airy light, almost to the point of being delicate, this wine gives an easy-going feel emphatically punctuated by lightly tart, balancing acidity. Typical of Lodi Albariños, pretty much effortless in its sense of varietal character and mouth-watering quality. mettlerwine.com.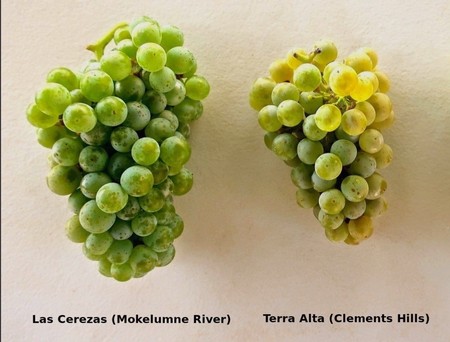 Bokisch Vineyards—
Terra Alta Vineyard, Clements Hills-Lodi Albariño ($24.50)
Family Estate, Las Cerezas Vineyard, Mokelumne River-Lodi Albariño ($27.50)
The Bokischs currently bottle two different Lodi-grown Albariños (in earlier vintages they blended their different plantings under one "Lodi" label). The Terra Alta Vineyard, growing on a leaner, shallower, gravelly clay slope in Clements Hills, produces the tightest, leanest, most acid-driven style of Albariño in Lodi; a direct reflection of the less expansive leaf canopies and smaller cluster/berry plant morphology resulting from this particular soil type. Aromatically, you typically find an exceptionally fresh nose of crisp apples and fragrances of tart citrus blossoms and fruits in the Terra Alta. This fruit profile is manifested in a lemony crisp, light, airy, and palate-freshening sense of dryness, with a pinpoint balancing acidity. The alcohol level, typically in the 12.5% range, gives a lithe, palate-freshening feel, lending a laser-sharp articulation to the varietal character, which is still flowery enough to scream "Lodi."
While growing in a loamy sand site not far from the plantings of other leading producers (particularly Klinker Brick, Mettler Family, and Harney Lane), Bokisch's Family Estate bottling is something of an "outlier," mostly because it sees a restrained proportion of barrel fermentation and aging; although also because its close-spaced, trellised "small vine" farming produces lavishly aromatic expressions of the varietal profile. Consequently, bottlings of Las Cerezas Vineyard of late typically show a discernibly gold tint (Lodi Albariños are by and large pale straw colored) as well as the lightest creaminess underscoring generously floral and orange peel-like fragrances. On the palate, this wine also veers away from the appellation's more predictable varietal profile with a silky/creamy outward texturing, neatly wrapped around a crisp core of citrus and somewhat tropical fruit qualities on the palate. Despite the subtle yet evident oak flourishes, the finish of Las Cerezas is always light, nimble and entirely refreshing. bokischvineyards.com.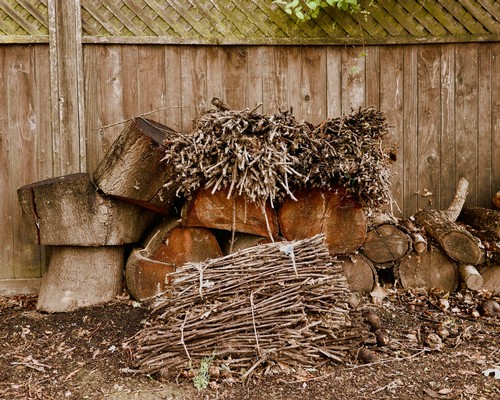 Comments