Letters from Lodi
An insightful and objective look at viticulture and winemaking from the Lodi
Appellation and the growers and vintners behind these crafts. Told from the
perspective of multi-award winning wine journalist, Randy Caparoso.

May 11, 2016 | Randy Caparoso
Blame it on the boogie at Lodi's 2016 ZinFest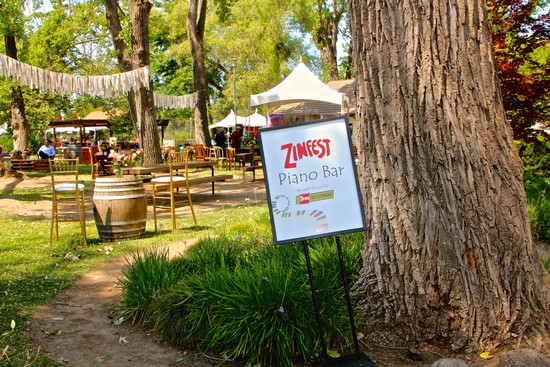 Don't blame it on the sunshine
Don't blame it on the moonlight
Don't blame it on good times
Blame it on the boogie
- The Jacksons
It may be all about the luscious, juicy Zinfandel, crisply balanced Albariño, powerful Petite Sirah, suave and earthy Tempranillo, and dozens of other styles of wine among the 200-plus bottlings that will be poured for your sampling pleasure at this Saturday's Lodi ZinFest Wine Festival (May 14, 2016, 12 to 5 PM), taking place on the pristinely lush peninsula of Lodi Lake Park (or ticket information and online purchase, go directly to zinfest.com).
But as longtime ZinFesters well know, it's also about friends, family, good times and the great life engendered in a classic, all-American, proudly agricultural town like Lodi. And what's the great life in a beautiful park and town without great music? At 2016's ZinFest there will be lots of everything, setting the mood and sprucing up the palate: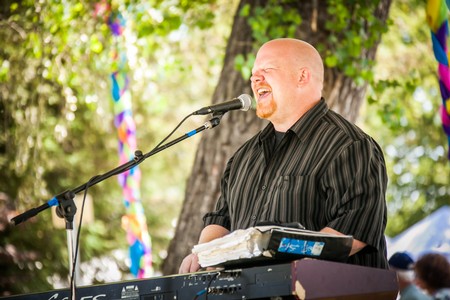 Piano Bar by the Lake
12:30 to 5 PM – Joe Spraker's ZinFest Piano Bar
Because we love it, and everyone else loves it, too, we're setting up our cozy piano bar beneath the towering Lodi Lake trees, complete with cushiony outdoor sofas and tables, to let Joe Spraker engage you with his jazzy contemporary piano and vocals. We invite you to stop by with your wine glass in hand for a song request or two, and enjoy your Saturday in the park to the notes of piano keys floating in the breezy Delta air.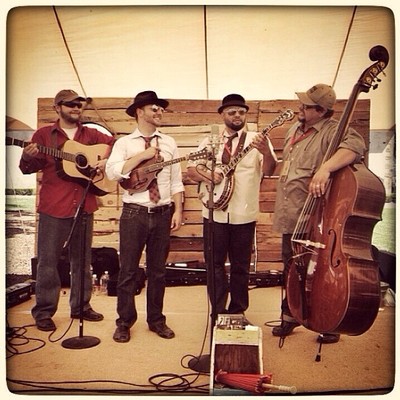 Strolling Minstrels
12 to 5 PM - Snap Jackson & the Knock on Wood Players
Finger snapping all-American bluegrass, countrified soul, toe tapping old time religion and irresistible smiles – that's what this colorful foursome of acoustic warriors will bring wherever they pop up in Lodi Lake Park with their mobile musical merriment.
ZinFest Main Stage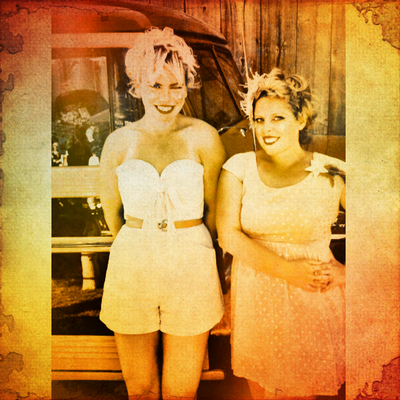 12:30 to 1:30 PM – The Paper Dolls
On this year's big stage, we're aiming to tickle you pink by starting things out with this beautiful pair of cherub faced, ukelele slinging, silken voiced women known as Uni (Heather Marie Ellison) and Em Doll (Emily Schmidt). Their inspirations – ranging from the Andrews Sisters (Rum & Coca Cola) to Paul Simon (Me & Julio), Beatles (Martha My Dear), Feist (Mushaboom), Winehouse (Valerie), Nat King Cole (Paper Moon), Estefan (1,2,3,4), Cee-Lo (Forget You) and more, plus a spate of enticing originals – have been described as "genre-bending" and "an other-worldly delight of sight and sound." If you're wondering, Ms. Uni once a key component of that popular San Francisco neo-swing band called The Savoy Swingers, before meeting her "long lost musical soulmate" from Canada, Ms. Em, in 1995, upon which the winsome The Paper Dolls was formed – and they've been workin' for the Yankee dol-laaah ever since.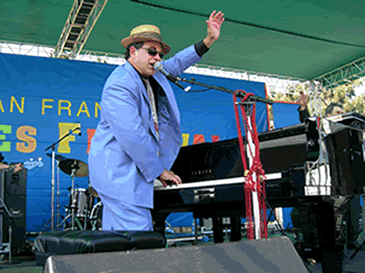 2 to 4:30 PM - Mitch Woods & His Rocket 88's
Of course, we understand – you've got great wine, happy peeps, a gorgeous blue lake, and a lonely "floor" of fluffy green grass in front of a big stage. Gotta dance! Mitch Woods and his Rockets 88's bill themselves as torchbearers of a great American branch of the blues that could be described as "jump n' boogie" – think the late '40s and early '50s, when more rhythmetic musicians were pushing the boundaries of big band, and New Orleans inspired R&B was about to give birth to rock 'n' roll (Louis Prima, Louis Jordan, Wynonie Harris, Joe and Jimmy Liggins, Amos Milburn, Roy Milton...). Like aromatic wine, the melodic beat of Americana is timeless, and we know you'll enjoy this band's own brand of "rock-a-boogie!"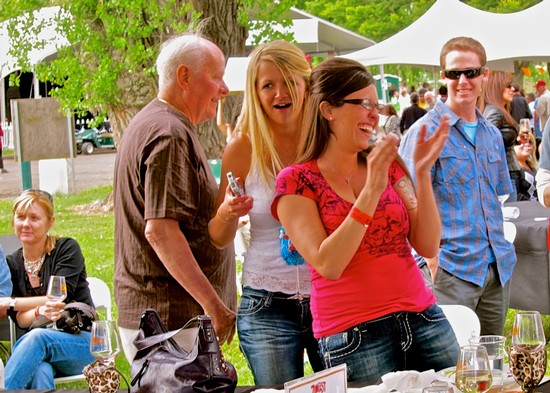 Comments