Letters from Lodi
An insightful and objective look at viticulture and winemaking from the Lodi
Appellation and the growers and vintners behind these crafts. Told from the
perspective of multi-award winning wine journalist, Randy Caparoso.

March 27, 2023 | Randy Caparoso
Arianna Wines harbors a passion for Lodi-grown Torrontés, one of the world's most exotic white varietals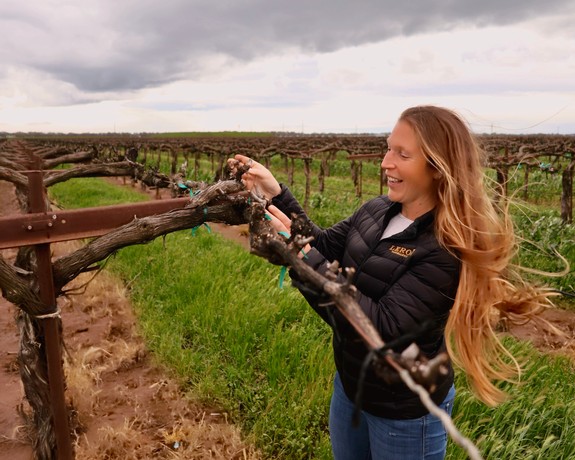 Many of America's best independent winemakers are driven by passion; and not uncommonly, it is a passion first fired up by one moment of serendipity.
For Arianna Wines owner/winemaker Arianno Spoto, that moment came in 2014, while she was working a harvest in Argentina's Mendoza region, when a colleague shared a bottle of local white wine with her.
"It was wonderful," recalls Spoto. "The wine had an amazing fragrance, like rose water and spice, reminding me a little of Gewürztraminer, but with a freshness that reminded me a little of a ripe Sauvignon Blanc. I asked, 'What is this?' I was told that it was made from Torrontés, a grape that grows everywhere in Argentina, sort of like Chardonnay is found everywhere in California.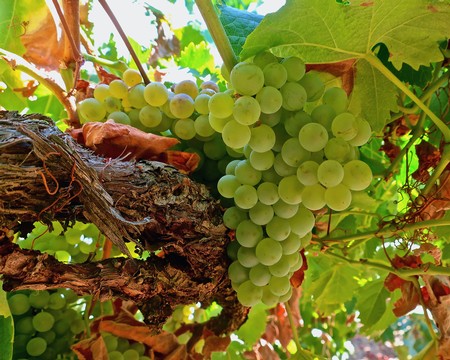 "After that, whenever I came across Torrontés in a vineyard, growing in these gigantic-sized clusters, I would eat it like snack food. I couldn't get enough of it. Later, when I returned to California, I started asking around for this grape, but couldn't find it anywhere."
Ms. Spoto first inherited something of a winemaking bug from her grandfather Henry Spoto, as well as her dad Stuart Spoto who owns Spoto Family Wines (a winery based in Sacramento but specializing in Oakville-Napa Valley Cabernet Sauvignon). Upon her return to California, she moved to San Luis Obispo and worked a harvest in Edna Valley, before diving into her current full-time occupation, selling barrels for a French cooperage firm named Leroi Tonnellerie as well as Charlois Cooperage USA based in Sonoma County.
It was while working with one of her Central Coast winery clients that she came across another Torrontés—this time, a bottling grown and produced in California. The way she tells the story:
"I was working as a liaison between wineries in Napa, the Central Coast, and Canada when I was given a newly bottled Torrontés as a 'thank you.' I couldn't believe there was someone in California producing wine from this grape, which I had been searching for ever since I got back from Argentina.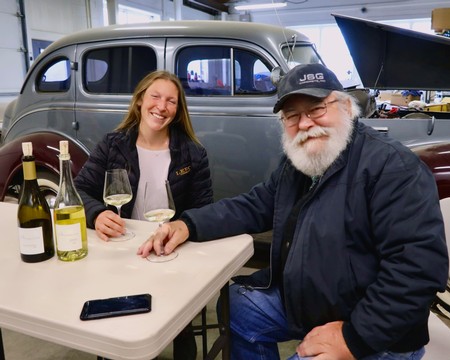 "On the internet, I immediately tracked down the vineyard named on the label, called Silvaspoons, and I found the contact information for the vineyard owner, Ron Silva. I found Ron, who was kind enough to sell one and a half tons of grapes to me, even though it was already August and harvest was just a few weeks out." Silvaspoons Vineyards is located in the Lodi appellation's Alta Mesa Viticultural Area, a region falling in the Sacramento County portion of Lodi.
Spoto produced her first two vintages of Torronté, a 2018 and 2019, in collaboration with a barrel client in a borrowed facility in San Luis Obispo. Her two current vintages, 2020 and 2021, were produced at her father's winery in Sacramento.
The 2020 Arianna Wines Alta Mesa-Lodi Torrontés ($30) is everything you would want in this exotic varietal: teeming with perfumes suggesting orange blossom and white tropical flowers, touches of apricot and peach, a briny minerality and that intriguing rose water-like undercurrent that originally stopped Spoto in her tracks back in Argentina. You can smell a glass of this wine from across a room. On the palate, the unique sensory marker of this grape is its faint tug of bitter phenolics not unlike what is typically found in Gewürztraminer and some Viogniers—freshening the palate like an Italian Aperitivo (such as Campari)—which combines with the mild acidity of the grape to generate a long, dry, compelling finish.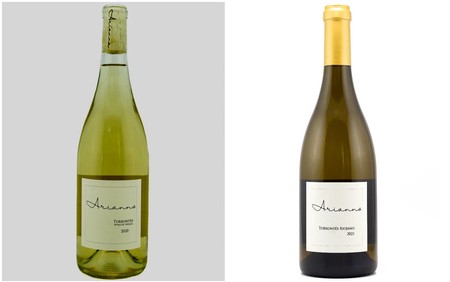 On the label of the 2021 Arianna Wines Alta Mesa-Lodi Torronté Riojano ($30), the varietal identification is changed to reflect the specific sub-variant of the grape ("Riojano") that, according to Spoto, produces the highest quality Torrontés in Argentina. This latest bottling is ultra-fresh, almost heady with the varietal's tropical flower, lush fruit, and rose petal perfumes, manifested in an airy feeling, long and refreshingly dry, and lip-smacking sensations on the palate. "I call it summer in the glass," says Spoto, "because it draws you in like a perfect summer day."
Spoto's winemaking is a combination of tradition and modern-day practicality: The small batches of Torrontés are foot stomped and allowed to sit for 24 hours, then pressed from the skins and inoculated to begin fermentation at cold temperatures in a tank. The finished wine spends a brief time, 50/50, in stainless steel tank and old (i.e., neutral) French oak barrels before bottling, avoiding malolactic fermentation (i.e., natural conversion of sharp malic acids to milder lactic acids) to retain natural grape acidity.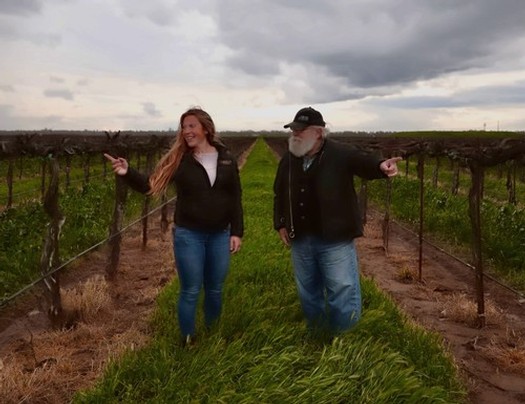 The Silvaspoons factor
Ron Silva's vineyard was named "Silvaspoons" because, as his wife Kathy puts it, "everything Ron touches turns to silver." Actually, it is more like gold, because wines grown in Silvaspoons have probably won more gold medals than those of any other single property in all of Lodi. Much of this is because Silva specializes in more unusual grapes such as Torrontés, Verdelho, Mencía, Tannat, and a good half-dozen cultivars native to the Port wine region of Portugal's Douro River Valley; although, like other Lodi growers, Silva also farms mainstream grapes such as Zinfandel and Cabernet Sauvignon
Silvaspoons Vineyards-grown Torrontés of the past, in fact, have garnered a "Best of Show White" award at the 2012 California State Fair (2011 under the Kenneth Volk label) as well as "Best of Class—All White Varietals" honors at the 2014 Orange County Fair Wine Competition (a 2013 Torrontés by Wise Villa).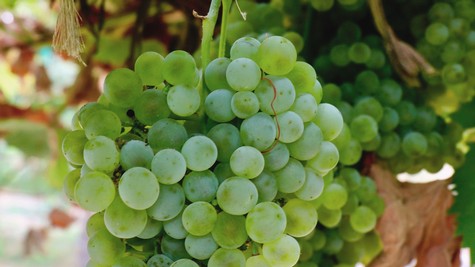 Adding to the intrigue is the mysterious provenance of Silva's planting. During a conversation with Ms. Spoto last week, Mr. Silva admitted, "I am not exactly sure where the plant material for the Torrontés originated. What I can tell you is that it came to me 14 years ago [in 2009] in a bundle of 500 sticks gifted to me from Dr. Nick Dokoozlian, the viticulturist at E. &J. Gallo Winery. We made an exchange—he wanted some Nero d'Avola [a black-skinned Southern Italian grape], so I gave him 500 sticks of that grape. But Dr. Dokoozlian never did tell me where he first got his Torrontés cuttings.
"I grafted the Torrontés onto a block of Syrah, which we had overplanted, and it's been doing well for us ever since. Every year there are at least a half-dozen wineries, all over California, waiting to buy the grapes. One winery in the Sierra Foothills [Lewis Grace] has been winning gold medals for their Torrontés in every competition the wine is entered—California State Fair, San Francisco Chronicle, Sunset, Orange County... the professional wine judges love this grape!"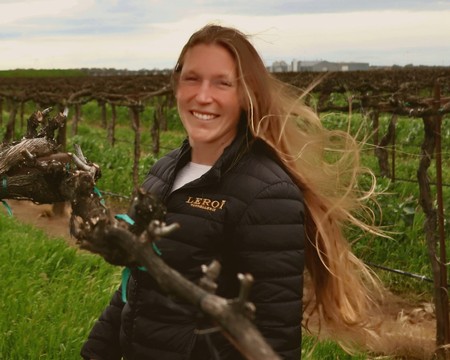 Whatever the origin of the grape in California, it is one that has stolen the heart of Arianna Spoto. As she puts it, "I love this grape's unique character, but it's also great with food, especially Asian and Indian cuisines because of the way it smells sweet but tastes dry, and its sweet floral aromas of rose petals and flavors of white peach and lemon zest. Recently I've been pairing it with dishes made with pineapple, which is amazing.
"Now I have the joy of sharing my Torrontés with my barrel clients," adds Spoto. "It is a great way to show my knowledge of winemaking, as well as educate people about a grape they probably have never heard of. Plus, it's pretty tasty!"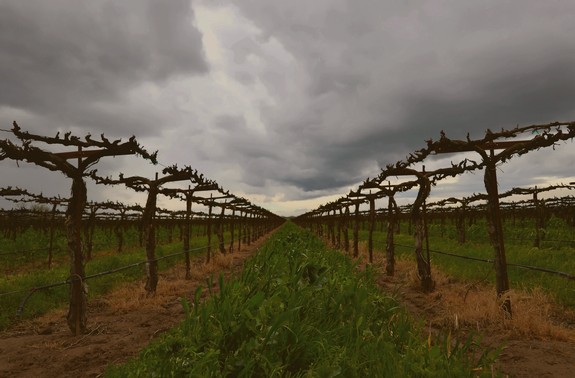 Comments