Letters from Lodi
An insightful and objective look at viticulture and winemaking from the Lodi
Appellation and the growers and vintners behind these crafts. Told from the
perspective of multi-award winning wine journalist, Randy Caparoso.

January 13, 2021 | Randy Caparoso
Alternative style Lodi wines reflecting the wave of the future — part 2, new interpretations of heritage grapes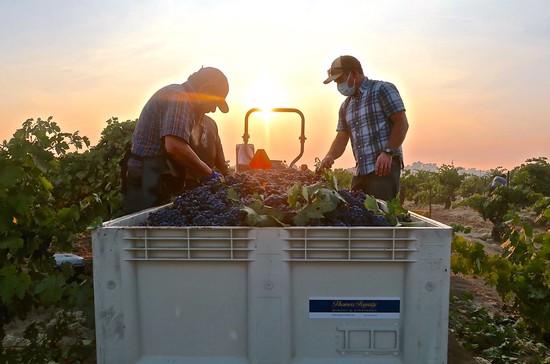 Continued from Alternative style Lodi wines reflecting the wave of the future — part 1, an unfamiliar white and red
The Lodi Native Revolution
While subtle changes in consumers' sensory preferences are bound to be reflected in the proliferating diversity of wines made from alternative grape varieties, we are already seeing these changes in wines made from heritage grapes.
It's bound to happen. In Lodi, for instance, the introduction of the first Lodi Native Zinfandels, from the 2012 vintage, represented a significant first step. The Lodi Native project, however, did not start off as an experiment on sensory profiles. It began as a project to highlight characteristics in wines related directly to individual heritage vineyard sites — that is, well-established Lodi Zinfandel blocks planted over 50 to 100 years ago.
In order to highlight sensory qualities distinguishing individual vineyards, Lodi Native vintners elected to produce Zinfandels in as natural a way as possible, with none of the techniques utilized in over 99% of commercial Zinfandels today. The first requirement was fermentation strictly with native or "wild" yeasts — the enzymes already found on the skins of grapes, rather than cultured yeasts selected to enhance specific qualities. Lodi Native protocols also included no amendments such as oak dust or chips commonly used to bind pigments and enhance phenolic structure; no use of water to lower potential alcohol in fully ripened grapes; no acidification or de-acidification to adjust a fermenting wine's chemistry; no fining or filtering to help clarify and stabilize wines; and no new oak barrels to enhance overall varietal profile.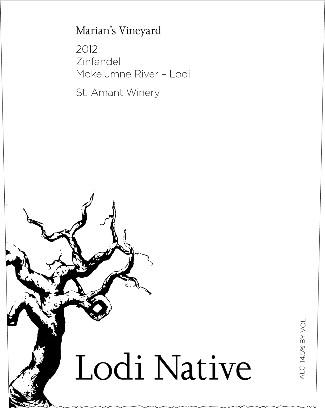 The objective of the Lodi Native project, as it were, has never been to produce the "best" possible Zinfandels, but rather to produce Zinfandels that are as true as possible to their respective vineyard sources. But as a result of these wines, many consumers, as well as the Lodi vintners themselves, came to find that they prefer this style of Zinfandel. Call it "raw," "naked," "pure," or whatever you like, this style of Zinfandel has been expressing specific qualities that more and more Zinfandel lovers are finding appealing. Particularly:
• More subtle qualities, as a result of being crafted minus the bludgeoning oak, mouth-filling alcohol, or gripping tannin that vintners feel compelled to capture in more typical commercial Zinfandels.
• Aroma-related qualities expressing both varietal fruit as well as earthy, non-fruit sensations distinct to individual vineyards.
• A little more emphasis on natural grape acidity to carry the structure of the wine, as opposed to the oak and enzyme-generated phenolic/tannin content, also typifying commercial Zinfandels.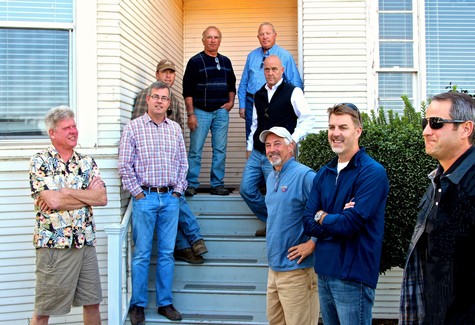 Nine of the original Lodi Native vintners, from left: Layne Montgomery (m2 Wines), Stuart Spencer (St. Amant), Bruce Fry (Mohr-Fry Ranches), Joe Maley (Maley Bros.), Jerry Fry (Mohr-Fry Ranches), Mike McCay (McCay Cellars), Tim Holdener (formerly of Macchia Wines), Ryan Sherman (Fields Family Wines), and Chad Joseph (formerly of Maley Bros.)
Wine media response to the first Lodi Native vintages was universally positive. It was almost as if wine cognoscente had long been thirsting for this style of wine. In his award-winning Vinography wine blog, for instance, Alder Yarrow wrote:
The wines are a revelation. Are they the best Zinfandels made in California? Not by a long shot. But that's not the point. Instead, they may well be among the most honest Zinfandels made in California.
Sure, there are other wine producers out there that have been making elegant, native-fermented Zinfandels with little oak influence for years, but they are isolated producers. Drinking their wines in isolation provides great pleasure, but not a lot of perspective on either their regions or the Zinfandel grape, if only because none of their neighbors are making wine in the same way.
The Lodi Native project, on the other hand, provides a unique and crystal-clear window into the synergy of a place and a grape that is captured in the notion we call terroir.
Along the way, this experiment is changing the hearts and minds of winemakers, as well as wine writers like myself. I'm ready to start buying Zinfandel again, especially if it tastes like that.
As many as 14 different Lodi wineries have produced Lodi Native Zinfandels since 2012. Of the six original participants in this project, five of them — Fields Family Wines, m2 Wines, Maley Bros., McCay Cellars, and St. Amant Winery — still bottle Lodi Native label wines each year. A taste of any one of them is still a glimpse into the "future."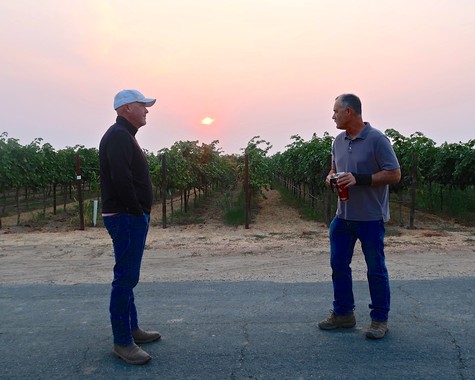 Current Iterations of Heritage Varietals Fashioned In New Styles
The "new" styles still, by and large, run contrary to prevalent commercial styles. Like the Lodi Native bottlings, they are more subtle, more distinctly acid-driven, often earth-nuanced, and refreshingly free of overt oakiness — the latter sensation, typically manifested in pungent aromas suggesting vanillin, toasted or charred, and often furniture polish-like wood, as well as palate sensations of slightly astringent tannin. If you are tired of tasting these flavors in red wines, you might consider investigating the following bottlings:
2016 McCay Cellars, Bechthold Vineyard Mokelumne River-Lodi Cinsaut ($35)
2017 McCay Cellars, Abba Vineyard Mokelumne River-Lodi Grenache ($35)
These are two separate red wines made from two different grapes, Cinsaut and Grenache. The Cinsaut comes from a legendary vineyard dating back to 1886. No matter how you slice it, just the thought of tasting a wine crafted from own-rooted, spur-pruned vines planted over 134 years ago (yet priced at just $35) tends to bend the mind. The Grenache comes from far younger (planted in 2007), trellised vines.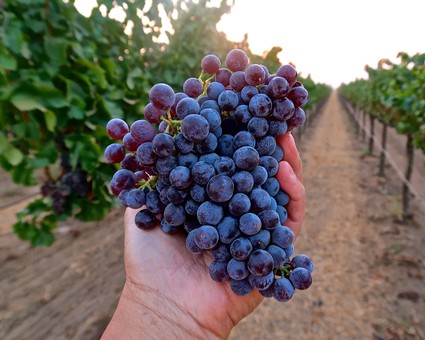 But what these two wines have in common is a rawness, or immediacy of taste, reflecting a winemaker (owner Mike McCay) completely comfortable with the same hands-off approach gleaned in any of the Lodi Native wines. Oak aging is done in well-used French oak barrels, so the smell and taste of wood are not a factor. Wines are fermented naturally with no amendments or enzymes, and so what you end up with is just pure, zesty yet soft and pliant flavors of grape and vineyard. In the case of the Cinsaut, it is an ultra-pungent, aromatic expression of strawberry/rhubarb-like fruit with joyful scents of baking spice, mace, white and black pepper, and a touch of spearmint. In the Grenache, you'll find perhaps the most peppercorn-spiced iteration of this varietal grown on the West Coast, punctuating juicy strawberry/Santa Rosa plum-like fruit, whiffs of loamy earth, and fleshy flavors cut by mouth-watering acidity.
In what ways are these wines representative of the taste of the "future?" Stylistically, they capture the more natural sensory qualities more and more consumers are looking for. But intellectually — another way of saying sophisticated, as all wine lovers only increase in sophistication — these are also wines that taste distinctly of where they are grown. That is, Lodi — the region's warm, grape-friendly Mediterranean climate, and extremely deep (hardpans only at 50 to 90-ft. depths), rich yet well-drained sandy loam soils that vines have found to be hospitable to classic grapes like Cinsaut and Grenache for well over 100 years. When a wine has an appreciable sense of "place" it becomes far more interesting, and this is what more and more consumers are gravitating to.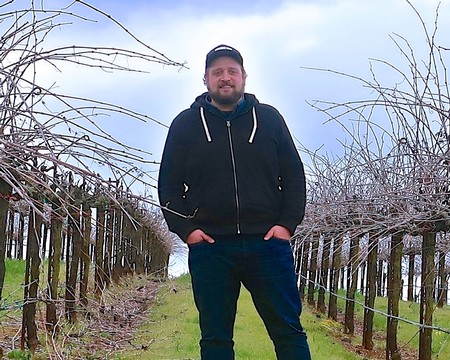 2018 Mountain Tides Wine Co., Clements Hills-Lodi Petite Sirah ($35)
This handcraft, Petite Sirah-only producer specializes in uncut, native yeast fermented, neutral oak-aged versions of this varietal, which is almost unheard of — Petite Sirah, practically as a rule, is a varietal expected to be a big, black, unabashedly oaky, ultra-ripe wine.
Not that this vintage of Mountain Tides' Vinedos Aurora Vineyard-grown Petite Sirah is a lightweight. As a matter of fact, it has the broad, burly profile typifying most Petite Sirahs. Where it stands out from the pack is in its clarity of varietal character — dark color and fruit, cracked peppercorn spice, and unusually (for the varietal) crisp acidity in front of relatively restrained tannin. Clearly, unlike most Petite Sirahs, the objective of a Mountain Tides is "less, not more," which is refreshing in itself, especially in terms of oak and alcohol (a moderate — again, for the varietal category — 14.2%).
If anything, this makes for a more food-versatile Petite Sirah — not just for charred steaks or barbecued meats, but just as good with, say, macaroni and cheese, pan-fired salmon, pure cheese pizza, grilled eggplant, or even shellfish-inundated cioppino or pasta. A major, and practical, reason, in fact, is why many lovers are gravitating towards more restrained styles of heritage varietals such as Petite Sirah.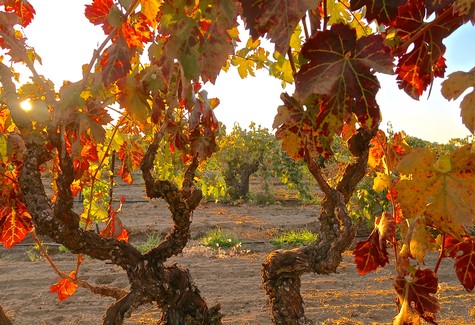 2016 Fields Family Wines, Stampede Vineyard Clements Hills-Lodi Zinfandel ($28)
2018 Maître de Chai, Stampede Vineyard Clements Hills-Lodi Zinfandel ($33)
I recently tasted these two bottlings together with visitors in Stampede Vineyard, a 22-acre Zinfandel growth consisting of own-rooted vines planted between the 1920s and 1940s, located on a sandy bluff just outside the tiny community of Clements where Hwy. 88 and Hwy. 12 veer off into the nearby Sierra Nevada.
While from different vintages, both renderings of Stampede Vineyard-grown Zinfandel are made in a similar fashion: native yeast fermentation in small, open-top macro bins, and aging in neutral barrels. If anything was distinctly different, the Maître de Chai winemaker/partners (Marty Winters and Alex Pitts) are also partial to a little bit of whole cluster fermentation — fermenting with a small percentage of intact stems, rather than entirely with destemmed berries — which, in fact, adds a little more tannin grip to their wines.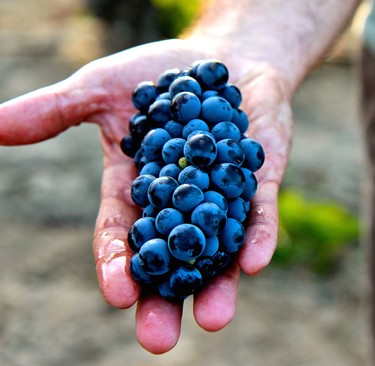 Both iterations capture the distinctly red berryish, perfumey quality of Zinfandel typifying this vineyard — none of the earthy (often loamy, and sometimes compost-like) qualities often found in Zinfandels grown in the Mokelumne River appellation immediately surrounding the City of Lodi — as well as the vibrant, tingly acidity that gives Stampede Vineyard Zinfandels almost something of a "dancing" quality on the palate. If anything, the Maître de Chai has a narrower, leaner, or more linear feel, whereas the homegrown Fields Family retains a softer, friendlier sensory profile a little more in keeping with most Lodi-grown Zinfandels.
Both wines, however, are almost the exact opposite of standard California Zinfandel, having none of the heavy, plodding, overripe, jammy, often mushy, or even "sweet' qualities you ordinarily expect out of the varietal. Yet both are perfectly true to what they are: Zinfandels grown in Clements Hills' Stampede Vineyard.
2016 Stonum Vineyards, VII Estate Mokelumne River-Lodi Zinfandel ($35)
Not everything produced by this tiny, Alpine Rd. family estate follows the restrained, contemporary style. In 2018, for instance, their Zinfandel was unexpectedly picked at much higher grape sugars; and while native yeast fermented, the 2018 Stonum Zinfandel was finished much "bigger" in the body (15.5% alcohol), and aged primarily in new French oak barrels. If you like that style of wine, there you go.
The 2016 Stonum, on the other hand, is brightly focused in almost pure, unfettered, fresh red berry fragrances, and is both silken fine and zesty in its somewhat lean yet svelte, acid-driven composure — a mirror opposite of 2018, yet very true to the style of Zinfandel found more and more on Lodi's "east side," where soils are more like beach sands than vineyard loams, and which more and more Zinfandel lovers are coming to appreciate, especially for their multi-food-friendliness.
When seeking out wines made in more natural styles, in other words, it is still prudent to take each winery's product line vintage by vintage, bottling by bottling. In some years, grape sugars soar out of control, while in other years vines struggle to ripen. Mother Nature, that is to say, often (or rather, usually) has the last say, dictating styles even for wineries partial to more restrained styles.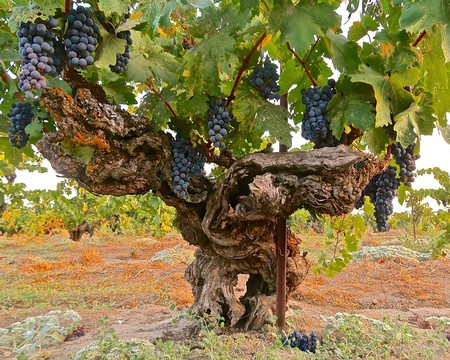 2018 Precedent Wine, Spenker Ranch Mokelumne River-Lodi Carignan ($22)
2018 Precedent Wine, Kirschenmann Vineyard Mokelumne River-Lodi Zinfandel ($28)
There are minimal intervention winemakers and there are minimal intervention winemakers. Precedent owner/winemaker Nathan Kandler is far better known for his work as the head winemaker at Santa Cruz Mountains' Thomas Fogarty Winery, where each year he crafts as many as a dozen different Pinot noirs and about a half-dozen Chardonnays that are almost breathtakingly bright and transparent in their terroir-related qualities. Kandler's touch always seems effortless, but in reality, it is the product of sheer skill. He is, simply, a better winemaker than the vast majority of them.
The beauty of this circumstance is that in the hands of a winemaker like Kandler, heritage grapes from Lodi are transformed into something unexpected, even magical — going beyond what even longtime Lodi wine lovers would ever expect out of these vineyards. Even Zinfandel growths like Kirschenmann Vineyard, owned by the acclaimed Tegan Passalacqua, the winemaker at Turley Wine Cellars. Passalacqua sells fruit from his vineyard to five or six top winemakers each year, yet you would be hard-pressed to find one as intensely pure and ringing in this growth's typically red berry/strawberry-like perfume, or as perfectly seamless in velvety, layered sensations, as Kandler's iteration in 2018. A Pinot noir lover, in fact, might be tempted to describe this wine as Pinot-like, or as fine as any Pinot, if not for the fact that this would be an insult to the vineyard. Kirschenmann Vineyard — Zinfandel originally planted on their own roots in 1915 — is a phenomenon in itself. It need not suffer comparison to any Pinot planting, no matter how good.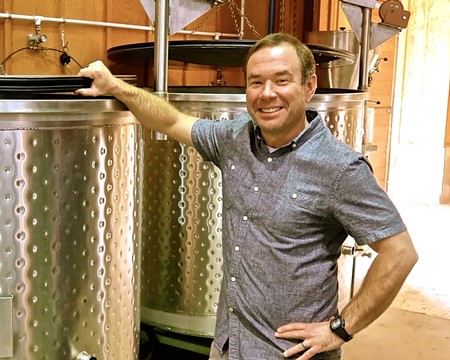 Kandler's Speaker Ranch Carignan is still another matter. Carignan, at best, is generally considered a plain Jane among wines — something nice, often amusing, but never a raving beauty, much less something of deep or noble import. This is why the 2018 Precedent Carignan's effusively bright, unadulterated cherry bomb aroma and zesty, silk-textured qualities are almost a shock to the senses. You simply do not expect something so pinpoint, so phenomenally fine and elegant out of this grape. The faintest smidgens of chile pepper-like spice and dusty earthiness add a distinguishing complexity to the package, and the overwhelming feeling is of purity of fruit, and an unmistakable sense of terroir, even if ineffable (few wine lovers, even in Lodi, have a handle on Lodi-grown Carignan).
Of course, Spenker Ranch, like Kirschenmann, is no ordinary vineyard. These are ancient vines, originally planted in 1900 by Joseph Spencer, who also planted Lodi's oldest surviving vines (the Cinsaut in the 1886 Bechthold Vineyard). But Spenker Carignan becomes monumental in the hands of a winemaker who not only believes in doing as little as possible (i.e., in as natural a way as possible) to good fruit but who is also exceptionally good at it. If this is the future of Lodi wines — or, for that matter, American wines in general — then we have a very bright future indeed to look forward to.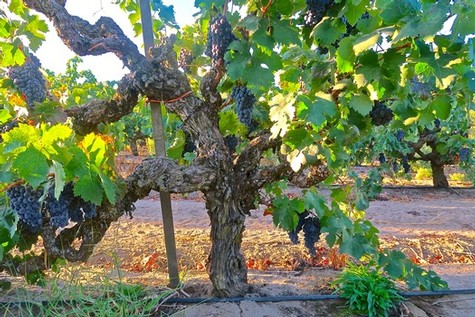 Historic, 120-year-old Spenker Ranch Carignan
Comments