Letters from Lodi
An insightful and objective look at viticulture and winemaking from the Lodi
Appellation and the growers and vintners behind these crafts. Told from the
perspective of multi-award winning wine journalist, Randy Caparoso.

March 2, 2016 | Randy Caparoso
Acquiesce answers question - is Lodi best for white wines?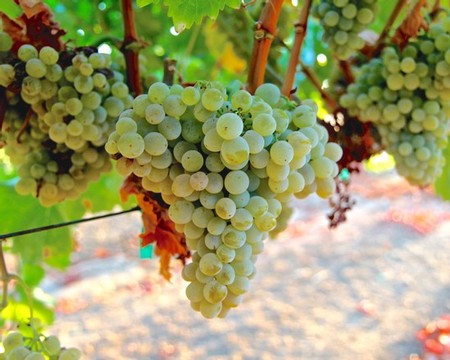 More than ever, the wines of Acquiesce Winery & Vineyards – a small producer of exclusively estate grown wines located at Peltier and N. Tretheway Roads on Lodi's east side – have come to epitomize what more and more people think about Lodi as a winegrowing region: an ideal place for white wines.
Did we say whites? Isn't Lodi better known for red wines? Yes and yes. But a lot of what Lodi grows is not necessarily because of what is "best" to grow here, from the standpoint of viticulture. Lodi growers have always cultivated what the wine market demands; and right now, that means mostly Cabernet Sauvignon and Chardonnay, a lot of Zinfandel and Merlot, and dozens of lesser known grapes for which more and more specialty producers, big and small, are clamoring. Forty years ago it was tons of Carignan, Tokay and Chenin Blanc. You do what you gotta do.
Five years ago, however, a contingent of British wine journalists visited the region, tasting all the wares and walking the vineyards – especially in Lodi's historic Mokelumne River AVA, which is defined by deep pockets of sandy loam or loamy sand, with nary a rock or pile of gravel in sight. One of them, Oz Clarke, who has written numerous best-selling wine books, was interviewed by the Lodi News-Sentinel. Clarke was asked what he thought of the region and its wines: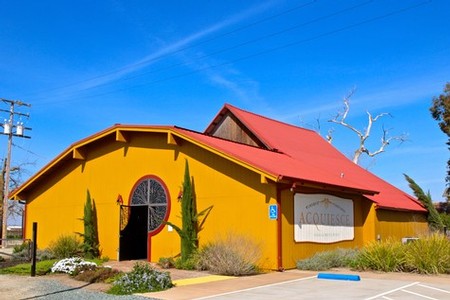 "The thing about Lodi wines," said Clarke, "is that they have a softness in texture and an intensity of fruit... Lodi is different. There is something here. You go 20 or 30 miles south, and you've lost it. But it makes absolute sense. You look at the maps with the Delta and the hills and you see how the wind comes through the Carquinez Strait, and the first place it gets is here. And then it dissipates; south, north or wherever."
But what struck Clarke even more was the sandy loam soils, about which he didn't mince words: "Loam basically means you can't ripen Bordeaux. You can't ripen Cabernet; you might ripen Merlot. But you should be making rosé and looking at white wines. But to pretend this is like Bordeaux is rubbish. It isn't like Bordeaux. It isn't like Burgundy. It's not like the Rhône Valley. But the lovely thing is that it isn't like Napa or Sonoma, either. It's different. It's your place. It's a place that should not say, 'We should do what Napa does,' or, 'We should do what Sonoma does.'"
The Brit's final assessment: Lodi needs "to grow more whites, but I think there is too much Chardonnay here... everyone else makes Chardonnay."
A California winegrower may beg to differ, of course; citing the fact that Mr. Clarke spent a scant few days here, evidently missing much of Lodi's six other appellations (where more than half of the region's grapes are now grown), which have very little sandy loam and more gravelly clay, even river rock soils, on rolling hillsides. Plus, who is to say that a softer, fruit focused Cabernet Sauvignon, Merlot or Chardonnay is not preferable to sturdier styles of the same varietal wines grown in places like Napa or Sonoma?
Yes, Mr. Clarke, Lodi "ripens" (as you put it) grapes just fine. One man's rubbish is another man's gold. Besides, when it comes to terroir related variability, vive la differénce!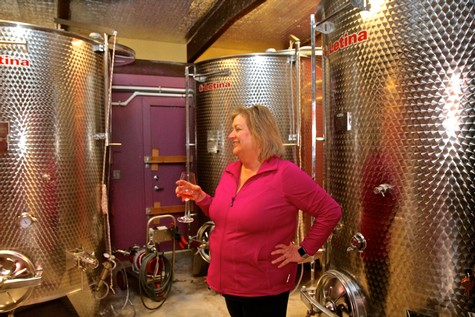 Yet on the other hand, Clarke has a valid point: if sandy soils in pockets in and around the bends of Lodi's Mokelumne River are most conducive to fresh, crisp, and particularly fragrant, styles of white wine, maybe we should be growing more white wine grapes.
In the interview, Clarke went on to rattle off the names of a few Italian white wine grapes that he thought could do well here, but are largely unheard of in the U.S. As it were, two years prior to the 2011 invasion of British journalists, Acquiesce's Sue Tipton had already planted white wine grapes native to France's Rhône region on her 12-acre property, for basically three good reasons:
1. Lodi's Pacific and Delta influenced Mediterranean climate is strikingly similar to the Rhône Valley, which is located not too far from the Mediterranean Sea.
2. Rhône grapes and varietal wines have been steadily growing in popularity in the U.S. over the past 20, 25 years.
3. Ms. Tipton adores Rhône style white wines, which are made from grapes like Grenache Blanc, Grenache noir (strictly for rosé, no reds – Clarke would approve) Roussanne, Viognier, and Picpoul – and we always do best what we love, do we not?
The first releases of Acquiesce whites, from the 2011 vintage, were rather narrow, closer to scrawny, in fruit expression. Still, the first releases set a precedent for what has since become a distinctive, and very popular, house style: bone dry qualities of moderate weight (generally 13% to 13.5% alcohol), and slow fermented (about 55° F., which can take as long as a month) and aged entirely in stainless steel tanks, never seeing a second in oak (meaning, mercifully free of woody sensations).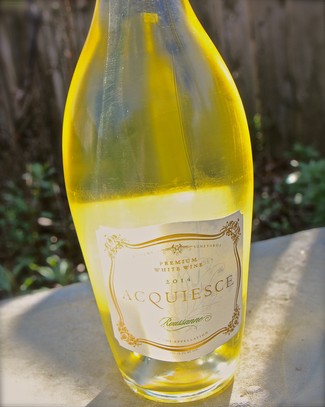 Starting with the 2012 vintage, Ms. Tipton's whites began to show moxie:
► The Picpoul has been lemony sharp like a good Picpoul should be.
► The Grenache Blanc has been lavish in floral fruit with slices of violet and lavender notes, like the best of European Grenache Blancs.
► The Viognier has been consistently fuller yet crisp, teeming with tropical white flowers (gardenia, jasmine, lilac), like the finest of Viogniers
► Acquiesce Roussannes render a honeyed nut toned viscosity, not unlike classic Rhône style Roussannes, only without the wood or oxidated rounding.
► And Tipton's signature Belle Blanc (blends of Grenache Blanc, Viognier and Roussanne) has consistently combined qualities of all three grapes – lemony crisp edges, silky texturing, and pungent mixes of citrus, tropical flower, lavender and mineral.
But success can sometimes be problematic. For Acquiesce, the "problem" has been almost all of wines selling out by the end of each summer, forcing the closing of their tasting room by the time grapevine leaves begin to crinkle and change color.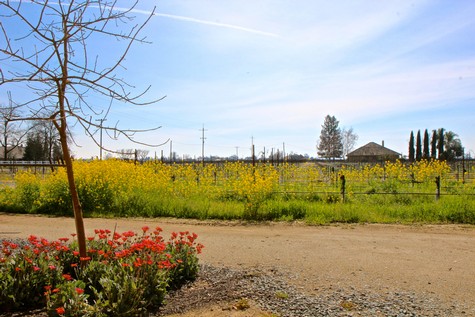 But over the past year Ms. Tipton has been diligently working to remedy the situation: Out came the trellised block of Zinfandel (which were being grown for E. & J. Gallo) that was planted between the Tipton home and tasting room. Should you visit Acquiesce when they reopen their fanciful barn doors this coming March 11, you will see another 6.5 acres of fledgling Picpoul, Grenache Blanc, Viognier, Roussanne, as well as more Grenache noir for rosé plus two rarely seen Southern French grapes, Clairette Blanche and Bourboulenc. Excited? We are.
Some tasting notes on the latest releases to be found when Acquiesce's tasting room re-opens next week:
2015 Acquiesce, Lodi Picpoul Blanc ($23) – Fans of this wine should pay attention – for the first time, Tipton has bottled her Picpoul as a 100% varietal (previous vintages were rounded out by small portions of Grenache Blanc). This means more of the prickly, light, lemony tartness that Picpoul lovers crave; while the nose positively bursts with floral/violet notes, with suggestions of citrus/tangerine and fennel. Only 60 cases produced.
2015 Acquiesce, Lodi Grenache Blanc ($24) – Mediterranean-ish notes of blossoming honeysuckle tinge crisp pear-like fruit qualities; tucked into a tight, compact, pleasingly lean, nimble, sleekly textured medium bodied palate feel.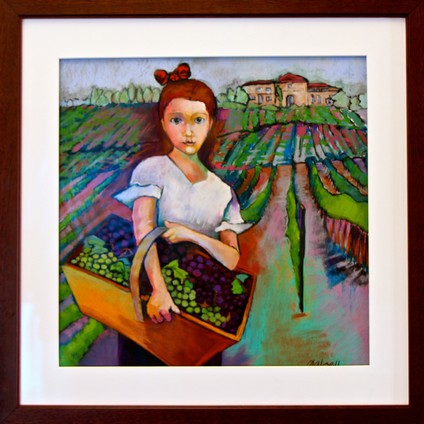 2015 Acquiesce, Lodi Viognier ($23) – In 2015 the Acquiesce Viognier takes a turn towards a fuller body (14.1% alcohol). The feel is on the fleshy side, with mildly crisp edges; but the aromas and flavors are teeming with lilac, almost gardenia-like perfumes, with lavender and white pepper notes below. Think "other white meat" – peppercorn or spice rubbed pork tenderloin; lamb loins finished in white wine jus; Szechuan spiced chicken; or arugula or mesclun salads with peppered goat cheese and white balsamic vinaigrette.
2014 Acquiesce, Lodi Roussanne ($24) – Although most of the 2014 Acquiesce varietal whites were sold last year, Tipton likes to hold back the Roussanne to give it time to deepen and flesh out. It's a good thing, because now the nose is fairly explosive with honeyed almonds, dried citrus and marzipan-like confections; medium to medium-full (13.5% alcohol), taut with plenty of sprightly natural acidity, evolving into meaty, viscous, layered sensations. Tipton's foodie-thoughts? "I think this would be amazing with foie gras, duck confit or pork belly" – and we cannot disagree!
2014 Acquiesce, Lodi Belle Blanc ($26) – Tipton will also open this month with the 2014 vintage of her signature blend – Grenache Blanc (45%), Roussanne (45%) and Viognier (10%). At the moment, the Belle Blanc seems to be tilted towards the Roussanne side – the fleshy yet svelte, honeyed almond character balanced out by the crisp edged minerality of the Grenache Blanc, with the scrubby lavender, hinting-towards-violet notes of Viognier.
2015 Acquiesce, Lodi Rosé ($24) – Always one of the best dry rosés grown in Lodi, and possibly even better in this new vintage – slaking the palate with bright, lush, upbeat watermelon/strawberry-like fruit, underlined by earthy notes, vaguely of dried, woody kitchen herbs, and a sense of lightness combined with pliant generosity.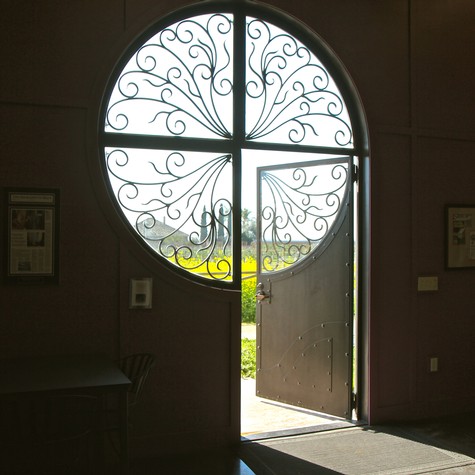 Comments