Letters from Lodi
An insightful and objective look at viticulture and winemaking from the Lodi
Appellation and the growers and vintners behind these crafts. Told from the
perspective of multi-award winning wine journalist, Randy Caparoso.

February 1, 2022 | Randy Caparoso
A violet scented Petite Sirah and native style Zinfandel top Peltier wines crafted by star winemaker Susy Vasquez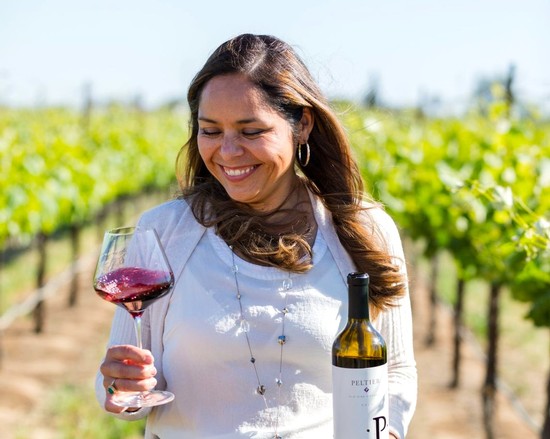 Lodi's Peltier Winery & Vineyards produces an amazing Petite Sirah. Perhaps the finest in Lodi wine country. No doubt, this is what many wine lovers going from winery to winery in Lodi during last month's "Celebrate Petite Sirah!" event (January 15-17, 2022) may have already discovered, if they happened to have ventured out to Peltier Winery on the northern edge of the Mokelumne River appellation, on the east side of the old Union Pacific Railroad tracks bisecting the City of Lodi.
A lot of Peltier's ascendant quality has to do with winemaker Susana Rodriguez Vasquez ("Susy," to her friends), who came aboard six vintages ago, in 2016. Before that, mind you, Peltier's wines were perfectly fine. It helped that one of their first bottlings, the 2005 Peltier Petite Sirah, garnered "Best of Class" and "Best of Region" awards at a California State Fair. The difference is that today, every wine grown and produced by Peltier Winery is a home run. At least since Vasquez has been doing the batting.
Good to great wines, of course, start in vineyards, and all the grapes going into Peltier wines have been conscientiously farmed (certified by LODI RULES for Sustainable Winegrowing) by third-generation Lodi grower Rodney Schatz. Mr. Schatz founded Peltier Winery twenty years ago with his wife, Gayla Schatz. Like other major Lodi growers/producers, the Schatz's sell most of their grapes to other wineries as well as custom-crush much of their fruit, while saving the best for their own brand. Ms. Schatz runs the business side of the multifaceted operation; lately, with the help of the two Schatz kids Hadyn (concentrating on vineyard management) and Faryn (management of the winery and sales).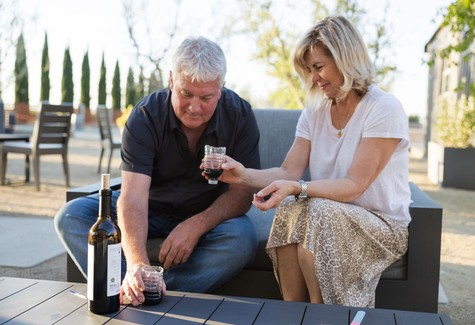 What makes Peltier's Petite Sirah special
There are many wine connoisseurs who would say that a "special Petite Sirah" is a contradiction in terms. Petite Sirah has long been one of California's more popular varietal categories; at least since the very idea of "varietal" wines (as opposed to generic jug wines such as "Burgundy" and "Chablis") first emerged, back in the 1960s and '70s.
Still, the kindest way to describe Petite Sirah has always been "rustic" — like saying "brute," or "Neanderthal" — because of the varietal's predictably coarse, rough taste and, more often than not, monochromatic fruit profile, often buried under tons of sweet, harsh, dillweed American oak (most California producers of Petite Sirah never thought the grape was "good enough" to warrant more expensive French oak).
This is why the 2019 Peltier Winery Lot 20 Lodi Petite Sirah ($30) is almost shocking in its sleek, poised yet coiled combination of the body — a full body (weighing in at 14% alcohol), typifying most Petite Sirahs — and tingling acidity, the latter quality lifting the wine's concentration of fruit suggesting blueberry/boysenberry, and also helping to keep the wine's generous tannin from becoming blunt and boisterous.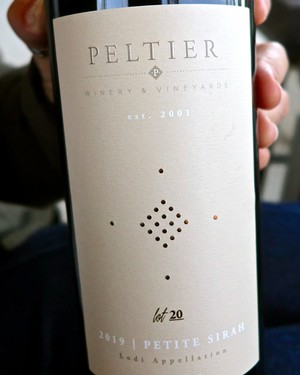 What is even more interesting about Peltier's Lot 20 Petite Sirah is its nose: Rather than being a simple fruit bomb, it is tinged with floral, violet-like notes, mingling with the scent of cracked peppercorn spice lurking in the backdrop. The flower and spice notes help carry the palate feel, marked by a velvet texturing wrought by the winemaker's deft usage of oak (second-use, 100% French barrels) to tame the varietal's aggressive tannin. It is not often that anyone would use a descriptor such as "filagreed" for Petite Sirah, but you can't help but think that as you savor the intricate sensations of vanilla bean, peppercorn, dark roast coffee and floral, plummy fruit that linger, with almost unexpected grace, on the taste buds.
Ms. Vasquez does admit employing a little bit of a "twist" to bring out kinder, gentler, floral notes in the Lot 20 Petite Sirah — sort of like coaxing out a feminine side of a brawny man. "I felt the wine needed a little something, so I blended a small amount of Viognier," says Vasquez, referring to the white wine varietal that is typified by honeyed, violet, or lavender-like scents. "It was just 1%, but it was enough to amplify the aromatics and soften the palate."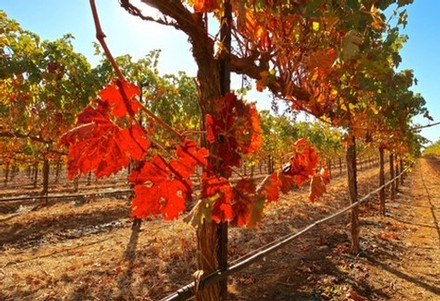 Quality, as always, starts with exceptional grapes, which for this wine Vasquez also attributes to the deep-colored intensity possible in Petite Sirah farmed in the rocky clay soils of Lodi's Clements Hills AVA. Another 25% of this wine was sourced from Schatz-farmed vineyards in the Mokelumne River AVA, which has sandier soils that tend to yield a more floral style of Petite Sirah.
The reference to "Lot 20" on the 2019 Petite Sirah's label, adds Vasquez, "commemorates the 20 years that have passed since Peltier Winery was first founded, and also marks the evolution of the Schatz family, how they went from being grape growers to winery proprietors, and the importance of having complete control of the entire process from grape to glass... This wine is a celebration of that evolution!"
Other stars in the current Peltier Winery portfolio
The combination of Schatz-farmed grapes and Vasquez's magic touch as a winemaker can now be gleaned through virtually every wine put out by this family-owned brand. In a post just last week, for instance, we made note of the fact that one of the "Best of Class" winners (for "Rosé Sparkling Wines") at this past January's prestigious San Francisco Chronicle Wine Competition was Peltier Winery's 2019 The Gala Lodi Brut Cuvée ($45). In his report, veteran wine journalist Mike Dunne described this wine as "a sophisticated brass-toned and bone-dry sparkling wine suggestive of both chalkiness common to France and nectarines common to California." Technically, this authentic champagne method-style sparkling wine is a 50/50 Chardonnay/Pinot noir blend, buoyed by the slightest amount of residual sugar in the dosage.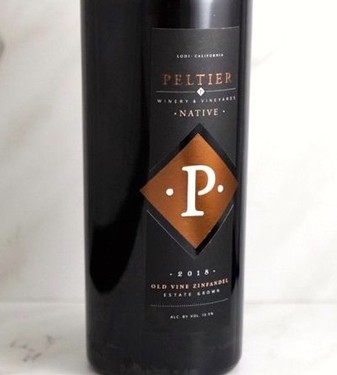 In a land replete with top-drawer Zinfandels, it's hard to produce a Zinfandel that stands out above the crowd. If anything, the 2018 Peltier Winery Black Diamond Native Zinfandel ($30) stands as a near-perfect rendering of east-side Mokelumne River-Lodi Zinfandel — that is, a more elegant, fragrant, almost delicate style of Lodi-grown Zinfandel. In this case, it is a flowery fragrance teeming in black cherry, black tea, and faintly peppery spice. Silken fine, zesty medium-bodied qualities (not light, but far from heavy or "big" in its 13.5% alcohol) filled out by a smooth, restrained modicum of tannin and a natural acidity brightening the red fruit profile, finishing with a faint hint of coconut (the final note, reflecting the use of third-use and neutral barrels, 50% American and 50% Hungarian).
The Peltier Native Zinfandel may have also been one of Vasquez's most difficult projects precisely because it is done in a native yeast-fermented style which, if anything, demands a winemaker's restraint — and talented winemakers such as Vasquez are always compelled to bend and shape a wine to fulfill an artistic vision. Vasquez tells us, "It's funny how it's the most minimal intervention style of wines that demand the hardest work and most attention, but in the end, we were rewarded with a wine that truly expresses the pure taste of Lodi Zinfandel." If you'd like to know what real Lodi Zinfandel tastes like, look no further.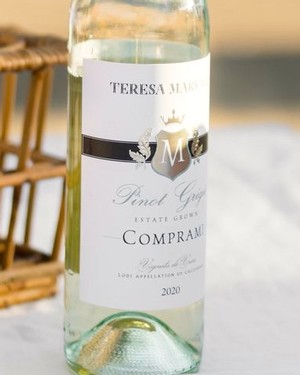 When she first landed at Peltier Winery, after plying her craft for 10 years for much larger companies such as Constellation Brands and E. & J. Gallo, Vasquez immediately made waves with a battery of white wines that were startlingly pure in their varietal profiles and as refined as they were intense. The 2020 Peltier Winery Teresa Marengo Comprami Lodi Pinot Grigio ($20) epitomizes that unerring touch: One because it's hard to craft a Pinot Grigio that can stand out above a vast ocean of Pinot Grigios from all over the world; and two, it's God-send to find a Pinot Grigio that also captures, like fireflies in a jar, the mineral and kitchen herb (in this case, suggestions of lavender and thyme) nuances intrinsic in fruit grown in Lodi's eminently grape-friendly Mediterranean climate.
And that's what makes Peltier's Pinot Grigio so distinctive; beginning with bright fragrances of pear, pink grapefruit skin, and flowery, violet/lavender-like notes floating over the top like scented clouds. On the palate, the white is light as a feather, perked up by grapefruity/citrus acidity. In the middle, there is a fleeting trace of sweetness (wine is finished with just 1 gram of residual sugar, which is below the technical threshold of perception of sweetness), which only enhances the refreshingly crisp, airy qualities of the fruit.
The "Teresa Marengo" on Peltier's Pinot Grigio label, explains Faryn Schatz, pays tribute to her great-grandmother Teresa Marengo, who she describes as "a tiny Italian woman whose love of cooking was matched only by those she fed. This food0friendly wine came from the vineyard where Teresa, lived so it felt natural to name this Italian varietal after the woman, our Nonna, who loved to feed us."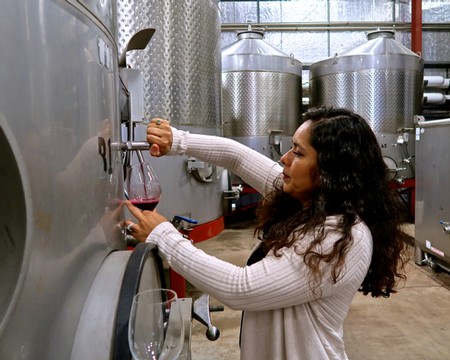 From the beginning, in 2016, Vasquez also firmly established her bonafide with a series of Sauvignon blancs capturing the absolute purity of the grape. Consequently, the Peltier Winery Sauvignon Blanc is one wine that is constantly sold out (as it is at the moment) by the winery. There is currently, however, a 2020 Peltier Winery Black Diamond Lodi Fumé Blanc ($20) available that is dubbed "Fumé" because it receives a restrained amount of French oak aging (albeit just 4 months in third-use barrels, whereas Peltier's "regular" Sauvignon Blanc are produced entirely in stainless steel).
Vasquez's rendering of Fumé Blanc shows off a vivid yet understated array of honeydew melon and citrus scents in the nose, tinged by whiffs of fresh, green herbiness and drops of vanilla. On the palate, the wine is outwardly crisp-edged, bone dry, and medium-bodied, with a faintly creamy, silky texturing that extends the mildly herby, crisp fruit qualities into an exquisitely long and lithe finish. If you're an old-timer who can fondly recall the brilliantly fresh and finesse styles of Fumé Blanc produced by Robert Mondavi Winery during the 1970s and early '80s, this may be the closest thing yet to those wines put out during the promising dawn of California's modern-day wine era.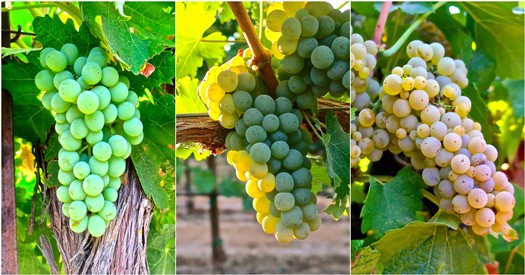 If you're looking for something completely original within the scope of this entire world of wonderful, interesting wines, we strongly recommend the 2018 Peltier Winery Lodi Prééminence ($30). This is one of Vasquez's pièce de résistances, and in a way, is something of a thinking person's white wine. Prééminence consists of a third each of Vermentino, Sauvignon blanc, and Chardonnay grapes; a three-way blend that artfully enfolds edgy, layered, medium-full bodied sensations within a fleshy, toothsome texture, while popping out a multifaceted fruit profile suggesting pear, melon, and a distinctively stony minerality, underscored by a restrained touch of vanilla derived from a tiny bit of oak (the Chardonnay component, fermented and aged 12 months in third-use French oak — what Vasquez describes as "monster neutral" — barrels).
Much of the world may be unaware of this, but Lodi is also capable of producing serious Cabernet Sauvignons. Does the world even need another "serious" Cabernet Sauvignon? For what it's worth, it is the combination of deep, rich, immaculate varietal concentration, live-wire acidity, and rounded tannin structuring that puts the spotlight on the 2016 Peltier Winery Schatz Family Reserve Coyote Creek Vineyard Lodi Cabernet Sauvignon ($60).
It is not so much the aforementioned qualities, but the way that the Schatz family's Clements Hills AVA-grown Cabernet Sauvignon is crafted by Vasquez: Its pungent blackcurrant, wild berry, and fresh mint-leafy aromas presented like a finely composed sculpture, under a silky, lacy veil of toasted oak (the barrel-aged component coming across as notably subtle despite the use of 100% new French oak). On the palate, compellingly bright, sun-kissed flavors — signatures of Lodi's Mediterranean terroir — come across as zesty and upbeat, dense yet flawlessly proportionate in their tannin content, and svelte in their layering and sense of balance.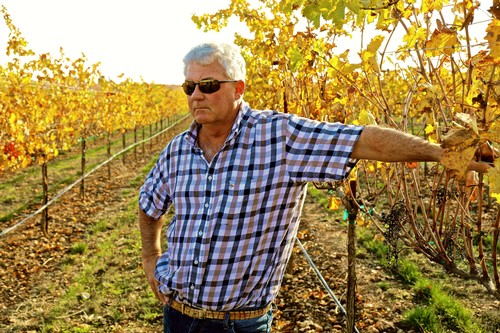 Comments