Letters from Lodi
An insightful and objective look at viticulture and winemaking from the Lodi
Appellation and the growers and vintners behind these crafts. Told from the
perspective of multi-award winning wine journalist, Randy Caparoso.

May 7, 2020 | History | Randy Caparoso
A history of Lodi winegrowing, part 1 — before there was a Lodi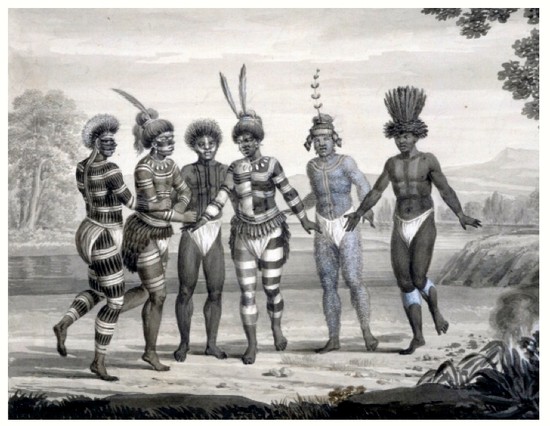 After 10 years of posting weekly or twice-weekly blogs on lodiwine.com, we felt it high time to revisit the entire history of wine growing in the Lodi Viticultural Area (AVA). Covering over 150 years, this series will run in 7 parts, spread out over the next 7 weeks. We hope you enjoy reading about Lodi's "story" as much as we enjoy sharing it!
Mokelumne (Before Lodi Became Lodi)
The first settlers of European descent arrived in the area we know as Lodi in 1846; finding what Ralph A. Clark (Lodi —Images of America) described as "an abundant paradise," perched just a few feet above sea level, sandwiched between the lower foothills of the Sierra Nevada mountain range to the east, and the lower elevation, freshwater marshland of the Sacramento-San Joaquin River Delta and Carquinez Strait to the immediate west.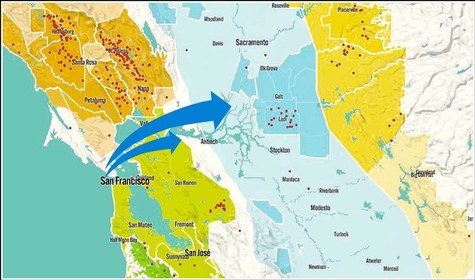 The Carquinez Strait connects Suisun Bay (where the Sacramento and San Joaquin Rivers flowing down from Sierra Nevada meet) with San Pablo Bay (the northern extension of San Francisco Bay). The entire Sacramento-San Joaquin River Delta dates back approximately 10,000 years when ocean levels began to rise following the last Ice Age. The Delta area is the only break in the entire California Coast Ranges, caused about 560,000 years ago when seismic activity drained the freshwater lake that once covered the entire San Joaquin Valley (geologically, stretching over 400 miles from present-day Redding in Northern California's Shasta County to Bakersfield in Kern County) into the Pacific Ocean. With most of its elevation lying at least 15 ft. below sea level, the Delta area exerts a huge impact on the climate of the farmlands surrounding the City of Lodi that are directly adjoining.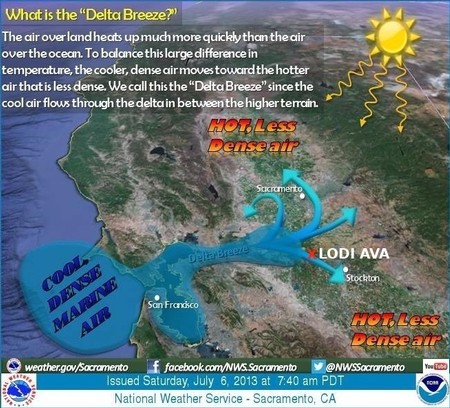 The Native American tribe occupying this plush pocket of riparian growth just prior to the onslaught of settlers from Europe and other states was the Plains Miwok; most of whom had already succumbed to a malaria epidemic that ravaged San Joaquin Valley's indigenous population in 1832. By 1835 most of them were moved (voluntarily and forcibly) to the Franciscan order's Mission San José; and even after the Alta California missions were secularized in 1838, John Sutter (who founded Sutter's Fort in the area of what became Sacramento) was said to have played off the few surviving Plains Miwok families against other groups to successfully gain control of their lands.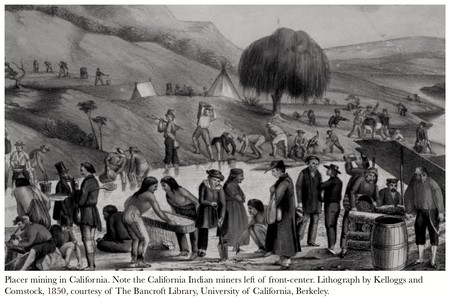 The Treaty of Guadalupe Hidalgo, signed on February 2, 1848, to end the Mexican-American War (1846-1848), turned Alta California over to the United States. But what really changed the landscape was the January 24, 1848 discovery of gold in Sutter's Mill, in the foothills of the Sierra Nevada less than a day's ride on horseback from the early trappers' camps along the valley floor rivers; unleashing a human flood of hundreds of thousands of new settlers, eager to put down roots in this new American state (California was admitted into the Union on September 8, 1850).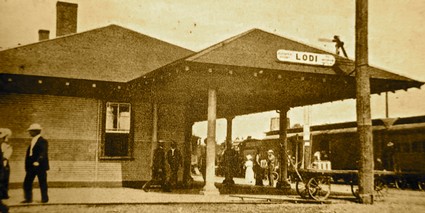 The settlement near the banks of the Mokelumne River (mogul is a corruption of the Miwok word for river, and one means "people of") would not become known as Lodi until 1874. It was originally called Mokelumne and was officially established as a town in 1869 after a group of major landowners persuaded the Central Pacific Railroad to make it a stop between Stockton and Sacramento. Steps from the railway station, the site of the town's first buildings at the corner of present-day Sacramento and Pine Streets — where the landmark Lodi Arch would later be erected (to commemorate the 1907 Tokay Carnival) — was chosen because it sits on slightly higher ground, less prone to the Mokelumne River's frequent flooding.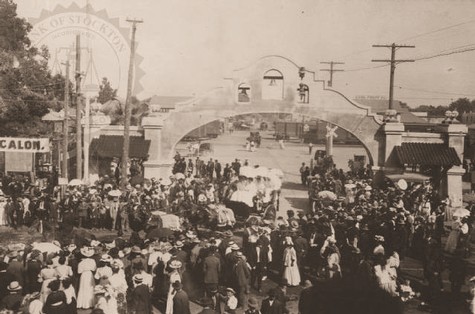 The town of Mokelumne, however, was often confused with the nearby communities of Mokelumne Hill and Mokelumne City (according to Clark, the plethora of Mokelumne often delayed mail and hampered shipments of goods and supplies). This was what forced the eventual change in name to Lodi (according to Clark, most likely in tribute to Lodi in Italy, where Napoleon was once stopped in 1796, although there are at least two different stories explaining how Lodi got its name).
Lodi was incorporated as a city in 1906; by which time agriculture was firmly established as the surrounding region's main industry: today, in the early 2000s, led by almonds and walnuts in annual total revenue, followed close behind by wine grapes, then other fruits (particularly cherries) and an enduring dairy industry.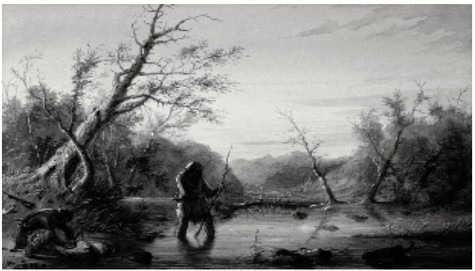 Land Conducive to Agriculture
By the time the 85,700-acre American Viticultural Area (i.e. AVA) of Mokelumne River (one of Lodi's seven sub-appellations) was officially recognized in 2006, the agricultural land surrounding Lodi had been known for well over a century for its deep, rich, fine, talcum powder-like alluvial soil — as much as 90-ft. deep — classified as Tokay sandy loam. This fertile valley soil is complimented by the same dry Mediterranean climate, warm seasonal temperatures, and diurnal shifts, typifying most of the California coast between Santa Barbara and Sonoma.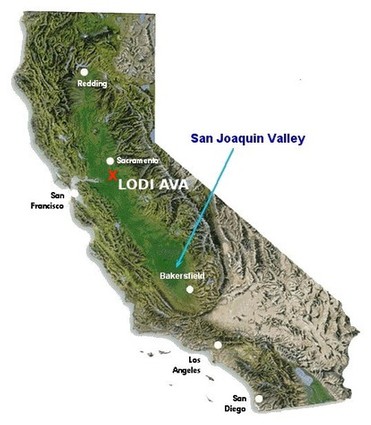 In fact, most American AVAs are not defined by nearly as much of a consistency of topography (10 to 85-ft. elevation flats, with less than 2% slopes) and single soil type as the Mokelumne River appellation surrounding the City of Lodi. Whereas most American wine regions consist of a multiplicity of soils, slopes, and elevations, in the Mokelumne River AVA there are no steep mountains or significant hills, and no rocks or even gravel: just this well-drained mix of decomposed granite (derived from the base rock of the Sierra Nevada, eroded away by constant river action) and sediment washed down from the mountains, starting in the Miocene period (some 20 million years ago) when the San Joaquin Valley was still an inland sea, although most of the soil farmed in the Mokelumne River appellation today is less than 25,000 years old.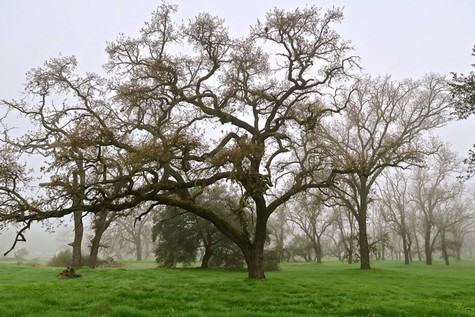 Hence, when the mid-nineteenth century settlers finally arrived, they found a lush valley of grasslands and valley oaks, with herds of elk and antelope, grizzly bears still roaming free, and major tributaries (the Cosumnes River to the north of the Mokelumne River, and Calaveras River to the south, skirting Stockton) teeming with salmon and other fish.
According to Clark, grapes were also part of the original landscape; albeit native varieties, "growing wild dangling from the trees along the riverbanks." The nearby Calaveras River (a Spanish name, meaning "skulls," given by explorer Gabriel Moraga in 1806), in fact, was originally called 'Wine Creek' by early trappers, due to the abundance of wild vines — something you can still see today, growing among the tall trees and bushes along the banks of the river on the Sorelle Winery estate.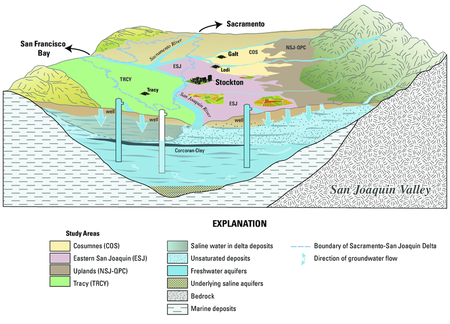 Just a few feet below the surface of the valley floor in the vicinity of the Mokelumne River is an enormous aquifer of water, which made the farming of a succession of major crops in this rich sandy loam that much easier. First, the early settlers successfully grew wheat and barley; and by 1880 San Joaquin Valley was actually producing the largest wheat crop in the world. When wheat prices failed, the Mokelumne River area's high water table allowed for a flourishing watermelon industry — in fact, Northern San Joaquin Valley once held the unofficial title of "Watermelon Capital of the Country," between the late 1880s and 1900.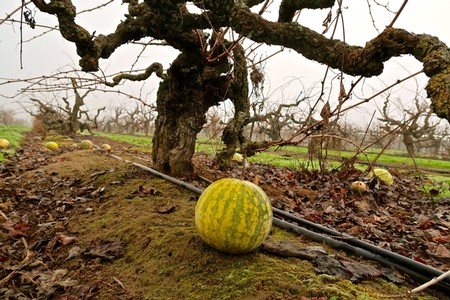 Transition to Grape Growing
By the time the market for watermelons began to drop during the 1890s, farmers in Lodi's Mokelumne River area were already transitioning to grapes; particularly the vivid, pink-colored table grape known as Flame Tokay; although there was also a growing call for black-skinned wine grapes such as Zinfandel and Carignan.
It is probably hard for anyone below the age of 30 today to imagine that Tokay, which you can no longer find in supermarkets, was once planted in every nook and cranny of Lodi. Tokay is a member of the European family of classic wine grapes, Vitis vinifera — probably originating in Algeria (where it is called Ahmer Bou'Amer) — and is a seeded, pinkish-skinned grape cultivated primarily for eating, not so much for wine (although Jessie's Grove Winery still makes a rare, medium-sweet, mildly fortified varietal Tokay from its remaining +100-year old vines).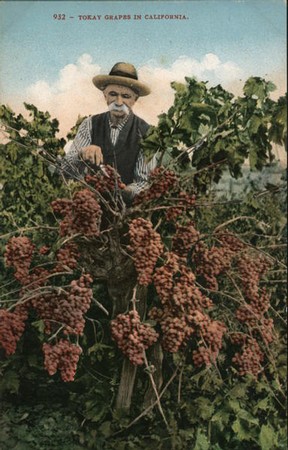 According to Lucy Reller and Ralph Lea in the Lodi Historical Society's newsletter called Lodi Historian, plantings of Tokay were reported southeast of Sacramento in 1857, and shortly after in areas near Folsom, Vacaville, and Fresno. But in those growing regions, "The lack of cool dewy nights prevented the grapes from turning red." In Lodi's Delta-influenced climate, however, it was discovered that Tokay grew to a flaming, pinkish-red perfection.
Mokelumne River area farming families probably discovered Tokay's commercial potential as early as the late 1850s — even before Zinfandel became a popular planting in the region. In all likelihood, Tokay was one of the 30 varieties planted in 1861 by George Perley and George West on their farm located just west of Woodbridge (now located on the west side of Lodi's Mokelumne River AVA). According to Lodi Historian, "The John Thompson family, father of Wilson Henry, would buy this vineyard 18 years later, and plant 30 acres of Tokay grapes."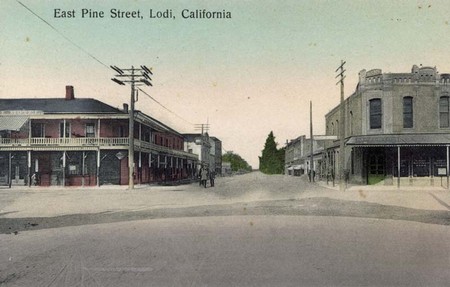 In 1864 George J. Leffler went on record as planting 6 acres of Tokay, along with 2 acres of Black Prince (now identified as Rose of Peru), and 2 more acres of 15 different varieties. The location of Leffler's vineyard would now be near Eight Mile Rd., south of the City of Lodi. According to Reller and Lea, "The plump berried Tokay and Black Prince varieties did the best, and these eating grapes were successfully sent to the San Francisco market by boat."
Reller and Lea also say that when Ezekial Lawrence, a pioneering Lodi farmer, arrived in Lodi in 1857, "there was less than 10 acres of grapes in San Joaquin County." But by 1879, Lawrence and a few other growers were shipping Lodi-grown grapes "by railroad cattle car to New York City in 16 days travel." Wheat, and later watermelons, dominated the Lodi farmlands up until the 1890s, but Tokay and wine grapes such as Zinfandel soon prove to be more profitable.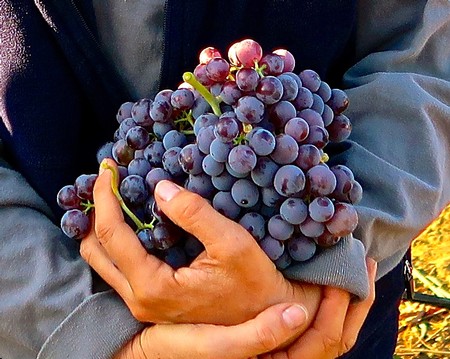 Another one of Lodi's earliest vineyards consisted primarily of Mission (a.k.a. Criolla or Pais), planted sometime during the early 1860s by A.T. Ayers just north of the City, on the south side of the Mokelumne River. In 1880 this ranch was purchased by Stephen Sanguinetti and passed down to his son Louis and grandson Allen Sanguinetti.
One of the first serious forays into viticulture in Lodi was undertaken in 1888 by Allen T. Covell. According to Reller and Lea: "Covell purchased 160 acres north of Turner and west of Lower Sacramento for $125 per acre. He started planting grapes and in 1890 set out a large block of Tokay grapes, the first commercial planting."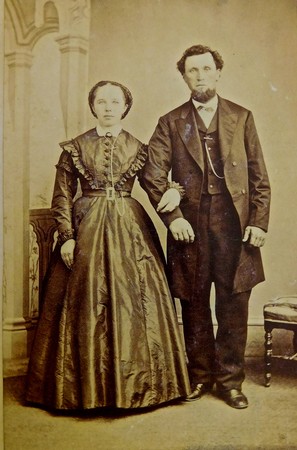 A couple of years earlier (1886), Joseph Spenker planted his first 25 acres of wine grapes; including a grape called "Black Malvoisie" (identified 118 years later as Cinsaut) on his square-mile block north of Turner Rd. between DeVries and Davis, west of the growing town of Lodi. Fruit from Spenker's original Cinsaut vines, now known as the Bechthold Vineyard, was fresh-packed and shipped to home winemakers during most of the past 130 years, and is still productive today (now going to specialty winemakers) as, most likely, the oldest living Cinsaut vines in the world.
Tokay, however, was the crop that would eventually generate the wealth that made the City of Lodi possible in 1906. For most of the twentieth century the grape remained the most widely planted grape in the Mokelumne River area; but plantings all but disappeared by the 1980s following the development of hybrid seedless varieties such as Flame Seedless, which could be grown far more easily for much lower cost further south in the Central Valley.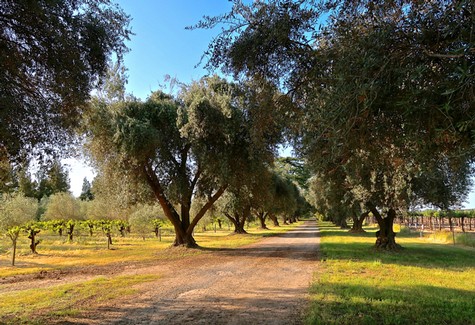 You can still see some ancient Flame Tokay vines growing today in Lodi: sometimes a few well-tended bushes in front of old homes, putting out vividly colored fruit from majestic tree-like trunks; but primarily, in patches of long abandoned roadside plantings, covered with scraggly weeds. There is, however, one 3-acre block of 1890 Flame Tokay vines (originally planted by Zella Hansen) still standing in the Chandler Vineyard, on the west side of Mokelumne River-Lodi. Alas, almost half of Chandler's venerated vines, planted on 10 by 10-ft. rows, were torn out in the early 2000s and interplanted with Mission olive trees by an over-zealous partner of the property owner (Karen Chandler), itching to get into the olive oil business. Thank goodness, the noble-looking vines that remain are now highly prized for not only their now-rare historic value but also as the basis of a skin-contact fermented varietal wine (see our recent post, Sabelli-Frisch revives near forgotten Flame Tokay and Mission grapes).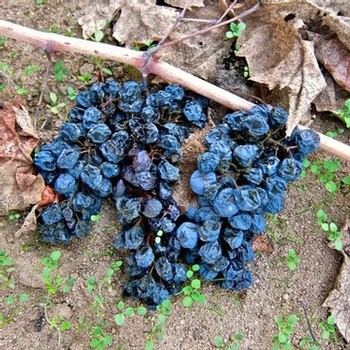 Wine grapes, of course, played a key role in Lodi's agricultural history from the beginning. Phylloxera — an insidious root louse that temporarily maimed the California wine industry (especially in Napa Valley, Sonoma County, and Livermore Valley) during the 1860s and 1870s — had no effect on Lodi's steadily growing grape farming industry.
Why? By happenstance, phylloxera does not proliferate in sandy soils; which is why, to this day, Lodi's oldest Mokelumne River plantings (dating back to the 1880s) are still happily growing on their own, ungrafted rootstocks (the same phenomenon exists in nearby Contra Costa County, where soils are even sandier, and many own-rooted vines cultivated since the 1890s are still productive).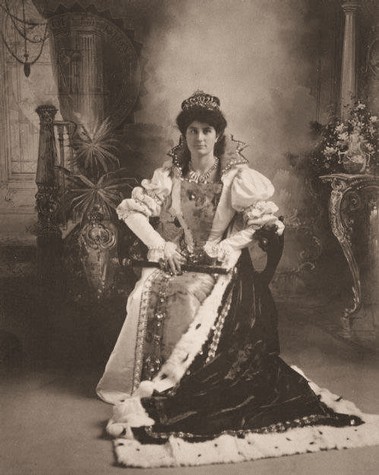 A major force in Lodi's wine history also happened to be the founder of the City of Stockton: Captain Charles M. Weber, who acquired 49,000 acres of his original holdings through a Spanish land grant. In 1850, Captain Weber planted the first vineyard in the Stockton area. Around that time, a friend of Weber's from Massachusetts named George West paid a visit and was inspired to go into the grape-growing business for himself.
In 1852, George West and his brother William West shipped in cuttings of some 40 "foreign varieties" on a steamer, sourced from a nursery in Boston. The following year they planted their first vineyard at the north end of Stockton, near the Calaveras River where it intersects with the southernmost edge of the present-day Lodi AVA; and in 1858 they established El Pinal Winery. The present-day Sorelle Winery estate sits on a small section of a vineyard property (once totaling 62 acres) that the Wests contracted with Jonathan H. Dodge in 1868.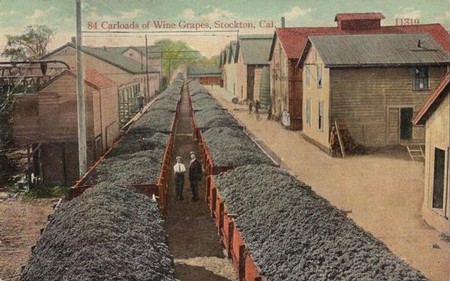 We do not have lists of all of the varieties imported by the Wests on a yearly basis during the 1850s and 1860s; but according to An Illustrated History of San Joaquin, the inventory included Spanish and Portuguese grapes intended for the production of fortified Sherry and Port wines, as well as the seedless Sultana grape (also known as Thompson Seedless, named for a viticulturist named William Thompson who, presumably, perfected the selection of this grape, which is now responsible for 97% of the California raisin crop).
During the next four decades, the Wests focused on grape growing for raisins, the table market, and wine. El Pinal Winery also became known for its brandy, as well as a Claret-style wine (the latter made from unnamed "Bordeaux" grapes). In his book Zinfandel: A History of a Grape and Its Wines, Charles Lewis Sullivan writes that the Wests were cultivating Zinfandel at least by the 1860s; and that in 1883 an El Pinal Zinfandel was submitted to a viticultural convention in San Francisco.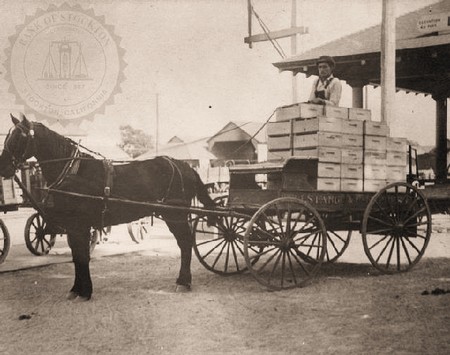 Sullivan also cites a surprising innovation: noting that El Pinal's technique of turning free-run Zinfandel juice into a pinkish wine was so highly thought of that California viticultural commissioner Charles Wetmore — another pioneer of California white wines, and also the founder of Livermore Valley's Cresta Blanca Winery (in 1882) — openly advocated the use of Zinfandel to produce a "white" wine. If this story is true, this wine probably qualifies as the world's first "White Zinfandel" —something that other California vintners would not begin to experiment with again until the late 1960s and early 1970s (although in the 1860s, the Buena Vista Vinicultural Society is thought to have utilized Zinfandel to produce sparkling wines, which would have also required the use of free-run juice).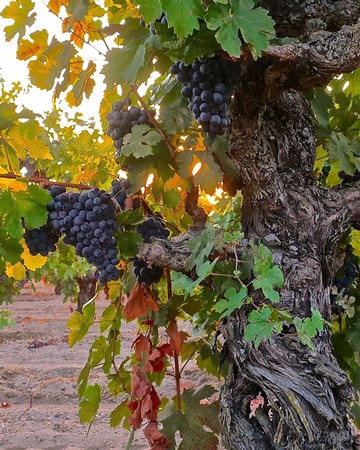 Among the grapes, Spenker planted on his 1,000-acre property between the late 1880s and 1900 from cuttings supplied by El Pinal's nursery were Madeline, Black Hamburg, Sweetwater, Black Ferrar, and Emperor — although, unlike the Bechthold Vineyard Cinsaut, these curiously named varieties would eventually be pulled out. There is still a tiny, 5-acre mixed block of mostly Zinfandel (84.5%) with Carignan, Flame Tokay, Mission, and Black Prince planted by Spenker in 1889 and now called Royal Tee Vineyard, which is picked as a field mix and bottled by both Jessie's Grove Winery (still owned and farmed by Spenker's descendants) and Alquimista Cellars.
It is thought that, by the 1890s, the most widely planted grape in the Mokelumne River area was Tokay, and there were several wineries established as well. Some of the major growers cited by the Lodi Historical Society include Elliott E. Morse, John Boyce, B.F. Langford, Victor Jahant and Henry Pope. At that time Zinfandel also became the major wine grape of interest; and according to Clark, "In 1901, the local newspaper declared that wine production was 'the coming industry for this part of the state.'"
Next week: A history of Lodi winegrowing, part 2 — from Tokay to a Golden Age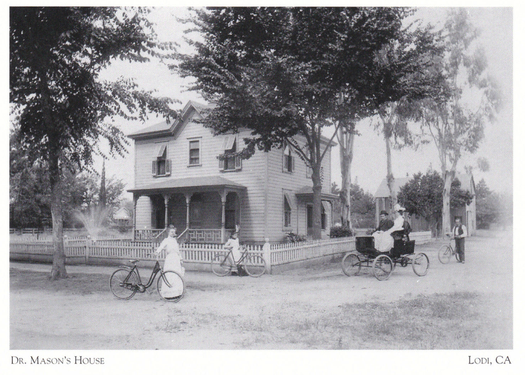 Comments