Letters from Lodi
An insightful and objective look at viticulture and winemaking from the Lodi
Appellation and the growers and vintners behind these crafts. Told from the
perspective of multi-award winning wine journalist, Randy Caparoso.

December 15, 2020 | Randy Caparoso
A Lodi white makes the world's Top 100 list, and other Lodi whites for Christmas shopping and sipping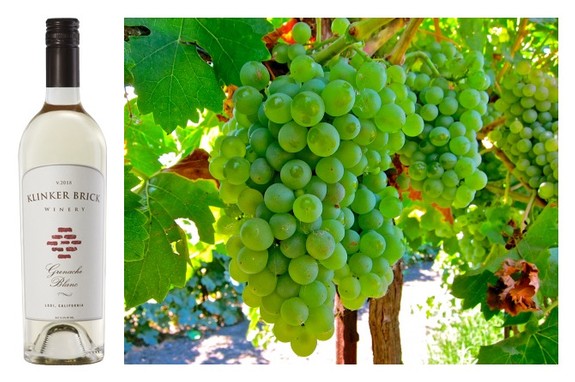 Here in the second week of December, the big news out of Lodi wine country is this: the 2019 Klinker Brick Winery Lodi Grenache Blanc ($15) has been rated among the 2020 Wine Spectator Top 100 Sweepstakes!
"Each year since 1988," you can read in the magazine, "Wine Spectator has released its Top 100 list, where our editors select the most exciting wines from the thousands we reviewed during the course of the year."
Klinker Brick's Grenache Blanc was rated #94 out of the "Top 100." You may think that this is not so high, but think again: Out of the 100 best wines selected by this magazine in 2020, only 22 of them were grown in the U.S. The rest were from other wine regions around the world. This really means that the world's most widely read wine magazine believes that Klinker Brick's latest Grenache Blanc deserves to be ranked as one of the "Top 22" wines out of all the American wines—from California, Oregon, Washington, New York... every state in the Union—released over the past year. Wow.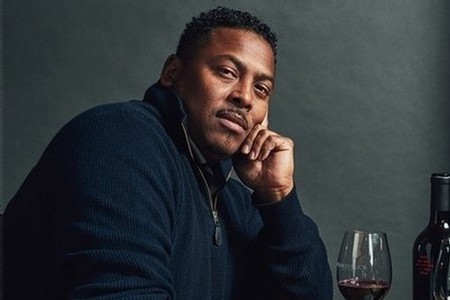 Klinker Brick winemaker Joseph Smith (photo by Jessica Chou, courtesy of Wine Enthusiast Magazine)
In a conversation with Klinker Brick Winery winemaker Joseph Smith this morning, he said with all alacrity: "It's quite an accomplishment for any American wine, let alone one from Lodi, to make this list. Wine Spectator has a huge amount of influence around the world.
"I am very pleased because, the way we look at it, this is the culmination of a lot of hard work by a lot of people in the region, slowly chipping away at a rock in order to gain respectability. This is the result of all that work put in by our growers. It's a little surreal to think that a white wine from 'little old Lodi' can make it on a list filled with all the titans in the wine industry, internationally. What's even stranger is the fact that it's a white wine, not a red wine, because just a few years ago no one even thought that Lodi could produce such a fine white wine and a very delicate one at that."
Credit does indeed go out to the entire Lodi winegrowing community, but also to Ripken Vineyards in particular, which grows the Grenache blanc grapes going into Klinker Brick's sensational wine. Up until recently, Ripken Vineyards was owned and operated by the late Richard "Rip" Ripken (1945-2020) who was, frankly, a wine grape savant. It's appropriate to pay tribute to Richard because he, and his prescient ideas about the region, weren't always appreciated. And he was definitely homegrown: born and raised in Lodi and schooled at U.C. Davis, earning a master's in agricultural science and management before becoming a noted rootstock scientist and nurseryman, based here in Lodi.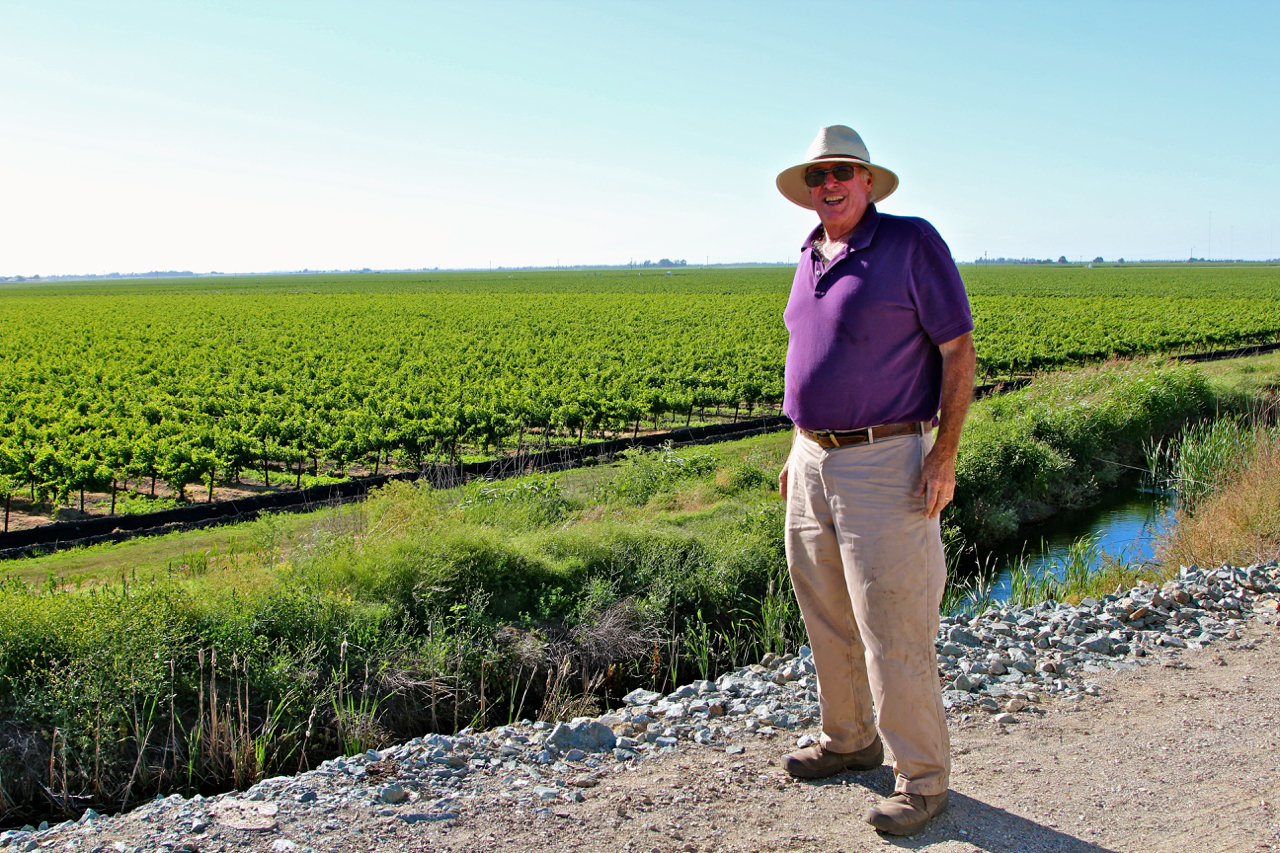 Richard and his wife, Nancy Erlinger Ripken, farmed over 1,000 acres of Lodi vineyards. A good chunk—including the 3 acres of Grenache Blanc utilized by Klinker Brick—is located off Guard Road on the west side of Interstate 5, planted in sandy/peaty Delta soils 20 to 30 feet below sea level. Rip indulged in his near-insatiable interest in grapes to the very end, cultivating, at one point, over 50 different varieties, and today the Ripken family operate their own Ripken Vineyards & Winery, which sells primarily at the door on Lodi's west side.
Eight years ago when Richard first took the time to show me his plantings of Grenache Blanc in the Delta, I distinctly remember him saying: "This is the grape that I am most proud of. A lot of people don't know about it, but I think this could be the grape for Lodi. It loves our warm climate, and it's just so easy to grow, but the quality is amazing. Someday everyone will know about it."
That day has come. Sure, other Lodi wineries, such as Acquiese and Bokisch, have also had huge success with Grenache blanc, but that success has been primarily critical, appreciated only by a small number of their followers and members of the media sharing "inside secrets." Klinker Brick Winery, on the other hand, has a national, as well as international, profile and distribution system. People are demanding a taste of their Grenache blanc-based white all around the world.
Mr. Smith, for his part, thoroughly seconds Rip Ripken's emotion: "When we first started working with Grenache blanc about five years ago we immediately discovered what Richard was finding as a grower—this grape is perfect for Lodi's climate, and because of that, so easy to work with. When we brought in our first vintage and fermented it, all we could say was 'wow!"—the finished product was almost overly refreshing, the bouquet so exuberant and lively. I immediately told Steve [Klinker Brick owner/grower Steve Felten] we have to run with this. So we asked Ben [Ben Kolber, owner of KG Vineyard Management which sustainably farms all the Ripken Vineyards, and is also married to Madelyn Ripken Kolber, Rip Ripken's oldest daughter] if we can contract the entire vineyard. It's been so successful that he's added an acre of it."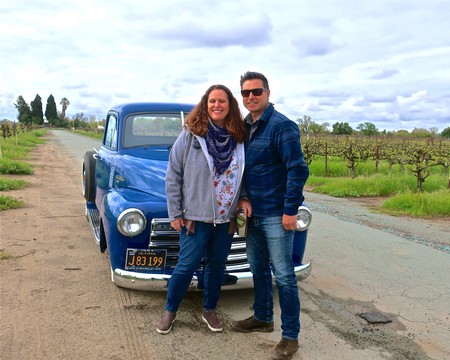 Insofar as winemaking, Smith has never had to do anything extraordinary to bring out Grenache Blanc's natural-born character. Says Smith, "We've always given the grapes a very soft, low extraction whole cluster pressing, and we ferment at 50 degrees [Fahrenheit] in stainless steel. No oak goes right into the bottle. Everything good about the wine is already there, in the grapes.
"The only tricky part is that Grenache blanc takes its time fermenting. For instance, the 2019 that made it into the Top 100 took 45 days to finish. But the fermentation is very clean, with minimal solids. I think it's the long, slow fermentation that brings out all the nuances in the wine. But that's what the grape wants to do, we don't really dictate any of it.
"Three acres doesn't produce a lot of wine, but our distributors are calling all the time asking for more. It's done very well in restaurants, despite the COVID problems of the past year. We can send only a few cases out to just a few of the markets. We also sell it locally at our tasting room, of course, and after this rating, we'll probably sell out pretty fast.
"But if anything, this shows how far we've all come as a wine region!"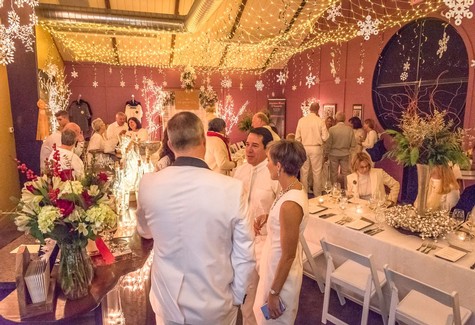 A Christmas list of top Lodi whites
As Mr. Smith says, the entire Lodi wine region can now be proud of the quality of their white wines. Many are "world-class," as he boldly puts it, even if the rest of the world has yet to catch on to that fact. We can confirm this in our own blind tastings presented to trade and media when we've compared Lodi-grown whites with the best or most classic whites of the rest of California and the world.
What are some of the best examples? We started working on a list of a few of them, but the list kept getting bigger and bigger—so many goodies to choose from!
Yes, it's been a challenging year, and so our Lodi-based wineries—virtually all still selling at the door (or rather, parking lot)—could use a boost to keep them going at least until spring of 2021 when life in wine country as we've enjoyed it in the past can finally resume. In the meantime, our list of recommended wines to make it a truly joyous "White Christmas":
Albariño
Bokisch Vineyards, Las Cerezas Vineyard, Mokelumne River-Lodi
Bokisch Vineyards, Terra Alta Vineyard, Clements Hills-Lodi
Harney Lane Winery & Vineyards
Klinker Brick Winery
Mettler Family Vineyards
Oak Farm Vineyards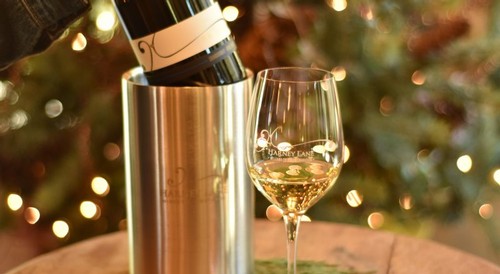 Bourboulenc
Acquiesce Winery & Vineyards
Chardonnay
Harney Lane Winery, Home Vineyard
Harney Lane Winery, Scottsdale Vineyard
Maley Bros.
Michael David Winery
Mettler Family Vineyards
Oak Farm Vineyards
Peltier Winery, Winemaker Select
The Lucas Winery
Chenin Blanc
Heritage Oak Winery
McCay Cellars
Paskett Vineyards & Winery, Hoffman Vineyard
Sandilands Wines, Kirschenmann Vineyard
Six Hands Winery, Palmero Family Vineyard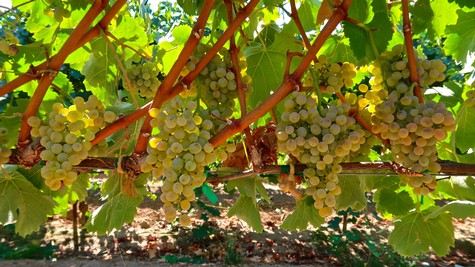 Fiano
Oak Farm Vineyards
Grenache Blanc
Acquiesce Winery & Vineyards
Bokisch Vineyards Garnacha Blanca, Vista Luna Vineyard, Borden Ranch-Lodi
Fields Family Wines, Mokelumne River-Lodi
Klinker Brick Winery
McCay Cellars
Onesta Wines, Clay Station Vineyard
Muscat Canelli
Mettler Family Vineyards
Sorelle Winery
Picpoul Blanc
Acquiesce Winery & Vineyards
Bokisch Vineyards, Terra Alta Vineyard, Clements Hills-Lodi
PRIE Winery & Vineyards, Bokisch Vineyards
Pinot Grigio
Van Ruiten Family Winery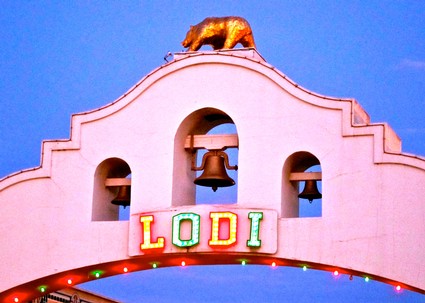 Roussanne
Acquiesce Winery & Vineyards
Sauvignon Blanc
Heritage Oak Winery
LangeTwins Family Winery & Vineyards, Jahant Woods 01 Vineyard, Jahant-Lodi
McCay Cellars
Michael David Winery
Oak Farm Vineyards
Peltier Winery & Vineyards
Rippey Family Vineyards
Sand Point Family Vineyards (by LangeTwins Family Winery & Vineyards)
Symphony
Ironstone Vineyards
Michael David Winery
Torrontés
Markus Wine Co., Joey Insieme (blended with Traminette)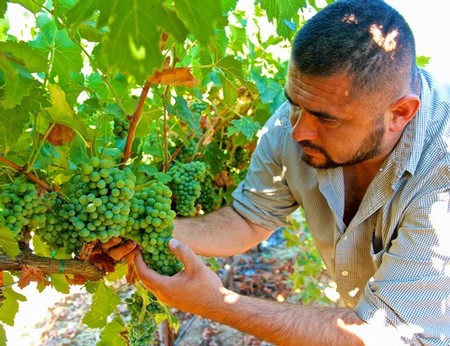 Verdejo
Bokisch Vineyards, Clay Station Vineyard, Borden Ranch-Lodi
Vermentino
Avivo (by DeVero Farms & Winery), The Bench Vineyard, Clements Hills-Lodi
Fields Family Wines, Mokelumne River-Lodi
m2 Wines
Markus Wine Co.
Peltier Winery
PRIE Winery & Vineyards, Delu Vineyards
Uvaggio
Verdelho
Paskett Vineyards & Winery, Silvaspoons Vineyards
St. Jorge Winery
Viognier
Acquiesce Winery & Vineyards
Onesta Wines Bokisch Ranch
White Wine Blends
Acquiesce Winery & Vineyards, Belle Blanc
(Grenache blanc, Roussanne, Viognier)
Acquiesce Winery & Vineyards, Ingénue
(Grenache Blanc, Clairette blanche, Bourboulenc, Piquepoul)
Fields Family Wines, Elysian Fields White
(Vermentino, Grenache blanc)
Markus Wine Co., Nativo
(Kerner, Bacchus, Riesling)
Markus Wine Co., Nimmo
(Kerner, Bacchus, Riesling and/or Gewürztraminer)
Peltier Winery & Vineyards, Prééminence
(Vermentino, Sauvignon blanc, Chardonnay)
Blanc de Noir
PRIE Winery & Vineyards, Grenache Clair
Sparkling Whites
Acquiesce Winery & Vineyards, Sparkling Grenache Blanc
LVVR, Sparkling Cellars Brut
LVVR Sparkling Cellars, Blanc de Blancs
Serendipity (by Nostra Vita Family Winery), Blanc de Blanc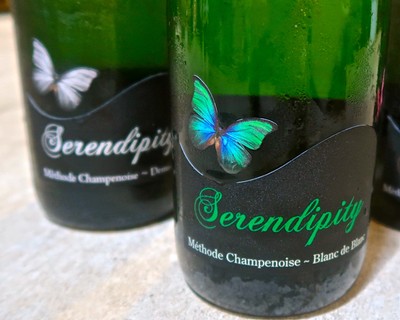 Comments