Letters from Lodi
An insightful and objective look at viticulture and winemaking from the Lodi
Appellation and the growers and vintners behind these crafts. Told from the
perspective of multi-award winning wine journalist, Randy Caparoso.

May 23, 2019 | Randy Caparoso
2019 ZinFest Blind Tasting: How Lodi Zinfandels compare to some of California's finest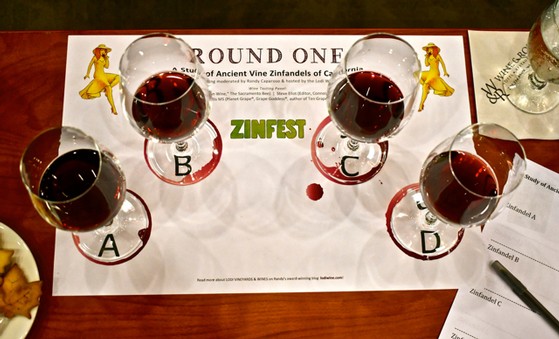 The 2019 Zinfandel Blind Tasting – taking place on May 17, the Friday before the ZinFest Wine Festival – was meant to be a study of ancient vine Zinfandels from not just Lodi, but also some of the most prestigious vineyards in the rest of California. While nearly 40% of California Zinfandel is grown in Lodi, regions like Sonoma County and Napa Valley have long (and justifiably) been considered the finest in the state.
But when we say "finest," what do we mean? Is it the biggest Zinfandels with the ripest varietal fruit expressions? Or does "finest" mean more finely balanced, subtle styles of Zinfandel – lighter wines, less ripe, maybe even the opposite of "big." Like the concept of beauty, how each of us defines the "finest" among wines always comes from the eye of the beholder. As well it should.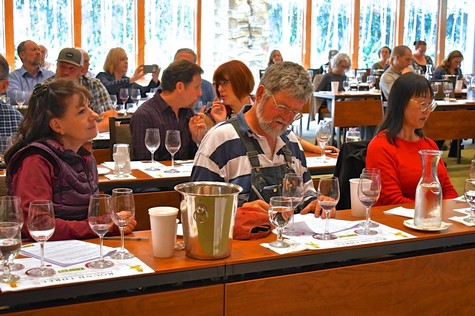 Therefore, our first order of business, in this blind tasting, was to establish exactly how Zinfandels from Sonoma County, Napa Valley, Lodi, as well as Paso Robles, Contra Costa County and Amador County compare. We cannot, after all, even begin a conversation about what are our preferred styles of Zinfandel until we at least establish the differences and similarities among the growing regions.
Which, of course, was why this was done as a blind tasting. When you taste wines without knowing their identity, everyone is automatically divested of any preconceived notions. It's just you and the wines. Put it another way: It's the wines telling you what they're all about, not you telling the wines what you expect out of them.
Because of that, distinguishing Zinfandels between all these different California appellations turned out to be more challenging than expected; even for our 3-man panel of guest commentators, each bringing a vast amount of experience tasting, evaluating and writing about California Zinfandels.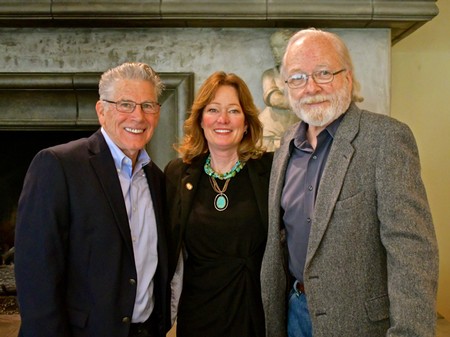 Our three speakers:
Mike Dunne - The Sacramento Bee
Steve Eliot - Connoisseurs' Guide to California Wine
Catherine Fallis MS - Planet Grape®, Grape Goddess®, author of Ten Grapes to Know
After the tasting, Catherine Fallis, one of the country's senior Master Sommeliers, candidly confessed: "As far as our success at identifying the Lodi wines, neither Mike (Dunne) nor Steve (Eliot) and I had much success, although I still personally find that old vine Zinfandels from Lodi nearly always show an abundant freshness, with nice tart endings to a rich tale."
While Mr. Eliot describes Lodi grown Zinfandel as, "for the most part... ripe, softer-structured wines whose major appeal is to be found in good value rather than in breathtaking depth and complexity... several struck me as having a degree of seriousness that sometimes gets overlooked when thinking about the appellation."
"The two salient takeaways," adds Eliot in retrospect, "were that 1) those from Lodi certainly did not embarrass themselves when matched up with some high achievers from other California districts of notes, and that 2) they exhibited a little more variance in style than I suspect most observers expected." Concludes Eliot, "There was no distinctive 'Lodiness' that made them easy to identify."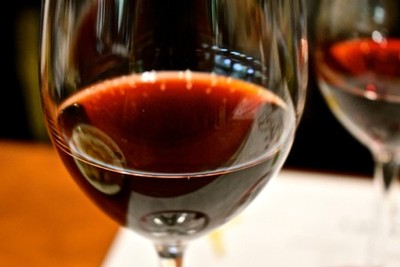 One winemaker in the audience, Ryan Sherman of Lodi's Fields Family Wines (and whose 2015 Fields Family Stampede Vineyard was among the 12 Zinfandels in the blind tasting), offers his own wisdom in hindsight, notwithstanding any terroir-related sensory distinctions: "In this tasting it was very difficult to distinguish any major qualitative differences between the Lodi Zinfandels and Zinfandels from the rest of California, even those coming from vineyards widely considered to be the best in the state. You can only conclude that Lodi can now firmly stake its claim to producing some of the best. I wasn't the only one who found that the Lodi wines were some of the highlights in each flight."
Ms. Fallis points out the common factor among all 12 Zinfandels, which was the positively "ancient" age, on average (over 100 years), of all the vineyards: "It was a pleasure to taste these incredibly rich, historically significant and totally captivating ancient vine Zinfandels. With this vine age, and given their gentle handling, all these Zinfandels were deep, soulful, haunting, and expressive, as if they were a breath from the center of the earth itself. Beyond perfectly ripe fruit and the occasional barrel notes, the wines showed notes of dried herbs, mushroom, even seared meats. They were each a unique voice, but shared their kindred Zinfandel-ness."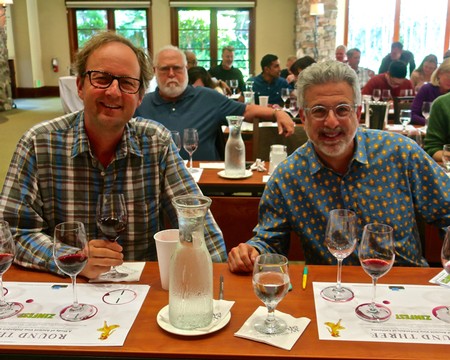 Fallis adds a second factor, seconded in so many words by Eliot, which was the sheer talent of vintners now handling Lodi grown fruit: "One surprise was the Jessie's Grove Lodi Zinfandel by Alquimista Cellars, a brand I was unaware of until today. I described it as having notes of cherry cola or root beer, like a Russian River Valley Pinot noir. Moments later I was listening to Alquimista winemaker Greg La Follette speaking about this wine. La Follette happens to be one of California's finest winemakers, and a master of Russian River Valley Pinot noir. Then I looked down the aisle and saw both Steve Matthiasson (of Napa Valley's Matthiasson Wines) and Jeff Cohn (who contributed one of his Sonoma grown Jeff Cohn Cellars Zinfandels to the tasting). Turley's Tegan Passalacqua has been on the scene in Lodi for over a decade, but seeing these powerhouse Napa and Sonoma winemakers in on the game can now mean only one thing: Lodi's time has come... stay tuned!"
The Blind Tasting Format and Additional Commentators
In this tasting, everyone – including our three panelists and the 63 people in the audience (which included consumers, winemakers and various members of the wine industry) – tasted the wines blind: 6 Lodi grown Zinfandels next to 6 Zinfandels from Sonoma County, Napa Valley, Paso Robles, Contra Costa County or Amador County.
The Zinfandels were tasted in three rounds consisting of 4 wines each, with 2 Lodi grown Zinfandels in each round.
None of these wines were slouches. They all came from vineyards averaging over 100 years of age – the two youngest from vines planted in 1918 and the1920s, and the rest planted as long ago as 1869, 1885, 1889, 1890 and 1901. There is, of course, a reason why certain vineyards survive and remain productive for well over 100 years: Because they make fantastic wine! Also because they sit on fantastic sites. If not for those factors, they would never have survived. As it were, they continue to produce some of the finest Zinfandels in California, and therefore the world.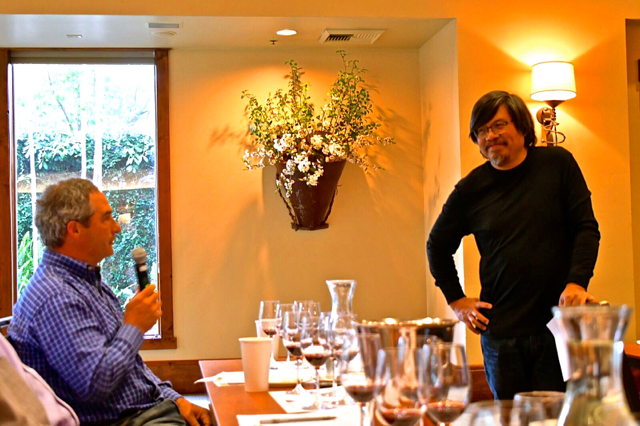 The following summation includes comments collected after the tasting from these participants in the Zinfandel Blind Tasting audience:
Benjamin Caldwell (sommelier/beverage manager, Wine & Roses Hotel)
Jeff Cohn (owner/grower/winemaker, Jeff Cohn Cellars)
Tana Cole (assistant winemaker, Jessie's Grove Winery)
Natale Gagliardo (export winemaker, Ironstone Vineyards)
Mike Hendry (owner/grower/winemaker, Mike & Molly Hendry Wines)
Bob Highfill (freelance journalist, The Stockton Record and Lodi News-Sentinel)
Greg La Follette (owner/grower/winemaker, Alquimista Cellars)
Tyler Lee (operations manager, Vino Noceto)
Mike McCay (owner/grower/winemaker McCay Cellars)
Megan McCay Moss (sales and marketing, McCay Cellars)
David Natale (enologist, Robert Biale Vineyards)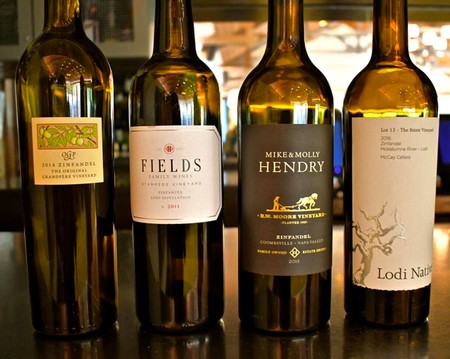 ROUND 1
Vino Noceto, OGP (The Original Grandpère Vineyard)
Origin: Amador County (California Shenandoah Valley-Sierra Foothills)
Vineyard: Planted 1869, own-rooted
Soil: Sandy clay loam; 1,300-ft. elevation slopes
Winemaking: Submerged cap fermentation in stainless steel; French oak (20-30% new)
Winemaker: Rusty Folena
Our notes: Lean, lanky yet limber medium-full body, not too weighty; floral notes to raspberry/blackberry fruit; even keeled acid balance, finishing with slightly drying tannin.
La Follette: Color showing the most age in this flight, with a slight bricking. Moderate aromas of very ripe plum and quince, with oak obscuring a little of the delicacy. Palate of moderate weight and balance with good front-to-back flow, but slightly awkward tannins finishing a little green (almost like thyme) and a late Amarone-like (i.e. nutty with sweetish, full alcohol) flavor.
Natali: Compote notes with some dried herbs. Higher toned fruit in the mouth with a fine tannin line through the finish.
Lee: I thought that this wine showed very well, even if in the first position in a blind tasting consisting of much bigger Zinfandels, all excellent. Mike Dunne noted raspberry, excellent buoyancy, and the great acidity, but wished for a slightly longer finish. I found an elegant mélange of raspberry, strawberry, and dark cherry jams lifted by rhubarb-like acidity, complicated by a savory, dusty, earthy, shadowy quality, possibly coming from the vines' 25-ft. deep roots.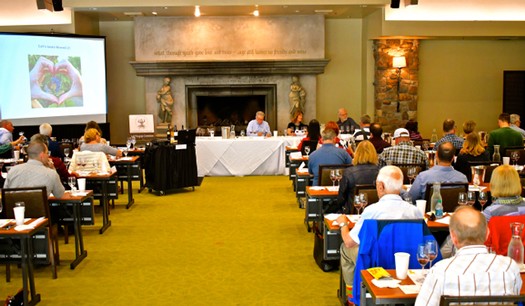 2014 Fields Family Wines, Stampede Vineyard
Origin: Clements Hills-Lodi
Vineyard: Planted 1920s and 1940s; own-rooted; 2% Mission, Mourvèdre and Cinsaut
Soil: Tokay sandy loam
Winemaking: Native yeast fermentation; neutral French oak
Winemaker: Ryan Sherman
Our notes: Similar to the first wine in the flight (Vino Noceto's OGP) in terms of medium weight and sturdy acid/tannin balance, but not quite as sharply defined, nor as drying; the fruit profile has floral, red berry qualities typifying "Lodi," but the structured (as opposed to "soft") character on the palate made it difficult for anyone in the room to identify this as a Lodi wine.
La Follette: Lighter in color. Bright, fruit-forward, more red than dark fruits and some pentanones (i.e. like "spring greens") qualities. Palate of plum, prune/raisin with some drying tannins accentuated by slightly acidic finish indicative of a harvest of tighter clustered fruit.
Gagliardo: This wine had beautiful jammy fruit flavors with complex notes of spice, cherry cola and red fruits. It also had a hint of what I have heard referred to as "Lodi brush" (referencing an almost sagebrush type flavor on the palate) which I have found is a signature of Lodi appellation reds. The finish was little light but the wine is holding up nicely for the vintage. Overall, a nice wine that shines a positive light on the appellation.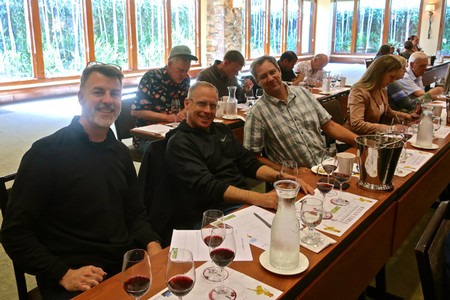 2015 Mike & Molly Hendry, R.W. Moore Vineyard
Origin: Coombsville-Napa Valley
Vineyard: Planted 1905; St. George rootstock; 1% Petite Sirah, 1% Carignan, 1% Mourvèdre, 2% Mourtaou (a.ka. Cabernet Pfeffer)
Soil: Gravelly loam
Winemaking: French and Hungarian oak
Winemaker: Mike Hendry
Our notes: Beautifully focused wild blackberry fruit nose with dried leaf/forest floor-like earthiness; full bodied without feeling oversized; zesty acid balance and generous tannin driving the wine to a mouth-filling, savory finish.
La Follette: Color and and purplish hue indicate a blending of Petite Sirah or similar dark skinned varieties. Good ripe Zin-berry aromas: brambly with a touch of dill (American oak?) and some earthiness. Good acidity, very nice forward tannins matching acid well. Touch of raisin in late palate (very varietal!) and a bit of heat on the finish. Definitely not a 100% "Zinfandel."
Natali: Warm red fruit notes with good density but also lithe on the palate with a good moderate acid profile driving the fruit through the finish.
McCay Moss: This was my favorite wine of the first flight. I found the palate to be earthy, fruity with pomegranate or cranberry, and it had a soft finish. It was very fruit-forward, and I loved Catherine's comparison of the wine to a chocolate covered raisin.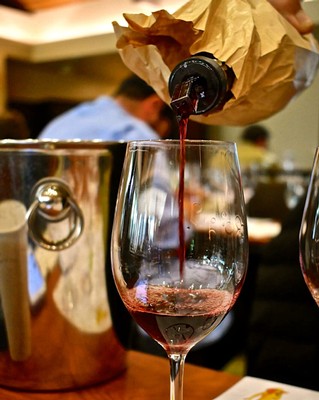 2016 Lodi Native (by McCay Cellars), Lot 13 Vineyard
Origin: Mokelumne River-Lodi (east side, "Victor Triangle")
Vineyard: Planted 1915; own-rooted
Soil: Tokay sandy loam
Winemaking: Native yeast fermentation; neutral French oak
Winemaker: Mike McCay
Our notes: Undoubtedly the most intense, flowery, "red cherry" and clove-spiced varietal profile of the day, yet soft, sumptuous, moderately weighted in the mouth. For most of the panelists and audience, a wine that came across as "big," but primarily because of its aromatic intensity rather than actual weight in the mouth. By the end of this blind tasting many people in the room were probably able to better identify the stylistic markers distinguishing this as a "Lodi" style Zinfandel. What was challenging at first, however, was the sheer intensity of the wine – unexpected (for many people) in a bottling carrying a Lodi appellation.
La Follette: Slightly bricking color. Very ripe, forward fruit, slightly volatile acidity (the right amount to increase aroma penetration as one finds in ripe Zins), cooked blackberry jam. Palate follows nose in flavors: very ripe fruit, very forward, deep-dark fruit, lower acid, softer tannins. Overall, the highest volume of aroma in this flight.
Lee: Catherine Fallis said this was "huge, powerful… showstopper… mouth-coating, chewy, and 'yummilicious.'" I found the nose enchanting: strawberries drizzled with balsamic, meaty, almost smoky and wild. The energy of this wine was fantastic.
Highfill: I truly enjoyed this wine's rose petal and blueberry nose, and the crunchy blue and red fruit flavors – including sensations of macerated strawberries – on the palate, while at the same time it was so elegant and polished.
Natali: Powerful and mouth-coating, with jam and chocolate notes.
Gagliardo: Nice color with some brick color edges, and nice notes of eucalyptus, white pepper, red cherry with hints of floral. Its tannins were surprisingly pleasant, as was the minimal oak profile as it didn't overpower the palate, and you are able to have another glass.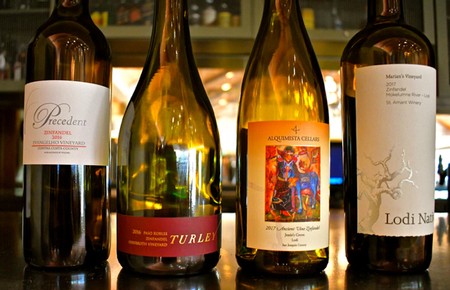 ROUND 2
2016 Precedent Wine, Evangelho Vineyard
Origin: Contra Costa County
Vineyard: Planted 1890; own-rooted; Mataró, Carignan, Palomino, Muscat blanc
Soil: Delhi sand
Winemaking: Native yeast fermentation; neutral French oak
Winemaker: Nathan Kandler
Our notes: Decidedly "funky" balsamic notes which seemed to amplify the ripe, jammy fruit aromatics; good acid balance, firm tannin and laudably restrained oak despite its big, dried cranberry/strawberry and pungent balsam notes (described by Mike Dunne as reminiscent of an old timer's homemade brew drawn from an old barrel somewhere down "Sonora" way).
La Follette: Deep color. Nose showing volatile acidity to the point of ethyl acetate made it difficult to enjoy this wine's ultra-ripeness. Palate follows nose, hot with awkward tannins.
McCay Moss: This wine stood out for me in the second round for its Cabernet-like nose, very bold flavor and distinct cranberry notes.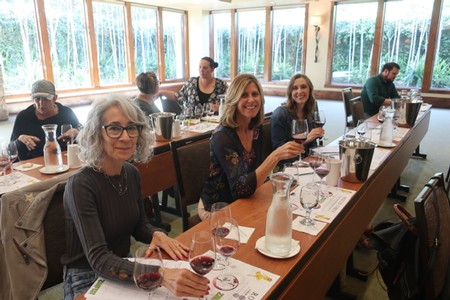 Zinfandel Blind Tasting participants: Nancy Brazil of pullthatcork.com, and McCay Cellars' Linda McCay and Megan McCay Moss
2016 Turley Wine Cellars, Ueberroth Vineyard
Origin: Paso Robles Willow Creek
Vineyard: Planted 1885; own-rooted
Soil: Calcareous slope
Winemaking: Native yeast fermentation; French oak (20% new)
Winemaker: Karl Wicka; Tegan Passalacqua (Director of Winemakiing)
Our notes: Deep color and distinctively mineral qualities mingling with soaring, intensely perfumed, ripe berry aroma, which sets the palate up with expectations of a "giant" sized wine; but instead, the feel is full yet buoyant and balanced, primarily because of a notably cutting acid balance, combining with the mineral sensations to keep the ferocious fruit profile well under control.
La Follette: Darkest color in this flight. Jammy berry, boysenberry, bay leaf and oak in the nose. Very jammy on palate; ripe, a little hot but rich, almost cloying/syrupy finish. Overall, very powerful and extracted.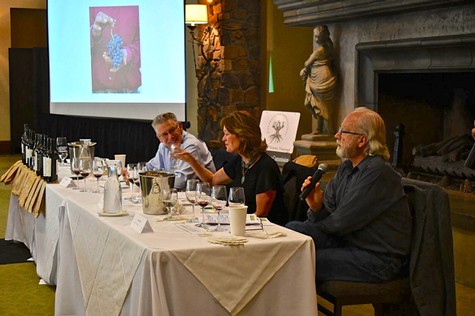 2017 Alquimista Cellars, Jessie's Grove Vineyard
Origin: Mokelumne River-Lodi (west side)
Vineyard: Planted 1889; own-rooted; 10.5% Carignan, 4% Tokay, .5% Mission, .5% Black Prince
Soil: Tokay sandy loam
Winemaking: Native yeast fermentation; neutral French oak; co-ferment with partial carbonic/whole cluster fermentation of Tokay, Mission and Black Prince
Winemaker: Greg La Follette
Our notes: Nearly transparent ruby color and notably flowery nose of black cherry mixed with dusty, loamy undertones made this the most "un-Zinfandel-like" wine of the tasting; yet the luscious berry sensations, rounded tannin moderate acidity on the palate made it very "Zinfandel." Clearly, practically no one in the room knew what to make of this wine, as it came across as uniquely one-of-a-kind, even among the other Lodi grown wines.
Eliot: This wine was a complete outlier that defied all expectations, and was a good reminder that a winemaker's hand can be at least as important as where the grapes were grown.
La Follette: Lightest color in the flight. Most nuanced, delicate nose (especially amongst these really big, aggressive Zins), more towards red fruits and pentanones (a green leafiness) indicating less ripeness than others in the flight with touches of lacy carbonic ebullience. Pretty floral and lacy tones continue on the palate, which is light on its feet, and a late red raspberry sensation that is lingering and mouth-watering with good acid. An early picked style that I easily guessed as being the Alquimista, as the lightest Zinfandel feeling overall in this entire tasting.
Highfill: This was one of my highlights because its light color and Pinot noir-like bold cherry aromas and flavors. The color belied a medium-bodied wine with huge fruit that wasn't at all jammy. Beautiful acidity gave it life. Altogether, really different and special.
Natali: Bright floral and red fruit notes with a good acid drive. Pinot noir-like in its delicacy with a long, slightly dry finish.
Gagliardo: One of my favorites of the day. The color was really nice (due to the carbonic maceration). It had delicious spicy and meaty aromas with tobacco and cigar notes. The fruit reminded me of a cherry candy with a good balance of acid/sweetness that lingered on the finish. I also thought it showed the different nuances that come from being on the west side as compared to the east side of the Mokelumne River AVA.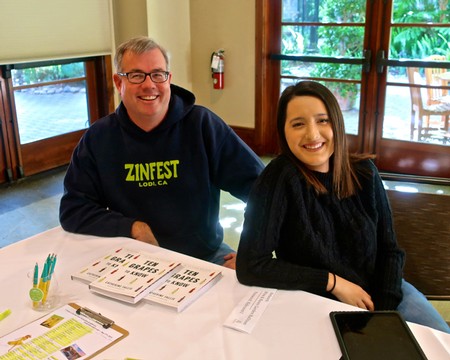 2017 Lodi Native (by St. Amant Winery), Marian's Vineyard
Origin: Mokelumne River-Lodi (west side)
Vineyard: Planted 1901; own-rooted (farmed by Mohr-Fry Ranches)
Soil: Tokay sandy loam
Winemaking: Native yeast fermentation; neutral French oak
Winemaker: Stuart Spencer
Our notes: Pungent, jammy/sweet red berry nose and full, generously laden body throwing off waves of ripe fruit flavor, personifying the "big Zin" image of the varietal category. In retrospect, probably more of a reflection of a vintage (the grapes picked in the middle of an unusually extended, even for Lodi, 100° heat wave, as noted by St. Amant owner/winemaker Stuart Spencer after the wine was unveiled) than the terroir, vineyard or house style.
La Follette: Malt-O-Meal, quince, mulberry and earth in the nose. Palate is very ripe, dark fruit, jammy, slightly low in acidity. Sensations towards the end show chocolate-dipped black cherry, and a trace of residual sugar.
Lee: All the professional critics described this as a big wine: voluminous, like "hot cocoa," Cabernet-like. But I agreed more with Steve Mathiasson who identified the intense energy of the wine – wondering if it didn't come from volcanic soils (Howell Mountain or the Sierra Foothills). I thought the nose on this was unbelievable – like walking through an outdoor food market: freshly fried fish, pickled beets, habanero blackberry jam, and reeds, and I mean every one of those descriptors as a compliment! The wine was seductively juicy on the palate – with a lovely, lively energy.
Natali: Big, warm, inviting chocolaty and stewed dark fruit aromatics.
Niggli: Simply stunning; especially, as I discovered later, for the price ($35), a knock-out drop-dead gorgeous Zinfandel – focused, intense and over-delivering.
Gagliardo: Nice dark color and hints of oak and vanilla in the nose, along with ripe black cherry notes and a plum-juicy mouth. The finish was a little viscous, which made me want to see a bit more acid in the wine; but this was a very good wine for being a hands-off native ferment approach to Zinfandel.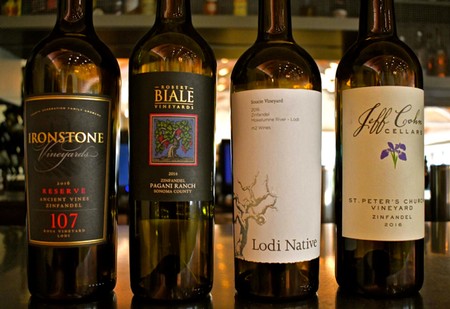 ROUND 3
2016 Ironstone Vineyards, Rous Vineyard Reserve
Origin: Mokelumne River-Lodi (east side)
Vineyard: Planted 1909; St. George rootstock (farmed by Craig Rous)
Soil: Tokay sandy loam
Winemaking: French oak
Winemaker: Steve Millier
Our notes: Super-intense, nostril-tingling, floral/blue and red berry perfumes mingling with a distinctly green leafy aroma; full and fleshy sensations, exhibiting an interesting combination of "fat" and acid driven sharpness, flooding the palate in a long, aggressive middle and finish.
La Follette: Excellent color, just a touch of bricking. Boysenberry, coffee, bubblegum, jolly rancher aromas show nice mix of oak and fruit. Palate has great acid zing to go with the ripe fruit flavors, nice acid-tannin balance. Suggests small berries with open cluster architecture. Good viticulture and winemaking!
McCay Moss: For me, the most impressive wine in the third flight. It had unexpected peach-like notes giving the wine a suggestion of sweetness, and I was delighted that Catherine (Fallis) also mentioned finding a fresh ripe peach quality in this wine.
Natali: Among the Zinfandels in this flight, this wine showed the bigger, warmer, brambly notes with a solid density in the mouth, along with an underlying wet slate-like undertone.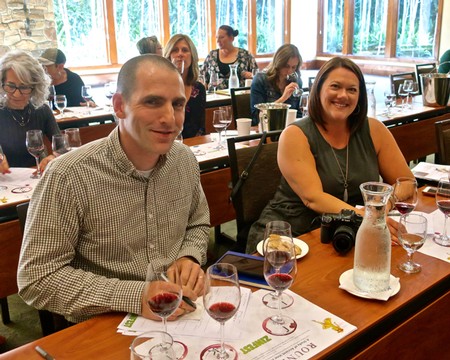 2016 Robert Biale Vineyards, Pagani Ranch
Origin: Sonoma Valley
Vineyard: Planted approximately 1888; St. George rootstock; Alicante Bouschet, Lenoir (a.k.a. Black Spanish), Petite Sirah, Grand noir, Mataró, Palomino, Carignan, Sauvignon vert, Muscadelle
Soil: Tuscan Red Hill gravelly clay loam
Winemaking: Inoculated open-top fermentation with punch-downs; French/Burgundy oak (25% new)
Winemaker: Tres Goetting
Our notes: The dead giveaway of this wine as a "non-Lodi" Zinfandel was its darker fruit (as opposed to red cherry or blue fruit) profile framed by rather unsubtle toasty oak (none of the Lodi Zinfandels in this tasting saw new oak), and sturdy, full body with well cut tannin muscle, engineering a long, savory, lip-smacking finish.
La Follette: Very dark color, showing purple hue indicative of a blend with even darker skinned varieties such as Petite Sirah or a teinturier (i.e. a grape variety with red colored pulp) like Alicante Bouschet. Very ripe mulberry, butter-crust berry pie, smoke & baconfat (maybe a little too much new oak) on the nose. Oak continues on the palate w/coffee notes. Very ripe fruit, slightly hot, a touch of prune in the finish, but very classic old vine Zin.
Natali: For me, the structure of the Pagani set it apart from the rest of the wines in this flight. Along with a red fruit profile and savory notes, there was a fine grain tannin profile all the way through the finish, indicative to me of its field blend nature (i.e. multiple grapes picked at one time and co-fermented). Overall, I was pleased by how the wine demonstrated our goal of letting the character of the vineyard show with minimal intervention in the cellar.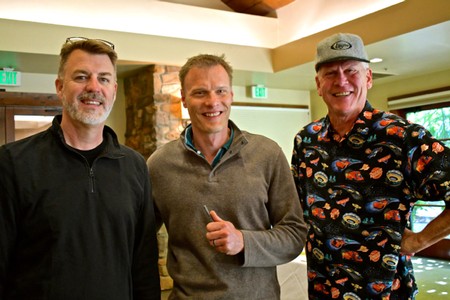 2016 Lodi Native (by m2 Wines), Soucie Vineyard
Origin: Mokelumne River-Lodi (far west side)
Vineyard: Planted 1916; own-rooted (farmed by Kevin Soucie)
Soil: Acampo sandy loam
Winemaking: Native yeast fermentation; neutral oak
Winemaker: Layne Montgomery
Our notes: A love-it-or-leave-it wine, judging from responses; although it clearly fit in with the other three wines in this flight with its outsized body and unabashedly ripe fruit tinged by a slightly leafy green note. Where it differed was the loamy/earthy/mushroom sensations seeping through the nose and palate sensations typifying this particular vineyard (the 103-year-old Soucie), which some panelists and vintners in the audience identified as a "saline" or briny quality. Otherwise, definitely a big, ripe, somewhat iconoclastic style of Lodi Zinfandel which has its appeal among many Zinfandel lovers, even if less to others.
La Follette: Very ripe berry pie, dill/pentanone, jammy aromas. Ditto for palate, very ripe, very rich jammy with an almost saline quality on the finish.
Lee: I couldn't believe what the panel had to say about this wine. Catherine Fallis said, "less acid, less fresh." Mike Dunne said, "muddled, saltiness," and Steve Eliot, "simple, very dry, conspicuous acid, falls apart" They must have been tasting another wine because I thought it was fabulous! The nose piqued interest with alluring and unexpected notes of sweet roast root veggies (parsnips, carrots, turnips seasoned with rosemary, peppercorn, thyme, fennel, and drizzled with olive oil) – the mouth was, again, fantastically alive! Light, lithe, transparent –100% seductive.
Natali: I agree, this wine is on the saline side with interesting earthy and red fruit notes, but finishing a touch hot with alcohol.
Gagliardo: Smelling and tasting it reveled vast amounts of chocolate covered cherries and tobacco. Letting it breath revealed blackberry and spice with a hint of pickle/fennel. The mouth was juicy and rich and finished with a little bit sweetness.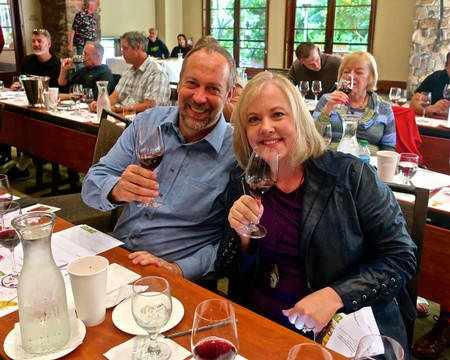 2016 Jeff Cohn Cellars, St. Peter's Church Vineyard
Origin: Alexander Valley
Vineyard: Oldest vines planted in 1880s; youngest in 1990s
Soil: Alluvial clay loam
Winemaking: French oak (30% new); 15% whole cluster; open-top
Winemaker: Jeff Cohn
Our notes: "Classic California" – or "classic Sonoma" – in the sense of its big, powerful black fruit aroma, unabashedly generous oak framework and gripping tannin/acid structure. By this point in the tasting, the panelists were pretty much getting a handle on what constitutes a "Lodi style Zinfandel" (i.e. softer tannin, floral/red fruit profiles and a perceived earthiness that is more loamy than "forest floor"), and this wine seemed to help clarify the sensory differentiations.
La Follette: Big generic fruit, almost juicy aromas with touches of hot dog, smoke/dill. A touch of ethanol-heat and feces pops up but quickly blows off. The palate has great structure and balance with nice acid integration. Very well structured. Wondering if this wine had just a bit of trouble during fermentation; but if so, it made great recovery on the part of the winemaker, who ended up crafting a very compelling wine.
Natali: Lush black fruits and a richness in the mouth, with a lower acid yet balanced finish.
Highfill: My favorite of the entire tasting. The fruit, acid, tannin and oak were so beautifully integrated. I agreed with Catherine Fallis, who compared the sensations of this wine like biting into a jelly doughnut. There was a lot of get-up-and-go, and it was sturdy and "classic."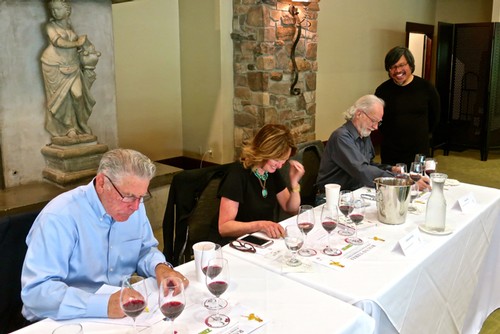 Closing Thoughts and Conclusions
Eliot: Among the Lodi Zinfandels, the m2 Soucie, the Ironstone Rous Reserve and the McCay Lot 13 in particular, while showing off the fruity ripeness and richness anticipated from Lodi, were all nicely balanced for the big renditions that they were, and struck me as being age-worthy wines that were about more than simple jamminess. They also looked to be good bets to gain complexity with bottle time.
Jeff Cohn: It always great to get out of the winery and attend a Zinfandel tasting in which you have no clue what is in front of you. The panel speakers were well chosen, and I also enjoyed listening to other winemakers with their take on the wines. A tasting like this opens your eyes to the possibilities that areas like Lodi can provide for great Zinfandel, when done with passion and understanding.
Mike Hendry: I really enjoyed this tasting; but more importantly, it was a nice reminder that "wines are made in the vineyard." We hear this phrase all the time, but too often California's fine wines have become defined by labels, brands, and marketing, not by farming. One of the best things about Zinfandel is that the good ones are still synonymous with the vineyards they come from. It is hard to imagine a high quality Zinfandel that doesn't list the vineyard on the label, and this simply isn't true for grapes like Cabernet Sauvignon or Chardonnay.

The tasting provided a great cross-section of California's best Zinfandel vineyards. It showed that these vineyards are found throughout the state, and reminded us that a big proportion of them are in Lodi. One of the goals was to make us think about "the taste of place." Initially, I was skeptical. Heavy-handed winemaking can obscure the nuance of the vineyard. It was a pleasant surprise to find that most of these wines were made with a delicate touch. The vineyards did show through, and I have some new expectations for regional flavors that I look forward to testing in the future. I left feeling good about Zinfandel, the people that make it, and the vineyards that we share.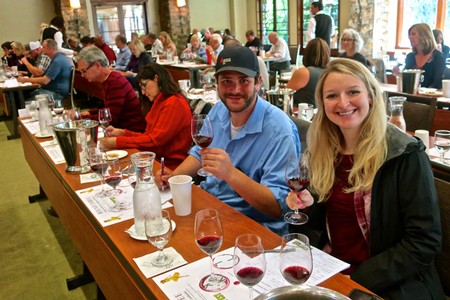 Greg La Follette: The tasting was impressive in its depth and reach, and I loved the comments by the panel, especially on the 2017 Alquimista Jessie's Grove: Mike McCay describing it as "for sure, Lodi"; Catherine Fallis saying, "reminds me of a Russian River Pinot in its presentation"; and Steve Matthiasson saying, "reminds me of the old school Zins – well done."
That being said, the Alquimista was undoubtedly the most enigmatic and lightest-toothed of the bunch. I don't think it stood up all that well tasted next to its larger-than-life brethren, at least in the eyes of some. But is bigger better? Perhaps in making "Zin," but I'm not seeing any resistance in the sales of our style of wine. What was also really interesting to me was what Steve Mathiason said about the Alquimista as coming from a vineyard with thin volcanic soils and that it had seen significant heat stress. The interesting part, of course, was that none of this was true, especially since in 2017 we picked before the heat spell of Labor Day.

In going over my notes, I can't say that I was able to pick up much difference among the regions, between Lodi and other areas; but interestingly, my notes seem to indicate that perhaps rootstock (particularly St. George vs. own-rooted) or the inclusion of other varieties (particularly Petite Sirah and/or Alicante Bouschet) could be gleaned, at least according to my notes.
Tyler Lee: The tasting was well organized, with lots of great Zinfandels to taste and compare. My biggest takeaway was how stunning each of the Lodi Native wines were. In every flight, I found these wines to be the most compelling, fascinating, and beguiling. Only when compiling my notes for a brief recap to the team (at Vino Noceto Winery) did I realize that in each of the three flights, I had "starred" a Lodi Native as my favorite.
Hence, I am unabashedly intrigued by this Lodi Native program. I have already been spreading the gospel about these wines. More people need to try them and redefine their conception of Zinfandel – especially Lodi Zinfandel. Their energy and, perhaps, even sense of place were unmatched in the tasting. If this is what Lodi tastes like, I want more. Lots more!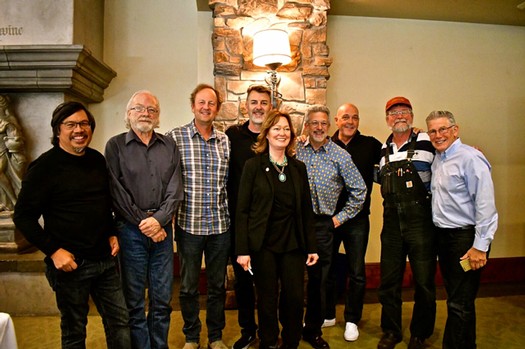 Mike McCay: if you are a fan of good wine, and especially Zinfandel, you should have been in the room. It was a great day for discussion, comments and independent thoughts on the 12 wines averaging over 100 years of age, evaluated by a panel with over 100 years of wine experience.

The first group of 4 wines consisted of very complex styles of Zinfandel, beautiful and elegant. The second grouping showed a bit darker fruit, followed by the third grouping of bolder dark fruit wines. All three rounds showed the incredible diversity of Zinfandel in California. I have always thought Zinfandel is a blank canvas that can be displayed in many different styles, from the elegant to jumping right into your face.

The tasting also showed the different characteristics of east side vs. west side Lodi AVA Zinfandels. Without a doubt, as one moves east across Lodi's Mokelume River sub-AVA, old vine Zinfandel becomes more and more elegant and shows more perfumed characteristics.
David Natali: The discussions both from the panel and vintners in the audience was a great educational opportunity to learn what makes ancient vine Zinfandel so special in terms of both heritage and pure quality. All of the wines demonstrated a common thread of deeply layered flavors combining savory and earthy elements along with intense fruit tones. Each wine showed a distinct sense of place and the individual complexities reflecting each vineyard.
Tana Cole: My biggest takeaway is the diversity I tasted in all of the Zinfandels. Each one was easy to enjoy for a different reason. The Lodi Native wines in particular. I appreciated how all of the Lodi wines showed the true beauty of a "sense of place" or terroir.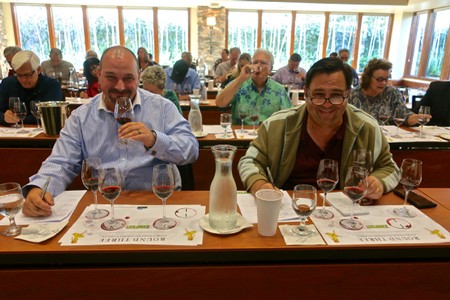 We think about Napa Valley as the place of historical significance for California wines. The world knows what Napa does well. I would like to see that happen for Lodi. We are not just great at making Zinfandel. I would like to see us define ourselves as a region, and champion our vineyards the way we see that done in Napa. Let's give our historic Lodi vineyards the recognition they deserve, and share that with the entire world!
Bob Highfill: Better wines come from older vines – the Zinfandels in this tasting drove this point home in a big way. Each wine had its own characteristics, but as a whole they had nuances and complexities many might not appreciate when it comes to Zinfandel.
The wines represented a breadth of styles, from jammy and fruit-forward to elegant and restrained, and it was so interesting. Anyone who doesn't believe Zinfandel can have complexity, nuances and terroir-driven components similar to other varieties would have enjoyed this tasting, which would have opened up their eyes.
Benjamin Caldwell: I thought it was a very interesting tasting consisting of many different styles of Zinfandel – to the point that a few were thought by many, including myself, to be light in body, closer to Pinot noir in style. Some were very big and fruit-forward, with almost Cabernet-like characteristics. I enjoyed hearing some winemakers tell the stories of these vineyards, and how many of them were planted well before Prohibition (1920-1933). But in the end, you truly realize that Lodi makes some of the best Zinfandels in California.
Markus Niggli: What an incredible experience! It makes me proud to be part of the Lodi wine scene. These old vine Zinfandel vineyards are more than just cool, they produce some of the finest wines in the world, at incredible price points. We should all appreciate the work that was done to create these fantastic wines. The demand for Zinfandel is bound to come back up, even as prices rise. But to wine collectors, I say: go out there and buy them up while they are still affordable!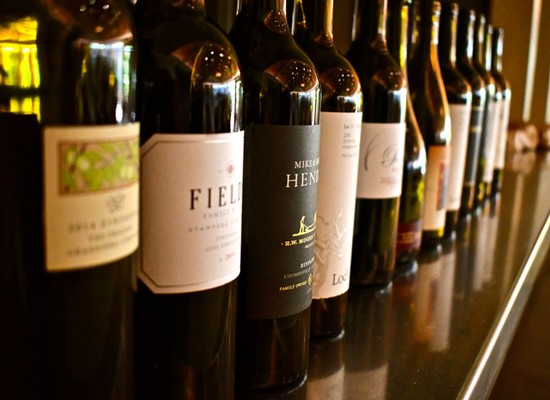 Comments