Letters from Lodi
An insightful and objective look at viticulture and winemaking from the Lodi
Appellation and the growers and vintners behind these crafts. Told from the
perspective of multi-award winning wine journalist, Randy Caparoso.

January 24, 2011 | Randy Caparoso
The vinous labors of Chad Joseph, Lodi's busiest consulting winemaker
Starting off big, ending up small, resulting in big things
In the classic old Westerns, when a small town finds itself plagued by gangs of bad hombres, they find themselves a gunslinger — someone fast on the draw, eagle-eyed with a rifle, smart as a whip, and with a heart of gold even if a little cantankerous or occasionally hooked on the bottle.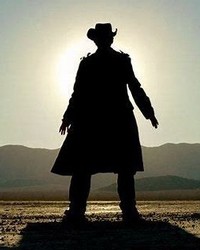 Everything except the cantankerous and gun toting parts describes Chad Joseph. Mr. Joseph is hooked on bottles, but more as Lodi's most respected consulting winemaker than as an intemperate imbiber.
"You know what it's like working with a million-gallon tank?" asks Joseph, talking about his first job as a winemaker, at E. & J. Gallo in Modesto. "It's a tank so big you can't even throw a football all the way across."
Besides miles and miles of gigantic tanks, E. & J. Gallo doesn't just employ winemakers. They employ entire armies of winemakers, despite the benefits of automation. In the late nineties Mr. Joseph worked his way up the ranks of teams responsible for brands like Carlo Rossi, Livingston Cellars, Turning Leaf, and Gallo Sonoma; in the end, gaining valuable experience working with Gina Gallo and veteran winemakers like Marcello Monticelli.
After leaving the Gallo fold and coming to Lodi in 2001, Joseph's winemaking career diverged onto a path going pretty much the opposite direction: from million gallon tanks monitored and controlled by intricate computers, to hand punching fermenting wines in 120-gallon plastic macrobins with zero temperature controls or machinations. Why? "I could finally make wine!" he says, "and do things like actually hook up a pump, instead of pressing buttons on computers." Joseph's first Lodi venture was at the micro-sized (now defunct) winery called Joseph Narcizo Wines, working with partner Patrick Costa out of the multi-winery facility called Vino Piazza (in Lockeford, a little community just east of Lodi).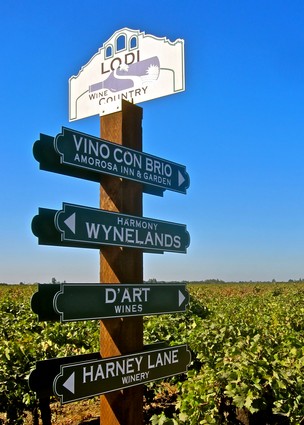 It was an auspicious time, taking place at the turn of the Millennium, when many of the vaunted Lodi brands we know and love today — like Macchia, m2, Harmony Wynelands and Harney Lane Winery, among many others — were either in infancy or still in incubation, and Joseph leveraged his Gallo experience to become a very busy consultant.
"I started picking up consulting jobs while at Vino Piazza (now called Tuscan Wine Village) almost immediately after coming to Lodi," says Joseph, "because a lot of guys began to come to me, mostly looking for help 'tweaking' their wines — things like dealing with stuck fermentations, cleaning up flaws, adjusting total acidity or residual sugar before bottling… I think I've done work for as many as twenty wineries over the past nine years.
"I came to Lodi at a great time, when new wineries were popping up like crazy… meeting passionate people like Jonathan Wetmore (of Round Valley Ranches and Grands Amis Winery), the Watts family, the Borras, Tim Holdener (of Macchia Wines), and Markus Bokisch (of Bokisch Vineyards). Growers like Kevin Delu helped opened up my eyes to the exciting quality, and great variety of wines, possible in the Lodi wine region."
Joseph Narcizo Wines closed up in 2006, but Joseph has kept his hands full with both consulting jobs and a bourgeoning family (his wife Stacia and four year old son, Jack). Today he focuses much of his energy on seven client wineries, most of them since their inception: Harney Lane, Harmony Wynelands, Boitano, Valhalla, McConnell Estates, McCormack-Williamson, and Dancing Coyote.
While wineries seek his expertise, they are not necessarily looking to produce a "Chad Joseph" style wine, and neither is Joseph. "I have to listen to what the client wants," says Joseph, "and make wines in a style of their own accord — it's a process that involves helping wineries come up with strategic plans to develop their own identity, not mine."
Therefore there is not so much a "Chad Joseph" sensory stamp on each brand's wines as a quality level reflecting the winemaker's dependable expertise. The "gunslinger," coming to the rescue. Explains Joseph, "The Gallo experience taught me when to jump in and intervene on wines, not letting bad things happen. But as a winemaker in Lodi, I've had to grow, and take on the mindset of just making the best wine possible, which is also all about letting wines become what they want to be naturally, not what I want them to be. In a way, it's letting terroir (a wine's intrinsic "sense of place") happen — the traditional approach to winemaking.
"This might mean more more wild fermentations, and sometimes warmer or more sluggish fermentations, and even taking risks like minimizing filtering and fining — the opposite of what we did at Gallo. To make artistic wines you can't be scared, or afraid of making mistakes. You have to have faith and let things ride."
The result: More and more wines that express the rising quality as well as a certain style of wines — wines that emanate a clarity and freshness of fruit qualities reflecting the region's warm, grape friendly terroir — helping to define what Lodi is all about. Much of it thanks to a winemaker known for his steady hands, helping to develop burgeoning homegrown brands.
A tasting of Chad Joseph crafted wines is also an illustration of where Lodi wine is at here in 2011. Some tasting notes from our morning recently spent with this influential consulting winemaker: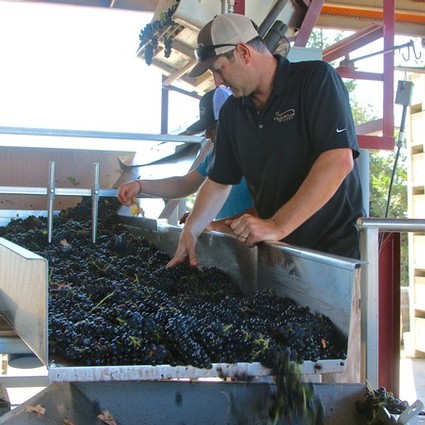 2009 Harney Lane, Lodi Chardonnay ($19) – In a way, this current release is as much a transitional wine as it is proof-positive that it is possible to make the type of large, voluminous, multifaceted, French oak barrel fermented style of Chardonnay associated more with areas like Napa and Sonoma rather than Lodi. Nothing shy about the nose – pungent aromas of sweet vanilla and apples are underscored by lemon, citrus peel and slivers of charred, toasted oak – and the body is suitably full, make that big, contrasting crisp edges with thick, silky-creamy fruit and oak phenolics. While satisfied with results, the ever-cognizant Joseph comments, "we may have made this a little bigger than necessary, but we wanted to show what is possible with Lodi grown Chardonnay" – alluding to the fact that future vintages may be scaled back a little bit more.
2001 Joseph Narciza, Borden Ranch-Lodi Alicante Bouschet – While wines made from the purple juiced Alicante Bouschet grape start off black as night and replete with tannin, it is not a wine anyone expects to "age" well beyond five, six years. Like, say, the vast majority of Zinfandels and Petite Sirahs, ABs are most enjoyable in bumbling, blustery youth. Yet even past its ninth year, this bottling — Joseph's first Lodi grown bottling, sourced from a relatively young (in 2001) vineyard tended by Kevin Delu — is still fairly jamming in raspberry/blueberry perfumed fruit in the nose and flavor, even if measurably dominated by toasted, sweet oak. On the palate, tannins have significantly dropped, leaving the fruit to take on slightly eucalyptic, loamy, and positively old, tack room-like leather qualities. Very encouraging — especially for those interested in this singularly wild and wooly grape variety that few growers and consumers outside of Lodi are aware, much less appreciative, of.
2006 Harmony Wynelands, Mohr-Fry Ranch Lodi Alicante Bouschet ($30) – In dramatic contrast to the elderly '01 Joseph Narciza, this wine shows what a ponderous yet pleasurable cluster-bomb of a wine this grape can produce, especially when enjoyed well within its window of sweet, full breasted plumage of youth. The nose smacks of earthy, jammy, wild berry aromas suggesting blueberry and elderberry, with undertones of black rubber boots. The feel is thick, layered, full and sensual, yet has developed just soft enough a center to push the jammy fruit through the tannin lined coverlet. Ah, Alicante… ah, "Lodi!"
2007 Valhalla, Lodi Zinfandel ($18) – It's hard to say if this is "traditional" or "typical" — what is traditional or typical in wine regions going through as much transition as Lodi? — but it is a pretty straightforward, fruit-forward, jammy-berried scented Zinfandel, very ripe, although not quite raisiny, sweetened by aging in American oak, and on the round, buxom side (like Oklahoma!'s Ado Annie, the girl who cain't say no). A wine like this, with its undeniably rich, wafting, baked cherry/blueberry pie aromas, is almost like dessert — and you are either a dessert person (like many Zinfandel lovers) or you are not.
2008 Harney Lane, Lodi Tempranillo ($24) – Mr. Joseph's stab at one of the Iberian grapes that is starting to distinguish Lodi among other California wine regions is as fine, and almost filigreed, as they come. Starting in the nose: a bright, strawberry fresh Tempranillo fruit aroma garnished by sweet mint, a sprinkle of chocolate and whiffs of elegant, smoky oak. On the palate, this skillfully wrought bouquet is manifested in round yet firmly centered sensations, oak and tannin combining to give chewy, tobacco-like feel, the red fruit qualities rising through the finish. Joseph's own assessment? A straightforward, "tastes like a chocolate brownie!"
Wyneland Estates, Lodi Zinsation (nonvintaged bottling by Harmony Wynelands; $18/375 ml.) – During the days prior to Zinfandel's resurgence as a dark red (rather than a frilly pink) wine, "experts" used to spout nonsense about how "confused" consumers were about what Zinfandel was all about, often blaming intensely fruited "late harvest" style reds similar to this Zinsation for the apparent lack of interest in the grape. How wrong can you be? At the Grand Tasting put on by the Zinfandel Advocates & Producers (ZAP) in San Francisco each year, some 7,000 consumers come together to partake in an apparent, overwhelmingly enthusiastic interest in this, the most "American" of American grown grapes. Zinfandel produces fine, delicious red wines, whether made into smooth, medium sized wines, huge, powerfully stacked wines, or decadently rich, almost Port-like wines like the Zinsation, which sports 16.8% alcohol and a very perceptible yet balanced 2.5% residual sugar. Enjoy this unabashedly fruity style of Zinfandel while you can, because it's a vanishing species. To cobble Harmony Wynelands' version together, Joseph likes to blend late picked Zinfandels of various ages (hence, nonvintaged); younger vintages infusing brighter, zestier fruit qualities into the rounder, balanced qualities of older vintages. The result is a red wine that is big yet exceptionally smooth, unabashedly lush, and only moderately sweet in the finish; dripping in flavors of dried berries and cinnamon stick spices. Do you enjoy wine with, say, chocolates like raw cacao, berry liqueur or lavender infused truffles? How about wet, melting hot, walnut specked brownies? If so, hard to find a better match than a wine like Zinsation!
Comments