Letters from Lodi
An insightful and objective look at viticulture and winemaking from the Lodi
Appellation and the growers and vintners behind these crafts. Told from the
perspective of multi-award winning wine journalist, Randy Caparoso.

November 12, 2015 | Randy Caparoso
Where Lodi fits in the latest American Wine Consumer Preference survey
According to the latest Preference Survey, women and Millennials are now the predominant wine consumers
Americans are funny. Wine retailers know this, because they always hear customers say that they prefer "dry" wines, and then watch them walk out the door with the fruitiest, sweetest wines.
Then again, most artisanal wine producers are just as funny. They know what most consumers prefer, but they don't always make wines to address their needs. For instance, according to Dr. Liz Thach MW and Dr. Kathryn Chang in their winebusiness.com report on the latest annual American Wine Consumer Preference Survey compiled by Sonoma State University in collaboration with the Wine Business Institute, respondents make no bones about what they like, which might not be what you expect.
The graph shared by Thach and Chang on consumers' preferred wine types: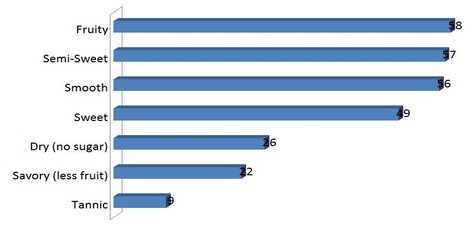 The majority of people clearly prefer wine that is fruity, sweet and/or "smooth." Yet if you spent a couple of days cruising around, say, wineries in Lodi, how often do you find wines that are fruity and sweet? For some reason, aside from Woodbridge by Robert Mondavi, you'll find virtually no tasting rooms in Lodi offering a fruity White Zinfandel, or light, sweet, easy drinking Muscats. It's all about red Zinfandel in Lodi tasting rooms, and the fruitiest wines are usually bone dry rosés that just smell fruity (McCay Cellars makes a White Zinfandel, but it's dry as a desert).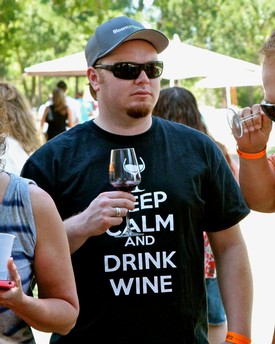 Lodi winemakers, it seems, would rather avoid the stigma associated with wines appealing to most "average" consumers – there's more prestige attached to dryer, fuller bodied wines. The logical solution would seem to be to produce sweet, fruity wines for one crowd, and dryer, fuller bodied wines for the more "sophisticated" guests – everyone goes home happy.
Still, each winery makes its own decision as to how they wish to project their brand or image; and right or wrong, specialty, boutique style Lodi wineries are leaving production of the fruitiest, sweetest styles of wine to the giant production companies, who have more extensive distribution in grocery stores and discount retail outlets where most consumers shop.
Where do American wine consumers currently stand in comparison to the rest of the world of wine consumers? Thach and Chang refer to Wine Institute figures while stating that the U.S. has been the world's largest wine market since 2010. The Wine Institute's latest data show these two things:
1. Americans are consuming more wine than any other country in the world.
2. However, that's because the U.S. is so darned big – actual per capita consumption in the U.S. still lags considerably behind per capita consumption in, say, most European countries.
According to the Wine Institute, here's how Americans' per capita as well as total wine consumption currently compares to top European countries, in terms of liters:

Thach and Chang cite some other interesting data compiled in the nationwide-conducted American Wine Consumer Preference Survey on the make-up of American wine consumers today. Some tidbits:
• 59% of American wine consumers are women; 41% are men.
• 29% of American wine consumers are "older Millennials" (ages 30 to 37); 27% are "younger Millennials" (ages 21 to 29); 23% are "Gen Xers" (ages 38 to 49); and 21% are "Baby Boomers" (ages 50 to 68)
The industry adage that women purchase and consume most of the wine in the U.S. has held steady over the past 40, 50 years. But even many wine professionals may be surprised by the extent to which the Millennial generations now dominate the market – almost in defiance of the standard assumption that older generations consume more wine by nature of the fact that their disposable income levels are higher.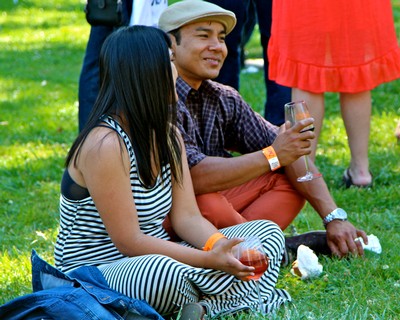 Thach and Chang also cite this ethnic profile of American wine drinkers:
65% Caucasian
13% Hispanic/Latino
11% African-American
11% Asian
This skews slightly from the actual population of the U.S., according to 2013 U.S. Census Bureau figures below; which, if anything, underlines the increasing significance of Americans of Asian descent in wine sales:
63.7% Caucasian
16.4% Hispanic/Latino
12.2% African-American
4.7% Asian
3% (Native American; Native Hawaiian; Pacific Islander; two or more ethnicities)
In a separate study on Trends in the U.S. Wine Industry, Dr. Thach has reported that 66% of the wine sold in the U.S. is American (90% of that from California), and 34% are imports (France, Italy, Spain, South America, Australia, etc.). Since unlike European wines, American wines are sold primarily by brand and varietal, the following American Wine Consumer Preference Survey findings on varietals are particularly significant, maybe even surprising (i.e. the enduring popularity of Merlot):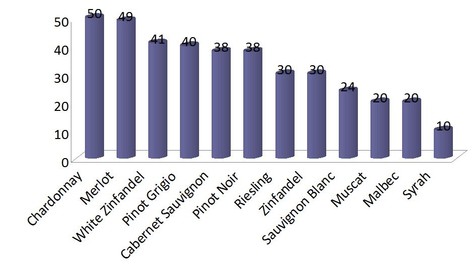 Also interesting are the reasons given by consumers as to how they select their wine purchases: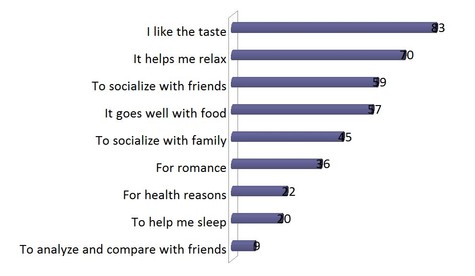 As a region, Lodi is particularly well positioned to meet the needs of most consumers because not only does Lodi grow the entire range of preferred grape varieties, but also because it is the nature of the region's mild Mediterranean climate and sandy or well drained soils to produce highly accessible, fruit-forward wines that are marginally smoother than that of other regions.
A typical Lodi Zinfandel, for instance, is softer than Zinfandels grown in, say, Napa Valley, Sonoma County or the Sierra Foothills. Lodi grown Cabernet Sauvignons also tend to be rounder and smoother: whereas in more coastal regions the custom is to blend Merlot or Cabernet Franc to soften Cabernet Sauvignon, in Lodi producers typically blend in Petite Sirah to make Cabernet Sauvignon sturdier.
There is a lot to be said for natural growing conditions conducive to wines appealing to the majority of American wine consumers. This is precisely the reason why Lodi has been the most widely planted wine region in the U.S. for most of the past century.
What's also interesting, though, are recent reports from producers that some of the top selling wines in countries like Norway, Sweden and Finland are easy drinking styles of Lodi Zinfandel, sold under brands such as Michael David's 7 Deadly Zins, Gnarly Head, or Ravenswood. Evidently, Northern Europeans appreciate expressive fruitiness, on top of value pricing, as much as the average American!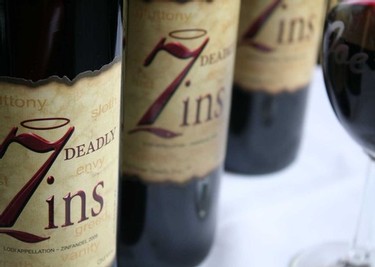 Lodi Zinfandels are HUGE in Norway and Sweden
Comments
Joy
@ Dec 26, 2015 at 6:43 AM
I will visit here soon
silva
@ Jan 7, 2016 at 6:51 AM
Many people like various kinds of wines according to the taste and flavors. The American eople sometimes like to drink fruity wine and this is mostly liked by the women and millennials. This statistic is really useful for knowing the actual truth regarding the numbers of consumers of the wine in America.