Letters from Lodi
An insightful and objective look at viticulture and winemaking from the Lodi
Appellation and the growers and vintners behind these crafts. Told from the
perspective of multi-award winning wine journalist, Randy Caparoso.

July 30, 2015 | Randy Caparoso
What makes Lodi special? For Stuart Spencer, it's heroic vines and people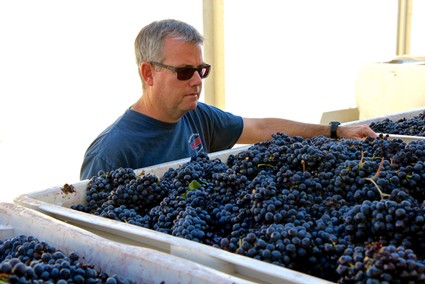 St. Amant's Stuart Spencer with 2014 Marian's Vineyard Zinfandel harvest
In part 2 of our series addressing the question of what makes the Lodi Viticultural Area special, we turn to Stuart Spencer, winemaker/owner of St. Amant Winery.
Is there any winery more respected by other Lodi winemakers and growers than St. Amant? Founded in 1979 by Barbara and the late Tim Spencer (Stuart Spencer's parents), St. Amant has remained pre-eminent in the Lodi winegrowing community while retaining its original, unpretentious identity.
St. Amant's most acclaimed bottling – Mokelumne River grown Zinfandel from Marian's Vineyard, planted in 1901 and farmed by the Fry family's Mohr-Fry Ranches – is still considered Lodi's most "complete" Zinfandel. Meaning, this is the Zinfandel that best exemplifies the lush, mildly earthy, generous qualities for which Lodi Zinfandel is known, couched in a structure that is full yet nearly always perfectly rounded, bright, buoyant and curvaceous, without being (so to speak) presumptuous or potty-mouthed.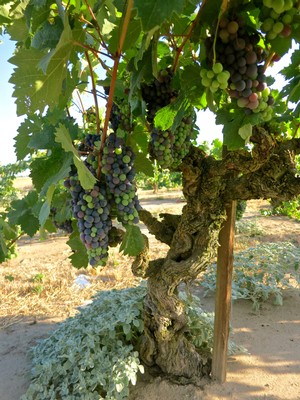 Ancient Marian's Vineyard Zinfandel during July 2015 veraison
Mohr-Fry Ranches owner Jerry Fry credits Tim Spencer as one of the leaders who helped define Lodi as a place for Zinfandel. He recently admitted, "At one point we were so close to pulling out all our old vine Zinfandel along with the Tokay plants, but Tim Spencer was the one who stepped up to the plate and encouraged us keep it going."
Stuart Spencer also serves as Program Director of the Lodi Winegrape Commission, while continuing to craft wines in the same authentic, artisanal style – true to the grape, not an ego – of this father Tim. Knowledgeable wine lovers flock to St. Amant's tasting room expecting to find first class wines, not bells and whistles; and are still invariably greeted by Barbara Spencer herself. This is the Lodi camino real.
Or, as Mr. Spencer tells us in his own words:
The most obvious distinction that sets Lodi apart is our treasure trove of own-rooted old vineyards. There are literally hundreds of these old blocks throughout the region that, in many cases, have yet to be discovered or had the opportunity to truly express their real character.
However, what really sets Lodi apart for me from most California wine regions is the people. There is an authenticity and incredible sense of community. Their livelihood is dependent upon the land, and farming is their way of life.
They are content in the vineyard, on a tractor, and out in the sun. They are honest and straightforward. And to me, this ethos helps give Lodi a sense of place – one that we are just beginning to discover.
The great American importer of French wine named Kermit Lynch was once quoted to say that the "definition of terroir also involves the tradition of winemaking" – that is, the input of people who grow grapes and make wine, not just the natural attributes of regions and vineyards. To Lynch, terroir doesn't exist without people.
Lodi has more acres of ancient vines than anywhere else in California. Why is that? In a sense, it is because these enduring vines are like the winegrowers themselves – having sprung from the land and heroically persisted through generation after generation to the point where they are very much a part of the "thereness" that has come to define the wines of Lodi.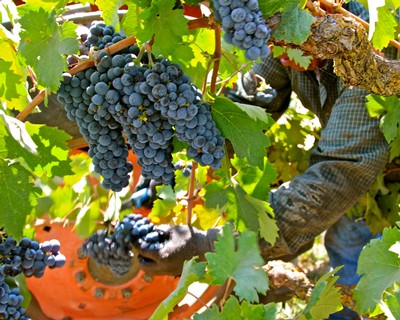 2012 Marian's Vineyard Zinfandel harvest
Comments