Letters from Lodi
An insightful and objective look at viticulture and winemaking from the Lodi
Appellation and the growers and vintners behind these crafts. Told from the
perspective of multi-award winning wine journalist, Randy Caparoso.

January 20, 2022 | Randy Caparoso
Voluptuary & Lucid Wines opens tasting room in historic Sacramento warehouse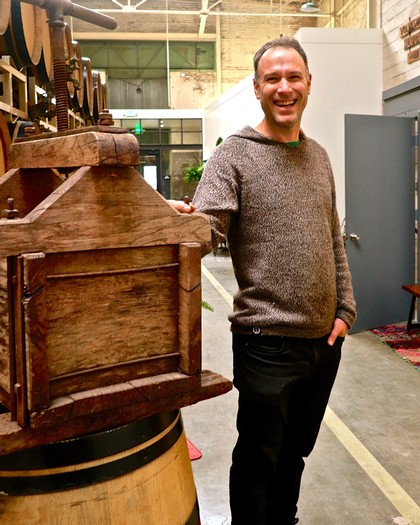 It would behoove Lodi wine lovers who live or travel within the vicinity of Sacramento to mark down February 2, 2022, on their calendars. This is the day that Kevin Luther, the owner/winemaker of Voluptuary & Lucid Wines, opens the doors of his new tasting room/winery in the R Street Historic District corridor of Sacramento (at 1015 R St., next door to the Fox & Goose Public House).
This, however, will be a soft opening (given the current covid crisis), so you'll need to visit Luther's V&L Winery Tasting Room page to book your spot. The entire space has the size (high skylit ceilings) and weathered paint patina of a warehouse (the space was a Fuller Paint storeroom up until the 1950s, which has remained vacant up until now), which Luther is dolling up with seating areas between barrels filled with aging wine, walls of old books and a turntable to spin vintage vinyl.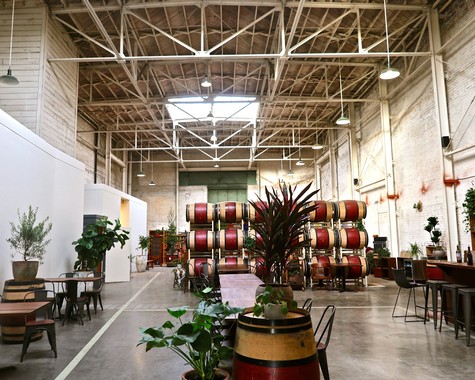 Mr. Luther, who originally made his mark on the wine industry as the winemaker of note when Wise Villa Winery in Lincoln was named the 2015 Golden State Winery of the Year by California State Fair — an indubitably amazing accomplishment, considering the fact that there are over 4,000 wineries in California — has been devoting 100% of his attention on his urban "micro-winery" (as he calls it) since 2019. 2017 was the first vintage of his handcrafted Voluptuary & Lucid Wines.
That is to say, Luther has never had any designs on being the owner of a "big" winery. His focus, as he unabashedly tells us, is on "small batch" wines following strict parameters; the first of which is the use of strictly organically grown grapes, sourced from growers such as Lodi's Bokisch Vineyards and Mike Agnagnos' Sunwest Ag Service.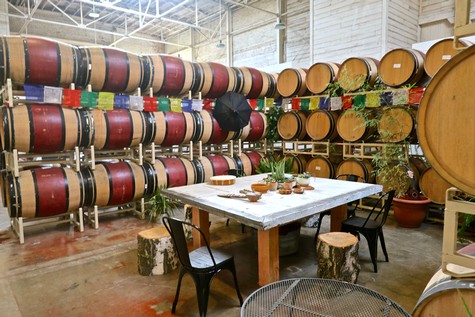 Furthermore, writes Luther on his website: "All of our wines are naturally and organically produced, sulfite and additive-free, and vegan. We specialize in providing custom virtual wine tasting experiences, ranging from branded mini tasting kits to fully virtual or hybrid guided tastings for groups of any size." Right up the alley for many of today's wine lovers, looking for a little more purity, conscientiousness, and online convenience in their lives.
"My goal," adds Luther, "is to take organic grapes and approach them like you would a raw canvas — applying my interpretation to them." As an example, Luther talks about the Picpoul (a.k.a. Piquepoul) grapes grown in Lodi's Clements Hills in the Bokisch family's Terra Alta Vineyard. "You could say that Picpoul is known for its lack of reputation," says Luther. "It makes what most people would consider being a simple, neutral wine, almost like the grapes used to make California jug wines in the past, such as French Colombard. On its own, Picpoul is fairly flavorless, except for the fact that it has great acidity, even when grown in a warm climate such as Lodi's.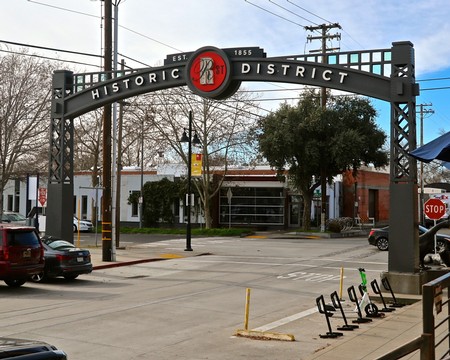 "My approach was to see how I can take what's unique about Picpoul and make it even more interesting. Since starting Voluptuary (first bottling in 2017), I've learned that Picpoul actually has a lot of character. It's Picpoul's acidity, much higher than an average wine grape's, that makes it easy to apply techniques such as native yeast fermentation or minimal sulfites.
"I started off by making three different versions of Picpoul — a sparkling, champagne method style, a neutral barrel-fermented, oak-aged style, and a 'skin-contact' style." The latter approach — producing what is often called "orange" wines because of the brassy color extracted from skins of white wine grapes — involves a fermentation similar to what you would do to make a red wine (white wines are usually fermented after pressing juice off of skins, whereas red wines are fermented with their grape skins).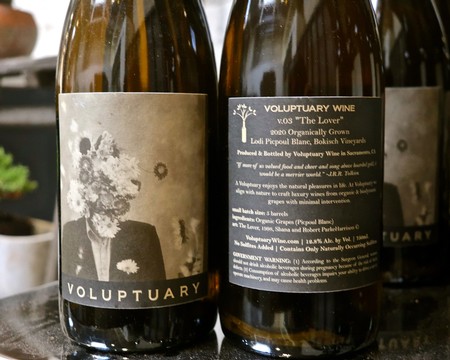 Says Luther, "In the beginning, most people trying the Voluptuary Picpouls preferred the sparkling and barrel fermented versions. But after a while, I noticed that more people were coming around to the skin-fermented style. So in 2020, I fermented all of the Picpoul, three barrels worth, on the skins."
The 2020 Voluptuary "The Lover", v.03 Skin-Contact Picpoul ($38) oozes lemon curd and honeyed toasted biscuits in the nose. The luscious aromas become tangible on the palate, combining with a lavish texture to give a luscious, cushiony feel pierced by the cutting, lemony acidity typical of the varietal. The resulting overall feel is round and substantial without being plodding or weighty, tart without being overly sharp, and grippy with nary a sense of harshness or bitterness.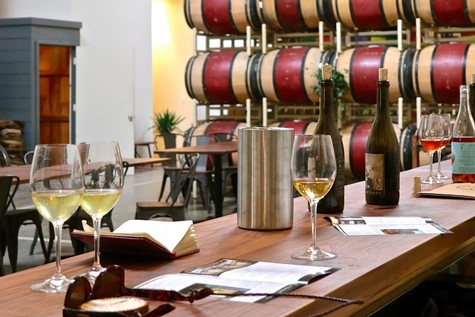 Although the 2020 Picpoul follows Luther's protocols by being native yeast fermented and aged in largely neutral French and American oak to minimize oak flavor, this is not to say that the winemaker has entirely resisted augmenting Nature with personal touches of his own. The 2020 is greatly enhanced, as it is, by the use of apple, peach as well as acacia wood staves, inserted into the barrels.
"The use of other wood types," says Luther, "adds vanillin qualities similar to oak, but also other qualities that end up suggesting fruit. I think this also helps to lengthen or broaden the palate while adding a little bit of a minerality" — although the grape itself has long been known for a mineral quality derived primarily from its typically high acidity.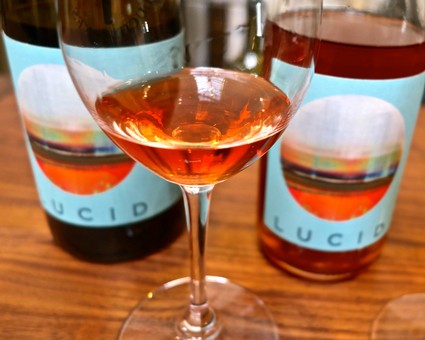 Under his slightly lower-priced Lucid Wine brand, Luther is also offering a bottling dubbed the 2020 Lucid L.03 "Urban Flora" Rosé ($28). Although there is no information on the make-up of this wine on the label, Luther's website explains that 80% of this bright, orangy brick-tinged wine is sourced from the Somers Vineyard Mission grape planting on the east side of Lodi's Mokelumne River AVA, plus a balance of Viognier from Bokisch's Terra Alta Vineyard.
As the nickname ("Urban Flora") suggests, this is no ordinary rosé. It's like a flower growing up between cracks of roadside concrete. In this case, the mind of a winemaker is torn between being as "natural" as possible and putting his own stamp on a wine. Deciding on a minimal intervention approach, after all, is also a conscious decision on the part of a winemaker. Hence, "Urban Flora" is a somewhat "pinkish" wine, its pigment resulting from fermenting on the skins of the black-colored Mission grapes for five days then pressed off to finish fermentation in neutral oak barrels. Decisions upon decisions.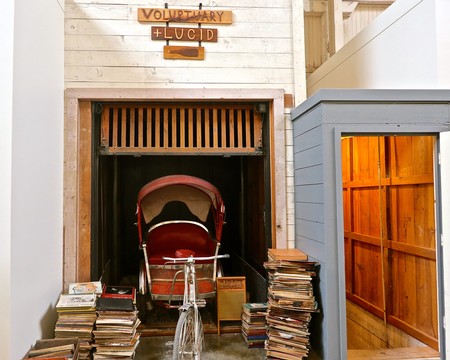 But because Mission is a grape that is actually very low in pigmentation, the color skews closer to "pink" than red, and the tannin level (the phenolic content that gives most red wines their intrinsic bitterness) is equally minimal. However, the wine abounds in the rose petal, red berry, and pointedly kitchen spice (cardamom, nutmeg, mace) aromas of the grape, which are manifested in light yet intense, zesty, vividly flavorful qualities on the palate, finishing with an umami-like, emphatically lip-smacking savoriness.
When you try to put a finger on it, you have to say that the "Urban Flora" is more like a red wine than rosé in terms of intensity of aroma and savory flavor. Yet more like a rosé than red wine in terms of its soft, light yet somewhat minerally, naturally tart-edged quality. Like today's multiple-choice gender options, a wine — especially in the hands of a winemaker such as Luther — can be what you want it to be. Consequently, we'd recommend consuming this wine with a little bit of chill (30, 45 minutes in the fridge), but not ice-cold.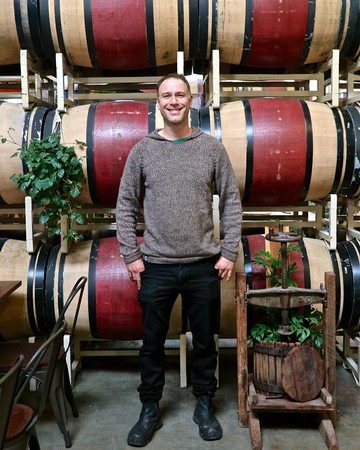 On his website, Luther shows his playful (or "mindful") side by making these recommendations with his "Urban Flora"...
Music Pairings: "Lovely Day" by Bill Withers. "Sweet Child of Mine" by Guns & Roses. "Plage" by Crystal Fighters. "Follow The Sun" by Xavier Rudd. "Days Like These" by The Cat Empire.
Food Pairings: Watermelon, mint & feta bites. Thai food (cucumber salad, papaya salad, coconut soup, red curry). Mexican food (shrimp or fish tacos with Cotija cheese & lime). Turkeys, chicken, or duck with cranberry sauce or another sweet & sour balanced sauce.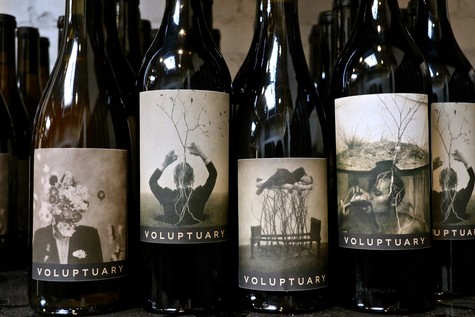 Life Pairings: Sunset drinks with friends. Hanging at the beach, pool, river, or lake on a hot day. Festival life, dancing, or day drinking. Yoga in the park on a sunny day. Drinking this wine while cooking dinner.
Literary Pairing: "Take hold of your own life. See that the whole existence is celebrated. These trees are not serious, these birds are not serious. The rivers and the oceans are wild, and everywhere there is fun, everywhere there is joy and delight. Watch existence, listen to the existence, and become part of it."
Good thoughts, and even better wines!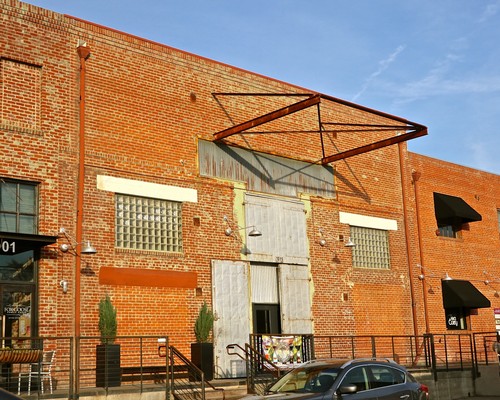 Comments