Letters from Lodi
An insightful and objective look at viticulture and winemaking from the Lodi
Appellation and the growers and vintners behind these crafts. Told from the
perspective of multi-award winning wine journalist, Randy Caparoso.

May 20, 2021 | Randy Caparoso
Unique rosés and rosé-food affinities we have known and loved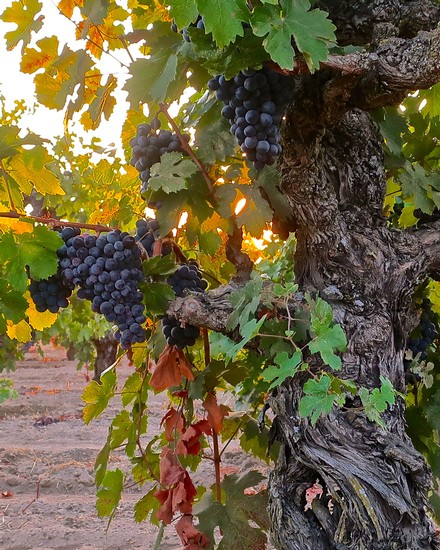 There is something about a rosé that keeps a wine lover humble. It is made from black-skinned grapes, the same types of grapes that produce red wines — the kinds of wines that make casual wine lovers go ooh and the most pretentious of connoisseurs go aah.
Yet rosé, as fine as it can be, is never an ooh-aah wine. You might sip and savor it in discreet draughts, like any fine wine, but in the end, it is a wine that compels you to enjoy it without a second thought. Maybe it's the pinkish color that invites such non-intellectualizing pursuit. We drink rosés like white wines — with a good chill, or even on ice (on the hottest days) — yet even white wines often invite more serious contemplation.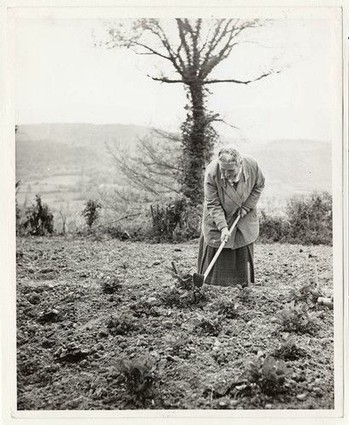 Gertrude Stein (hoeing her garden in France), is known for playfully repetitive phrases like "rose is a rose is a rose is a rose" and "there is no there there"
Rosé is never really contemplative. Nor should it be.
But here's the funny thing: As more and more consumers get turned on by rosés, more and more of our craftier wine producers are focusing their attention on rosés. Therefore, with some degree of irony, our higher quality rosés are becoming more serious in nature. Not serious serious, mind you. But "serious" in a sense of, "I can play a better game of darts than you can," or, "I'm the queen of Halloween dress-up." As finely crafted as today's proliferating number of rosés can be, it is still a wine that invites an unaffected appreciation. Especially with food, family or friends, music, conversations, laughter... when all wines are enjoyed the most.
A rosé, in the end, is a rosé is a rosé. Maybe that's what Gertrude Stein meant to say.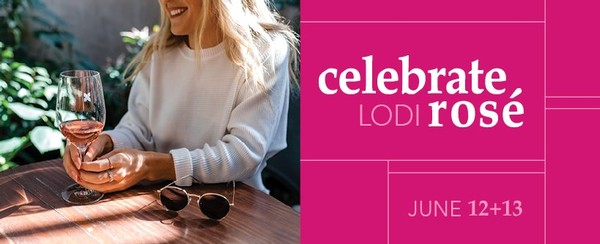 Celebrate Lodi Rosé Passport Weekend
Lodi grows some darned good rosé — not too fruity, not too lean, not too heavy or too light, but just right for refreshing roséness — because it can. This is, without a doubt, because of the fact that the region's Mediterranean climate is a dead ringer for that of France's Provence region, where more dry rosé is grown, produced, and consumed than anywhere else in the world (if you want to geek out on the whys, please see our recent article on Why dry rosés are preeminently suited to Lodi's Mediterranean climate).
For that reason alone, you should seriously consider joining other Lodi rosé lovers on June 12-13, 2021 for the appellation's first Celebrate Lodi Rosé passport-style weekend! You can create your own itinerary at participating wineries to explore the good diversity of dry-style Lodi rosés, made from a wide range of grapes. Advance tickets and reservations are required, and each ticket includes wine tasting at reserved wineries, event wine glasses, and quality time with your fellow wine friends.
To purchase tickets, visit the Celebrate Lodi Rosé 2021 cellar pass page.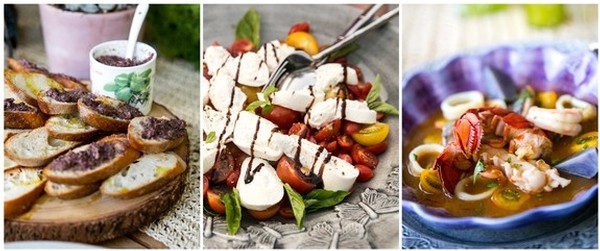 A Few Unique Dry Rosés and their Food Affinities
Warm spring and summery dry rosés taste great by themselves and are even better with food. The beauty of dry rosés in particular is that they're enjoyed with a good chill, like white wines, but they are usually made from red wine grapes. The pinkish color of rosés is derived from the black skins of those grapes; but even if contact of fermenting juice with those skins is fleeting, the wine invariably picks up a smidgen of the flavor intensity and texturing that you normally get in red wines, which derive their flavor from being fermented with skins.
Rosés, you can say, are like red wines that think they are whites. They can be just as crisp as whites and are always softer than reds. They're rosés, of course, which means they occupy their own sensory category. Therein lies the even greater beauty of rosés: As such, they can be amazing with foods — perhaps more varieties of foods than any white or red wines.
Even if we're overstating their food versatility somewhat, there is at least one other thing you can say about good, dry rosés: You don't have to fuss or fret or over-intellectualize about any of this. It's rosé, for Pete's sake. Practically any dish will work, although maybe some are better than others.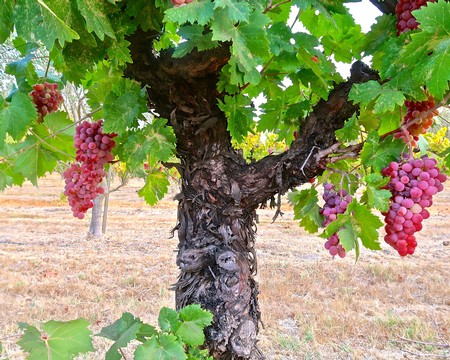 Hence, some of my own favorite Lodi-grown rosés, each singled out for their uniqueness as well as tried-and-true food affinities, as diverse as they may be...
2019 Sabelli-Frisch, Lanterna, Chandler Vineyard Mokelumne River-Lodi Flame Tokay ($29)
Now here's an idea whose time has come: A pink wine made from an actual pink-skinned grape, as opposed to any of the black-skinned grapes from which virtually all other rosés in the world are made. Lodi old-timers, of course, know Flame Tokay as the table grape that dominated the local landscape (like no other place in California) for well over 100 years, up until the 1980s. For many decades, local co-ops also used Flame Tokay to produce fortified wines and brandies. Thousands of acres of Lodi Flame Tokay were pulled up, almost overnight, once seedless grapes came into the fresh markets (Flame Tokay going the way of seeded watermelons), and growers began filling the demand for more classic wine grapes such as Cabernet Sauvignon, Chardonnay, Merlot, and Sauvignon blanc.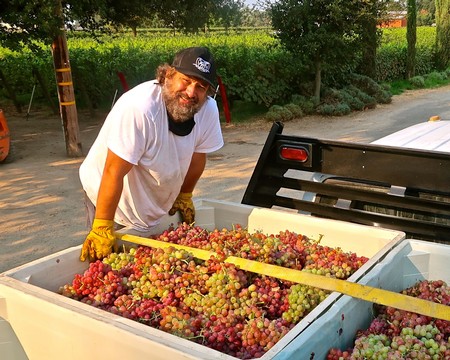 Today, just a few small blocks of Flame Tokay remain, mostly in yards of private homes kept for personal consumption. It took a new-fangled, L.A.-based winery (Sabelli-Frisch) to help revive interest in this heirloom grape as a wine of interest. An interesting it is: A 100% native yeast/skin-contact fermented wine with an amber-brick tinted color, not unlike traditional rosés, only with so much more in the nose and palate — very bright, flowery scents of peach and rose petal, following up with a bone dry taste marked by zesty acidity punctuating a distinct viscosity going far beyond what is usually found in a rosé, giving the wine a stony yet fluid, viscous length, texture, and mildly Campari-like bitterness, filling the palate without weighing it down.
Such a sturdy yet eminently rounded, tart-edged wine makes a natural match for fleshier fish like tuna or salmon, charred in either a cast iron or charcoal grill, simply brushed with butter, coated in Japanese furikake (variations of seaweed-sesame seasonings), lavished in ponzu marinades, or even sweetened by soy sauce-based glazes. Despite its dryness, the fragrant fruit qualities of the Lanterna are also luscious enough to balance almost any chili-spiced meat, red or white, as well tearfully hot dishes like Jamaican jerks, Cajun blackened or chili-specked Thai shrimp, or pork coated in Szechuan spices. There is textural flexibility to this wine that can be put to "work" with any number of dishes, and you don't have to think twice to enjoy it.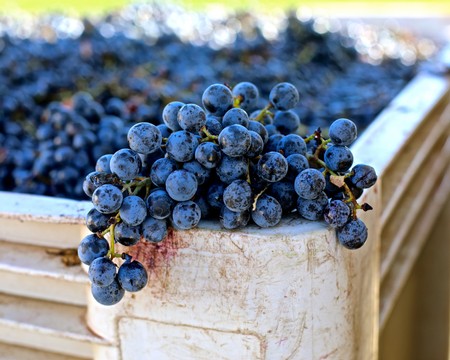 2020 Bokisch Vineyards, Terra Alta Vineyard Clements Hills-Lodi Rosado ($20)
Over the past 10 or 15 years, Bokisch Vineyards' rosado (the Spanish word for rosé) has gone from being almost like a skinny yet affable young girl, ebullient with strawberry and watermelon, to a more curvaceous, almost sultry woman with rose petal and mineral nuances on top of even more intoxicating fruit aromas. The difference? The winery's stylistic shift from nearly 100% Grenache (or Garnacha, as the Bokischs call this classic Southern French/Spanish grape) to healthy proportions of Graciano (41% in 2020) and Tempranillo (5%) blended in with the Grenache. The feel is still light, airy, and almost delicate, but there is more of a lip-smacking note of lemon peel, verging on pomegranate, in the nose and flavor, giving this wine more of a "complete" profile.
As you would expect, the Hispanophile owner/growers Markus and Liz Bokisch would suggest Spanish-style tapas with their rosado, although the wine is perfectly happy sitting on a patio table, enjoyed on its lonesome. I've enjoyed Bokisch's dry pink wines with marinated shrimp and fresh chopped chile spiced guacamole in one of our local restaurants (alas, no longer in business) where they mixed the avocado in an oversized stone mortar at the table for you. Given my Hawaiian island background, I also think this would be dynamite with simple fried little fish (like anchovy and sardines) and rice seasoned with everything from Japanese furikake (chopped seaweed and sesame seed seasonings) to pickled ginger, umé (sweet-sour plum), soy, and sesame seeds.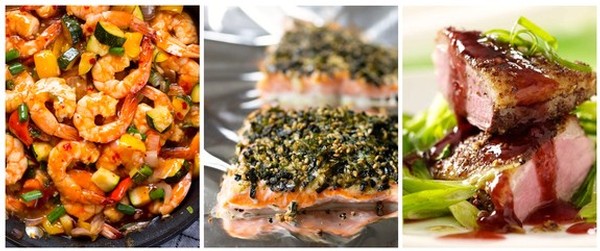 Exceptionally rosé-friendly Asian style dishes: Thai style chili-spiced shrimp stir-fry, Japanese furikake crusted salmon, and Chinse roasted duck with star anise plum sauce
Finally, there has been some recent talk about adding ketchup to mac n'cheese. There is never any accounting for taste, but I would suggest that mac n'cheese mixed in with stewed tomatoes and a good dose of chili flakes (or Tabasco) would help bring out the subtle, layered almost red wine-like savory (i.e., umami) elements in Bokisch's rosado. This is, after all, a "food wine" par excellence, even if you don't have to define it as such.
2020 LangeTwins Family Winery, River Ranch Vineyard Lodi Aglianico Rosé ($22)
The Lange family, who trace their roots in Lodi back to the 1860s, deserves an enormous amount of credit for their investment in Italian grapes like Aglianico, Nero d'Avola, Montepulciano, Sangiovese, Teroldego, Barbera, and most recently, Ancellotta — all in the spirit of taking full advantage of Lodi's flexible, grape-friendly Mediterranean climate. Their vineyard-designate Aglianico Rosé has all the qualities you want in a good, dry style pink wine — seamlessly sleek, lithe, refreshingly tart-edged strawberry/melon fruit qualities — plus the bonus of the grape's own, unique profile, suggesting a somewhat exotic, sweet, faintly musk-like spice and an intrinsic, palate-zinging acidity that highlight the unique and effusive fruit qualities all the more. Nothing "ordinary" about this rosé.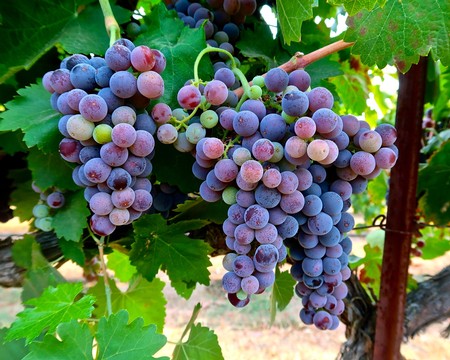 One immediately thinks of summery salads in balsamic vinaigrette and salty/earthy feta cheese to balance the perky, tart-edged fruitiness of the wine. Ultimately, it's the Aglianico's sturdy, edgy character that allows this wine to cross more than a few food barriers. Red sauced barbecue chicken is a no-brainer, and so is meatloaf in an herby, mushroomy, or tomato-laced gravy, or anything pinkish like salmon, half-rare tuna, or myoglobin-rich birds like squab and duck cooked in endless fashions.
2020 Peltier Winery, Estate Grown Lodi Rosé of Pinot Noir ($26)
When you think of red wines made from Pinot Noir, you think of ultra-fine, silky, subtle yet fragrantly perfumed styles of reds. Pinot noir that is harvested specifically to be crafted into a dry style rosé is also different from most other rosés in several ways. First, because it is picked at lower sugars, it tends to retain a markedly paler, translucent color (more like pink-toned than "pink"). The body also tends to be lighter (in the case of Peltier's rosé of Pinot noir, a lithe and airy 11% alcohol), and the natural acidity retained from early-picked grapes perks up the floral cherry/strawberry fruit qualities, adding almost something of a grapefruit-like (or sour cherryish) tartness to the wine, without being sharp or puckery. In sum: This is as fine and refreshing a rosé as any in California, perhaps the world.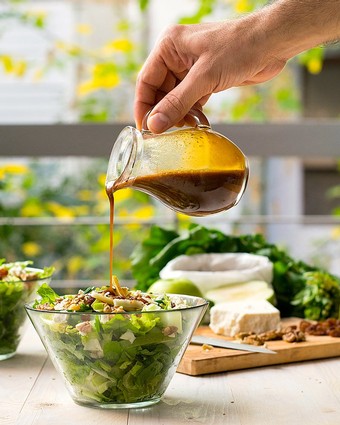 As such, you do not have to think twice about this wine enjoyed with summer pasta in fresh herbed marinara or cold shrimp with sweet-spicy cocktail sauces. Another idea: Pretend you're in Provence, sitting outside on a graveled patio under the dappled shade of olive trees with the scent of lavender and kitchen herbs in the air; add some duck confit, cornichons, herby chèvre, and maybe some olive oil drizzled baby arugula to the picture, and wouldn't it be lovely, indeed.
2019 McCay Cellars, Lodi Rosé of Grenache ($24)
Grenache is the predominant grape going into the sea of dry-style Southern French rosés and is equally tailor-made for Lodi's warm climate terroir. In contrast to the partially Grenache-based rosado by Bokisch Vineyards, this 100% Grenache is rounder (i.e. not as tart-edged), fuller bodied, and unabashedly fruit-forward, despite the fact that both wines hover around the same alcohol range (12.5%). A transparent salmon-pink color transitions to a fresh, bright, lush fruit aroma of cherry/raspberry/watermelon, with a plump, pliant, fleshy feel to those sensations on the palate.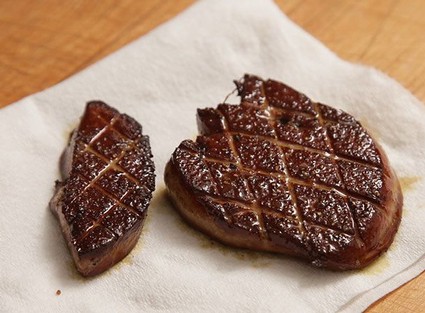 Whenever I taste an opulently fruited yet bone-dry style of Grenache rosé like McCay's, I can't help but think about a similar wine I once enjoyed in an Orange County restaurant with foie gras dolled up with rhubarb and strawberries. A phenomenal experience, setting off fireworks, trumpets, and drumrolls in my head. This is exactly why Grenache is the grape of choice for rosé producers around the world. By the same token, these lusciously fruited styles of rosé would do just as well with similar dishes employing fruit sensations, such as grilled fish with chutney or fruit salsas, squab with figs, duck with plum sauce, or pork with apples, plums, dried fruit or even a sweet-toned Port infusion.
2018 Onesta Wines, Bechthold Vineyard Lodi Rosé of Cinsaut ($25)
The world's greatest rosé, if there ever was such a thing, is grown and produced at the legendary Domaine Tempier in Provence's Bandol appellation. This wine is usually an artful blend of Mourvèdre, Grenache, and Cinsaut, combining the meatiness, opulent fruit, and fragrance typifying the three respective grapes.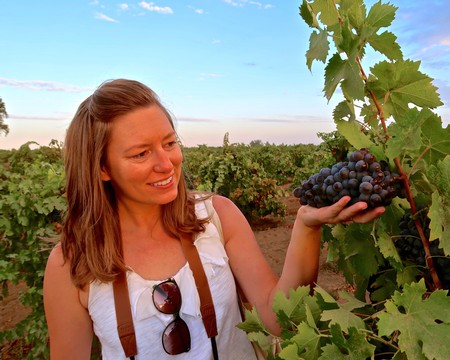 Here in Lodi, the closest things we have to classic Bandol Rosé are probably the 100% Cinsaut-based pink wines sourced from Bechthold Vineyard, which is no ordinary vineyard. It consists of own-rooted, double-layered head-trained vines originally planted in 1886. At 135 years old, undoubtedly the oldest, and certainly most productive, stand of ancient vine Cinsaut in the world.
Each year about five or six handcraft wineries produce a Cinsaut Rosé from Bechthold. It's hard to say who produces the "best" one — with venerated vines like Bechthold, it's more of a matter of winemakers "not screwing up" the intrinsic quality of this fruit. If you prefer a more organic, earthy, native yeast style, McCay Cellars produces a Rosé of Cinsaut from Bechthold's ancient vines. The Bechthold-grown Cinsaut rosés of Lodi's Estate Crush and Michael David Winery are more purely fruit-focused — silken textured, mouth-watering iterations of the strawberry/rhubarb profile associated with this growth.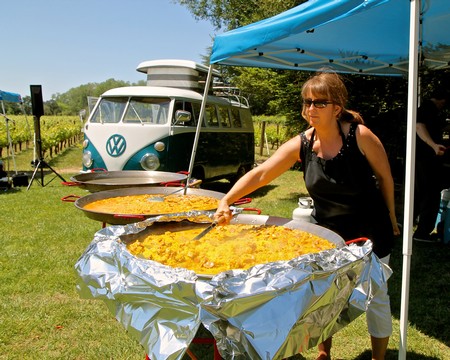 Yet more than a few vintners have opined that Onesta Wines may produce, if anything, the most interesting of the Bechthold rosés. Perhaps because part of it is drawn from a saignée, or "bleeding" of juice off of fermenting tanks of red wines that winemaker/owner Jillian Johnson also produces from the vineyard. In any case, a Onesta Cinsaut rosé is always a sturdy yet remarkably fresh, flowing, bone dry, forwardly fruited wine — the essence of miniature sweet strawberries rolling across the tongue, with perky touches of grapefruit and rhubarb filling out the edges. There is also, invariably, a faint breath of earthiness, landing on the palate with a soft yet stony smoothness. It's not "Domaine Tempier," but it's close, at least in spirit!
Therefore, when enjoying a Bechthold-grown Cinsaut rosé, it's hard not to think "Provence" in terms of food affinity. We're talking ravioli or ragout; salt cod (or brandade) and anchovy; pesto, aioli, and tapenade; ratatouille, bouillabaisse, or (more Italian Riviera-style) cioppino; chicken with 40 cloves of garlic, and that entire, Southern French culinary litany.
Bouillabaisse, come to think of it, makes you think of another dish laced with the fragrant, earthy, sensual scent of saffron: Spain's paella, especially when steeped in briny, high-umami shellfish, plus generous helpings of Catalan style allioli (a specialty of Lodi's outstanding, multi-award-winning Addy's Paella) Now there's a dish that screams for fragrant yet subtlely earth-toned Bechthold-grown rosé! It's hard to go wrong with rosés from a vineyard as phenomenal as this, and just as hard to go wrong with any number of these wines' delicious food matches!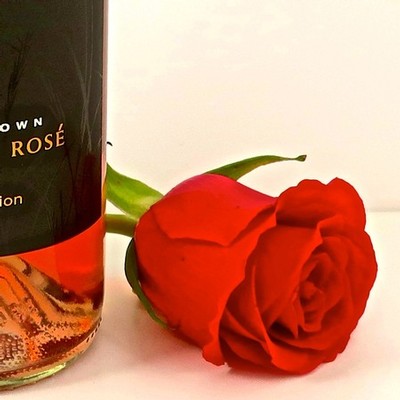 Comments