Letters from Lodi
An insightful and objective look at viticulture and winemaking from the Lodi
Appellation and the growers and vintners behind these crafts. Told from the
perspective of multi-award winning wine journalist, Randy Caparoso.

March 7, 2016 | Randy Caparoso
Wine grape IQ test (ah, sweet mystery of Lodi whites)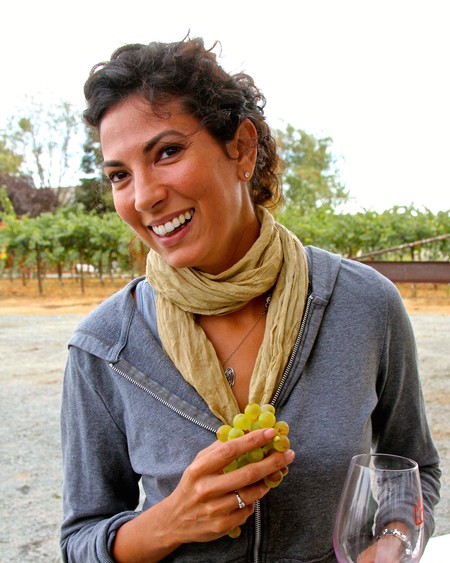 In lieu of our last post (Is Lodi best for white wines?), would you care to put your white wine grape IQ (i.e. geek meter) to the test?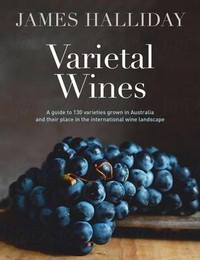 We would like to do this by quoting snippets from a book that was published just last year, James Halliday's Varietal Wines (Hardie Grant Books); in which this famed Australia based author describes the origins and sensory qualities common to 130 grape varieties. This may sound like a lot of grapes; but bear in mind that when British wine author Jancis Robinson first published her Guide to Wine Grapes back in 1996, she listed about 800 different wine grapes. There are all kinds of wines grown around the world!
Of course, for this quiz we will be focusing on white wine grapes that are grown in Lodi. We are utilizing Mr. Halliday's tome because, as a matter of fact, his publisher borrowed a few grape cluster shots from our own lodiwine.com posts to help illustrate a few passages. Plus, the fact that Halliday is an amazing writer, and this book furnishes some fascinating information reflecting the latest ampelographic research.
So here's the deal: please read each description and make your mental guess. If you're a grape grower, you might even be able to identify the grape just by looking at the photos. Wine geeks may glean even more from Halliday's discussions of each grape's provenance.
You will find the answers at the bottom of this post; but please, no cheating!
Let's see how you do with these five "mystery" grapes: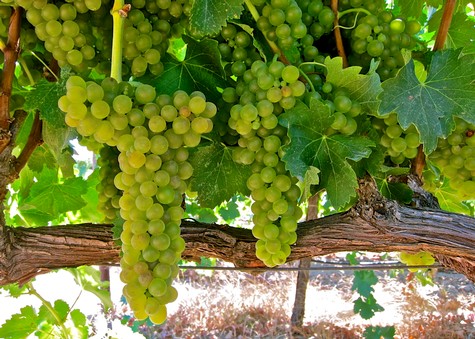 Mystery white wine grape #1
According to Mr. Halliday, there is "a parent-offspring relationship between" this grape and Mondeuse Blanche which "has overtones of vinous incest, for it makes" this grape "either a half-sibling or grandparent of Shiraz, with which it can be so successfully co-fermented."
This grape makes white wines that are "vividly coloured, highly aromatic and strongly flavored; I have always associated it with fruit pastilles (i.e. jelly-ish English fruit drops), with its mix of apricot, honey, orange blossom, orange peel and peach aroma and flavour." In other words, whites made from this varietal are super-fragrant, more than most.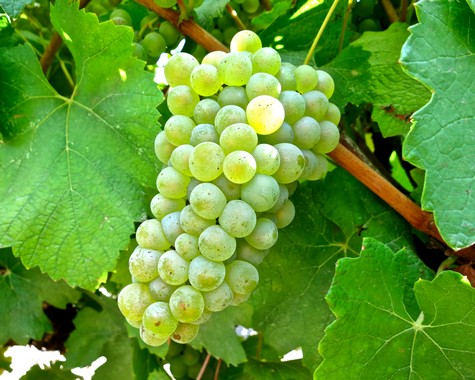 Mystery white wine grape #2
Says Halliday, "DNA research has established that" this grape's "parents were Pinot Noir and Gouais, but its birthplace is unknown." It "was once confused with Pinot Blanc until the end of the nineteenth century in France." Halliday also quotes Robinson, who once described it as "hugely popular, versatile and widely planted international white variety equally capable of extreme mediocrity and regal splendour."
Interestingly, Halliday describes white wines made from this grape in one part of France as having a "totally seductive panoply of peach, butter, nut, stone fruit and honey flavours," whereas in another part of France it produces whites with "the aroma of gunflint, the flavour akin to sucking river pebbles." In the U.S., whites vinified from this popular, ubiquitously planted varietal are often imbued with a "crisp, appley intensity."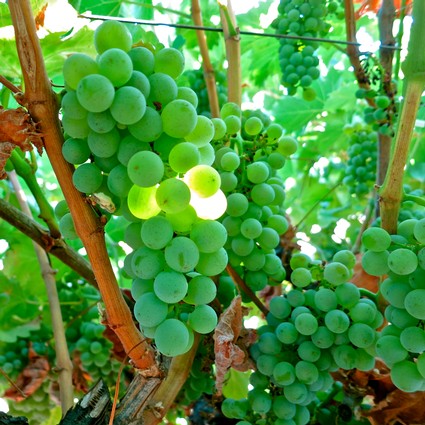 Mystery white wine grape #3
In 1997 this grape "was identified as one of the two parents of Cabernet Sauvignon (Cabernet Franc is the other)." Halliday says you shouldn't be surprised that a white wine can have a taste not unlike "partially ripe Cabernet Sauvignon grape... that taste is a mix of crushed herbs, grass and asparagus, with a minerally acid framework."
Speaking of more secret, scandalous sex lives of ancient vines: "DNA analysis carried out since 1997 has shown it has a parent-offspring relationship with Savagnin; since the latter is a very ancient variety, it is highly likely that it was the parent, a sibling (inter alia) of Grüner Veltliner and Verdelho, and a grandchild of Pinot Noir." It's complicated.
Otherwise, with typically cutting Anglicized rhetoric, Mr. Halliday tells us: "There are those who thoroughly dislike the intensity of the wine, which they regard as rank and coarse, giving rise to the oft-repeated description of it smelling like cat's pee under a gooseberry bush."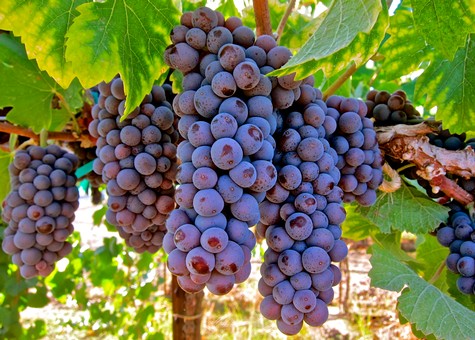 Mystery grape #4 (don't be fooled by its violet tinged color) in Mohr-Fry Ranches
Mystery white wine grape #4
Like many wine writers, Halliday blithely admits being mystified by consumer enthusiasm for certain wines (plebeians have such, well, common tastes). Once again, he quotes Robinson, who has described this varietal white as "the somewhat unfathomable success story of the early 21st century." This grape is a "colour mutation" of a black skinned grape "that occurred at different times in different places in Burgundy, and in the Pfalz and Baden-Württemberg regions in Germany" (hence its violet tinged pigment, which drops out during fermentation).
Adds Halliday, "The story of its spread across the old Austro-Hungarian Empire would have pleased Agatha Christie, as would the absolute plethora of names under which it travels." The grape "was called Fourmenteau in the Middle Ages." Confusingly, "Malvoisie is another synonym which appeared in the Middle Ages" – although not much of an issue in this century. Still, very recently, "Alsace has had to rename" this grape, which Alsatians once bottled as "Tokay d'Alsace."
In any case, Halliday describes white wines produced from this grape "in the traditional Italian fashion" as often being "water-white, devoid of aroma... barely any taste." He goes so far as quoting a New Zealand winemaker who described making wine from this grape as "like painting a picture with white paint." Nonetheless, examples of this varietal produced in Alsace, France have been known to be "hugely floral, with an almost viscous palate of hyper-ripe peach or apricot fruit flavours and high alcohol..."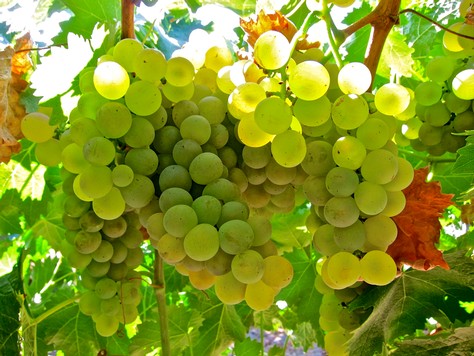 Mystery white wine grape #5
According to Halliday, "morphological and DNA research has established" this grape as "identical to Favorita (Piedmont) and Pigato (Liguria)," and it is also "grown under its own name in Liguria, Sardinia, Tuscany and Corsica." Although "it is an important variety in both Corsica and Sardinia, it has often been said that it was introduced by Spain between the fourteenth and seventeenth centuries, although it has never been found in Spain. Other theories place it in the Middle East, or central Greece. Robinson suggests it is more widely planted in southern France than in Italy."
It is, however, now grown in Lodi, where it is somewhat cutting-edge (our hints, not Halliday's). As Mr. Halliday puts it, "it is a vibrant wine, with a full range of citrus flavours cropping up in different examples, and (grown in the New World) shows the same excellent acidity as it does in Italy and France."
Time's up, pencils down!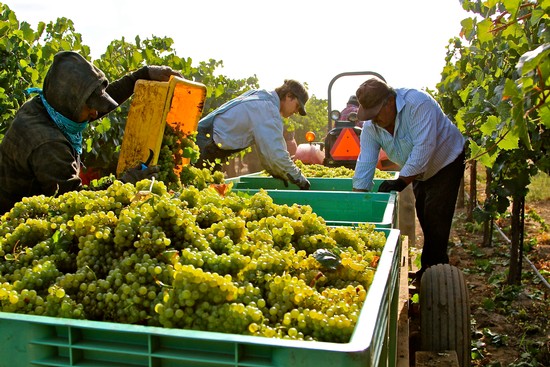 Answers: (1) Viognier; (2) Chardonnay; (3) Sauvignon Blanc, a.k.a. Fumé Blanc; (4) Pinot Gris, a.k.a. Pinot Grigio, Rulander, Grauburgunder; (5) Vermentino, a.k.a. Rolle, Pigato, Favorita
Comments