Letters from Lodi
An insightful and objective look at viticulture and winemaking from the Lodi
Appellation and the growers and vintners behind these crafts. Told from the
perspective of multi-award winning wine journalist, Randy Caparoso.

September 10, 2021 | Randy Caparoso
Three grapes of the moment during Lodi's 2021 harvest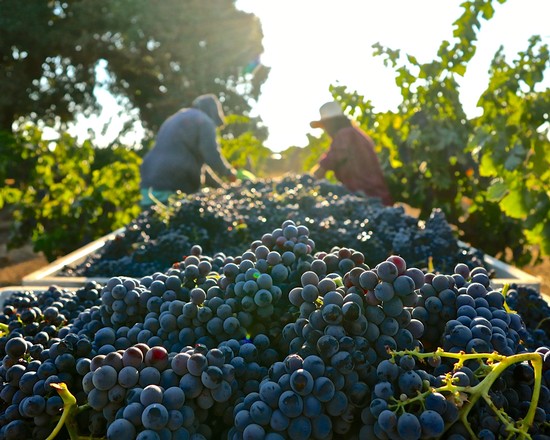 As we come into the middle of Lodi's 2021 wine grape harvest, it is as good a time as any to focus on three grapes that represent three sides of the Lodi winegrowing industry today:
• Innovation
• Tradition and history
• Terroir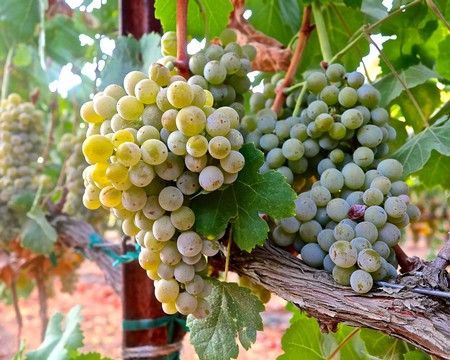 Innovation: Clairette blanche
Clairette Blanche is an extremely old grape in the land where it comes from, in Southern France. It is one of the 18 wine grapes allowed (by law, the French are persnickety when it comes to their top wine regions) to be grown in the Rhône Valley's Châteauneuf-du-Pape. In California, however, it is still an extreme rarity. A number of growers and vintners have picked up on the grape in Paso Robles, which shares a commonality with Lodi with respect to a Mediterranean climate highlighted by warm, sun-soaked summer days and cool summer nights.
Usage of Clairette Blanche, as it were, has recently been on an upsurge in Châteauneuf-du-Pape — top producers of white wines in this region have been increasing the percentage of this grape, to as much as 10%, in their white wine blends, traditionally dominated by Grenache Blanc and Roussanne. Jason Haas — the owner/winemaker of Paso Robles' Tablas Creek Vineyard whose family first planted Clairette Blanche in California — has theorized that the increase of the grape in Châteauneuf-du-Pape has probably been a natural reaction to climate change. It's getting "hot" in all the world's wine regions (in Oregon, for instance, winegrowers have been in a state of shock by 2021's turn of events), and the crisp acidity and more-minerally-than-fruity profile of Clairette Blanche has helped bring balance to increasingly softer, riper, fruitier qualities of Grenache blanc and Roussanne resulting from hotter summers.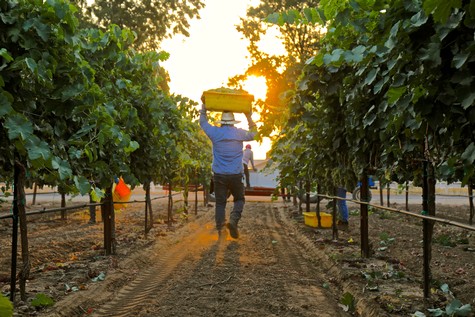 Sue Tipton, the owner/grower/winemaker of Lodi's Acquiesce Winery & Vineyard, planted Clairette Blanche as a possible blending grape for her own Châteauneuf-du-Pape-inspired whites. I think even Tipton has been surprised by the extent of the racy, stony touch, and herbs de Provence-like complexity the grape brings to a blend, as well as the distinctly appealing character it shows as a stand-alone varietal bottling
Lodi, like all other wine regions, is currently in the throes of its own transition. There are economic as well as climate-related challenges that need to be addressed; and everything, as always, comes down to market adjustment and responses. Challenging times require innovation. And if it takes rare, obscure (at least to the vast majority of Americans) grapes like Clairette Blanche to make a difference, so be it. And judging by the continuing success of Lodi's Acquiesce — really, the only winery in California bold enough to push this grape as a pure varietal, not just as a blending grape — Clairette Blanche may be one of the pieces fitting into the puzzle.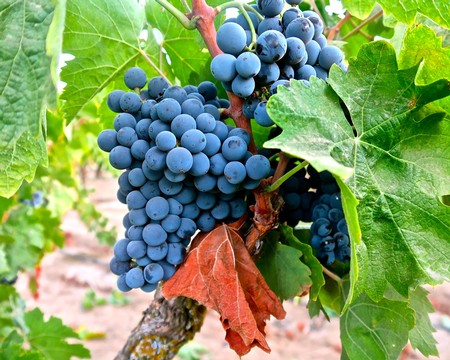 Tradition and history: Carignan
Old-timers can recall that in the 1960s and 1970s Carignan was the most widely planted wine grape in all of California. Yes, there was a time when there was far more Carignan planted than Zinfandel, Cabernet Sauvignon, Pinot noir, Merlot, Sauvignon blanc, and even once-popular "jug white" grapes like Colombard and Chenin blanc.
Granted, most of this Carignan was in the hotter Central Valley wine regions south of Modesto, but even Lodi —dominated by Zinfandel and Flame Tokay up until the 1970s (Zinfandel is still Lodi's #1 grape) — cultivated quite a bit of Carignan.
Most of Lodi's Carignan, of course, was pulled from the ground once Cabernet Sauvignon, Merlot, Chardonnay, and Sauvignon Blanc began driving the grape and wine markets at the start of the 1980s. In its 2019 count, the USDA California Field Office reported 2,276 acres of Carignan still being cultivated in the state (down from over 27,000 acres in the mid-1970s), and only about 320 of those acres remain in Lodi.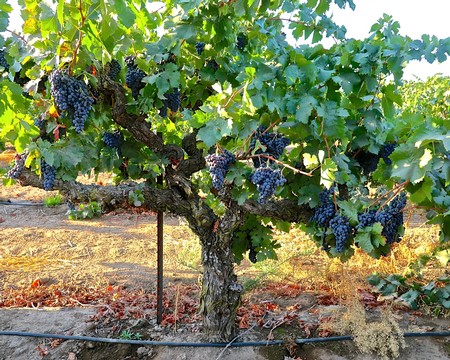 What does this mean? The few hundred acres of Carignan remaining in Lodi are old, very old. Speaker Ranch still cultivates a stand of Carignan planted in 1900 — so naturally, it's the small, handcraft wineries such as Turley Wine Cellars, Neyers Vineyards, Sandlands Wines, Marchelle Wines, Precedent Wine, and, most recently, Monte Rio Cellars who are mining "liquid gold" from these creaky old vines, yielding exquisite red wines — fragrant, nuanced, layered, fresh, pure, balanced.
Ergo: As "traditional" or "historical" as Carignan may be, it can now be described as a "comeback" grape. Suddenly, it is very "cool." The recent mania for "ancient vines," of course, has a lot to do with it.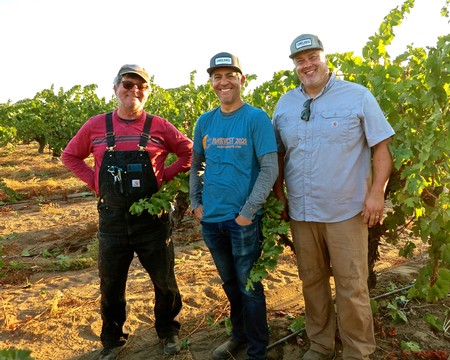 Also on the west side, the Shinn family's Mule Plane Vineyard (planted in the late 1920s) and the Manassero family's 1950s and 1960s blocks of gigantic Carignan plants have suddenly come into great demand. Whereas ten or twenty years ago, the only "takers" were the giant wineries, paying minimal prices for these grapes, burying them in anonymous blends.
On the east side, Rauser Vineyard (dated back to 1909) has been going into outstanding red wines by Klinker Brick Winery. What local wineries like Klinker Brick and McCay Cellars have discovered is what winegrowers knew way back in the late 1800s: that Carignan — a workhorse grape around the Mediterranean Basin (particularly Southern France, Spain, and Northern Africa — is perfectly at home in Lodi's warm climate and porous soils. It is a grape that naturally produces wines with zesty acidity and effusively bright red fruit in this environment.
What goes around, as they say, eventually comes back around. That's Carignan.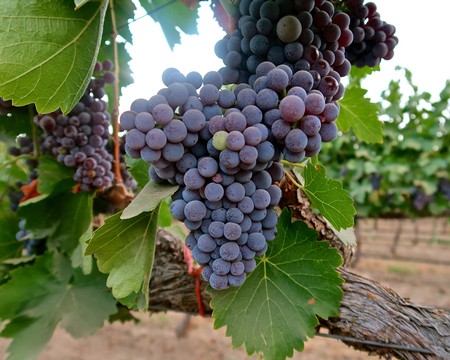 Terroir: Grenache noir (a.k.a., Garnacha)
All the world's best wine regions have this in common: They are planted with grapes most suitable to their natural environments. In wine parlance, that's called terroir. And when sensory characteristics reflect specific physical circumstances of vineyards and regions show up in wines, that's called a "sense of place." It's why people prize Lafite in Bordeaux, Musigny in Burgundy, Steinberger in the Rhine River, and even Beaulieu Private Reserve in Napa Valley — because these wines capture sensory qualities that can only come from one special place.
Terroir is also the reason why we are seeing an uptick in the black-skinned Grenache grape; not just in Lodi, but all over California. Simple reason: most of coastal California and Lodi is characterized by a Mediterranean climate, and Grenache is a grape that thrives in these circumstances. It is the reason why Grenache is, for instance, the primary grape in the famous red blends of Châteauneuf-du-Pape, but is not to be found in Bordeaux or Burgundy. It would fail to ripen with consistency if grown in Bordeaux and Burgundy, but in the warm, sunny climate of Southern France, it ripens with ease, yielding beautifully fragrant wines with unexpected spice (most often, like black pepper) qualities.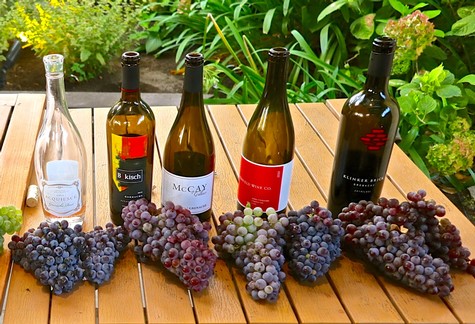 2021 Grenache cluster samples going into (bottles depicted) Acquiesce Rosé, Bokisch Garnacha, McCay Cellars Grenache, Enfield Wine Co. Grenache, and Klinker Brick Grenache.
Grenache also produces red wines with softer tannin — much rounder and more pliant than, say, that of Cabernet Sauvignon or even Merlot. This is perfect for today's market because more and more consumers have been coming to the realization that red wines need not be full-bodied and heavy or drying with tannin in order to be interesting. It is why, of course, why Pinot Noir is now hugely popular. While the spice of Grenache is different than the spice of Pinot noir, consumers are latching on to Grenache's own unique charms — that of a sumptuous red wine that you can roll around in your mouth and appreciate for its firm yet silky, textured qualities.
The oldest existing plantings in Lodi date back to the 1940s (in Manassero Vineyard), but most of the Grenache/Garnacha in Lodi vineyards today was planted in the late 1990s or after. Two prime examples of Lodi Grenache are the McCay Cellars' Abba Vineyard, grown in the Mokelumne River AVA, and the Bokisch Vineyards' Terra Alta Vineyard grown in the Clements Hills AVA. Small artisanal producers such as Jeff Runquist Wines and Enfield Wine Co. are now having success with Lodi-grown Grenache. Klinker Brick has recently come out with its own varietal bottling, and in 2021 Maître de Chai Wine produced an Abba Vineyard Grenache described as a wine "we couldn't be happier with."
The reason is terroir. If there is any grape that exemplifies the wisdom of growing a grape best suited to a particular environment, it's Grenache.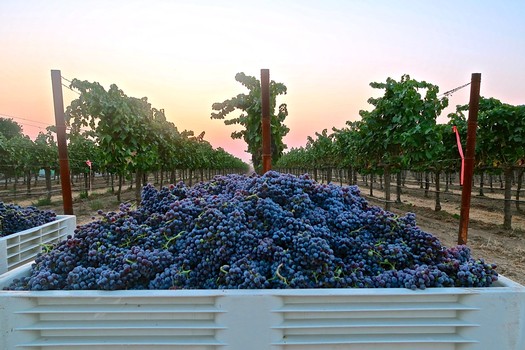 Comments