Letters from Lodi
An insightful and objective look at viticulture and winemaking from the Lodi
Appellation and the growers and vintners behind these crafts. Told from the
perspective of multi-award winning wine journalist, Randy Caparoso.

March 29, 2022 | Randy Caparoso
The women winemakers of Lodi (part 3 — our incredible up and coming talent)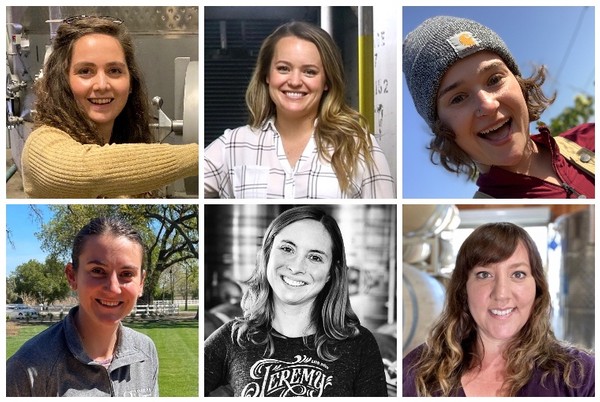 Continued from The women winemakers of Lodi (part 2 — are male winemakers from Mars and women winemakers from Venus?)
Industry disproportions
To start part 3 of our series on Women Winemakers of Lodi, let's talk about the evolving role of women in the wine industry. It is progressing, but not fast enough.
In a recent article entitled The Role of Women in an Evolving Wine World, it was pointed out that as much as 60% (depending on the poll) of wine consumers in the U.S. are women. More impressively, continues the article, "About 60% of the graduates from the Viticulture and Enology program at U.C. Davis are women, but only 10% of the winemakers working in California are women, only 4% of the wineries in California are owned by women, and women working in wine-related professions earn less than the men."
Not long ago, the widely published wine author Karen MacNeil posted a blog entitled Being a Woman In Wine In a Time of Reckoning. MacNeil's post was in 2018 — if anything, the past two years have been even more of a time of reckoning in all segments of business and society, as the subjects of misogyny and harassment have come out further into the open.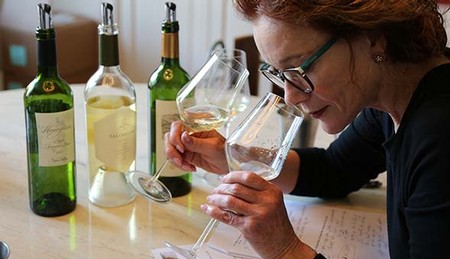 Wrote MacNeil:
A report released this year by The Red Cabinet, an organization of 100 female wine executives in California, found that women CEOs ran 13 percent of the state's wineries with an annual production of more than 10,000 cases. (Wineries producing fewer than 10,000 cases were not surveyed, as small-production wineries are considerably less likely to have formal management structures.)
Interestingly, there were no female CEOs at wineries producing between 100,000 and 500,000 cases annually. But at wineries producing 500,000 to 1 million cases per year, 25 percent of CEOs were women. In other areas of executive management, the report found that women were significantly overrepresented in human resources and marketing and underrepresented in operations, sales, viticulture, IT, and winemaking.
I asked the trade associations of the top wine-producing states to estimate the percentage of female winemakers in their states, and while there is no firm research in this area, they responded as follows: an estimated 10 percent of winemakers in California are female, compared to 7 percent in Washington, and 5 percent in New York
Women, in fact, have earned more college degrees in general than men for the past three decades, and while the popular assumption is that more education equates to more money, that's not the case here: For the past 20 years, women have made about 80 cents for every dollar men earn for the same work.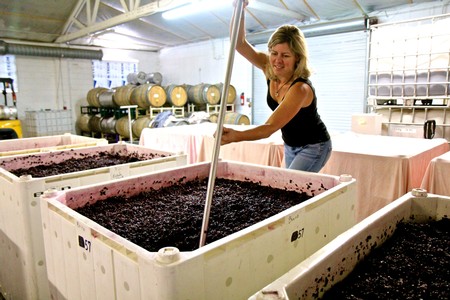 The best and latest of Lodi's women winemakers
Notwithstanding the challenges, there are more than twice as many women in winemaking positions in Lodi than there were just ten years ago. In part 3 of our profiles of Lodi's women winemakers, we are shedding a spotlight primarily on outstanding women who are either on the young side or have just recently started in the wine industry.
This does not necessarily mean there are men above these women. Laura Chadwell, who is now in charge as Chief Winemaker at Oak Ridge Winery, recently came into her position as the result of a new administration under a fourth generation of ownership. These new owners consist of three sisters — Raquel Maggio-Casity (GM/Partner), Lisa Kammerer (Partner), and Shelly Maggio Woltkamp (Brand Ambassador/Partner) — who are determined to raise the quality of Maggio family-grown wines to new, superpremium heights. Hiring a fiery talent like Chadwell is part of the Maggio women's master plan.
It stands to reason that women who are either owners, general managers, or head winemakers might be strongly inclined to hire women as their assistants. Peltier Winery's Assistant Winemaker McKensie Smith, for instance, works under Susana Vasquez, one of the region's most acclaimed winemakers. Over at The Lucas Winery, Eliza Hess now handles almost all the day-to-day operations, guided by Heather Pyle Lucas, who has had a long, legendary career at both Robert Mondavi Winery and The Lucas Winery. The most talented assistants invariably become head winemakers, if not owners, growers, or bosses; and working under inspiring leadership is often part of the résumé.
There is also, of course, the common circumstance where the offspring of a man in charge happens to be a daughter, wherefore a daughter takes on the winemaking duties — as is the case of Jessie Dart at d'Art Winery. In Lodi we are seeing all of these positive patterns just beginning to emerge; and it's happening not just throughout California and the U.S., but also all around the world. It can't happen soon enough.
In each of these winemakers' own words: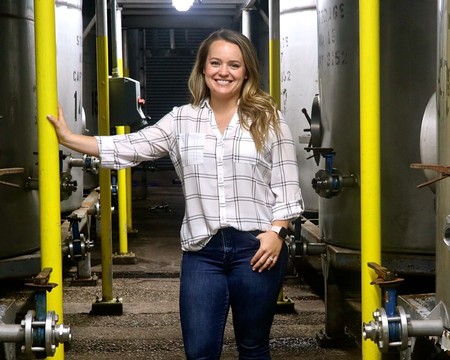 Laura Chadwell — Chief Winemaker, Oak Ridge Winery
I got my start here in the [San Joaquin] valley, working with some of the oldest vines in Lodi. After college, I started working for Woodbridge, where I managed the largest Chardonnay program under the Constellation umbrella, and then moved into a New Product Development role, where I worked in all appellations across the state of California. In my mind, I always knew I'd end up back in Lodi. So when I had the chance to return to the old Zinfandel vines that stole my heart nearly ten years ago, I jumped. I love to make wines that speak for themselves — wines that decide what they will be, where I'm just a helping hand to keep them safe and happy. I'm really looking forward to the intensity and quality that vintage 2022 will bring, and to getting my hands dirty once again.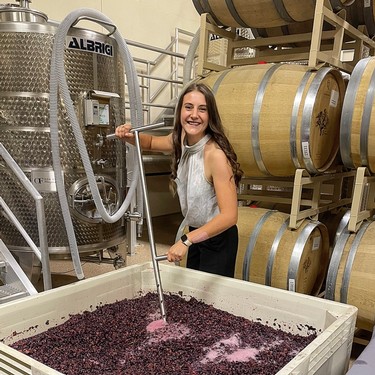 Marilia Nimis-Schrader — Winemaker, Oak Farm Vineyards
I grew up in Italy in the Prosecco area. I remember, as a child, I used to go to my grandfather's vineyards to help him prune the vines. I loved it! Deciding then to study Viticulture and Winemaking at college was one of the best choices I have ever made. I had some experiences in Italy, but I wanted to learn more; more about international varieties, wine regions, and winemaking styles. So, I went to New Zealand, and soon after I landed in Lodi.
Lodi is different and special. If you ask all over the world, not many people know about this wine region, and yet it has so much to offer. In Lodi, you can grow excellently so many varieties and be truthful to them, and at the same time respect Nature, grapes, water, animals, and workers with our LODI RULES [for Sustainable Winegrowing].
This is also the Oak Farm philosophy: making quality wines requires a lot and starts from quality grapes, and we do that respecting the terroir. I have been working at Oak Farm for three years now and our spirit is what made me stay here. I want to keep challenging myself, considering every wine we produce like a child. It takes attention, time, work, knowledge, and love... a lot of love!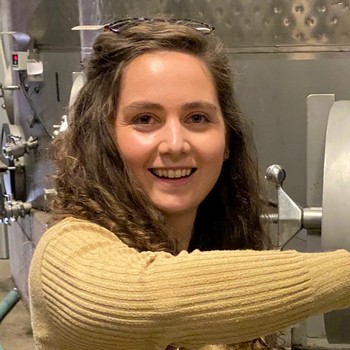 McKensie Smith — Assistant Winemaker, Peltier Winery
I started my career in the wine industry at the ripe age of 18 in New Zealand where I was born and raised. Naturally, I fell in love with the culture of the industry, the daily problem-solving, and the traveling opportunities which have taken me tasting all around the world. I now thrive off following the progression of grapes, through fermentation into aging and then bottling. My passion is cooking and spending time with my friends and family. Being able to pair food and wine with my loved ones is one of the great enjoyments in my life.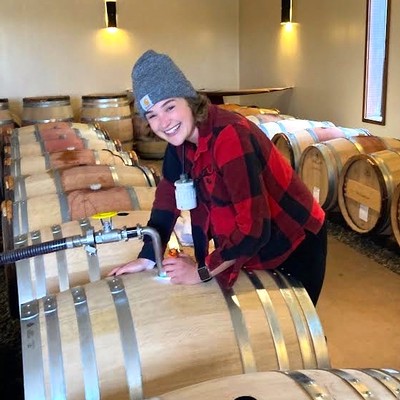 Eliza Hess — Winery Operations Director, The Lucas Winery
I chose to pursue winemaking because it meant crafting a product that would be used to create a memory, mark a special occasion, or make a celebration — the highlights of a life well-lived. The Lucas Winery is the perfect fit for me, especially at the beginning of my career, because their vision so closely aligns with my own.
We recognize ourselves as part of a larger community and do our best to contribute positively to that. It begins in the vineyard with the understanding that quality wine will come from a healthy vineyard that works within the ecosystem around it. We move forward in our organic and sustainable efforts because the longevity of our legacy hinges on our support of the life and environment around us. The vision even continues in our tasting room interactions, where our effort is to mark not only what makes our winery special, but the people in our community that make Lodi such a bright spot in the industry.
I go to work each morning excited to spend another day with the Lucas family, learning and growing in a place that truly feels like home.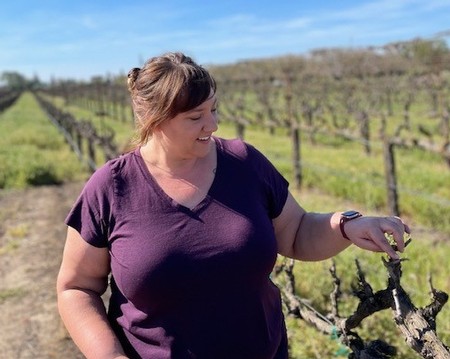 Jessie Dart — Assistant Winemaker, d'Art Wines
I was lucky to be brought into the Lodi wine world as a young adult through the family. After graduating from Sac State with a degree in Biochemistry, I worked harvests here in Lodi and in New Zealand. I joined the d'Art Wines production team in 2012, where we take a very hands-on approach to winemaking. It's very satisfying seeing our beautiful Lodi fruit become drinkable art and being part of the four-thousand-year-old traditions of winemaking. Lodi is the perfect playground for winemakers, as it gives us freedom to experiment, and almost any varietal of grape you could want to work with.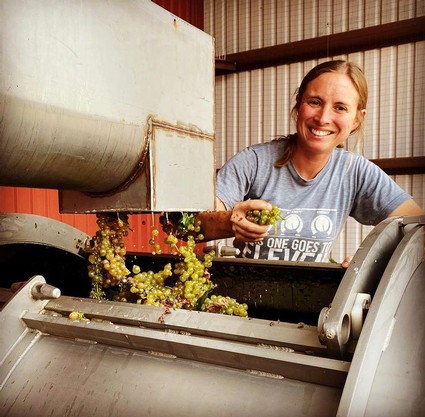 Marie Taylor — Assistant Winemaker, Jeremy Wine Co.
My interest in wine began when I moved to Chicago from Texas, my home state, at 21. I started working at a restaurant where I needed to learn about wine and how to sell it to succeed. Having studied history, it was easy for me to fall down the rabbit hole; that is wanting to learn everything there is to know about wine history, its peoples' stories, the geography of regions, grapes and viticulture, wine tasting, winemaking… I just never put that book back down.
After some years in restaurant, bar, retail, and distribution in Tulsa, Oklahoma, I was encouraged by amazing mentors to apply to work a harvest and actually got a gig at Union Wine Co in Oregon. The blazer and pin were replaced by boots and purple hands and I never looked back!
My husband, our two pups, and I moved to California, sight unseen, a handful of months later and I was hired in the cellar doing custom crush at Estate Crush here in Lodi, where I was able to learn a little bit of everything while working with small lot wines. I started in the cellar in 2018 at Jeremy Wine Co. and am about to embark on my 5th harvest here, now as an assistant winemaker (and my first harvest as a new mom!).
We work with so many of the different grape varieties that Lodi has to offer, from Aglianico and Viognier to Old Vine Zinfandel, from a handful of different vineyards. I love being able to get creative with new varieties and projects every year and learn more with each unique vintage. One of the other things I love about being here in Lodi is the friendly and laid-back frame of mind I have experienced with winemakers, growers, and customers alike. That pairs perfectly with great wine!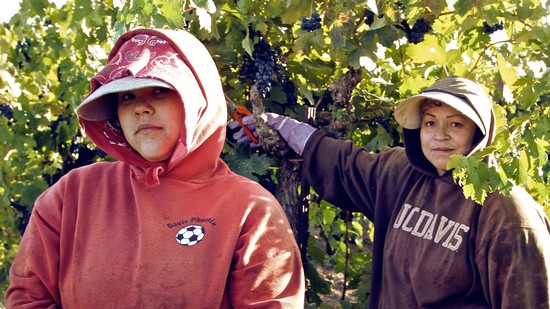 Comments