Letters from Lodi
An insightful and objective look at viticulture and winemaking from the Lodi
Appellation and the growers and vintners behind these crafts. Told from the
perspective of multi-award winning wine journalist, Randy Caparoso.

May 10, 2018 | Randy Caparoso
The exhilarating range and food versatility of Lodi's dry rosés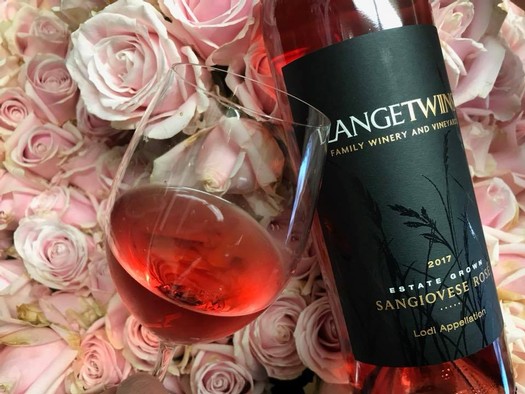 You may have noticed, lately here in Lodi, that everything's been coming up rosés.
For good reason. Because of its warm yet mild and steady Mediterranean climate – not unlike France's Provence region, the source of easily the world's largest sea of rosés – dry pink wines of premium, and even world class, quality seem to come easily to the Lodi Viticultural Area.
Rosés, after all, are made from black skinned grapes, which are usually turned into red wines. In a way, that makes rosés somewhat of the "metro-wines" of the world. Like men with a sense of style and, even, femininity – yet very confident in their masculinity – rosés are like red wines in terms of their aromatic strength of red fruit qualities, yet totally at ease in their soft, sleek and, even, delicate pinkness.
It is not just the fact that Lodi is an extremely large red wine grape region – by far the most widely planted in the U.S. – but it is also the nature, or terroir, of those grapes. The purest style of Lodi grown reds, for instance, is one of softer tannins than that of other regions; with flavors as floral as they are aromatic in fruit qualities, often with earth or mineral undertones. These same fruit and structural profiles translate into some of the lightest, airiest, most floral and earth-nuanced pink wines in the world.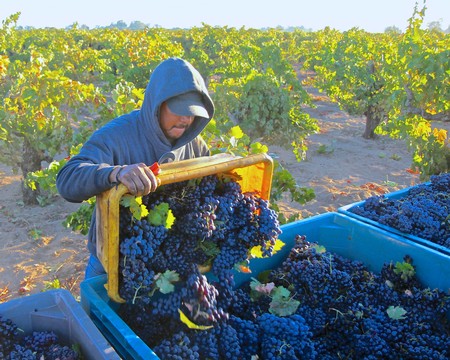 Cinsaut harvest in Lodi's historic Bechthold Vineyard (planted in 1886)
But here's the catch: Unlike Provence, Lodi does not produce dry rosés in vast quantities. In fact, the opposite. Rosés are still a tiny fraction of the production of Lodi's top wineries.
Case in point: Lodi's largest family-owned winery, Michael David Winery, is currently nearing a million-case annual production; yet each year, they produce barely 400 cases of their Bechthold Vineyard Cinsault rosé – an ethereally light, refined, red fruit and baking rhubarb scented dry pink with subtle dried herb complexities, crafted from vines planted by Lodi's Spenker family way back in 1886. A true vinous treasure. Which is why their latest vintage (2017) is already sold out. For fans of this wine: You snooze, you lose.
There are a few more bottlings of dry rosé sourced from this phenomenal vineyard each year. McCay Cellars, for instance, recently came out with a 2017 McCay Cellars Lodi Reserve Rosé ($28) that is a 50/50 blend of Bechthold-grown Cinsaut (with Grenache) – a billowingly aromatic wine combining meaty yet round, pliant strawberry, cherry, watermelon and herby/minerally sensations. The one, serious drawback: A measley 30 cases made.
There were, however, 300 cases of the 2017 McCay Cellars Lodi Rosé of Grenache ($18) produced. Still not a whole lot; but probably as fine as any rosé in the world – strawberry-fresh, meaty textured, yet airy-light with refreshing twists of lemon. While there is a little more to be had of this wine, the story remains the same: If you are a connoisseur of handcrafted dry rosé, it is best to get it while you can.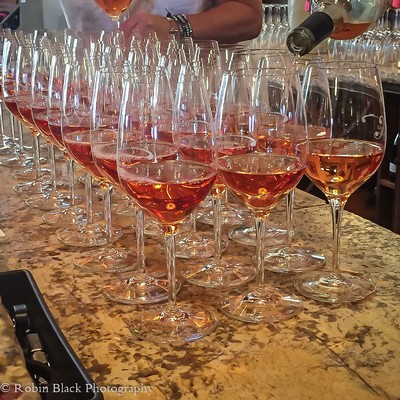 Harney Lane rosé pouring (photo courtesy of Robin Black Photographry and winestainedlens.com)
While as a general rule, production levels are low (typically less th an 500 cases), there is at least a good variety of dry style Lodi rosés of first class quality for rosé aficionados to choose from. The following is how we would sort them out in terms of sensory style, in addition to stimulating foods for thought:
Flowery and lacy:
2017 Oak Farm Vineyards, Shinn Farm Lodi Rosé ($24) – Made from Grenache grapes grown by ace grower Aaron Shinn, of all of Lodi's top rosés this may be the lightest and brightest; at barely 12.7% alcohol, with fragrant, finespun notes of rose petal, strawberry, and peak-season white peach in a pungent bouquet, gently prickling the palate. There is also, by our calculation, just the right amount of natural acidity, airy finesse and penetrating red fruit flavor in this wine to make it the perfect style of rosé for fresh salads on warm spring days; particularly with soft balsamic or sherry vinaigrettes, and all the little things we love to mix in with our green: Pomegranate seeds, watermelon wedges, feta or parmigiano curls, raspberries or blackberries, mandarins or pink grapefruit, avocado, snap peas, herby croutons, or even, if you are inclined, meaty morsels of chicken or bacon – a crisp, buoyant style of rosé like this can handle it all.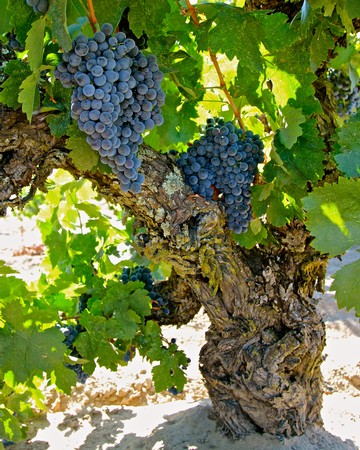 Breath of Delta breeze:
2017 Klinker Brick, Bricks & Roses Lodi Rosé ($15) – For a wine weighing in as such an incredible value, there is complexity galore in this Southern French inspired blend of Grenache (38%), Carignan (30%), Syrah (24%), and Mourvèdre (8%). Klinker Brick, of course, has a long and lofty reputation for its estate grown Syrah; and the Carignan in this blend comes from gnarly, deep rooted 100 to 108-year-old vines. It's these ingredients – which scream "Lodi" – that give this wine an extraordinary depth and array of sensations (strawberry perfume, zesty grapefruit, lush watermelon, dried kitchen herbs), packed into a light (12.8% alcohol), zesty, bone-dry body. A wine like this also screams pastas in fresh tomato and garden herbed marinara, if not simple cold shrimp with sweet-spicy cocktail sauces. Or, you could take full advantage of this wine's Southern French style by replicating Provence – graveled backyard patio, overgrown succulents, lush Lodi greenery and all – with petite plates of charcuterie or duck confit with cornichons, stone ground mustard, and maybe some olive oil drizzled, peppery arugula with soft/chewy rounds of French bread (preferably wood oven baked by Lodi's artisanal Dancing Fox Bakery).
Delicately lip smacking zestiness:
2017 m2, Mokelumne River-Lodi Rosé of Carignane ($18) – This feathery (just 12.4% alcohol), prickly-crisp and fragrant rosé also picks up a faint whiff of dusty Mokelumne River-Lodi earthiness and combines it with ringing notes of cherry, strawberry, pomegranate, and whole bouquets of red roses. You can attribute much of this wine's depth and dexterity to the Carignan grape – historically planted all over California precisely because of the naturally high acidity it adds to red wine blends – plus the fact that it comes from one of Bill and John Shinn's Prohibition era (1920s) blocks, own-rooted in the region's classic Tokay sandy loam. The other positive is that this wine's mildly earthy, lip smacking zestiness can be usefully applied in almost any food context where acidity is a factor; such as the vinaigrettes of salads, in fresh tomato seviches, or dishes incorporating vinegars – like caprese salads in balsamics, fruit salads in white wine vinegars, chicken in sherry vinegar, any white meats slathered in Carolina style (i.e. cider vinegar infused) barbecue sauces, or even Filipino style chicken or pork adobo.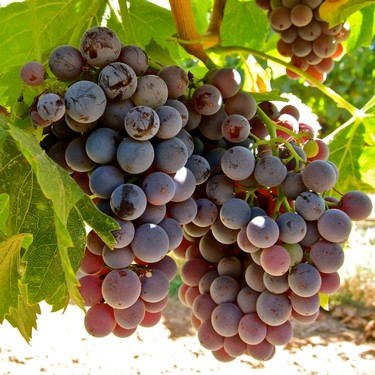 Refreshing tapas connections:
2017 Bokisch Vineyards, Terra Alta Vineyard Clements Hills-Lodi Rosado ($18) – Bokisch Ranches grows its own Spanish selections of Garnacha (a.k.a. Grenache) grape in the rolling, gravelly-clay hills of Lodi's Clements Hills appellation, which are blended with 20% Tempranillo in this bone-dry rosé, rounded out by 5 months aging in neutral French oak barrels. The taste is of pure, ringing, zesty fruit – the peppery spiced strawberry of the Garnacha, merged with the zippy pomegranate/cherry of Tempranillo – which naturally make the palate water for food. The Bokisch family loves to recommend tapas style dishes of their Spanish heritage – think gambas al ajiollo (shrimp in olive oil, garlic and flakes of red pepper) or Sambuca sandía (watermelon soaked in licoricey Sambuca and topped with shavings of dark chocolate). There is certainly an intense enough combination of bouncy red fruit, natural acidity and subtle earth tones to rev up dishes like grilled white fish with watermelon or mango salsas, or even shrimp seared with Cajun, Mexican or Thai spices.
Lip smacking red wine sensations:
2017 LangeTwins Family, Lodi Sangiovese Rosé ($15) – While Sangiovese is far better known as the red wine grape of Chianti and Montalcino in Italy's Tuscany region, the Lange family has been hitting home runs producing dry rosés from this noble variety. The varietal character positively oozes pomegranate, rose petal, citrus and tea-like aromas and flavors in this wine; zapped by ample acidity and a slightly phenolic (that is, the mildest touch of tannin texturing) feel, all couched in a light and airy body (just 12.6% alcohol). As you would expect, there is enough edginess to easily match tomato based sauces in not just pastas, but also lavished upon pizzas with the usual combinations of sausages, vegetables and cheeses. It is good to have a "perfect wine" for pizza; but when you turn the concept on its head in even more contemporary fashion – think brick oven pies with smoked salmon, crème fraîche and caviar, a classic margherita with basil and artisanal mozzarella, with piles of truffle scented wild mushrooms, and maybe smoked pulled pork or hoisined duck – then a bottle (or bottles) of LangeTwins' zesty rosé of Sangiovese transforms any weekday meal into a gourmet night.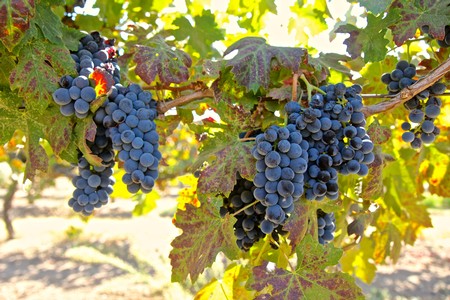 Seriously deep zestiness:
2017 St. Amant, Lodi Barbera Rosé ($15) – Who can explain why this iconic Lodi winery – perennial winner of "Best of Show" and Double-Gold awards on the wine competition circuit – still prices its wines in the mid-teens? But hey, if you can get a dry, exhilaratingly intense and finely balanced, Lodi-expressive rosé that tastes like $35-$45 for just $15, why ask why? Another thing about this wine: Not only is it crafted purely from the Barbera grape – a natural for rosé style wines because of its zesty acidity (the highest of the world's major red wine grapes) – but it also comes from a fully matured (mid-'70s), classic Lodi vineyard (Leventini) that has been known to produce the region's finest red Barberas – at least during the past 15, 20 years. This rosé is replete with meaty, buoyant, bouncy raspberry/cranberryish fruit, packed into a light-medium weight body (13.1% alcohol) with the faintest whiff of oak. Whenever you're talking about bracing acidity combined with deep, fleshed-out berry sensations, you're talking about foods that can go beyond salads, shrimp, pizzas and pastas; and into the realm of meatier dishes, like barbecue. Chicken or pork in zesty sweet/spicy sauces are a no-brainer. Then again, so is meatloaf in herby, mushroomy or tomato-laced gravies, or anything pink like salmon or mostly-rare tuna hopped on a grill and peppered up in spicy seasonings.
Bodaciously full and spice nuanced:
2017 Harney Lane, Lodi Rosé ($18) – Rounding out our list of 2017s is a dry rosé that represents a classic taste of what makes Lodi Lodi: Particularly in its blend of grapes (predominantly the region's trademark Zinfandel, with Tempranillo and Petite Sirah); as well as in terms of its soft, easy, yet slightly fuller bodied qualities (14.1% alcohol), couching red berry/cherry aromas with a fragrant touch of strawberry and whisper of cracked pepper spice. This wine has, in fact, enough there there to handle just about any white fish or toothsome fowl (chicken, duck, squab, pigeon, etc.), particularly when cooked, or infused, with fruits like plum, fig or citrus. We could also make a case for ravioli stuffed with something fatty and juicy, like duck, braised pork or shortribs; preferably zapped with a fresh tomato sauce tinged with garlic, if not in a tomato laced broth or with a side of ratatouille. Then there are rice dishes: Like saffron scented paella studded with briny/earthy shellfish and morsels of chicken or pork, or Cajun style shrimp (or chicken) on dirty rice; or even better, the pungent, spicy, earthy cacophony of flavors in a jambalaya – which calls for refreshingly chill-able wines with deep enough flavors, and the touch of minerality or earthiness of an epic, of a Lodi grown rosé like this.
Why ask why?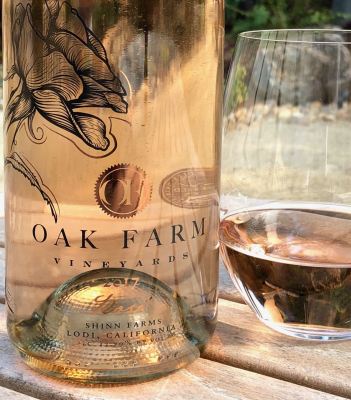 Oak Farm Vineyards Shinn Farms Rosé (photo courtesy of pullthatcork.com)
Comments