Letters from Lodi
An insightful and objective look at viticulture and winemaking from the Lodi
Appellation and the growers and vintners behind these crafts. Told from the
perspective of multi-award winning wine journalist, Randy Caparoso.

October 26, 2022 | Randy Caparoso
Napa-based winemaking couple behind Found Wine Co. explain why they source Lodi grapes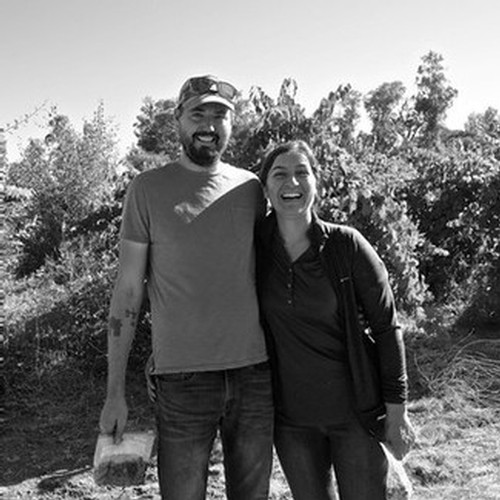 "There's something happening here" has been a line copped from the 56-year-old Buffalo Springfield song, For What It's Worth—even the young folks know this tune because of its iconic opening chord progressions of electric and acoustic guitars—by the Lodi Winegrape Commission to bring attention to the "revolutionary" side of the historic Lodi winegrowing region.
The Lodi AVA, to sum it all up, is all about grapes. Lots of grapes. Far more acreage than any other wine region in the U.S.; and on top of that, more variety of grapes than any other region.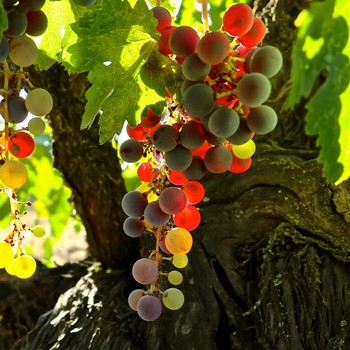 What's happening, especially over the past ten years, is that these circumstances have been attracting more and more small, independent, and sometimes eccentric, artisanal producers. Every year these itty-bitties have been taking a little bit more of a bite out of the humongous pie still going to the nation's largest, commercial brands (we don't have to name names, you can see their products in every grocery and liquor store in the country, and well beyond that).
But just as it was miniscule-sized wineries in Napa Valley, Sonoma County, Mendocino, and Santa Cruz Mountains that began to change the face of the California wine back in the 1950s and '60s—pushing the entire industry into artistic, premium quality levels, whereas before it was all about predictable commodity production—these tiny producers have also been changing the face of Lodi wine.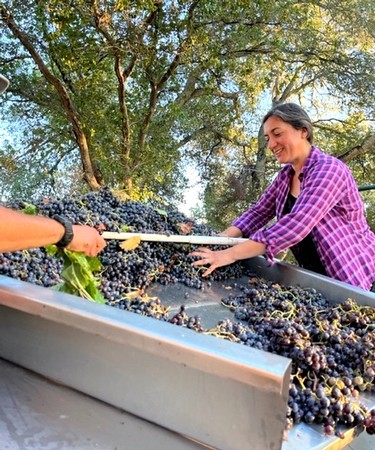 Found Wine Co. is an idiomatic off-shoot of this recent movement. It is owned and operated by two winemakers, Andrew "Andy" Butler and Mabel Ojeda, both of whom work for larger Napa Valley wineries. The name of their modestly scaled side project is self-explanatory. Found Wine Co. is an outlet for them to explore ideas not necessarily fulfilled in their day jobs. "A process of learning and discovering," as stated on their website... "the desire to make the wines we love to drink... [to] share some of the joy we discover with you."
The couple met in Napa Valley and got married in Mr. Butler's original home, a family vineyard in Bloomington, Indiana. Ms. Ojeda's previous winemaking experience was more multinational than Butler's. She was born and educated in Chile and worked her way through wine industries in Chile, New Zealand, Australia, Austria, and France before finding a home, and spouse, in Napa Valley.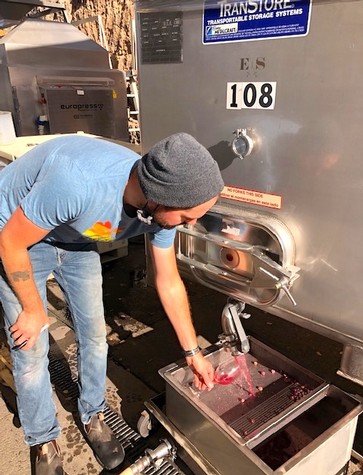 A big positive for the Lodi AVA is that, like most of the toy dog-sized brands sampling from the region's humongous inventory of grapes, Found Wine Co. crafts wine in a fashion that avoids (as Butler and Ojeda put it) "over-manipulation in the cellar, and farming in line with respecting the natural world." However idealistic as this sentimentality may sound, it invariably ends up with this result: Wines meant to taste more like the grapes and vineyards whence they are sourced, and less like conceptions of branding or market objectives—a delineation we cite without judgment.
Putting it another way, Found Wine Co. makes wines that give us a great idea of what Lodi-grown grapes really taste like—unblemished, before the application of all the oenological "makeup." What's not to like?
Case in point is two bottlings of purely Mission (a.k.a., Pais or Criolla) varietal reds sourced from Somers Vineyard, a low-lying site located right alongside the Mokelumne River on the east side of Lodi, planted sometime during the 1970s. Most of these free-standing, vertical cordon-trained vines have grown to over 6 feet (vineyard manager Mike Anagnos often says pickers practically need ladders to harvest these vines).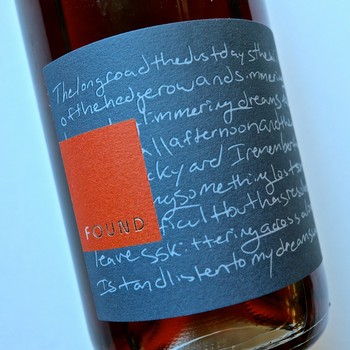 Quick notes:
2020 Found Wine Co. Mokelumne River-Lodi Mission ($30) - Transparent brick red color typical of the varietal signaling the lightness in the wine's pomegranate/strawberry perfume laced with notable brown kitchen spice; the sleek, slim, soft, and zippy flavors floating across the palate like a tortured demoiselle.
2021 Found Wine Co. Mokelumne River-Lodi Mission ($30) - An upcoming release, duplicating 2020's clear brick red color and pure red fruit-driven nose suggesting spiced cherry. Just as soft and feathery (even at 13.0% alcohol) as the previous vintage, but with a little more roundness and glycerol texturing, giving a sumptuous, satiny yet eminently quaffable, light, and airy feel.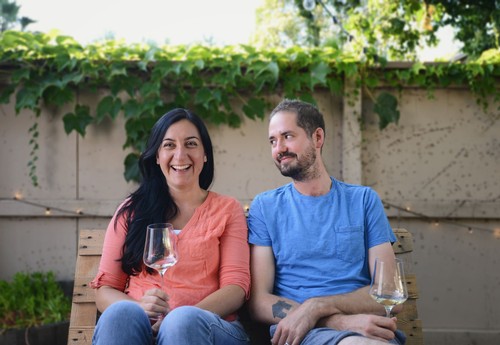 Questions and answers
Not all winemakers are as forthcoming as Butler and Ojeda. Most winemakers, surprisingly enough, seem to adhere to the old adage, Mum's the word. I found this couple's responses to questions to be so refreshing in their candidness, I am sharing them in their entirety. Their comments, as it were, glean quite a bit of insight as to why so many independent vintners have been motivated to avail themselves of the fruits of Lodi's winegrowing industry, once thought to be suitable only for the needs of "giant" wine companies.
Our discourse...
Can you briefly describe the winemaking approach taken in your two vintages of Somers Vineyard Mission, and maybe explain why you may have taken some specific steps in terms of sensory objectives?
We would characterize our winemaking approach with the first two vintages from Somers as exploratory, sketching out the boundaries of the vineyard and varietal, first using broad strokes and then hoping to refine our technique as we gain more experience. 2020 was the first time making a Mission for either one of us, so we started by tasting as many different Missions and Pais as we could get our hands on, from California to Chile to the Canary Islands. That as a starting point paints a very broad picture!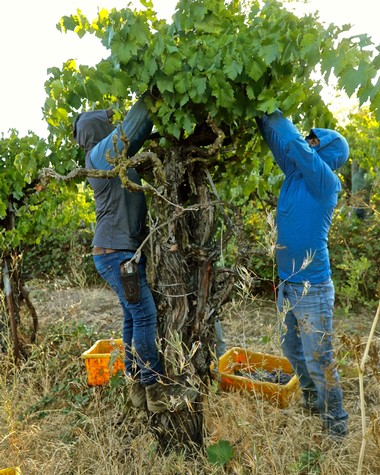 The variations in style, texture, aromatics, etc. are wide, but there is core nature to be discovered in the grape using that approach, and once we had that picture, we decided what we liked or didn't like, and then imagined how to achieve the characteristics we desired through winemaking technique.
Then there is the vintage variation! In 2020, we chose to experiment by splitting our fruit into two fermentations, one wholly destemmed, and the other 50% whole cluster, clusters on top to allow a partial carbonic maceration [i.e., a process of intracellular fermentation resulting in almost negligible tannin and ultra-fruit qualities] for the first few days of fermentation before punching it down thoroughly to allow alcoholic fermentation to finish the bulk process. The destemmed portion gave us a clear vision of the fruit flavors and tannic structure, while the partial whole cluster added some complexity and structure, which we like from other bottlings we had tasted.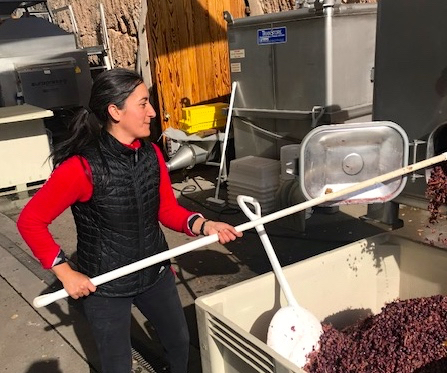 We also opted to inoculate (i.e., use of cultured yeast rather than natural or "native" yeast found on the grape skins to initiate fermentation] to give ourselves a clear picture of the character of the fruit and did not allow the carbonic portion to progress very far, for the same reason of having less carbonic character and more Mission flavor. We ended up using both ferments in the blend and liked how they complimented one another.
In 2021 we did a very similar approach, with the change of our 50% whole cluster ferment having the stems on the bottom of the fermenter, to give texture without any carbonic influence. Timing of picking was very important for both, as we wanted as much flavor of fruit as possible without the acid dropping out completely from the berry before harvest.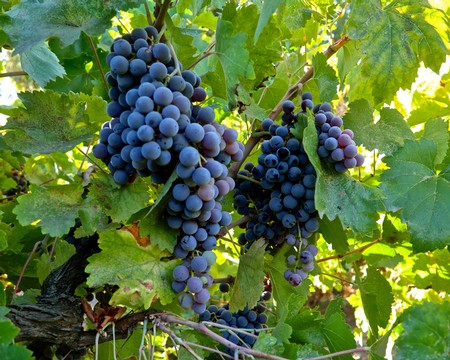 Is the "Found philosophy" (i.e., minimal "manipulation") a little different from the type of wines you produce in your day jobs? Or, did you start Found in order to produce these kinds of wines?
We started Found in order to produce wines we enjoy both making and drinking, and honestly to experience the alternating joy and terror of being fully in charge of all the decisions that entails. Part of that has meant going outside the varietals we normally deal with in our day jobs in Napa Valley, of which the bulk of the focus is on Bordeaux varietals [i.e., Cabernet Sauvignon, Merlot, Cabernet Franc, et al.]. We also tend to drink lower-alcohol wines. Don't get me wrong, we love a full-bodied Cabernet, but only sometimes, and we can't drink that all night!
In terms of working with minimal manipulation, perhaps that is an inartful way of expressing the idea. Our overall objective is to produce a wine of elegance and balance that is an authentic expression of the particular fruit we are working with at that particular time, in other words varietal, vineyard, and vintage. To us, that means even if we know all the tricks in the book, restraint from using them, in the end, leads to a more interesting, and therefore tasty, wine.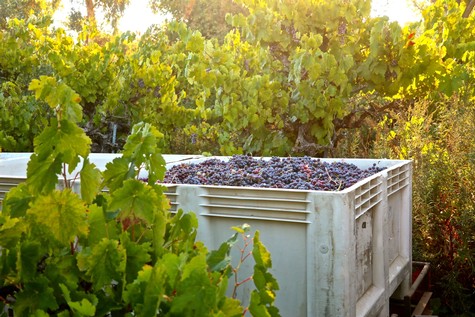 The conversation around what manipulation means in winemaking is a long one and perhaps for another time, but in sum, we have steered along the path of practical restraint but not dogmatism. We do use sulfur, but in the lowest quantities with which we feel comfortable. For the Mission in 2020 and 2021, we did inoculate but have chosen not to for 2022.
Now that we have a clearer idea of the vineyard and the Mission grape, we can refine our brush strokes with the winemaking. Otherwise, there are no other additives or enzymes or anything used in our winemaking. Temperature control? Yes, but that mostly takes the form of putting the ferment in the sun to heat up, pumping it over, or punching it down more to release heat. Is that manipulation? I don't know, I guess so. A mentor of mine once said "Technique over technology", and that is a mindset we try to follow.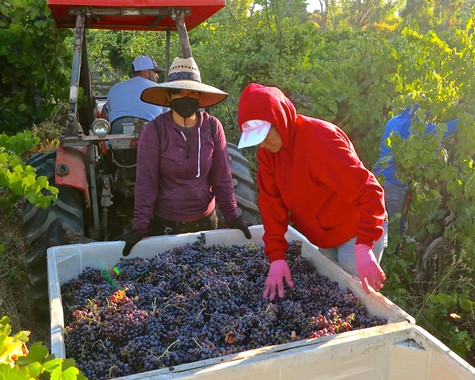 Why the Mission grape? How does that fit in your wine worldview? Or, in what way does Mission fulfill your stated goal of producing wines you "like to drink and share with friends?"
We were inspired to make Mission because of some Chilean Pais that we had tried in the past. It was an absolutely refreshing yet complex wine, fun and inspiring all at the same time. And affordable! The "Pipeno" line from Antoine Luyt definitely struck a chord with us. The parallel links also of Mabel being from Chile and myself from the United States, and this grape having such a prominent history in winemaking for both places was a natural draw for us.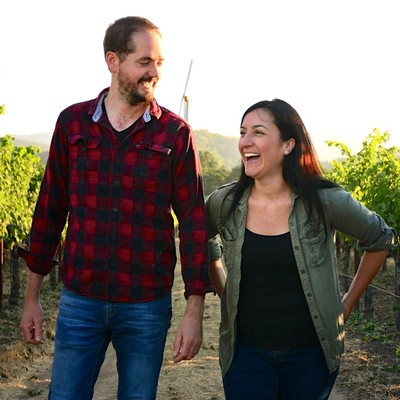 In that same vein, there is something exciting about taking something old and making it new again, as well as raising something many people perceive as lowly and saying I disagree, this has depth and value. Again, a bit like digging up buried treasure. However, we have to note here, we cannot look at the history of the grape without acknowledging its ties with colonialism and all of the damage and destruction which came with it across all of the Americas. We have been toying with the idea of linking a portion of proceeds from our Mission sales, and inviting other producers to join us, to a non-profit benefiting Native Americans, such as the First Nations Institute, but have not done so yet. It could be a small step in repairing the history of the grape.
Also, Mission is a grape that lends itself to a fresh and lower alcohol style, something which is important when you are sharing many bottles over an afternoon or evening with friends. And its flavor profile is unique, there is nothing else like Mission! Once you know it, it jumps out at you every time.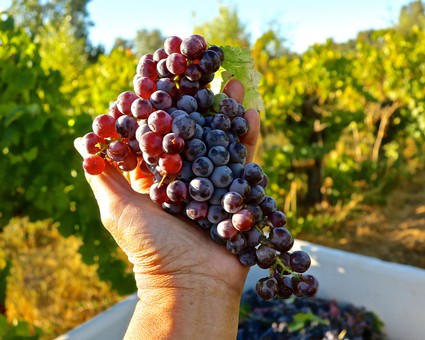 What or how were you led to Somers Vineyard and its Mission grapes?
We came to Somers by chance. We had talked about making a mission wine at some point but didn't have any lead on a fruit source. We had read about Somers Vineyard at some point before, and one day we saw an ad posted for Mission grapes available from Mike Anagnos. That name rang a bell, we went back and found the article about the vineyard, and immediately said 'We want that fruit."
Were you deterred at all by, say, Lodi's reputation as a "hot climate" wine region?
Not at all. Although we didn't know Lodi well, we knew it as a region that contains some of the few incredible remaining old vine vineyards of Northern California. We know it in that light thanks mostly to the work of people like Tegan Passalacqua [i.e., the winemaker of Turley Wine Cellars and his own Sandlands brand] who has been such a champion and proponent of old vine vineyards in California.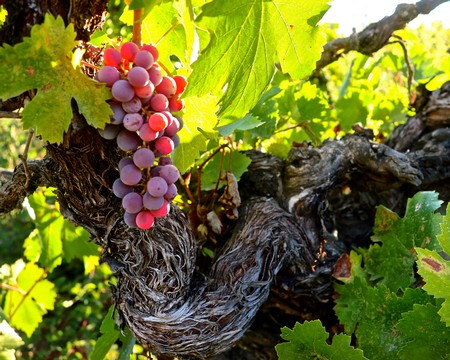 Since, when we met, you mentioned an interest in exploring other Lodi vineyards and/or grapes, what are some things about the region that are now parking your interest (especially in terms of your values as winemakers), and why?
We definitely want to explore winemaking in the Lodi area more, and for a few different reasons. One, as we talked about briefly, it is an area of great diversity, where a person looking for harder-to-find varietals can stumble upon some pretty unique and special things.
Two, the abundance of older vine vineyards compared to other growing areas. Older healthy vineyards can give a greater depth of flavor and complexity, something I have seen a great deal of in working with older vine Chardonnays. Finally, three, it seems that there are great sites from which fruit is available at an affordable price. We most definitely are interested in making affordable wines of great quality, and Lodi is a place where that balance can be struck.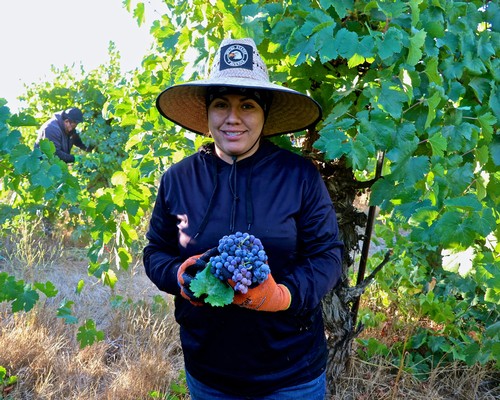 Comments