Letters from Lodi
An insightful and objective look at viticulture and winemaking from the Lodi
Appellation and the growers and vintners behind these crafts. Told from the
perspective of multi-award winning wine journalist, Randy Caparoso.

October 6, 2022 | Randy Caparoso
The Church Ancient Blocks is pure luxury, paying tribute to two Lodi wine industry giants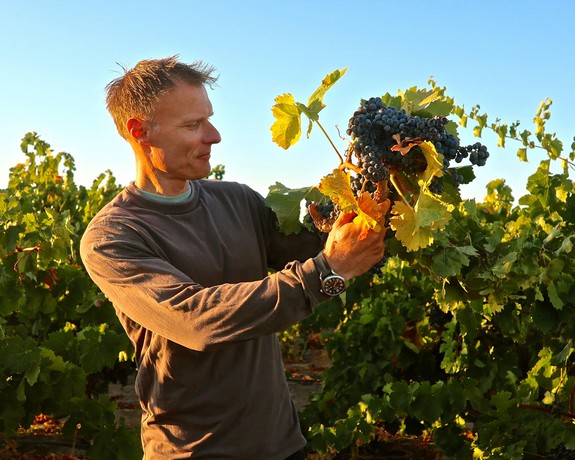 It is always good news when Markus Wine Co. owner/winemaker Markus Niggli comes out with another one of his vaunted blends.
If there ever was a "Lodi blending king," that would be Mr. Niggli, a Swiss-born winemaker with a yen for European traditions such as blending grape varieties—as opposed to sticking to "varietal" (i.e., single grape) bottlings, which most of the American wine industry seems to be obsessed with—as well as quaint, old school winemaking practices such as native yeast fermentation.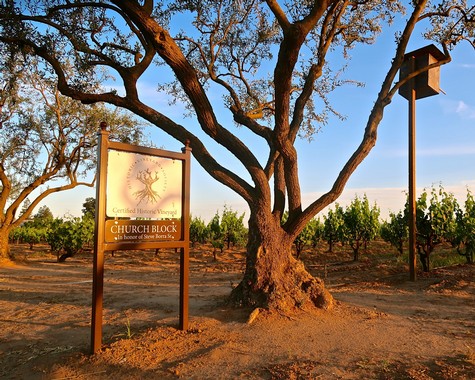 Another way to describe the wines of Markus Wine Co. would be as uncanny combinations of one winemaker's artistic vision, balanced by an instinct to just let things be; the latter being what Mother Nature dictates to a winemaker every vintage (and it's never nice to "fool" Mother Nature). Somehow, Mr. Niggli manages this feat, time and time again.
Niggli's latest balancing act is a red wine, the 2020 Markus Wine Co. Mokelumne River-Lodi The Church Ancient Blocks ($41). That's it, pretty much all the information you'll find on this bottle. What's missing, on both the front and back labels, is information on what grapes have gone into this wine. But it does, peculiarly enough, have a map pinpointing the exact location of a venerated old vineyard called Church Block, originally planted in 1938, contributing 40% of this wine.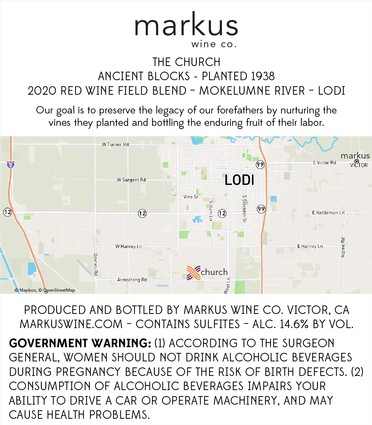 Mr. Niggli's message in the bottle is clear: It's not important to know what grape varieties are in this wine. What's important is how the wine tastes: A pure and unadulterated luxury, beginning with a saturated violet color and aromas inundated with plummy fruit, a floral/violet-like fragrance, nostril-tingling black pepper spice, and the faintest trace of dusty earthiness lending something of "a sense of place" (Lodi!).
On the palate, The Church Ancient Blocks' feel is equally luxurious and multifaceted; velvet textured and filling, yet perfectly rounded around the edges of a finely chiseled core of tannin and the concentrated, spicy fruit, pushed through a long and lavish finish by bright, lively natural acidity. It's like you're tasting pure, natural grapes, bursting in your mouth!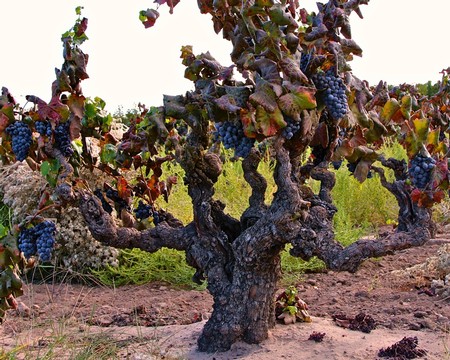 The overwhelming temptation of most California winemakers handling material achieving this level of intensity would be to age this kind of wine in new oak, preferably expensive barrels coopered in France. Niggli aged his The Church Ancient Blocks in French oak for 18 months, but these containers were all "used" barrels, imparting virtually no oak flavors—the better to let the profile of this wine's Lodi vineyard sources shine through, without the impediment of wood blurring the sensory perception. Who says Lodi can't grow "luxury?"
Here is the information Markus Wine Co. partner Jon Bjork has provided on the blend going into 2020 The Church Ancient Blocks:
• Borra Vineyards Church Block (planted 1938)—18% Carignan, 14% Petite Sirah, 8% Alicante Bouschet
• Borra Vineyards Gill Creek Ranch (planted 2001)—25% Syrah
• Berghold Vineyards Block 71 (planted 2011)—20% Petite Sirah
• River Song Vineyard (planted 1987)—15% Zinfandel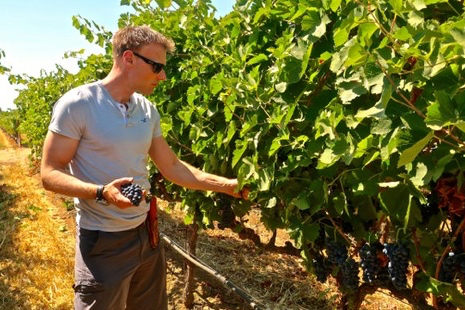 When you extrapolate all of the above, it adds up to a wine that is 34% Petite Sirah, 25% Syrah, 18% Carignan, 15% Zinfandel, and 8% Alicante Bouschet. Only 40% of the wine, grown in the Borra family's Church Block, is technically "old vine" (in Lodi, old vine designations are generally assigned only to vineyards planted in the 1960s or earlier). This bottling is a beautiful example of how young, virile trellised vines can enhance the fruits of old, stunted, gnarly, head-trained vines.
The portion coming from the old Church Block vines—adding up to barely 1.5 acres, currently held by Steve Borra's daughter Gina Granlees and managed by Mr. Niggli—is a classic field blend. That is to say, all the different grapes were picked on the same morning and co-fermented in one tank. The other 60% was fermented and aged separately before undergoing Niggli's customarily deft blending.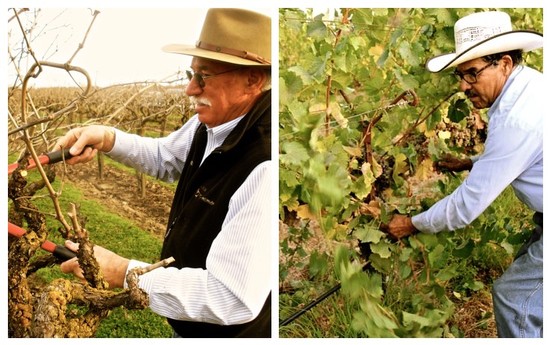 Here is how Mr. Bjork explains the process:
"The Ancient Blocks bottling is meant to recognize and improve upon the legacy of our forefathers, with the least necessary intervention in the winery. We pick from this inspirational vineyard and taste the resulting wine in the spring. If our other barreled wines make the wine better—such as filling in a missing midpalate or improving acidity—we will blend them in. What we learn from this blending helps us identify what can be changed in how the block is farmed or when it should be picked next season. It is a living, evolving process to improve both the vines and the wines."
Instead of the absence of information on grape content on the bottle itself, you might instead appreciate the artwork on the front, depicting the soulful visage of Manuel Maldonado, the recently retired vineyard manager of Borra Vineyards, which for the longest time was distinguished for being Lodi's oldest modern day, independent winery estate—founded by the legendary Steve Borra in 1967 and operated until just before he died in 2020. Many people in Lodi cannot talk about this without tearing up.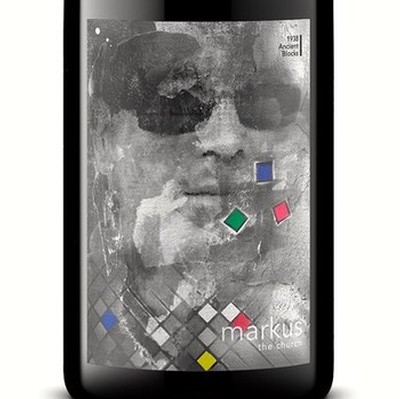 As Mr. Bjork puts it, the label illustrated by Michael E. Leonard for The Church Ancient Blocks "adeptly captures Manuel's ever-presence in the vineyards." Throughout each year, the powerful, calloused hands of both Borra and Maldonado touched every vine in Borra Vineyards' extensive holdings in the Mokelumne River and Clements Hills appellations. This was "attentive winegrowing" to an nth degree (for an accounting of Borra and Maldonado's long-standing collaboration, please see our 2015 post entitled The fruits of Borra's Manuel Maldonado's labors).
The wine itself, adds Bjork, is "a tribute to the work of Steve Borra and Manuel Maldonado. Steve purchased the Church Block in the early 1970s from the local Catholic diocese [hence its name], and both Steve and Manuel nurtured it for decades."
It is only appropriate that this Historic Vineyard Society-recognized vineyard now serves as the defining core of a red wine that, in itself, could be considered a wine for the ages. Given Niggli's penchant for blending based upon whatever might be provided by Mother Nature each year, future bottlings may not be the same each year. But 2020 is now in the bottle, at your fingertips, awaiting your judgement and appreciation.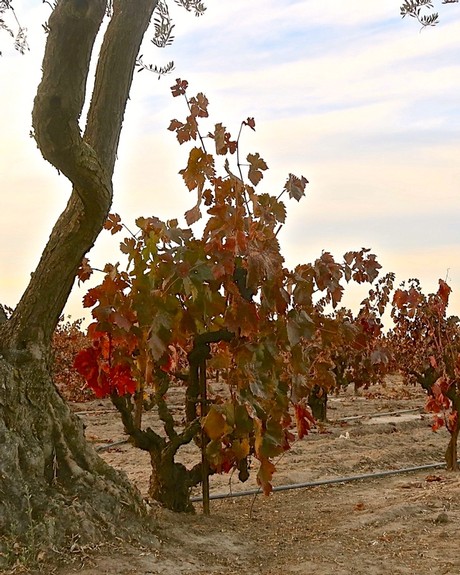 Comments