Letters from Lodi
An insightful and objective look at viticulture and winemaking from the Lodi
Appellation and the growers and vintners behind these crafts. Told from the
perspective of multi-award winning wine journalist, Randy Caparoso.

July 29, 2019 | Randy Caparoso
Winegrowing phenoms and advisors discuss negotiation at Lodi Vineyard & Wine Economics Symposium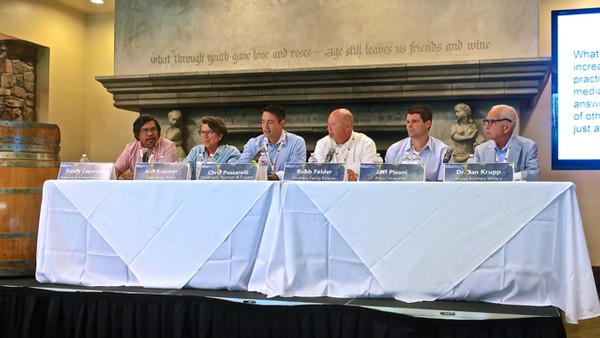 At the recent Lodi Vineyard & Wine Economics Symposium (June 27, 2019), there was a panel discussion entitled "The Art of Negotiation" focusing on best practices for vineyard owners seeking to bolster wine grape prices, while communicating the integrity of their product to potential grape buyers as well as to the media, trade and consumers who ultimately drive the market.
Each of the five speakers on this panel brought a slightly different perspective to the burning issue of grape pricing – something that has always been on the front burner in the Lodi Viticultural Area, where nearly a fifth of all of California's commercial wine grapes are grown, in some 110,000 acres.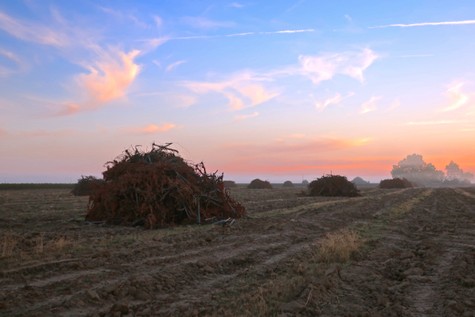 Abundance is fine and dandy, but only insofar as grapes can be grown for a profit. The challenge has always been retaining a flexibility that meets the needs of an ever-evolving wine market. During the 1990s, for instance, Lodi growers sitting on well-established Zinfandel plantings found themselves in a very favorable position with the seemingly bottomless consumer thirst for fruity White Zinfandel. Since then, that market has dried up.
Sales of premium quality red Zinfandel (particularly brands selling for $18 and up) have been on the rise, but not enough to prevent the Lodi region from losing over 1,000 acres of the grape over the past decade. There is still more Zinfandel in Lodi than in any other region of California – 17,076 acres according the 2019 USDA California Grape Acreage Report (down from 18,624 acres in 2008) – but there is every indication that this downward trend will continue.
The trick for Lodi growers, of course, is to adjust their grape selection and farming techniques to the current demands of the market and economy, particularly with an eye on the gradual transition from commodity growing to premiumization without shooting themselves in the foot with oversupply. An almost literal threading of a vinous needle.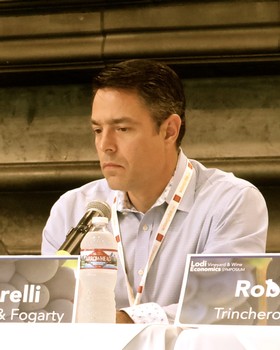 Legal and Grape Buyer Perspectives
One of the "Art of Negotiation" speakers, Chris Passarelli, is an attorney specializing in Intellectual Property business law with the Napa/Sonoma based firm of Dickenson Peatman & Fogarty. According to Passarelli, one of the keys to increasing the value of wine grapes is through branding. "Wine grapes are a commodity," said Passarelli, "but one way to add value to that commodity is through the sales of your grapes as vineyard-designate wines." Added Passarelli, while guiding the audience through the legal process of establishing and protecting trademarks, "You cannot understand the value of a name, generally and historically... it is profound."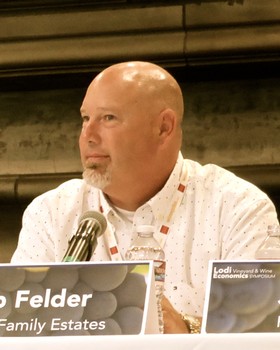 Robb Felder, Director of Grower Relations for Trinchero Family Estates, spoke to the audience of over 100 industry professionals from the perspective of a wine grape buyer. Trinchero Family Estates is no ordinary grape customer. According to Market Watch Magazine, Trinchero is a 20-million-case company that markets 47 different wine brands (from Sutter Home and Trinchero Family to Joel Gott, Mênage à Trois and Neyers) to the tune of over $800 million in yearly sales. Trinchero is particularly important to growers in Lodi because it operates a 850,00-SF winery facility within the appellation just west of Interstate 5, capable of processing 125,000 tons of fruit and bottling 17 million cases a year.
According to Felder, "I can't tell you how many vineyards here in Lodi that we simply use the street name because there's no real branding." The gist of Felder's message was that, while renowned in the industry for the quality of their work, Lodi growers are clearly behind on fundamental principles of marketing. "You need to make yourself distinctive," he encouraged his audience.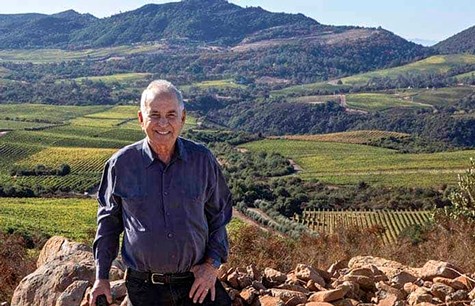 Dr. Jan Krupp in Stagecoach Vineyard (image courtesy of tastingmerchants.com)
The Stagecoach Success Story
Three of panelists on the "Art of Negotiation" panel represented a cross-section of growers who have achieved virtually legendary status within their respective regions in Napa Valley, Monterey's Santa Lucia Highlands, and Amador County – all within the past 30 years.
Krupp Brothers Winery founder Dr. Jan Krupp shared the amazing story of how he and his brother Bart Krupp first developed their Stagecoach Vineyard on a remote, 1,900-ft. elevation Napa Valley mountaintop in 1991, which required removing some 2 million tons of rock, carving out an access road and somehow finding water with the help of a "water witch." Today, the 1,300-acre Stagecoach Vineyard property – which was acquired by E. & J. Gallo in 2017 for a reported $180 million – sells every bit of its 620 planted acres to about 100 wineries for, according to Dr. Krupp, "prices about 46% higher than the average price of Napa Valley grapes."
According to Krupp, the initial development of Stagecoach required a year-long negotiation of easements with 28 neighbors, which generated 135 legal documents. "I was lucky to have a very smart attorney who believed in the project and didn't charge a lot," said Krupp.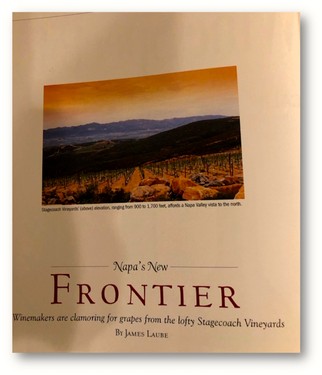 To drum up winery interest in the vineyard, however, Krupp did most of the heavy lifting himself. A game-changing cover story in the popular Wine Spectator Magazine was germinated by a long letter written to staff writer James Laube to correct an article that said that Atlas Peak (the AVA within which Stagecoach Vineyard is located) was a "great area for Sangiovese." Said Krupp, "In fact, Sangiovese was a very small part of what we were doing, we had far more Cabernet and Merlot planted." But "sure enough," added Krupp, "Laube wrote back to ask, 'when can I come up to see your vineyard?'"
Krupp also related how vintners would often rave to him about the exceptional character of his Stagecoach fruit, which Krupp was never shy about repeating to all his other customers, existing and potential. All of this eventually led to the mystique of "Stagecoach Vineyard," bolstering the value of the brand. According to Krupp, "There is no reason why the same thing can't be done in Lodi."
Stagecoach Vineyard (image courtesy of stagecoachvineyard.com)
As an observer from another region, said Krupp, "I know that Lodi has established a really good reputation... you've gotten some good press, including your own article in the (Wine) Spectator.... Wineries like Trinchero already know what you have here, but to new wineries you have to be able to tell the story of Lodi."
Getting into specifics, Krupp suggested: "Talk about your LODI RULES (for Sustainable Winegrowing) and whether you are using them or not, what's special about the part of Lodi you're in and what that does to your wine, and what's special about those wines coming from your vines, especially if they're on their own roots or – if you're growing Cabernet or Merlot – what clones you are using, what rootstocks they're on, how you manage your irrigation on sub-surface or furrow, your canopy management, or how flexible you are working in partnership with your winery customers... It is all a matter of successfully communicating exactly what you are doing, the value of what you are doing, and the positive impact on resulting wines."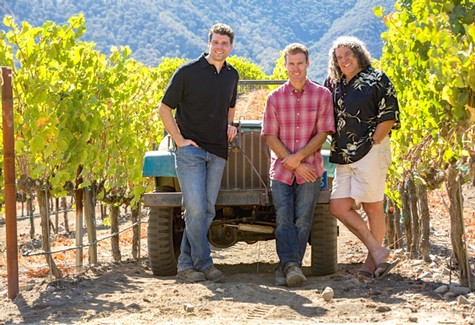 Jeff Pisoni (winemaker), Mark Pisoni (vineyard manager) and Gary Pisoni (Pisoni Vineyards founder) - image courtesy of jebdunnuck.com
The Pisoni Family's Unconventional Route
While Santa Lucia Highlands has developed its own mystique since being established as an AVA in 1990, Pisoni Vineyards stands out as a crown jewel in this region. Jeff Pisoni, who is the winemaker for his family's Pisoni and Lucia brands, spoke about the "unconventional" route his father, the larger-than-life Gary Pisoni, took to establish the prestige now attached to the 280 or so acres of vineyards the family farms on the rocky hillsides along the high wind scrubbed western edge of Salinas Valley.
"My family started as lettuce farmers on the valley floor," said Pisoni, adding: "Lawyers would be disappointed by how we handle our winery contracts – we don't have any. But my dad does have a strict verbal contract which says, 'You must make good wine, you must pay your bills, and you must be my friend.'"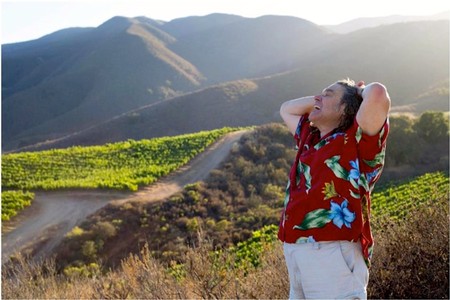 Gary Pisoni in his Pisoni Vineyards (image courtesy of pisonivineyards.com)
As loosey-goosey as that sounds, the Pisonis have profited immensely from this policy. Pisoni grown grapes (particularly Pinot noir and Chardonnay) are among the highest in demand in the entire state, and the Pisoni name is gold among media, trade and wine buffs. Hence, there is a built-in mutual benefit for both grower and wineries to use Pisoni Vineyards as a vineyard-designation on wine labels. Pisoni urged fellow growers in the audience to follow their strategy of putting personal relationships front and center; and since they are also wine producers, said Pisoni, "We share our ideas about winemaking... there is a lot of collaboration between us and our wineries, in more ways than one."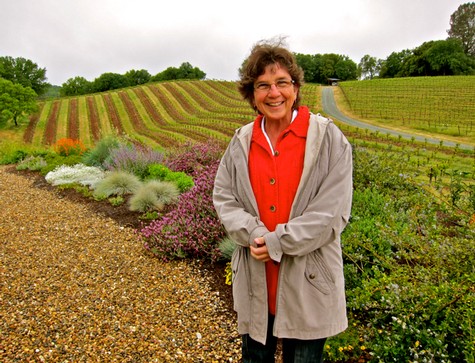 The Shake Ridge Phenomenon
The most dramatic "Art of Negotiation" story of all was told by panelist Ann Kraemer, the celebrated vineyard manager/co-owner of Amador County's Shake Ridge Ranch.
Kraemer's success illustrates what's possible: The fairly recent establishment of a vineyard (acquired in 2001 as land previously cleared for ranching and orchards) known for uncompromising quality that is second to none, in a wine region that has hitherto never been known for that despite the long history of Amador County winegrowing (the oldest existing vines in this region date back to 1853).
The proof, as they say, is in the pudding. Shake Ridge Ranch grown Zinfandel, for one, currently fetches $2,600 to $3,300 a ton; and the dozen or so other grapes grown there (including Syrah, Petite Sirah, Grenache, Mourvèdre, Barbera, Tempranillo, Graciano, Malbec, Primitivo, Viognier and Greco di Tufo) sell for $3,000 to $3,900 a ton.
Kraemer, however, was perfectly candid in saying, "Because of the cost of the type of farming that I do, growers in other regions might beat me on the net." Still, Kraemer is known among her A-List winery clients (such as Keplinger, Favia, A Tribute to Grace, and Turley) as a "winemaker's winegrower."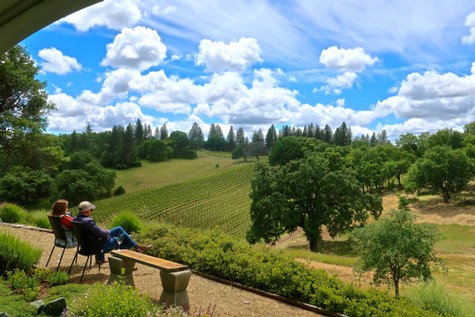 Kraemer started her talk by saying, "I'm not so much a negotiator as a collaborator," telling the story of how she found the 185-acre Shake Ridge property on a 1,650-1,800-ft. elevation site outside Amador County's historic Sutter Creek after a long search up and down the West Coast for what she called a "mythical place." Kraemer's quality standards were high, after spending 25 years as a viticulturist and vineyard manager in Napa Valley.
"Having spent my entire career in Napa," said Kraemer, "I grew accustomed to high-end projects." The Amador County property in which she and her family ended up investing is a complex of aspects, slopes and rocky soil types, surrounded by native pines and brush. There are now 46 acres of planted grapes in 37 separate blocks. "We're talking about very small lot viticulture," said Kraemer, "and very expensive, labor intensive farming."
A lot of the expense comes from the customized farming for individual winemaker/clients, which now total 33 for Kraemer. While the goal on the part of both the grower and wineries is to produce Shake Ridge Ranch vineyard-designate wines, the pursuit of uncompromising quality is made all the more complicated by the fact that a dozen varieties are grown in dozens of micro-terroir permutations.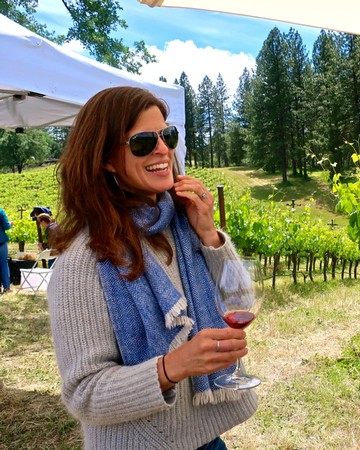 Explained Kraemer: "From the start I knew that, given our particular site, we would be averaging 3 to 4 tons an acre to achieve the level of quality I was looking for. My background in Napa gave me the luxury of having interested winemakers even before we planted our first grapes. These winemakers recognized the potential of the site, and what I could do with it, so in the beginning we did sit down to more or less negotiate.
"At the start we set our prices at the top 90 percentile of the Sierra Foothills district on the promise than within two years, after wines went into the bottle, we would all know what we could get for the wines. The understanding was, afterwards, we would be upping the price of the grapes so that I could do the type of farming I always planned on doing, and in the end we'd all be happy with that partnership.
"Because of that, I bend over backwards to give winemakers what they want, and in return they make sure I can stay in business. Working with 33 different winemakers is a lot of trouble – you should see my spreadsheet, trying to keep track of who has what. Everyone is contracted by rows, and a lot of them are doing blends. They might have 3 rows of this in one block and 2 rows of that in another block. They might want to pick the top rows of a Grenache at the same time as lower rows of Mourvèdre in a different block, and so we adjust our farming so they can do their co-ferments.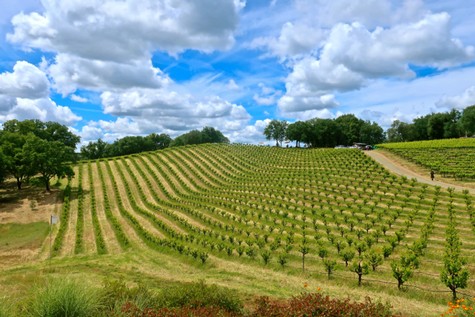 "This works well for me as a vineyard person because I really know what kind of wine is coming from my fruit. The execution may mean an overload of information, and it's not the easiest way to do things by any manner; but as I said, we approach this process as a partnership... it works, and it's incredibly rewarding."
In respect to pricing, many of Kraemer's wineries pay by the ton even though they are contracted by rows. Kraemer elaborated: "I try to keep the price level for at least three years for individual winemakers, before bumping it up. Even so, I make sure it works for them, and give them enough notice. Also by contracting by row everyone knows exactly what they're going get, and no one gets cheated on the back-end. This is a matter of establishing trust."
Kraemer's family also produces wines under their own label, Yorba Wines – originally established to show other winemakers what could be done with Shake Ridge fruit. "I never take away fruit from any of my winemakers to produce wines for Yorba," said Kraemer."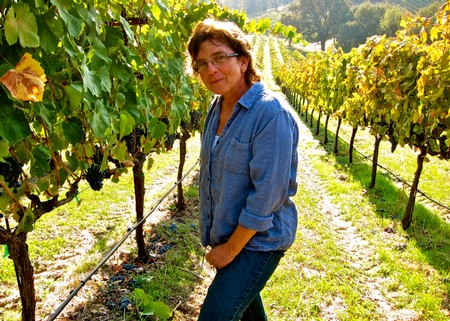 All wineries work with Kraemer with the implicit understanding that wines will be bottled with a Shake Ridge Ranch vineyard-designation. Said Kraemer: "In the past I've had someone who was very shy about using a vineyard-designate because they had once worked with a vineyard that, after 10 years, was no longer available to them. And so I really stress to myself, my family and all my winemakers that no one can take away the fruit in anyone's designated rows. They all understand that these are their rows, regardless of years when yields may come up a little short or on the heavy side."
While Kraemer maintains a close personal relationship with her clients, she does require signed contracts. "A lawyer might hate this, but I have a very simple contract, consisting of just 1 page. The main thing that it establishes is, 'These are your rows, this is your fruit, this is what you're going to pay and these are the terms, although we're going to be very flexible on those terms.' For a lot of my winemakers – and many of them are very young and just starting out, which makes me appreciate what they are doing all the more – we make a point of making things work for them. But just as important is my knowing I can continue to do the farming I want, while making enough money to cover my expenses.
"But one of the things we have in the contract is that no one can use the Shake Ridge vineyard-designation without sitting down and tasting the wine with me because our own brand is important to us and we can't afford to have less than ideal wine getting out into the market with Shake Ridge on the label. Therefore, wineries need my written approval to use the name, per our contract."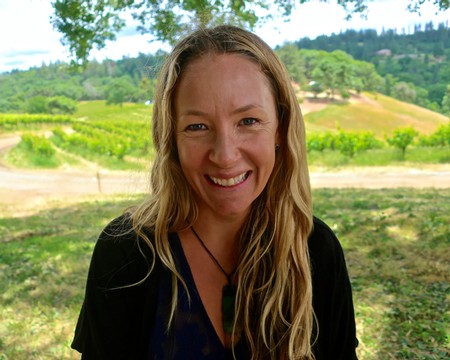 This stipulation does not mean Kraemer imposes her will on winemaking individuality. "I'm okay if a Shake Ridge wine is made in a style that I don't like," said Kraemer. "Over the years I've developed that understanding – there may be five different people making Shake Ridge Zinfandel, and no two are alike stylistically. Seeing wines made in different styles helps me as a farmer. Someone may prefer a wine with higher acid, lower alcohol and early picked freshness, whereas someone else may prefer grapes that are richer, riper, more intense. As growers, these wide ranging approaches gives us an even better idea of what our vineyard can do, and we can fine-tune our rows even further."
Finally, Kraemer makes a point of throwing a celebratory party for her winemaker/clients about every other year, which she calls "Shades of Shake Ridge" – the last one taking place just this past May 20. Says Kraemer: "We bring all the winemakers out and they pour their wines (for themselves as well as select media and trade) in stations throughout the vineyard, followed by a big dinner. It's a lovely day, and lovely way to get them all together to taste each other's wines.
"On the way to Lodi just this morning I had a winemaker call me up to say how much fun our last gathering was; how great it was to talk to other winemakers and get a chance to see what everyone's up to. There is nothing more important to us, as the farmer, because in the end that's our name on all the bottles."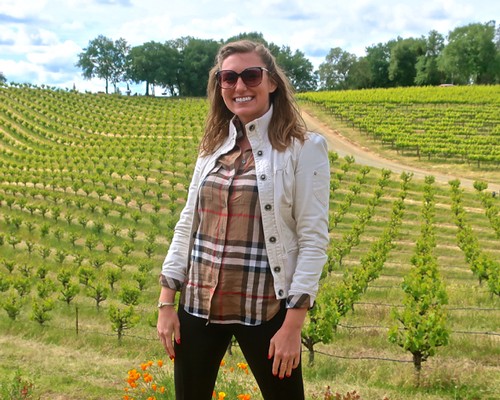 Comments