Letters from Lodi
An insightful and objective look at viticulture and winemaking from the Lodi
Appellation and the growers and vintners behind these crafts. Told from the
perspective of multi-award winning wine journalist, Randy Caparoso.

November 18, 2020 | Randy Caparoso
Talkin' turkey in 2020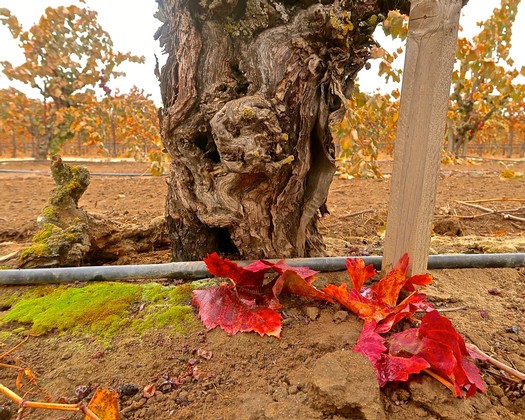 Let's talk turkey.
For most of us, if we're doing our due diligence, next week Thursday's Thanksgiving celebration will be a smaller occasion than what we usually prefer. Just the immediate family, spouse, or significant other — no crazy aunts or uncles, no cranky grandparents or self-centered brothers and sisters, and no screaming, or bored, nephews and nieces. When you think of it, it will be a lot more peaceful around the table. There are some benefits to our current global crisis.
But it's Thanksgiving, and still all about the meal. For most of us, the stuffed turkey will still be the entrée of choice. No sides of rib roast, whole ham, or Dungeness crabs. Or else, it will be either a rib roast, crabs, or ham, and no turkey, which always meant seven more days of turkey meals anyway. Judiciousness is next to godliness. And instead of a pumpkin as well as apple and pecan pie, it will just be one pie. Or fresh fruit Jell-O (when you think of it, a refreshing idea).
Ah, 2020!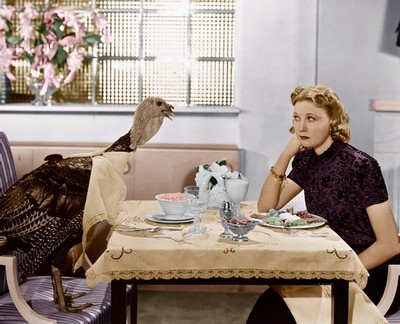 But if we're going to practice restraint, we still need a good bottle, or two, of wine. Every year when we talk wine-for-turkey we talk about the most sensible types of wines, especially for the great American bird. Inevitably, you will be sitting in front of a plate with white and dark meat, buttery mashed potatoes, pungently herbed stuffing, sweet/tart cranberry, and lots and lots of gravy over everything and anything.
Because turkey is not fatty meat, red wines that are super-dry, heavy, and oaky are never really the best wines to wash it all down with. Besides, "serious" wines can be overly fussy on a holiday that should be light-hearted. Dry white wines are often equally uninspiring — their tart, rigid edges often make turkey meat taste even dryer, and cranberry too sweet (and cranberry is our favorite part!).
Lodi Pomegranate Orchard, November 2020
So if anything, we always talk about soft, round red wines as being the ideal match. Red wines with lots of bright, natural fruit qualities in the nose and flavor that go equally well with cranberry and stuffing, and very low key in tannin and oak which otherwise tend to make the white meat of turkey taste like cardboard.
This is where Lodi-grown red wines come in. For many connoisseurs of the fermented grape, Lodi reds are a little too soft, too fruity, too friendly. But when it comes to the potpourri of flavors on a Thanksgiving plate, the soft fruit qualities that come naturally to a Lodi-grown red suddenly make all the sense in the world, at least in this particular culinary context.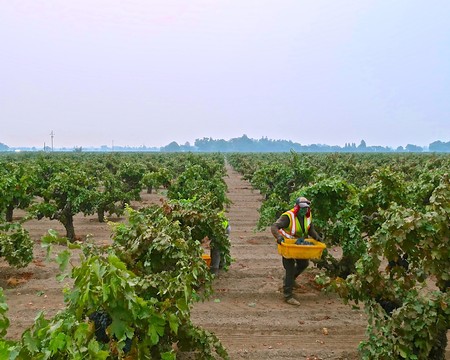 Historical Lodi reds
But just because a Lodi red is soft and fruit-forward, it doesn't mean it can't be rich, complex, or even profound. Take, for instance, red wines made from the Cinsaut grape grown in Bechthold Vineyard, Lodi's oldest continuously farmed vineyard, planted way back in 1886 by Joseph Spenker and still owned by his descendants. The historical significance alone of this vineyard makes wines made from it far more special than your usual, run-of-the-mill California wine.
And besides, it's Thanksgiving, a holiday celebrated for an equally historical event, when European colonists presumably sat down to eat with Native Americans, who brought their corn, succotash, fish, wild turkey, and all the extra fixings to the table, thus keeping the hapless newcomers from completely starving. It's a beautiful thought, even if not 100% true. It's what we learned in school!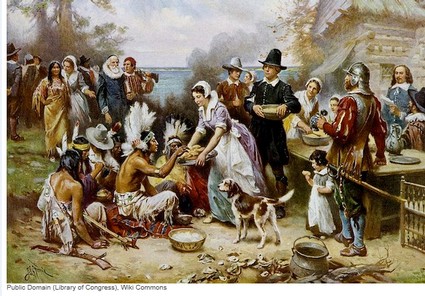 Cinsaut, as it were, is also the ideal holiday wine for purely sensory reasons: It is always a round, sumptuously fruited wine, but with spice qualities reminiscent of white pepper, sometimes clove or mace, and more often than not, kitchen spice scented pies like strawberry-rhubarb or cherry-berry. Like liquid dessert in a glass, without the tiring sweetness.
If you can get ahold of a Turley Wine Cellars Bechthold Vineyard Cinsaut, we say more power to you — this winery's famously natural, whole-berry fermented style brings out everything you want in the grape. Locally, the Bechthold Vineyard Cinsault crafted by Fields Family Wines or McCay Cellars can be just as good for the simple fact that they also employ a natural, native yeast-fermented, neutral oak-aged style — a gentle, slow, and patient method of vinification that brings out all the subtle spices and faintly earthy nuances peculiar to the vineyard, complimenting the lavish red fruit qualities intrinsic in the grape. Wineries such as Lodi's Estate Crush and Michael David Winery, as well as the Napa-based Onesta Wines, take a more conventional approach to the variety, but the deep, round, luscious qualities of their Cinsauts are phenomenal enough. It's Bechthold Vineyard, after all. What's not to like?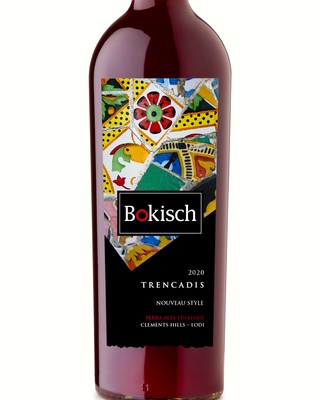 "Nouveau" inspired 2020 red
Now for something completely different: This year, Bokisch Vineyards, for the first time in their 20-year history, has produced what they call a "Nouveau Style" red wine specifically for holiday festivities: the 2020 Bokisch Vineyards Clements Hills-Lodi Trincadis Nouveau Style Red. The idea is to follow the traditional style of the Beaujolais region in France, where wines of each vintage are released by the third week of each vintage, barely a month after the grapes have been harvested. In Beaujolais, the nouveau-style red wines, always made from the Gamay grape, are super-fresh, fruity, and so easy to drink they taste almost like wine-flavored water. Bokisch's nouveau-inspired red differs from the original French nouveau because they are made from the three black-skinned grapes grown in the "Rasteau Row" — named as such because all the plant material was originally brought over from the Rasteau region of Southern France by Markus Bokisch — of their Terra Alta Vineyard, which consists of mostly Grenache, with Syrah and Mourvèdre.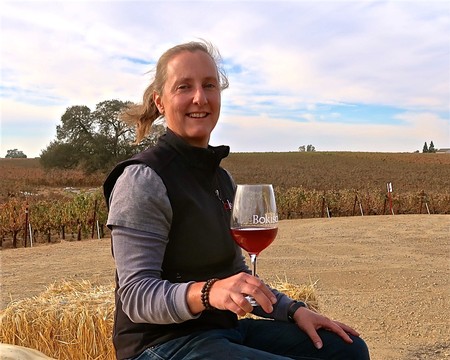 The Bokischs' nouveau style red also differs from French nouveau because it was produced by a conventional method — the grapes were picked, destemmed, and immediately sent into a tank to ferment in the usual way. In Beaujolais, a big reason why nouveau reds are so soft and fruity is that they also undergo an intracellular fermentation called carbonic maceration, which produces a red wine virtually free of skin or seed tannins. In 2020, however, Bokisch winemaker Elyse Perry and owner/growers Markus and Liz Bokisch happen to notice that this year's Rasteau Red field blend was tasting so bright and fruit-forward — in Perry's words, "like fresh pomegranate and cranberry" — they were inspired to bottle up the new vintage immediately in order to capture all that fruitiness while it is still pristine, rather than transfer the wine into barrels to undergo the usual aging process.
The result is a uniquely soft yet zesty red wine that is indeed pristinely fruity, almost cranberryish. Not exactly like Beaujolais Nouveau, but all the same a near-perfect foil for turkey and all the usual condiments.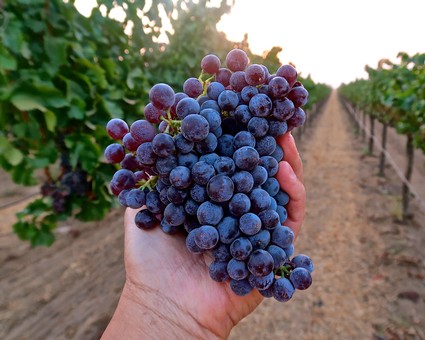 The spiciest Lodi reds of all
There is still another Lodi-grown choice of red wine that is absolutely pitch-perfect for Thanksgiving meals: wines made from the black-skinned Grenache grape. Grenache, in fact, has become the latest, "cool" varietal all over California, but under Lodi's sun-soaked sky, it ripens with a peppercorn spiciness far more pungent that Grenache-based reds grown anywhere else on the West Coast. Why that is, we're not exactly sure. It just is — we've done the blind taste tests. And it's that spice, combined with soft, round, sumptuous red berry fruit qualities, that make Lodi reds like McCay Cellars' Abba Vineyard Grenache and Bokisch Vineyards' Terra Alta Vineyard Garnacha (Garnacha is the Spanish synonym for Grenache) the ideal holiday match when it's all about spiciness in the air, spiciness in the food, and preferably, lots of spiciness in the wines as well.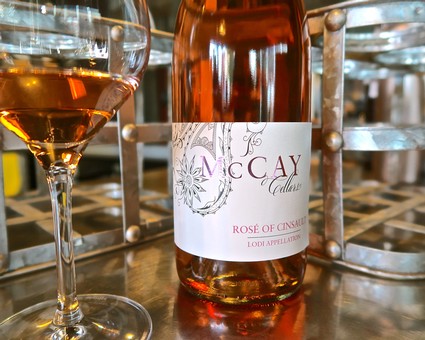 Because a rosé is a rosé is a rosé
Many wine lovers, of course, are just not partial to red wine. Some even have allergic reactions to the low levels of histamine, almost completely absent in white wines but found in reds (although studies have shown that there are more than ten times more histamines in aged cheeses, fish, and meat than in red wines).
The obvious alternative to red wines is rosés, which just may be the most food-versatile wines in the world because of the fact that, like red wines, they are made from black-skinned grapes, but fermented after skins are separated from the juice. Thus, rosés are produced more like white wines and enjoyed chilled like white wines. Unlike white wines, however, rosés retain a smidgen of color as well as the flavors of the red wine grapes they are made from. Texturally, they are generally less edgy, or acid-driven, than white wines, and they have roundness and fruit profiles similar to red wines, making them fabulous matches for Thanksgiving meals!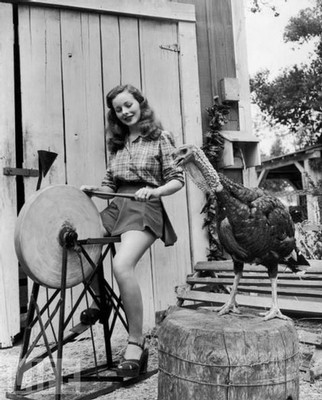 Lodi excels in rosé production because the region's warm climate and largely sandy soils are ideal for black-skinned grapes, particularly varieties native to the Mediterranean region — and Lodi's climate is squarely "Mediterranean" (meaning, warm, bone-dry summers with cool night temperatures, with all the rain and cold weather relegated to autumns and winters). The effect on wines is generally fresh fruit aromas with undertones suggesting mineral or earth-related qualities, and fleshy yet finely delineated flavors couched, as in the best of Lodi rosés, in bone-dry, smoothly textured sensations.
A list of some of the most interesting Lodi-grown rosés to choose from, identifying the widely varying grapes from which each respective wine is made:
• Acquiesce Winery & Vineyards, Grenache Rosé
• Bokisch Vineyards, Terra Alta Vineyard Rosado, Clements Hills-Lodi (Garnacha with Tempranillo and/or Graciano)
• Fields Family Wines, La Vie En Rosé, Mokelumne River-Lodi (Mourvèdre and Syrah)
• Hatton Daniels Wine Cellars, Rosé of Dornfelder, Mokelumne Glen Vineyard
• Heritage Oak Winery, Barbera Rosé
• Klinker Brick Winery, Bricks & Roses (Grenache with Carignan, Syrah, and/or Mourvèdre)
• LangeTwins Family Winery & Vineyards, Aglianico Rosé, River Ranch Vineyard, Jahant-Lodi
• LangeTwins Family Winery & Vineyards, Sangiovese Rosé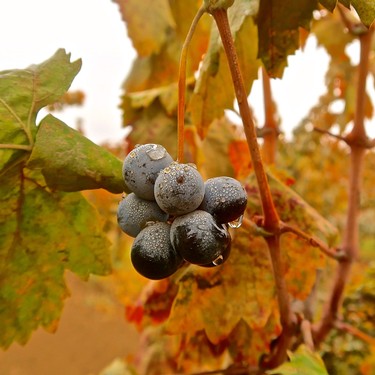 • m2 Wines, Rosé (Zinfandel blended with Carignan)
• McCay Cellars, Rosé of Cinsaut
• McCay Cellars, Rosé of Grenache
• Michael David Winery, Cinsaut Rosé, Bechthold Vineyard
• Michael Klouda Wines, Retro Rosé (Zinfandel)
• Mikami Vineyards, Rosé (Zinfandel)
• Monte Rio Cellars, Dry White Zinfandel
• Mountain Tides Wine Co., Rosé of Petite Sirah
• Oak Farm Vineyards, Rosé (Grenache)
• Onesta Wines, Rosé of Cinsaut, Bechthold Vineyard
• Peltier Winery & Vineyards, Rosé of Pinot Noir
• Peltier Winery & Vineyards, Rouge Rosé (Cabernet Sauvignon)
• St. Amant Winery, Barbera Rosé
• Turley Wine Cellars, Zinfandel Rosé
• Ursa Vineyards, Tannat Rosé, Silvaspoons Vineyards
I have not quoted any prices for any of the aforementioned wines because, well, they're Lodi wines. So none of them are over $35. Almost all of them are somewhere between $22 and $30. At that price range, two bottles make sense — one for you, one for me. Whoops, that's not exactly being abstemious.
Then again, it's 2020. I think we could all use an extra bottle!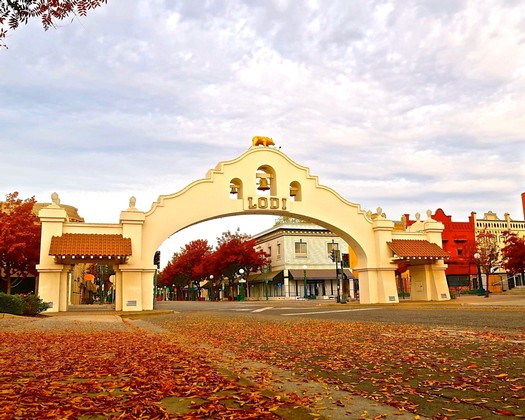 Comments