Letters from Lodi
An insightful and objective look at viticulture and winemaking from the Lodi
Appellation and the growers and vintners behind these crafts. Told from the
perspective of multi-award winning wine journalist, Randy Caparoso.

March 7, 2018 | Randy Caparoso
Santa Cruz winemaker finds natural beauty in Lodi grown fruit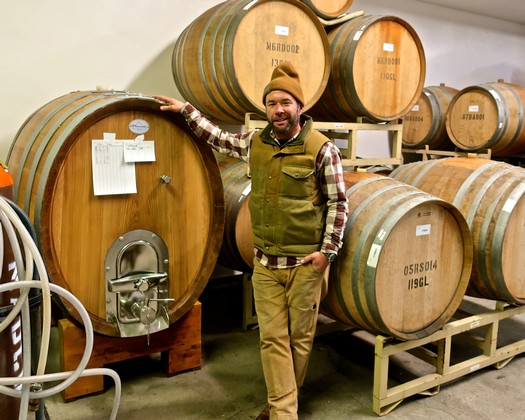 "What I enjoy seeing is people who think they know Lodi Zinfandel – they taste my Zinfandel and say, this isn't Lodi Zinfandel. Then I tell them, this is exactly what Lodi Zinfandel is."
That is what Nathan Kandler, the winemaker of Thomas Fogarty Winery & Vineyards in Santa Cruz Mountains, was saying as he was pouring his own version of Lodi's iconic varietal: the 2016 Precedent "Victors" Lodi Zinfandel ($25), sourced from an "east-side" Lodi vineyard located just north of Victor Rd.
Kandler's Precedent Wines label Zinfandel is svelte, fluid, and taut as finely spun silk; ringing with bright Bing cherry/pomegranate-like perfume tinged with an intriguingly faint, herby spice, more like sprigs of peppermint and nettle. "This is so east-side," comments Kandler – "floral, brambly, delicate, pure red fruit... nothing like the big, ripe, jammy fruit bomb wines associated with Lodi Zinfandel, in many people's minds."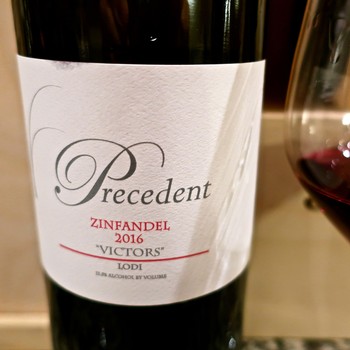 Kandler is not known for his Zinfandel. In fact, he is far better known among geeky California Chardonnay and Pinot noir lovers for his particularly deft touch with those popular grapes, executed (as he does with Lodi grapes) with native yeast fermentation and minimal intervention. In April 2016, for instance, the San Francisco Chronicle wrote about his "lilting, floral" Santa Cruz Mountains Chardonnays, and Pinot noirs also from these high elevation vineyards that are "ethereal... each speaking of its variously foggy plot... unique, unreproducible wines." In other words, wines that express a sense of place; not a winemaker's ego, nor even predictable varietal characteristics associated with wine grapes.
In fact, it is precisely because of his terroir focused, ego-free, self-effacing style of winemaking that Kandler was drawn to Lodi grown grapes in the first place. "There is something about these grapes," says Kandler, "that fits what we try to do." Since speaking in first person terms doesn't come naturally to Kandler, we dug back to an August 2013 post in Hawk Wakawaka Wine Reviews to find a passage in which Kandler ventures to talk about his personal evolution as a winemaker:
When I first started at Fogarty, I thought it was a great opportunity. I thought it was a challenge where there was room to grow, and affect some change too. The longer I've been here I've realized it is less about me. This is a really special spot, and it shouldn't be about who makes the wine. When it comes to winemaking, you have to be comfortable with making less impactful decisions. The farming and the place, that's what's interesting. That's what I hope people will talk about.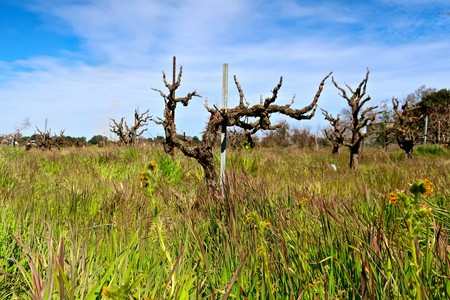 The "Victors" Zinfandel planting on Lodi's east side
And this is exactly why Kandler has been coming to Lodi to source Zinfandel, as well as Carignan, Tempranillo, Grenache, Petite Sirah, and even Chenin blanc: to produce wines that taste of "the farming and place," not a winemaker's "artistry."
In 2017 Kandler bought Zinfandel from three different Lodi vineyards, plus Carignan from two others – all resting in neutral barrels, puncheons or large 1,000-liter ovals in the cellars at Thomas Fogarty Winery as we speak. As we tasted through the barrels, Kandler marveled at the subtle yet distinct differences expressed by each wine. A synopsis of his comments:
The 2017 Carignan from John Shinn's vineyard is beautifully aromatic, zesty, rich and intense in red cherry, even at just 12.1% alcohol... When you compare that wine to the Carignan from the old vines at Jessie's Grove (planted in 1900), you find a contrast of deeper, rounder, more layered fruit, with a richer strawberry character – distinct qualities from two vineyards that are not too far from each other...
In 2017 I was able to get some Kirschenmann Vineyard Zinfandel for the first time, which is very pretty, with spicy red fruit... The Zinfandel we got from J.D. Phelps from Bruella Rd., just off of Peltier, is firmer, leaner, with similar red cherry perfume – a very interesting wine with real potential... The 2017 Zinfandel from the vineyard we are calling "Victors" is lively with acidity, and true to the east-side with its bright red fruit... All three Zinfandels are showing their own unique qualities, yet all have that very refined "east-side" character.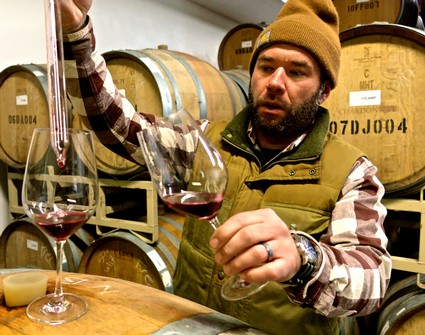 What is the big deal about "east-side" Lodi Zinfandel? Although not an official designation, in their minds growers and winemakers divide the Mokelumne River appellation surrounding the City of Lodi between vineyards east of California Hwy. 99, and vineyards west of 99. It's an arbitrary division, yet something of a reality: The fact that soils on the east side tend to be a little deeper and sandier, and soils on the west side tend to be a little loamier – although the entire Mokelumne River AVA is defined by a soil series called Tokay sandy loam – invariably has an impact on root zones and, ultimately, the size and weight of Zinfandel clusters and berries.
These factors have an effect on resulting wines. Winemakers both in and outside the region tend to think of west-side Lodi Zinfandels as being a little rounder in mouth-feel, slightly darker in berry fruit aromas, as well as earthier (nuances suggesting loam or compost); whereas east-side Lodi Zinfandels are invariably a little more perfumed in red fruit aromas (cherry, raspberry, pomegranate, etc.), not nearly as earthy but usually spicier (suggesting black pepper, clove, cardomom, etc.), and a little more delineated in terms of acid (i.e. tartness) and tannin (often translating to more structured palate sensations) components.
In anthropomorphic terms, this would translate as west-side Zinfandels being curvier and fleshier, and east-side Zinfandels as having a sleek quality in a leaner, sharper sense.
Comments Kandler, "I've heard Lodi winemakers say they much prefer west-side Zinfandel, but I also know a few who deliberately stay on the east side because they like that style better." By his choice of east-side Lodi Zinfandel vineyards, Kandler obviously shows a preference for more fragrant, delicate, spice scented styles of Zinfandel; perhaps influenced by the fact that he is a Pinot noir-oriented winemaker. However, he is also very high on old vine Carignan from the west side, which seem to combine the beautiful cherry/strawberry perfume intrinsic to the grape with very subtle earthy qualities.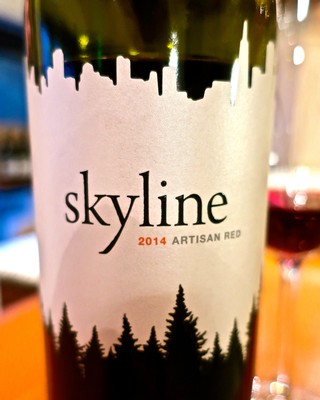 Over the past five vintages, Thomas Fogarty Winery has also been handcrafting $16.99 suggested-retail-price bottlings of Lodi grown wines under their Skyline Artisan label – the name alluding to the winery's Skyline Blvd. address in Santa Cruz Mountains, tracing a 1,500-2,500-ft. ridge line. There are two current releases, found in a select few retail chains (as well as at the winery), often for $15.99:
2017 Skyline, California Artisan Rosé – Although this wine does not carry a Lodi appellation, it is a 100% Carignan from Bill and John Shinn's Prohibition-era planting on Lodi's west side. The color is a pale, transparent, orange-tinged pink, and the nose is perfumed with suggestions of red cherry and rose petal; on the palate, these delicate fruit sensations are bone dry and zesty, with a crisp, breezy easiness, finishing with a refreshing sense of fruit purity.
2015 Skyline, Lodi Artisan Red – This artful blend says "Lodi" on the label because, as Kandler puts it, "it is very Lodi." The aroma is purely of unadorned, sun soaked fruit with no obtrusive oak notes; bursting with lush cherry and crushed leafy green herbs and mint. On the palate, silken smooth, medium bodied flavors finish with a touch of (as winery Owner/GM Tommy Fogarty describes it) "a hazelnut savoriness." The blend is 44% Tempranillo from Bokisch Ranches' Liberty Oaks Vineyards in Jahant-Lodi; 35% Zinfandel from Schmiedt Ranch, 16% Grenache from Hunters Oak Vineyard (farmed by Bokisch) in the Clements Hills AVA, and 5% Petite Sirah from Bokisch's Vista Luna Vineyard the Borden Ranch AVA.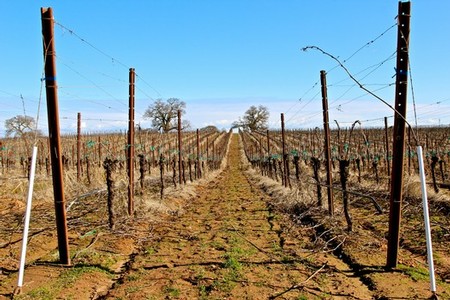 Comments