Letters from Lodi
An insightful and objective look at viticulture and winemaking from the Lodi
Appellation and the growers and vintners behind these crafts. Told from the
perspective of multi-award winning wine journalist, Randy Caparoso.

April 27, 2021 | Randy Caparoso
Sangiovese is a challenging yet rewarding grape (even in Lodi's grape-friendly clime)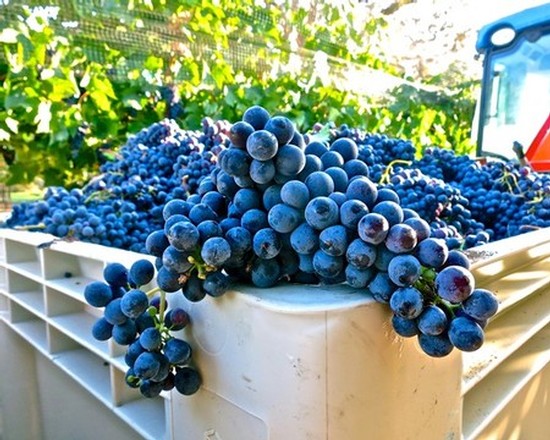 Have you thought of Scotto Family Cellars lately? Scotto Family Cellars is one of several brands put out by the Scotto family, which has roots in Lodi farming and industries going back five generations. While they are now producing varietal wines from all the popular grapes, such as Zinfandel, Cabernet Sauvignon, Chardonnay and Sauvignon blanc, the most interesting wines in their eponymous line-up may actually be made from a grape that has struggled to find its niche in the California wine industry over the past 140 or so years: Sangiovese.
There are two current Scotto Family releases made from this grape, both grown for the Scottos by Mohr-Fry Ranches, one of Lodi's most respected, LODI RULES certified sustainable growers:
First, the 2017 Scotto Family Cellars Mohr-Fry Ranch Lodi Reserve Sangiovese ($20) is a medium-toned brick-red colored wine with a bright black cherry/raspberry fragrance with a subtle herby-green undertone; and on the palate, lightly tart and lively with pomegranate-like qualities, very moderate in tannin and light in feel, despite the 14.8% alcohol indicated on the label. Yet this wine has length and a palate-sticking quality that makes you yearn for comforting pasta and pizzas.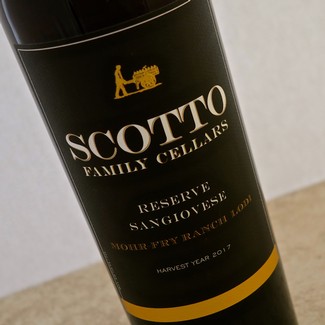 Even more refreshing is the 2020 Scotto Family Cellars Lodi Sangiovese Rosé ($15), a brickish-pink toned wine that is light (barely 13% alcohol), bone dry, and tart-edged with lemon zest qualities on the palate, while floral with scents suggesting ripe strawberry/cherry and just a tinge of weediness. A wine that practically screams for salads festooned with strawberries, beets, and/or nasturtiums (both its fruity flowers and mildly peppery leaves).
These are the kind of mouth-watering wines that make you wonder: Why is Sangiovese still something of an under-the-radar varietal? As in other California wine regions, there is literally just a handful of Lodi producers fiddling around with the grape. LangeTwins Family Winery & Vineyards, for one, has a good-sized block growing in front of their winery on E. Jahant Road, but they turn all of those grapes into a bracingly crisp and refreshing dry rosé, no red wines. Highly recommended.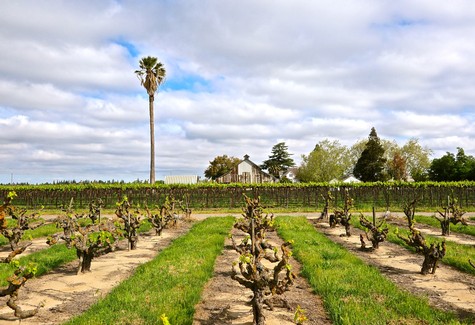 Sorelle Winery south of E. 8 Mile Road produces a sleek, oak-nuanced style of red wine from their estate-grown Sangiovese. Brighter still, there is a perky/silky Avivo brand of red Sangiovese produced by the Healdsburg-based DaVero Farms & Winery, grown under certified Biodynamic® guidelines by Lodi's Vino Farms in their River's Edge Vineyard on Cherry Road (east side of the Mokelumne River AVA).
Macchia Wines, on the other hand, swings for the fences with their red Sangiovese, which is also grown by Mohr-Fry Ranches. The 2017 Macchia Amorous Lodi Sangiovese ($25) is red berry and herbal scented, similar to Scotto Family Cellars' iteration. After that, the wine veers into Macchia's own house style: Picked at a riper fruit level to be a shade heavier (15.5%) and fleshier in the body; and aged more aggressively in oak, which adds tobacco, fire-toasted wood, and clove-like spices to the nose.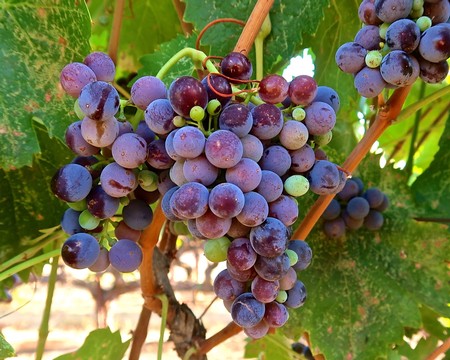 A quick study of Sangiovese in Italy and California
Sangiovese is one of the classic black-skinned grapes of Italy. It is closely associated with Tuscany's Chianti Classico, although it is also the predominant grape in several other regions in Central Italy, including the iconic Brunello di Montalcino and Vino Nobile di Montepulciano. When asked why, in 1999, he planted 4.22 acres of the grape in Mohr-Fry Ranches, Jerry Fry explained, "Because it is the basic wine grape in Italy's famous Chianti wines."
Although the earliest documented record of the Sangiovese's usage in Italy goes back to the 1500s, its name (pronounced sahn-jo-VAY-zeh) is derived from the Latin words sanguis Jovis, for "the blood of Jove," or the Roman god Jupiter. Hence, the common theory is that the cultivar, or at least some variation of it, may have been grown in Italy either by the Romans or the Etruscans before them.
What Californians have discovered, however, is that the red wines produced from Sangiovese can't really be described as "thick as blood." In fact, it's been the opposite: "Sangiovese can be a doughnut wine," fourth-generation Italian-American winegrower Pete Seghesio Jr. of Seghesio Family Vineyards once said, referring to the lack of "middle" taste in Sangiovese-based reds, (re Patricia Thomson, Whatever Became of California Sangiovese?).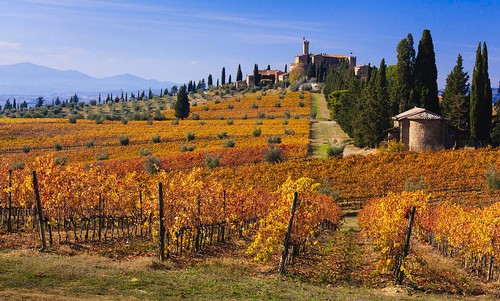 Classic hillside Sangiovese vineyard in Tuscany (photo by Olimpo Fantuz, PX Pixels)
Hence, when Italian-Americans first settled in California during the late 1800s and early 1900s, the grape they embraced the most was not Sangiovese. They went for Zinfandel (a grape that originated in Croatia), which seemed to adapt more easily to the Golden State's coastal variation of Mediterranean climate, and produce more of the type of red wine vintners of Italian descent (families like Gallo, Sebastiani, Martini, Mondavi, etc.) seemed to prefer.
There was a brief moment, back in the late 1990s, when Sangiovese plantings in California rose to about 3,000 acres (the state's total has since dropped to about 1,500 acres), resulting in a modest surge of consumer interest in so-called "Cal-Ital" wines." In Sangiovese's heyday," recalls Seghesio, "everybody came out with a $35 Sangiovese and it was very mediocre, or blended with Cabernet. Consumers balked... Why pay $35 when you can get a good Chianti Classico for under $20? The whole category got poisoned, and the market turned against it." Added Seghesio, "Even Antinori gave up" — referring to the powerhouse Tuscan wine company that invested in some 120 acres of Sangiovese in Napa Valley's Atlas Peak AVA.
Today, the signature grape of Atlas Peak is, as you would expect, Cabernet Sauvignon (out of the sub-regions of 1,500 total planted grapes). Consumers, it seems, would much rather pay over $100 for a Napa Valley Cabernet Sauvignon than $20 for a Napa Valley wine made from Sangiovese.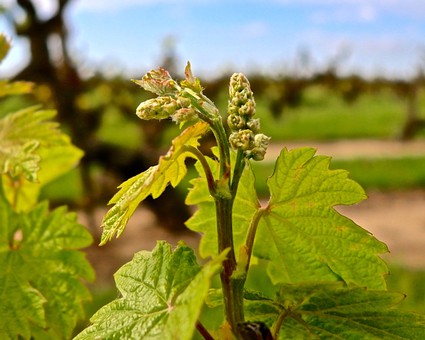 We would argue, however, that it was never so much the "doughnut" quality perceived in typical Sangiovese reds that failed to excite wine consumers. It was the fact that, during the 1990s and early 2000s, most newly minted American wine lovers were seeking big, fat wines with dark colors and dense, ultra-ripe qualities. You might recall that this was also the heyday of "big" Zinfandels, picked at high sugars to maximize their "jammy" taste, and pumped up with Petite Sirah and aggressive flavors of oak to increase their sense of opulence. No wimpy wines were the mantra of one popular producer. It's only recently, within the past four or five years, that a significant number of consumers have come to embrace lighter, zestier styles of red wines. At long last, 14% alcohol is no longer considered "wimpy."
In other words, twenty years ago most American wine consumers weren't quite ready for Sangiovese, which naturally wants to produce a lean, lanky red wine that is moderate in color and somewhat under-fruited in varietal character, yet is svelte, zesty, and acid-driven. These attributes amount to a kind of subtlety that is very food-friendly; and in that sense, not unlike Italy's Chianti. A good thing.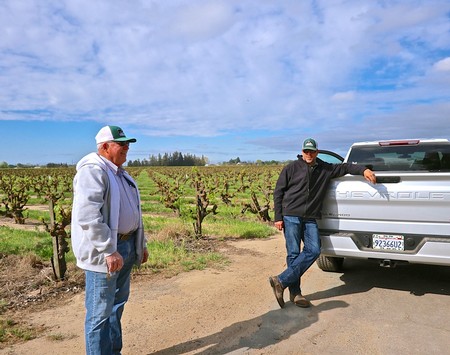 How Mohr-Fry Ranches tackled Sangiovese
Jerry Fry and his son Bruce, who manages Mohr-Fry Ranches, never do anything without a fair amount of research. Before deciding to plant Sangiovese on a block originally occupied by cherry trees, according to Jerry, "Bruce and I met with Cesare Intrieri in Bologna and went through all his test plots there" — referring to the Professor Emeritus at the University of Bologna who has authored or co-authored numerous research articles on Italian viticulture.
Adds Fry, "Carole Meredith [well-known U.C. Davis grape geneticist] first introduced us to Intrieri at an ASEV [American Society for Enology and Viticulture] meeting in Sacramento in the 1990s, when he was the honored guest lecturer, known for his research in reducing the hand labor in raising wine grapes. Of course, the variety he was working with was Sangiovese."
The Frys' motivation was not so much logistical as strategic in terms of their farming company's marketing position. Says Fry, "We are always looking for a good varietal to plant, that has already gotten some 'traction' in the wine grape market, or we think will have shortly. We hope to find those that are outside of the mainstream, that won't be in the 'commodity' category, and grown all over the state. We like world-known varietals that can give us, hopefully, vineyard designation and value-added with the winery we find to work with."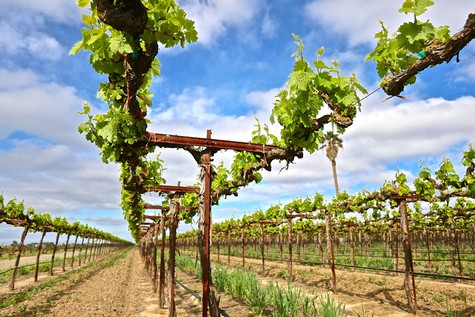 Thus, when selling Sangiovese to Lodi wineries such as Scotto Family Cellars and Macchia Winery, it is done with the understanding that "Mohr-Fry Ranch" will appear on the label.
Part of the beauty of winegrowing in Lodi is that the region's Mediterranean climate and rich yet porous sandy soils are friendly to a wide range of wine grapes, particularly those of Mediterranean origin, such as Sangiovese." Adds Fry: "We are not concerned with a varietal being able to do well in Lodi, as with all that we have grown, 12 different ones. We have yet to find one that's presented any real problem in terms of growing for great quality and production.
"Of course, it is always better if you can go look at a varietal that someone already has planted, ask about it, and see how the vines look. That's what we did with the Sangiovese. It was grown in a few small vineyards around Lodi. We were able to get the bud wood from Jeff Mencarini."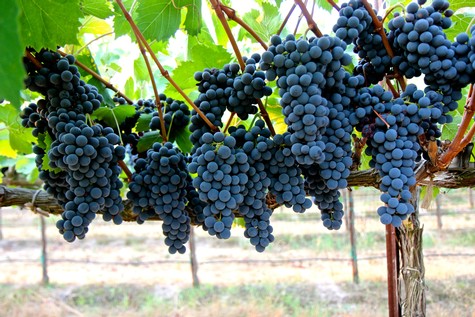 From their research, the Frys were well aware of some of the major past issues vintners have had with Sangiovese grown in California — particularly lack of color, excess weediness as well as that nagging "doughnut" quality on the palate. Says Fry, "We felt growing Sangiovese on quadrilateral [i.e., a parallel wired trellis that splits canopy and distributes leaf and fruit zones] would help with that, and it has. The vines are planted 6' X 10', trained as a quadrilateral, on 3' cross-arms."
The fact of the matter is, Sangiovese is problematic everywhere it is grown, including in the stunning, historical hills of Tuscany. But if given its most basic terroir-related needs — particularly warm, dry summers and soils that are well drained enough to restrain Sangiovese's proclivity to grow like a weed (and end up tasting like it) — the grape can be immensely rewarding. If, of course, you can come to appreciate Sangiovese for being Sangiovese, not something big and powerful like Cabernet Sauvignon, or ultra-ripe like Zinfandel.
And Lodi, as it were, is already showing that it can indeed grow a quintessential Sangiovese Sangiovese.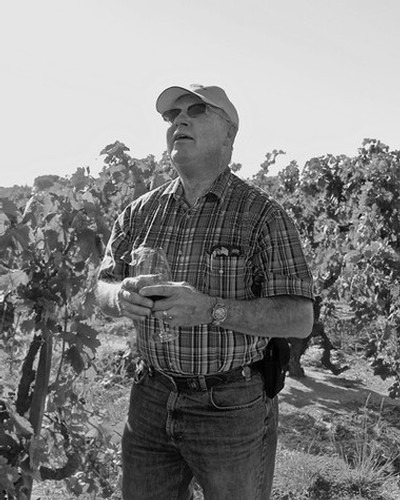 Comments