Letters from Lodi
An insightful and objective look at viticulture and winemaking from the Lodi
Appellation and the growers and vintners behind these crafts. Told from the
perspective of multi-award winning wine journalist, Randy Caparoso.

October 5, 2016 | Randy Caparoso
Round-up of top Barbara bottlings from Lodi's oldest (and younger) plantings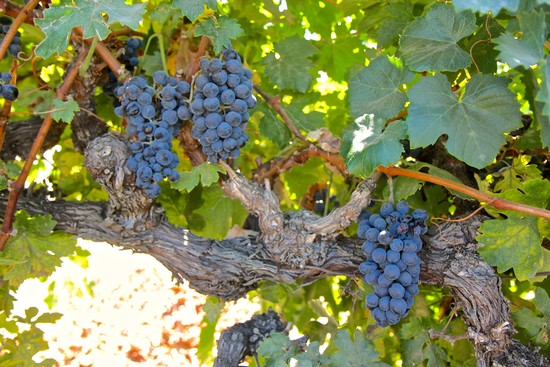 In 1972, according to St. Amant Winery owner/winemaker Stuart Spencer, "E. & J. Gallo approached several Lodi growers and asked them to plant Barbera." The understanding was that these grapes were needed as key components for the winery's most famous red wine, called Hearty Burgundy.
When E. & J. Gallo introduced its proprietary Hearty Burgundy in 1964, it quickly became America's best selling "jug" red. In a landmark November 1972 Time Magazine cover story on the growing popularity of American wine, Los Angeles Times wine critic, Robert Lawrence Balzer was quoted to say, "Gallo Hearty Burgundy is the best wine value in the country today"... period.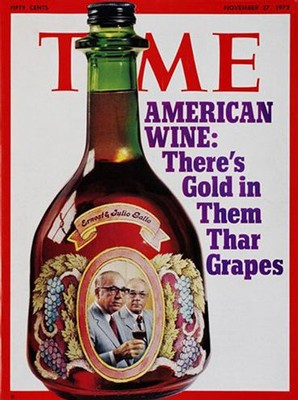 Despite the eventual movement of consumer preferences away from generic wines and more towards varietals, to this day E. & J. Gallo still produces 1.5-liter bottlings of Hearty Burgundy. The question often asked over the past 50-plus years is, what exactly is in Hearty Burgundy?
The answer, of course, is a closely guarded trade secret. The general consensus among the industry, however, is that it has always been based upon a formula consisting primarily of Zinfandel (reputably the late Julio Gallo's favorite varietal), Carignan (California's most widely planted grape between the 1950s and 1980s), and Petite Sirah.
Even though the black skinned grape of the actual Burgundy region of France has always been Pinot Noir, Pinot Noir has never been mentioned as a Hearty Burgundy ingredient. Instead, other varieties such as Barbera, Tempranillo, Syrah, Grenache, Sangiovese, Teroldego, Petit Verdot, Cabernet Sauvignon and Merlot have been coyly suggested by employees past and present as possible components utilized over the years to maintain the remarkable consistency of Hearty Burgundy.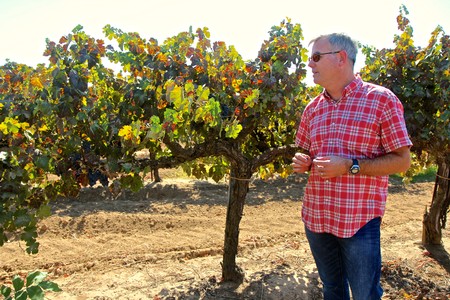 Another fact that is also not always acknowledged is that, during the 1960s and 1970s, E. & J. Gallo was the largest purchaser of wine grapes grown in Sonoma County and Napa Valley. Robert Biale – from a family of longtime growers, now better known for their single-vineyard North Coast Zinfandel bottlings – still recalls, "Not too long ago, Gallo took over 50% of the grapes grown in Napa Valley... our family depended upon our grape contracts with Gallo."
Grapes going into early bottlings of Hearty Burgundy were usually combinations of North Coast and San Joaquin Valley grapes; although in most recent decades, the formula has undoubtedly skewed more towards the latter – with Lodi playing a major role as grape supplier.
Which brings us back to our story of Barbera in Lodi: Three of the vineyards planted to the grape in 1972 at the instigation of E. & J. Gallo still exist; although one of them – the Borra family's Carrú Vineyard planting on Armstrong Rd., south of the City of Lodi – is scheduled to be uprooted and eventually replanted by the end of this year. The other two vineyards – Leventini Vineyard (located just north of Peltier Rd. on Lodi's east side) and Noma Vineyard (on Garnero Rd., just south of Harney Lane) – will continue to forge on, despite the advanced age of these single-wired, trellised plantings.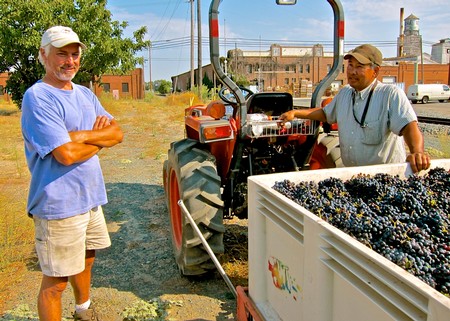 When trellised vines get old, their health and productivity recede precipitously. After over 40 years, both the Borra and Noma Barbera plantings – growing in the deep, porous sandy loam soil of Lodi's Mokelumne River AVA – have been averaging about a half-ton per acre; its fruit clusters no larger than the palms of your hand (less than a third of the variety's normal size). Those are the wages of age. Perhaps because of its location in the Jahant AVA, consisting of yellowish-red sandy clay loam, Leventini Vineyard has also been yielding palm-sized clusters, although in quantities adding up to closer to 2 tons per acre.
"There is no real commercial reason for these plantings to exist," says Spencer, "other than the fact that they still produce extraordinary wines." Although Borra Vineyards winemaker Markus Niggli says, "Our old vine Barbera block is past its expiration date – it makes no sense to keep it, the vines are just to tired to go on."
Lodi, as it were, has played a major (if under-appreciated) role in the history of the Barbera grape in California. According to U.C. Davis' Nancy Sweet, early research (during the 1930s and 1940s) indicated that "Barbera was excessively acidic" when grown in all but the warmest pockets of the North and Central Coasts," whereas in warmer areas "in the foothills of Sacramento and San Joaquin Valley... observation showed that Barbera needs some heat to do well."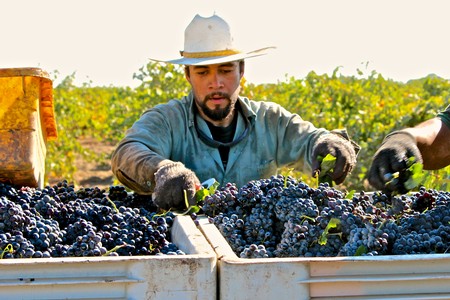 Barbera has come to be recognized as a particularly ideal grape for the nearby Sierra Foothills AVA ever since it was pioneered by Cary Gott's first Amador County planting in 1971 (producing the groundbreaking Monteviña Barbera bottlings). In the similar Mediterranean climate of Lodi, this Northern Italian grape has also been shown to produce an ideal balance of the grape's characteristic sharp acidity - dependably higher than any other black skinned Vitis vinifera - full body/alcohol, and moderate tannin.
In fact, the U.C. Davis Foundation Plant Services Barbera 01 – the state's most widely planted clone of the grape – originated from Lodi plantings cultivated by L.K Marshall. According to Sweet, "Marshall's vineyard in Lodi had 30-40 different varieties... it is known that Barbera was being grown in the Lodi area in the 1930s."
During a visit of six snooth.com writers last week, we conducted a tasting of Lodi grown Barbera; most of the bottlings coming from these three tired, old plantings. One thing we found about these wines: tiny clusters can produce the most intense, brightly fruited styles of Barbera, smartly balanced against the varietal's typically zesty acidity and round yet sturdy tannin.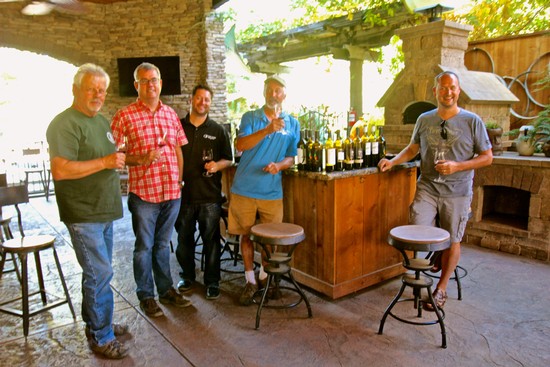 Some notes, in the order in which the wines were tasted:
2012 Uvaggio, Leventini Vineyard Lodi Barbera ($18) – Uvaggio owner/winemaker Jim Moore has been crafting Barbera since 1993; in the beginning, as the winemaker/manager of the now-defunct La Famiglia label by Robert Mondavi (for whom Moore worked for 19 years). Moore's approach to Barbera is adamantly understated for culinary purposes; telling us, "I think of Barbera first and foremost as a wine for food, and I also happen to believe it is the most food-versatile wine in the world." As such, the Uvaggio Barbera is restrained in weight – medium-bodied, suitably edgy with acid, and very low-key in tannin and oak influence – but voluminous in varietal fruit qualities, its flowery, red cherry, violet-like perfumes tingling the nose. A wine that screams for pizzas or pastas in herby tomato sauces.
2014 St. Amant, Leventini Vineyard Lodi Barbera ($18) – St. Amant's 17th vintage of this wine, remaining a standard bearer of the Lodi style: positively plump in black and red berry fruit (black cherry/cranberry) fruit aromas; the varietal's high acidity tasting almost sweetly entwined with the high toned fruit profile, sprucing up a full, fleshy feel, filled out by pliant tannin and smidgens of American oak. This vintage, already sold out at the winery.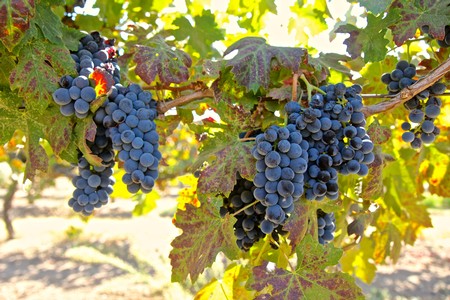 2015 St. Amant, Leventini Vineyard Lodi Barbera ($18) – The winery's latest bottling (scheduled for early 2017 release) is even more successful, and quintessentially "Lodi," than the previous vintage: lavish nose of baking blackberry/raspberry pie, complete with kitchen spices and good, natural acid zip. The varietal edginess is still a little sharp, but the upbeat, fresh, teeming varietal fruit qualities are stunningly pure and extravagant.
2013 Borra Vineyards, Home Ranch Carrú Vineyard Lodi Barbera ($25) – The distinctive, terroir driven character of the Borra family's 1972 planting is the pungently earthy (like compost and eucalyptus) notes beneath bright strawberry/cherry fragrances; medium-full bodied, yet not rough or weighty; with the grape's fresh plum-like tartness winding up the red fruit qualities on the palate. A longtime favorite food match? A slow cooked stew of gamey lamb and carrots served over ribbons of pappardelle pasta, or simple grilled grass-fed loins of beef.
2013 Borra Vineyards, Lodi Heritage Field Blend ($25) – This wine utilizes the family's same old vine Barbera (70%) in a co-fermentation of ancient vine (planted in the early 1940s) Carignan (10%), Petite Sirah (10%), and Alicante Bouschet (10%). The result is a dramatic nose of blacker fruits (blackberry, elderberry) mixed with black cherry aromas; a good dose of the compost-like earthiness emblematic of the estate; and a deeper, more layered and vibrant feel than the pure Barbera bottling on the palate, yet still dominated by the lip smacking acid edginess of the grape.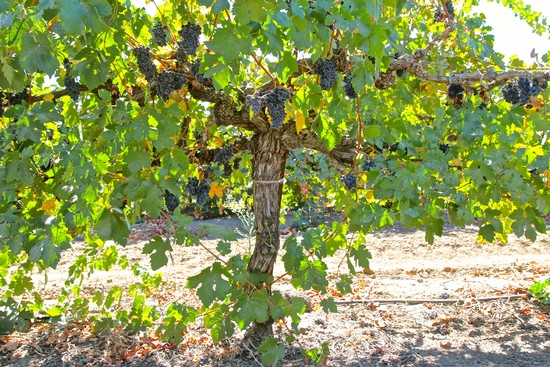 2014 Oak Farm Vineyards, Lodi Barbera ($25) – In this tasting, a sleeker, sculpted, come-hithery perfumed, fruit-driven style of Barbera crafted from considerably younger vineyard sources – Ron Silva's Silvaspoons Vineyards in Lodi's Alta Mesa AVA, and Jonathan Wetmore's Round Valley Ranches in Lodi's Jahant AVA. The red berry perfumes and bright, upbeat, fullsome flavors are sweetened by a veneer of vanillin French oak (25% new); kept buoyant and balanced by the natural acidity of the grape.
2013 Sorelle, Belleza Fra Lodi Barbera ($25) – Also from a fairly young vineyard (planted in 2008) located at the southernmost edge of the Lodi appellation, skirting the north side of the Calaveras River. And in this youthful bottling, exuberant varietal fruit comes across as slightly candied black cherry boxed in caramelized oak notes; medium-full bodied, zesty, yet rounded, almost soft in the middle.
2014 Jeremy, Lodi Barbera ($24) – Sourced from Noma Vineyard, one of the Lodi vineyards originally planted in 1972 for E. & J. Gallo; and stylized with a blending of 10% Petite Sirah (says Jeremy owner/winemaker Gary Trettevik, "I am all for vineyard and varietal expression, but I also like the extra dimension that Petite Sirah brings to the wine"). The nose is brightly perfumed with red cherry and toasty oak; and on the palate, a silky texture is interjected by an acid edginess and full yet restrained grip of rounded tannin.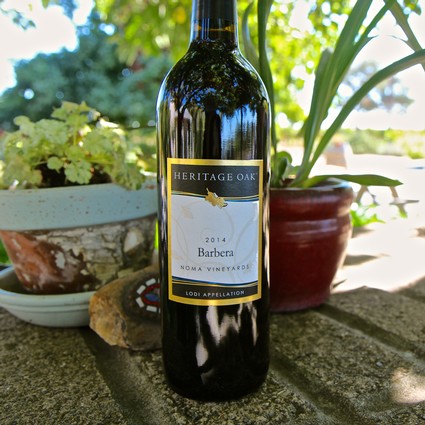 2014 Heritage Oak, Noma Vineyard Lodi Barbera ($28) – Heritage Oak owner/winemaker Tom Hoffman tells a story that typifies longstanding relationships in the Lodi wine community: "I wasn't planning on making a Barbera in 2014, but then Leland Noma drove up with 2 tons of fruit and asked if I could take it. I told him I couldn't, I was all bought out for the year. But Leland said, 'Oh, don't worry about paying for it... just take it and see what you can do... if it works out, great – but if it doesn't, all the same to me.'" As it turns out, the 2014 Heritage Oak is a fabulously sleek, polished, tight-grained, even keeled Barbera – very much in Hoffman's crafty style, as much as the emphatically tart edged, red berry perfumed character of the grape. At the same time, the wine has a plush, rounded feel, with subtle oak spices adding complexity to the wafting varietal fragrance.
2014 Macchia, Delicious Lodi Barbera ($21) – Macchia owner/winemaker Tim Holdener takes the lion's share of Leland Noma's 1972 planting each year, and applies his own winemaking touches to fashion Lodi's deepest, darkest, most aggressive style of Barbera (and one of the most bodacious in the state). The 2014 has a big feel – fleshy sensations punctuated by prickling, tingly acidity – filled out by voluptuous fruit and toasty oak sensations. Admits Holdener, "I pick Barbera a little riper than most wineries, but I've always felt that you can do this with Leland's grapes because, no matter what, it always comes in with screaming acid... and besides, I always say you can add a little water to lighten the wines from super-intense grapes, but you can never add flavor."
2015 Macchia, Delicious Lodi Barbera ($21) – Macchia's upcoming release is even deeper and darker than the 2014; the lavish, floral red berry/cherry fruit notes mingling with roasted coffee scents; big, sharply creased, yet velvety textures softening the impact of sinewy, full-bodied, grippy sensations on the palate. Winner-winner-braised-pork-in-tomato-dinner!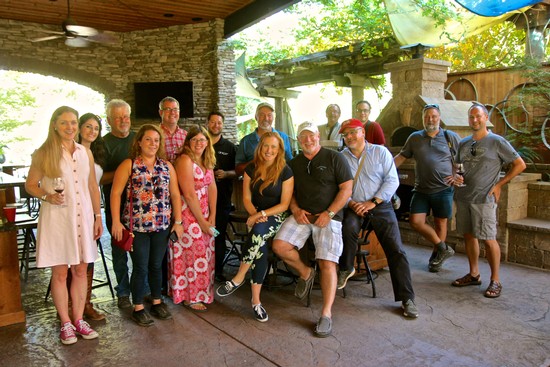 Comments