Letters from Lodi
An insightful and objective look at viticulture and winemaking from the Lodi
Appellation and the growers and vintners behind these crafts. Told from the
perspective of multi-award winning wine journalist, Randy Caparoso.

August 25, 2020 | Randy Caparoso
Lodi's Rescue Dog Wines get to the heart of what matters in wine (a quality of life)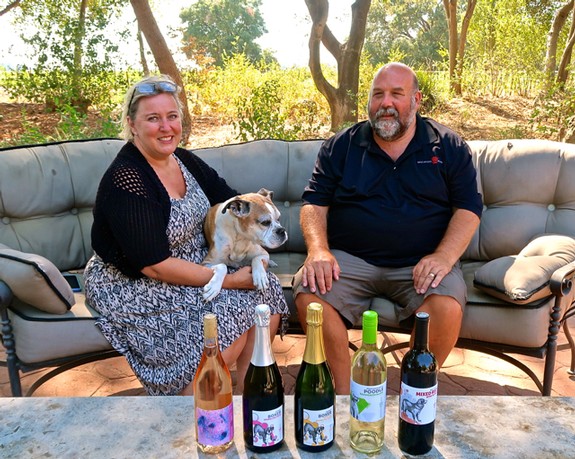 Blair and Laura Lott got the hankering to escape the "insanity" of living and working in the Bay Area. "The traffic just got crazier," Mr. Lott tells us, "and we didn't think we could go on like this."
And so the couple sold their very successful business (Massage Envy) and embarked on arguably an even crazier new career: as wine producers.
"We looked everywhere from Paso Robles to Napa Valley for vineyard and winery properties to buy," says Mr. Lott, "and someone suggested, have you considered Lodi?... check it out, it's fantastic."
The Lotts followed suit, liked what they saw, and settled on a 19.5-acre property with a home and old vines (since pulled out and replaced with new, trellised vines) on Acampo Rd. That was in 2016. They didn't waste time establishing their wine brand, because they also decided to do this in a way that follows their heart — their love of dogs.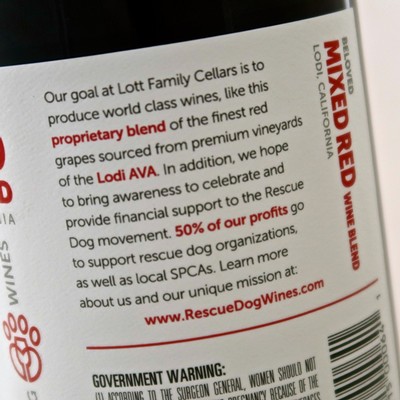 Rescue Dog Wines' stated goals are twofold:
1. Produce "world-class wines" from certified sustainable Lodi AVA grapes, with
2. 50% of all the profits go to the support of rescue dog charitable organizations such as local SPCAs or Red Rover, a national response effort to shelter animals that are victims of natural disasters, neglect, or domestic abuse.
Says Mr. Lott, "We won't compromise on either one of our goals. I don't think it's too much to ask that wines, even to benefit Rescue Dogs charities, also be very good wines. At the same time, we're not the type to get caught up in all the snobbery about wine. If you enjoy drinking wine, it's good wine. I always think of my uncle — if you gave him a glass of water instead of wine, he'd always ask if you wanted him to take a bath.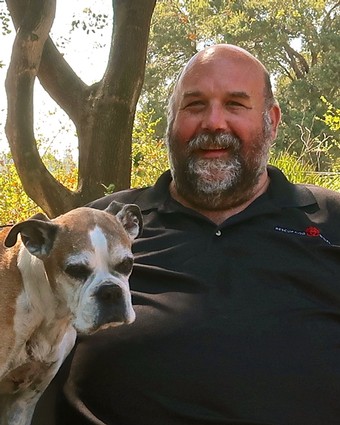 "Sure, we put dogs on our label, but the last thing we want is for people to think that Rescue Dog Wines is a novelty brand. We want to deliver a quality of life by making sure we're bottling very good wines, the same way we want to give dogs a quality of life."
To make good on this promise, the Lotts did the smartest things anyone can do: They hired top-notch Lodi growers and vintners to produce their wines — Peltier Winery & Vineyards (one of Lodi's leading LODI RULES for Sustainable Winegrowing farming companies) for their table wines, and LVVR Sparkling Cellars for their Champagne-style sparkling wines.
"We started with about a barrel of red wine (adding up to just 25 cases)," says Mr. Lott, "and then we had 10,000 people asking for it. So we asked Susy (Peltier Winery winemaker Susana Vasquez) to help us duplicate the quality with 2 pallets worth (over 100 cases), which also flew out the window."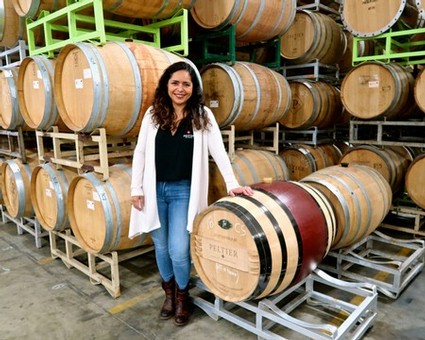 Capitalizing on Vasquez's talent for bone-dry Sauvignon Blanc, they bottled an equally popular Rescue Dog white from that varietal, and then also added a dry rosé made from Pinot Noir. Then they discovered LVVR's custom sparkling wine offerings. "Laura likes a sparkling rosé," says Mr. Lott, "and we also got Eric (LVVR owner/winemaker Eric Donaldson) to produce a demi-sec style sparkler for people who don't like dry."
"Both Susy and Eric are great to work with. Susy especially will spend any amount of time with you, making sure you get exactly what you want. When she says, 'I'm your winemaker,' she really means that."
Consequently, Rescue Dog Wines have grown exponentially. "We sold over 200 cases last year (2019)," says Mr. Lott, "and we'll double that this year. If our roll-out in markets in other states goes according to plan, I'm projecting 8,000 cases in a few more years.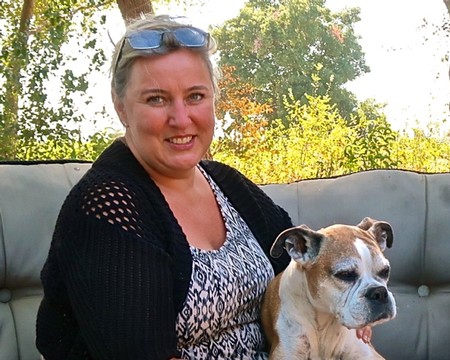 "Truth be told, we're not yet profitable, but we're still keeping our commitment by donating half our revenue to several animal organizations. We're doing it by not paying ourselves. Someday, though, I hope we'll be able to donate 100%."
And for wine and canine lovers alike, the best part of all of this is that the wines are also wonderful! Our notes on the current releases of Rescue Dog Wines, all highly recommended for their impeccable yet highly appealing qualities: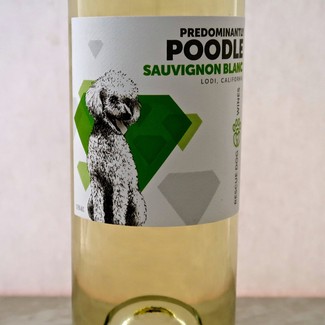 NV Rescue Dog Predominantly Poodle Lodi Sauvignon Blanc ($19) — Citrusy fresh fragrance suggesting grapefruit, fresh pear, and a touch of grassiness; very light, bone dry, and snappy on the palate, with a smidgen of lime and green apple in the taste. Adds winemaker Susana Vasquez: "Stainless steel fermented, skin contact before fermentation, blended with Vermentino."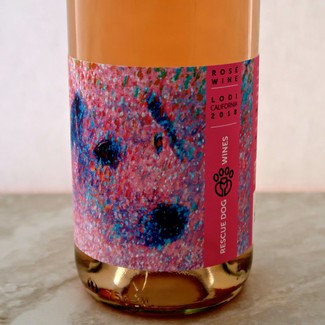 2018 Rescue Dog Lodi Rosé ($19) — Pale, transparent salmon pink color; delicate, floral/rose petal nose with a sliver of strawberry/cranberry and faintly earthy, potpourri-like (i.e., dried herbs and flower petals) nuances; airy light (just 11% alcohol) and dry, with a palate freshening lemony tartness. According to Vasquez: "Made entirely from Pinot noir, and pressed for rosé — no saignée (i.e., no "bleed" of pigmented juice from red wine ferments).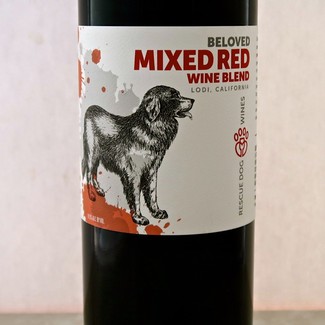 NV Rescue Dog Beloved Mixed Red Wine Blend ($25) — Deep purplish ruby color; bright, rich aroma suggesting sun-dried cherry/strawberry with a smidgen of smoky oak, a touch of tobacco, and some red meatiness; medium to full body with rounded yet somewhat meaty textured tannin, tinged with a touch of "Zinfandel" pepperiness, finishing with an almost blueberry-like quality. Susana Vasquez notes: "Jammy fruit qualities with not too much oak (10% of the blend saw no oak), blending Zinfandel, Teroldego, Petite Sirah, and Cabernet Sauvignon."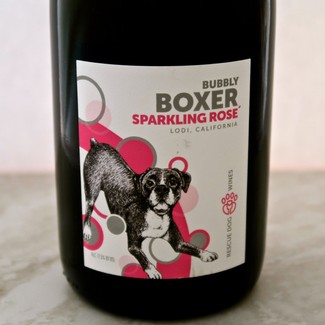 NV Rescue Dog Bubbly Boxer Sparkling Rosé ($38) — Pale pink and ultra-fine effervescence followed by a strawberry fresh scent (hinting at Jolly Rancher) laced with rising bread yeastiness; crinkly-crisp and dry entry, evolving into lively, fresh qualities with a touch of sweetness (according to winemaker Eric Donaldson, a Chardonnay base wine finished with .5% residual sugar, produced in traditional méthode Champenoise style).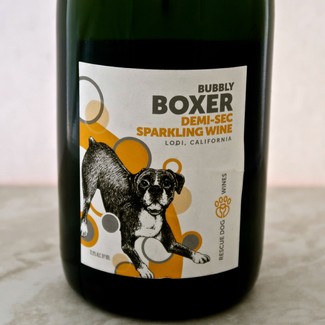 Rescue Dog Bubbly Boxer Demi-Sec Sparkling Wine ($34) — Rush of finely beaded bubbles, hissing in the glass like foamy ocean waves; fresh, summery fruit/pear-like quality in the nose with a touch of yeastiness; tart-edged, medium-sweet fruitiness on the palate, suggesting candied apple (according to Donaldson, approximately 2% residual sugar added to a Chardonnay base wine, méthode champenoise).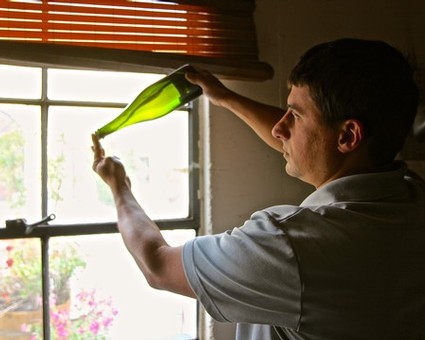 Comments