Letters from Lodi
An insightful and objective look at viticulture and winemaking from the Lodi
Appellation and the growers and vintners behind these crafts. Told from the
perspective of multi-award winning wine journalist, Randy Caparoso.

May 26, 2020 | Randy Caparoso
Persuasive arguments for late spring grilling and enjoying Lodi's huge diversity of white wines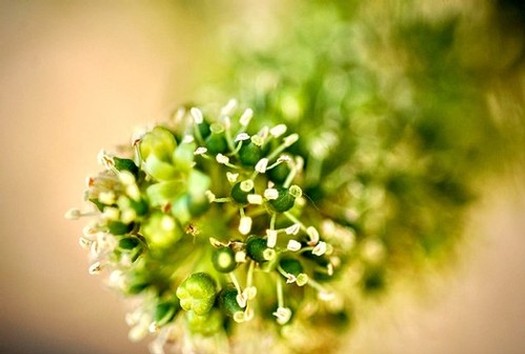 The second half of spring in California wine country often feels like summer because of the occasional heat spikes mixed in with the cloudy days and intermittent rains. Enjoy the latter because come summer there ain't no clouds or rain to be had in most of California's wine regions, largely characterized by a parched Mediterranean climate.
Wine grapes, of course, love this weather pattern, which we see in the Lodi Viticultural Area, the nearby Sierra Foothills, and up and down the North and Central Coasts. Grapes, in a way, are like people: give them lots of sun and they develop nicely colored skin tones — and in grapes, that "tan" means thicker skins, which leads to increased phenolics that ultimately result in wines with richer, more multifaceted aromas and flavors. Wish they all could be California... grapes.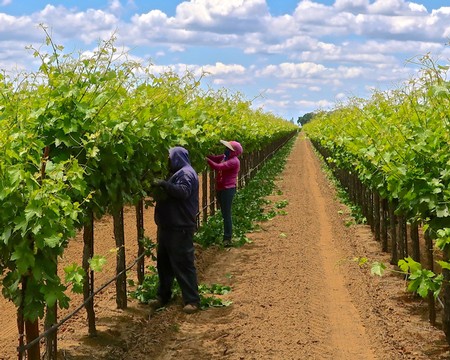 Viticulturists refer to this solar factor as the importance of ultraviolet (i.e. UV) exposure to grapes, when basking in maximum sunlight. (See ScienceDirect's Effect of grape bunch sunlight exposure and UV radiation). Scientifically speaking, UV increases flavor compounds. So while, in the summertime, you may occasionally curse the absence of clouds in the sky and the long days of 90-degree heat, rest assured the grapes are lovin' it.
Lodi, as it were, doesn't experience the early morning fogs, nor the sometimes blustery winds, of many parts of California's coastal wine regions during that annual race towards grape ripening during summer months. The UV here is bright and steadily unimpeded from sun-up to sundown; yet at the same time, Lodi-grown grapes can still rest every night because temperatures cool down to the mid-50°s, same as in more coastal regions.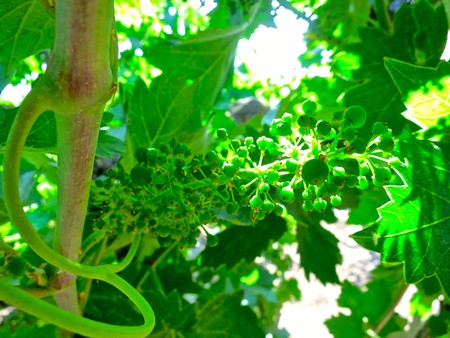 This, in fact, is why white wine grapes do so well in Lodi. Wine aromas come out intense, yet there is always a nice, fresh, natural fruit acidity that prickles the palate and makes the bright summer livin' and wine lovin' that much easier to appreciate.
Here's the other cool thing about Lodi during the warm days and cool nights of spring and summer: the climate and soil types (in regards to the latter, vigorous yet well-drained, the way classic European varieties like it) are highly conducive to a wide range of grapes. Yes, we grow Chardonnay, Sauvignon Blanc, Pinot Gris/grigio and Viognier here, and lots of it. But we also grow Albariño and Verdejo, Grenache blanc and Chenin blanc, and Vermentino, Kerner, Torrontés, Fiano, Bourboulenc, Clairette Blanche, Roussanne, Piquepoul, and a few dozen more. It's all possible because the region's natural attributes are conducive to it, wine producers are taking advantage of it, and consumers are eating it up.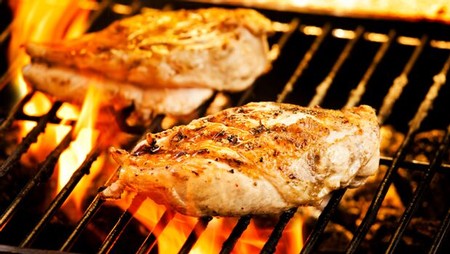 Recipe for Warm Weather Whites
The other day a chef/friend sent over a very flexible recipe for warm weather grilling of chicken and vegetables that immediately whetted our appetites for the wide range of white wines grown and produced here in Lodi. The chef — named Troy Guard — lives in Denver, but don't hold that against him: he sells quite a bit of Lodi wines in his seven different restaurants (the TAG Restaurant Group, named after Troy's dog). He has a lot of restaurants because, basically, he's a good cook (not to mention a good guy), and therefore the jillion or so people now living in the Denver area enjoy almost everything he does.
Still, Chef Troy is like anyone else in that what he loves above all is grilling in his own backyard or home for his growing family. So at the end of this post, we are sharing his extremely do-able and delicious way of grilling chicken and finishing it with a rainbow of vegetables under drizzles of balsamic vinegar that make the palate salivate for fresh white wines —especially the fresh, pure, crisply balanced styles of white wines now being produced in Lodi.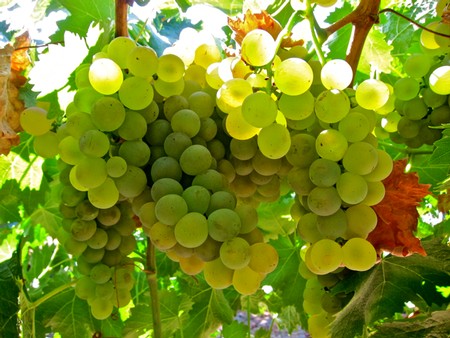 Six examples of types of white wine that celebrate the delicious diversity put out by our local wineries:
2017 Fields Family, Delu Vineyard Alta Mesa-Lodi Vermentino ($21) — Crackling crisp dryness combined with the supple, flowing feel natural to the Vermentino grape, characterized by a sense of minerality tinged by fresh citrus/herby notes like lemon verbena or thyme.
2019 Oak Farm, Mokelumne River-Lodi Fiano ($26) — One of Italy's more "ancient" grapes (highly prized by the Romans, for Pete's sake) estate grown and crafted to show off the zesty acidity intrinsic in both the varietal and Lodi's Mediterranean climate; absolutely bursting with melon and pecan-toned perfumes, followed by citrus and mineral sensations on the palate.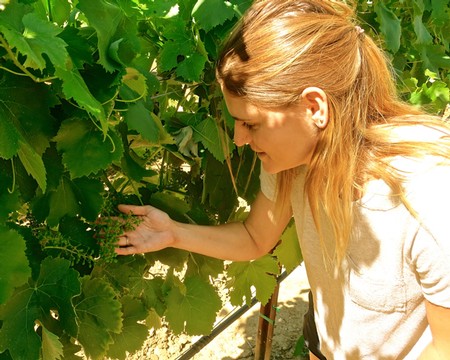 2018 Acquiesce, Mokelumne River-Lodi Clairette Blanche ($28) — Another one of those grape varieties (in this case, native to Southern France) that are more minerally than fruity in feel and flavor, manifested in subtle sensations that are both floral and fennel-like (you can almost smell the crunchiness), with a light yet densely textured composure.
2018 Mettler Family, Mokelumne River-Lodi Albariño ($20) — There are now over a dozen producers of this Spanish varietal in Lodi, and the fact that they're all good tells you how easily this grape has adapted to Lodi's terroirs. If anything, the Mettlers grow and produce an Albariño that is as "pure" as it gets — an ultimate clarity of the citrusy crisp, flowery, juicy apple/pear freshness of the grape, underlined by a subtle minerality and a refreshing sense of lightness.
2019 Klinker Brick, Mokelumne River-Lodi Grenache Blanc ($15) — This Southern French variety is another grape with a steadily rising profile. Klinker Brick, like other Lodi wineries, takes an unfussy approach to the varietal — no need to age it in oak or do anything to distract from the wine's exuberantly crisp, palate-ringing qualities, bursting with lemon/lime and mouth-watering, summer white peach-like freshness.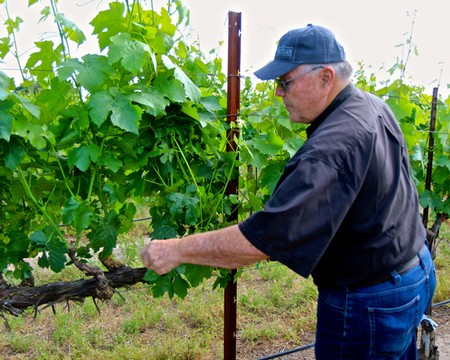 2019 Bokisch, Borden Ranch-Lodi Verdejo ($22) — A Spanish variety driven by its natural citrus/lemon/mandarin-like crispness and juiciness in its joyfully light and desert dry feel, plus nuances suggesting fun things like kitchen-spiced apples and wafting scents of jasmine. Is there a better "summer white?"
2019 Markus Wine Co., Joey Insieme ($22) — Owner/winemaker Markus Niggli doesn't really do "varietal" labeling —hence his line-up of wines with proprietary names of personal significance to Mr. Niggli — even though 95% of this wine consists of Torrontés (better known around the world as Argentina's major white wine grape) grown by Silvaspoons Vineyards at the north end of the Lodi appellation. The other 5% is Traminette, an extremely perfumey French/American hybrid wine variety grown by Cain Vineyard in North Carolina. The result is a bone-dry white that actually downplays the intrinsic intensity of both grapes, coming out subtle in their peppery spiced grapefruit and honeydew profiles, while finishing lemony crisp, almost briny in its minerality. In other words, very crafty, yet very "Lodi" in its freshness and originality.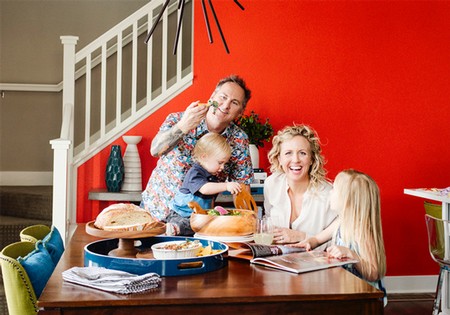 The Guard Family's Grilled Chicken with Garden Vegetables
For chicken:
4 six-ounce portions of chicken thighs
2 tablespoons olive oil
1/2 teaspoon salt
1/2 teaspoon pepper
Vegetables:
4 ounces green beans, blanched and roughly chopped
1 large cucumber, roughly chopped
3-4 ears of corn, grilled and cut off the cob
2 tablespoons Italian parsley
Sprinkle salt and pepper to taste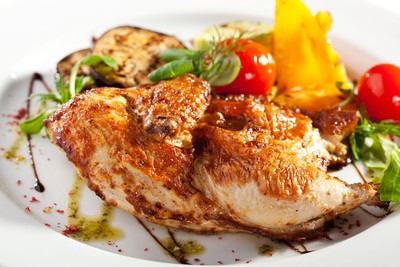 Garnish:
1 cup fresh tomatoes, roughly chopped
1 tablespoon olive oil
1 tablespoon white balsamic vinegar
1 tablespoon chives (or any herb you have in your garden)
In a bowl, toss chicken with oil, salt and pepper. Heat skillet or grill and cook over medium-high heat, 6-7 minutes on each side. Arrange fresh vegetables on each plate (I like to pre-cut all the veggies and let my kids have fun arranging) and place the chicken on top. Drizzle with olive oil and balsamic vinegar, and top with tomatoes and chives.
Comments