Letters from Lodi
An insightful and objective look at viticulture and winemaking from the Lodi
Appellation and the growers and vintners behind these crafts. Told from the
perspective of multi-award winning wine journalist, Randy Caparoso.

July 20, 2023 | Randy Caparoso
Perch Wine Co.'s first Lodi releases add to the growing number of independent handcraft producers looking to Lodi for alternatives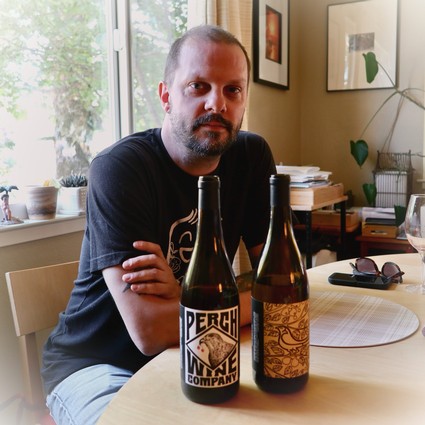 Adam David Saake was born and raised in Sacramento and has never moved. After nearly 40 years, it is still the center of his universe.
He has, however, moved around just far enough to get a taste of the bigger world of wine grapes and products. Enough, you can say, to make a rational decision to specialize in grapes grown closer to his backyard, in Amador County and the Lodi winegrowing region.
You can also say that for a winemaker with only two real commercial vintages under his belt, Mr. Saake has achieved a modest degree of notoriety. There must be a reason. Is it the wines, his obdurate homie status, the fact that he is an upstart, teeny-tiny producer? Has he actually "paid his dues," or does that really matter? Whatever the case, here is his story...
First, for the past year and a half, Mr. Saake's recently minted Perch Wine Co. brand has been produced at Lodi Crush, a Downtown Lodi custom crush facility owned and operated by Gerardo Espinosa. Espinosa himself has his own wine brand, Anaya Vineyards, as well as a nifty little wine bar, called The Lounge at Lodi Crush.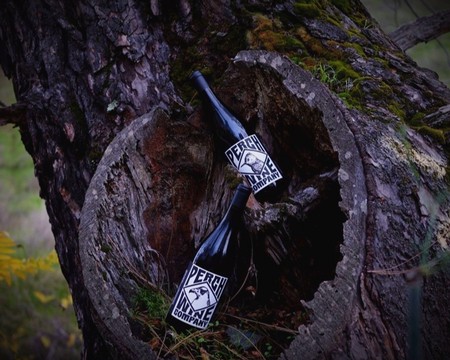 Says Saake: "In 2022 when I moved my production to Gerardo's I decided to branch out from only making Amador County wine and try my hand at some Lodi vineyards. I launched my brand in 2020. 2023 will be my fourth commercial vintage.
"It started as a pandemic thing. In 2019 I made one barrel. The following year during the lockdown, I had plenty of time to figure out what to do with it. Really, though, I was flying by the seat of my pants. The first hurdle was figuring out a brand name. But I'd always been an avid bird watcher. One day I was in the backyard of a teacher/friend of mine, and she suggested the name 'Perch.' That works out perfectly for me because it's personal and unique enough to be remembered by anyone.
"I started off as a fan of wine. It took a while to start thinking about getting into the industry. If anything, I've always been one to follow my passions, never interested in getting a degree or a job leading to some kind of mundane existence. I like to play drums, for instance, and to make art—the bird on the Perch Wine Co. label is one of my own illustrations. I'm also very much into food and beverage, so when I wasn't pursuing other passions I always worked in restaurants, either cooking or managing—something I still do, as a matter of fact.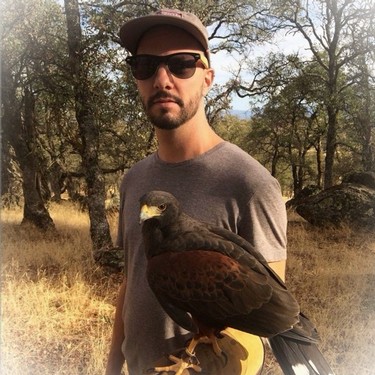 "One day, in 2007 or 2008, I ran into an old friend I knew from the restaurant industry who was pursuing a sommelier certificate through the Court of Master of Sommeliers. We rekindled our friendship and he introduced me to wine, in a much bigger way. Right away, I got bit by the bug. I started showing up at every wine tasting and rubbing elbows with sommeliers. I never wanted to be a sommelier, but it got me seriously considering going out to explore wines professionally.
"I met with another friend who had just come back from Hawke's Bay in New Zealand where he worked for a winery. I asked him if I could join him the following year, so in 2016 I was off on a plane to New Zealand and got a job as a harvest intern. The winery owners, a winemaking/viticultural couple, had to endure me crashing at their home and asking a million questions. I came back and did other winery internships in Amador County while picking up restaurant management jobs.
"I got my first paying job in the wine industry at Skinner Vineyards in the Sierra Foothills, followed by more harvest positions in the Central Coast [of California] as well as in Chile, before coming back to Amador County to work at Turley Wine Cellars. By 2020 I felt like I was ready for something more, so I left Turley, went to school, and got a viticultural certificate in Folsom.
"At that point, having quit my actual paying jobs in wineries, the question was, what next? Like I always did, I wanted to follow my passion. The right move seemed to be to start my own company. Perch is still too small to actually make a living doing that, but the plan is definitely to turn it into a full-time job."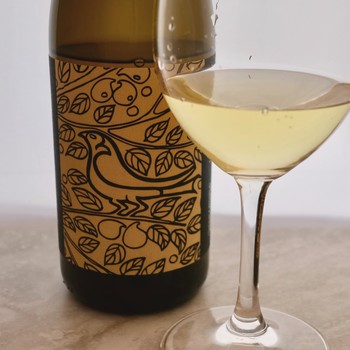 Perch Wine Co.'s first Lodi-grown releases
2022 Perch Wine Co., California White Wine ($26)—Pale brassy gold color and floral, moderately fragrant, honeyed scent with a distinct sense of minerality, a core of fresh-cut lemon, and faint whiffs of kerosene oil, which can be strangely appealing. On the palate, a desert-dry white wine that is light as a feather (12.5% ABV), lemony crisp yet silken fine while mildly grippy on the palate, making for long, persistent flavors.
Explains Saake, "This wine is 100% Riesling, almost all of it grown in Mokelumne Glen Vineyards here in Lodi. It was native yeast fermented and handled only in a 55-gallon stainless steel drum, seeing no oak. The reason why I labeled it as a 'California White Wine' with no indication of the grape is that I don't want anyone tasting it with a preconceived notion of what a 'Riesling' is supposed to taste like. Riesling drinkers are the worse when it comes to assumptions. I think this wine is too good to be judged that way.
"Besides, when you tell a lot of wine drinkers 'this wine is a Riesling' they immediately think, 'Yuck, I don't like sweet wines.' Well, this wine is absolutely dry and has its own qualities, nothing to do with fruitiness. For me, a good white wine should be all about balance and texture, with fruit and acid propping up those characteristics. I think this wine is very successful in doing exactly that, yet you can't compare it to any other Riesling.
"The other story behind this wine is that it's tough starting off as a small guy because you can't expect to get consistent access to the best fruit or the best vineyards. The way I look at it, when you're the new guy you just have to be patient and be thankful for what you get. In the previous vintage [2021] my one white wine was a Sauvignon Blanc from Amador County. I couldn't make another one in 2022 because those grapes got damaged by frost. Luckily I got access to some Riesling from Mokelumne Glen. I'm very thankful and more than happy because the wine turned out so good. Put it this way—it's a wine I'd like to drink, which to me is the most important thing."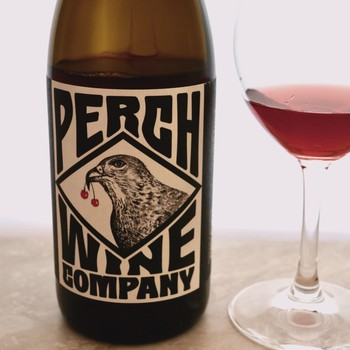 2022 Perch Wine Co., Lodi Cinsaut ($28)—Pale, nearly translucent, orangy brick red color signaling a lighter style red wine, which is manifested in this lean, zesty, acid-driven red unobstructed by tannin or any sign of oak (strictly neutral barrel aged). The nose is shy yet appealingly scented—suggesting a slightly underripe strawberry with a tingly dash of white pepper. To many wine lovers, this wine may seem underripe or malnourished, like a scrawny, gawky, problematic teen; but to a growing number of other wine lovers, this wine is just right, more like a beautifully slim, refreshingly perky teen. It's all in the mind (or palate) of the beholder. Everyone, as it's been said, can have good taste, but not necessarily the same taste.
The way Mr. Saake tells the story about this, his first red wine from Lodi: "This is 100% Cinsaut from young vines planted by Tegan Passalacqua in his Kirschenmann Vineyard [occupying a corner of an east side Mokelumne River-Lodi block better known for old, old Zinfandel, originally planted in 1915]. Fermentation started naturally, all 100% whole cluster [i.e., stems and all]. We did a little foot stomping and allowed the ferment to start slowly, of its own volition, letting it coax out its own flavors.
"The tannin level is very soft because that's the way it is with Cinsaut grapes. The wine comes across as light and maybe even a little green because the grapes were picked at relatively low sugars, but this is exactly the kind of red wine I like—a lot of summery strawberry flavor, just the right amount of acid. It's lively yet very textural, with lots going on in the mouth. The kind of wine that starts off gentle and then comes on just when you need it to—I love that in red wine.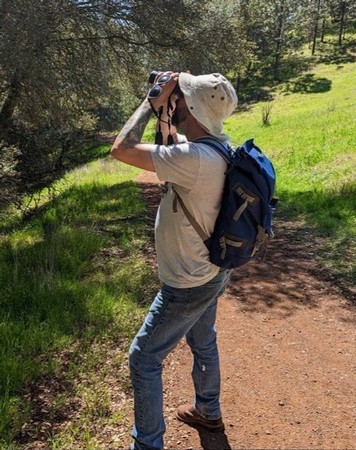 "This coming harvest [2023] I hope to make a few more Lodi wines as I continue to get to know the great vineyards in the area. If I'm lucky enough to get more Cinsaut from Tegan, I'll make that wine again. If not, Tegan [Passalacqua] is saying I may be able to get some of his famous Kirschenmann Zinfandel, which would be fantastic.
"Now that I'm making all my wines at Lodi Crush, that gives me another connection. [Lodi Crush owner] Gerardo's family grows excellent Petite Sirah, and I'm happy to report that I'll be getting some of those grapes this year. Gerardo and I were just looking at the vineyard this morning. This will be fun because I'll be able to come out with a Petite Sirah reflecting my own style, which is as transparent as possible [i.e., tasting more like a Petite Sirah coming from a particular place rather than a varietal or mass-market expectation of "Petite Sirah"], picked a little ripe but not overripe, and no new oak—more about texture and acidity than tannin, oak or fruitiness.
"I'll continue to produce Amador County wines because that's where I first cut my teeth. My other goal is to produce Lodi wines that give a real sense of what Lodi is all about. The kind of wines I like, and want my brand to be known for."
Comments