Letters from Lodi
An insightful and objective look at viticulture and winemaking from the Lodi
Appellation and the growers and vintners behind these crafts. Told from the
perspective of multi-award winning wine journalist, Randy Caparoso.

March 8, 2023 | Randy Caparoso
Peltier's new winemakers introduce innovations to an already innovative winery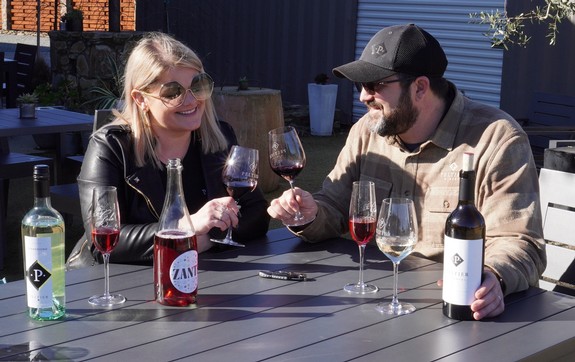 Zante, the new baby
The Schatz family, one of the Lodi appellation's most important growers, has done it again. Or shall we say, twice again: They have landed not one, but two extremely talented winemakers, with impeccable credentials, to lead the production operations of the family's Peltier Winery & Vineyards.
Both winemakers—Head Winemaker Gianni Abate, and Associate Winemaker Bryce Willingham—came aboard just before the 2022 vintage, and took off with a running start. They have just released a brand new, and quite original, Peltier bottling called the Peltier Winery Lodi Zante ($18).
The Zante is a vividly pink, almost blue-toned, gently effervescent wine consisting of 100% Zinfandel; which would technically make it—if you can suspend any prejudgement—a "White Zinfandel."
Zante, however, goes far beyond any White Zinfandel. For one, it is virtually a dry wine—although finished with 6 grams of residual sugar, the wine's unusually high, tart balance of acidity renders a dry impression on the palate—and is light as a feather, weighing in at just 10% ABV (i.e., alcohol by volume). The beauty of it is that it soars with a fresh fruit profile suggesting tingly cranberry and pomegranate. It may be the most easy-going wine you've tasted in a long time.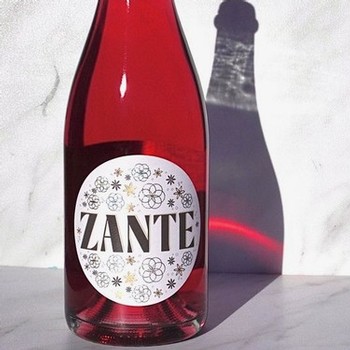 "You can say that Zante was our first baby as Peltier winemakers," said Willingham. "We're not afraid to call it a White Zinfandel because it's a completely different take on the idea." Abate adds the details: "The Zinfandel grapes were picked very early in the season, at about 19° Brix, with a purpose—the plan was to ferment it part-way and then put it in a pressurized tank to finish fermentation, which allowed the wine to retain a little bit of CO2 resulting naturally from the fermentation [as opposed to an artificial carbonation]."
"Zante," in fact, is a shortening of the traditional Italian word for partially sparkling wine, called frizzante. Says Willingham, "When we picked the fruit the berries tasted totally like Jolly Rancher Watermelon [hard candy]. Zante reminds me of a sweet-tart, with a refreshing balance of natural acidity and citrus/licorice fruit."
"Zante is as interesting to talk about as it is to taste," says Abate. "It's already a big hit in the tasting room because it teaches customers about how wines are made—in this case, how you can take the dark pigments in the skins of Zinfandel, which usually produces a red wine, to make a rosé, and turn it into a wine with an even fresher, the more vivid taste of the Zinfandel grape, yet super-light and dry."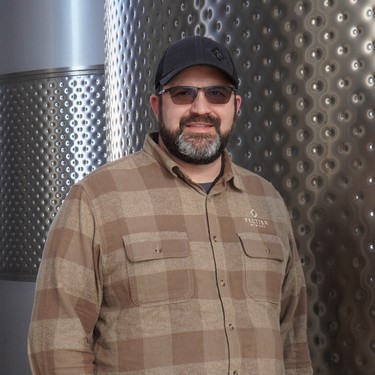 Meet the Peltier winemakers
Head Winemaker Gianni Abate might be new to Peltier Winery, but he is not new to the Delta area of California's Central Valley. "I grew up in the Stockton area," he tells us. "My family had an asparagus farm, and I graduated from the University of the Pacific." The problem was, Abate's first job was in a pharmaceutical laboratory. Says Abate, "After a few years I realized that the pharmacy industry was not for me."
Abate took a job in a different kind of lab, at a San Joaquin County winery, thus launching a more satisfying career. A job on the Robert Mondavi Winery team led to a winemaking position, in 2005, at the prestigious Morgan Winery in Monterey County's Santa Lucia Highlands appellation, and then another job specializing in Chardonnay and Pinot Noir production at Monterey's Chalone Vineyard, a legendary mountainside estate located on the opposite side of Salinas Valley from Morgan.
For Abate, being able to work with the Schatz family's full range of Lodi appellation grapes is not just an opportunity to continue the handcrafting of wines he has been doing for the past 25 years, but also represents a return home of sorts.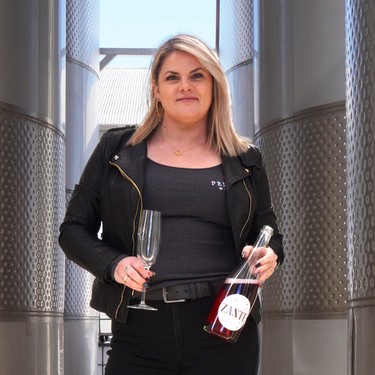 Associate Winemaker Bryce Willingham also has farming roots—hers in the Clovis, Fresno County community called Appaloosa Acres. Ms. Willingham attained a degree in Enology and Viticulture at Fresno State. After internships in both vineyard research and wine production, she began working for Constellation Brands in 2014, spending a lot of time at Turner Road Vintners on the west side of Lodi, plus a couple of vintages overseas, working with the company's New Zealand holdings.
New signature releases
In recent years Peltier Winery has established a reputation for wines such as Sauvignon Blanc, Chardonnay, and Cabernet Sauvignon that are second to none in Lodi wine country, and among the finest in the state. As if to demonstrate an anything-you-can-do-I-can-do-better mettle, they even produce amazing old vine Zinfandel and just about the finest Lodi-grown Petite Sirah.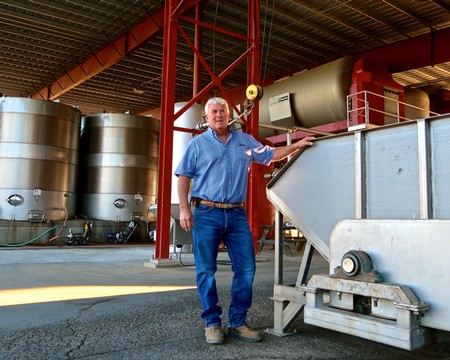 Among the opportunities both Abate and Willingham are excited about, however, is working with some of the estate's more unique, or exotic, grapes, namely Vermentino and Teroldego. The two vignerons were particularly excited about showing off their rendering of the former, the 2022 Peltier Winery Lodi Vermentino ($18): an exhilaratingly crisp, dry, lithe, and tart-edgy white wine with a sense of minerality punctuating fresh pink grapefruit and melon fruit notes, underlined further by lightly herby scents suggesting freshly cut grass.
The 2022 Peltier Vermentino, in fact, is a worthy successor to the winery's 2021 iteration, which garnered a Grand Gold Medal at the 2022 Vermentino International Competition held in Cagliari, Sardinia, involving many of the finest Vermentino-based white wines in the world.
Abate's first comments: "Although we make Vermentino the same way we make Sauvignon Blanc, Vermentino is not Sauvignon Blanc. The key decision is when to pick the grapes. We picked Vermentino early enough to keep the natural acid from the grapes in the wine, which is fermented cool in a stainless steel tank and bottled early directly from the tank. There is a touch of weediness, similar to Sauvignon Blanc, in this Vermentino, but the wine is a little fuller than Sauvignon Blanc, which has a stronger weedy, lemon grassy quality."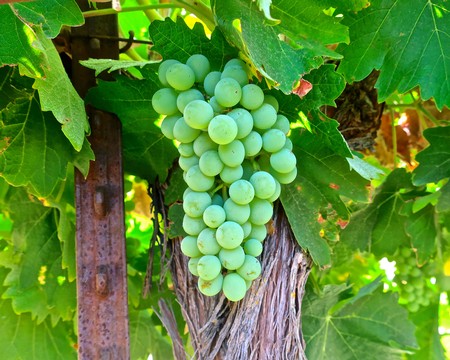 Willingham adds, "When people look for a light, dry white wine they are quick to go to Sauvignon Blanc, but Vermentino is a unique alternative. You can say the two varietals are like sisters—both wines have pyrazines [i.e., methoxypyrazines, or green herbal characteristics]. Underripe, green characteristics are perfectly natural and expected, in a Sauvignon Blanc. Vermentino, I think, becomes more interesting when picked just a tiny bit riper to get a nice balance of tropical flowery fruit to balance out that herbaceousness.
Abate and Willingham are just as enthusiastic about the 2022 Peltier Lodi Rouge Rosé of Cabernet Sauvignon ($20); particularly the way this wine captures a varietal definition in terms of a sense of fullness—you would expect anything called "Cabernet Sauvignon" to be full in body, and this wine balances that fullness with a fresh and easy lightness everyone looks for in a dry rosé—couching a luscious, bright, strawberry/watermelon/cranberry fruit profile.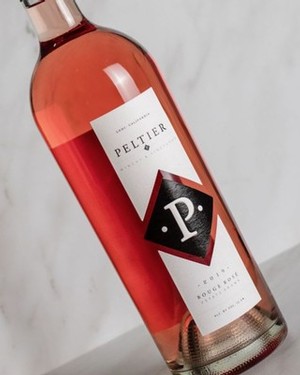 Abate comments, "Fuller-bodied dry rosés make some of the best food pairing wines. We also produce a Pinot Noir Rosé, which is lighter on the palate, but what makes this wine so unique is its intense cranberry/strawberry fruit and refreshing grapefruity acidity."
Perhaps the most unique wine of all in the Peltier portfolio is the 2018 Peltier Triomphe Premium Red Blend ($40), a three-way blend of Cabernet Sauvignon, Petite Sirah, and Teroldego: a purplish ruby red that is as deep and rich in color as it is in aromas and flavors, wrapped in a firm, meaty, even-keeled body, sturdy yet not overly strong in tannin and weight of alcohol (14.5% ABV). In fact, as intense and full-bodied as this wine is, it comes across with more of a "finesse" feel.
Abate shares some of the details: "The grapes are picked, fermented, and aged separately [12-18 months in barrels], before being put together in a blend. It's been the winery's most popular red wine of the past four, five years. For some reason, red wine blends are much more appealing than white wine blends.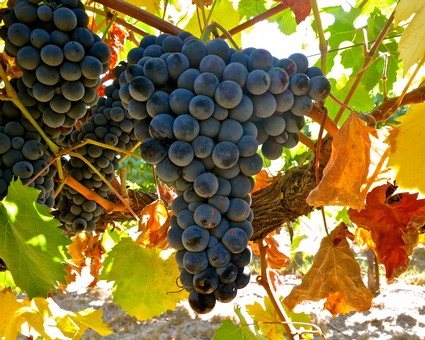 Willingham adds: "Teroldego is a unique grape that fascinates me. 100% Teroldego, which we also make, is a much bigger, more austere red wine. The Triomphe is more of a 'baby step' towards pure Teroldego, but it's the Teroldego that gives this blend its character. It's a grape with super-thick skins giving the wine its color and tannin—even more so than the Cabernet Sauvignon and Petite Sirah, which are dark and dense enough."
Abate elaborates even further: "The part that speaks the loudest in the Triomphe is the Teroldego. 2018 is our current vintage, primarily because the Teroldego component takes longer to mellow out than the other two varietals. Barrel aging is the key to this type of wine. The reason you age the wine in barrels is to achieve the polymerization of strong tannins. Teroldego tastes bitter early on, but when tannins polymerize [i.e., the process of individual tannin molecules binding together to form larger polymers, resulting in rounder texturing], the wines soften, smooth out, and become almost sweet."
"Tannin is a tactile component," says Willingham, "not so much a flavor, but it's the tannin that gives this wine its character and longevity."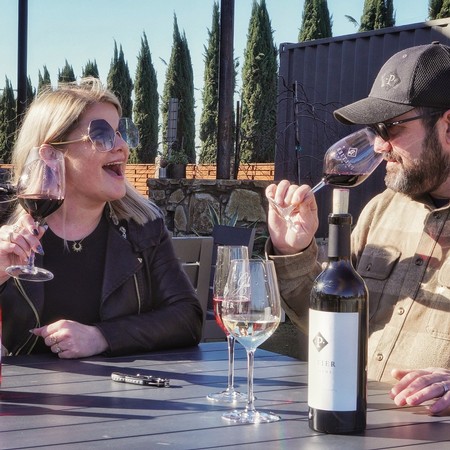 Comments