Letters from Lodi
An insightful and objective look at viticulture and winemaking from the Lodi
Appellation and the growers and vintners behind these crafts. Told from the
perspective of multi-award winning wine journalist, Randy Caparoso.

April 17, 2017 | Randy Caparoso
Peltier's Susana Rodriguez Vasquez brings new dimensions to Sauvignon Blanc and Lodi's winemaker community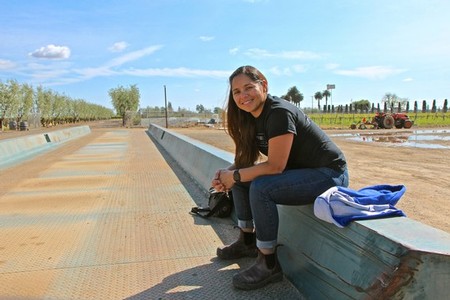 As much as we harp on the intrinsic ecological advantages of the Lodi Viticultural Area, there is also a growing number of "star" winemakers playing a crucial role in the region's growth.
True-blue Lodi wine lovers are familiar with some of the bigger names among our winemaking talents: Heather Pyle-Lucas at The Lucas Winery (who also consults at Estate Crush); David Akiyoshi at LangeTwins Family Winery & Vineyards; Chad Joseph at Harney Lane Winery and Oak Farm Vineyards; Adam Mettler at Michael David Winery and Mettler Family Vineyards; Markus Niggli at Markus Wine Co. (transitioning from Borra Vineyards); Joseph Smith at Klinker Brick Winery; John Gianinni at Van Ruiten Family Winery; Elyse Perry at Bokisch Vineyards; Ryan Sherman at Fields Family Wines; Stuart Spencer at St. Amant Winery; Layne Montgomery at m2 Wines; Mike McCay at his eponymous McCay Cellars... and now, of course, we are in big trouble because we are leaving a good number of others out of this accounting, but for the sake of brevity...
We turn your attention to a newer, brightly shining "star" winemaker who, so far, has been quietly working under the radar since joining Peltier Winery & Vineyards a little less than a year ago: Susana Rodriguez Vasquez, who calls herself Susy.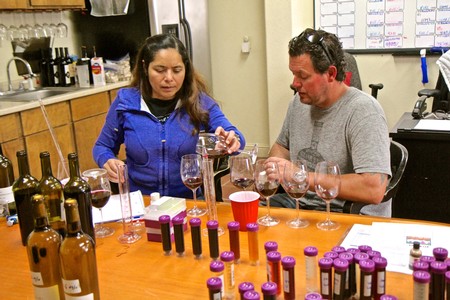 First, an edited version of the winery's biography of Vasquez:
Susy was born and raised in the town of Cochabamba in Bolivia. The daughter of professors, she was raised in the countryside, with a love of agriculture. This led to a B.S. in Agriculture at Universidad Mayor de San Simon, before relocating to the U.S.
After an internship at Cal Poly focused on organic crops, she became a liaison between the winemakers and vineyards for E. & J. Gallo, which sparked a penchant for winemaking. After receiving her Winemaker Certificate from U.C. Davis, Susy worked for 10 years at both E. & J. Gallo and Constellation Brands (for the latter, working primarily out of Turner Road Vintners on Lodi's Turner Rd.).
Since joining Peltier Winery in May 2016, she has demonstrated an impeccable palate for choosing the right grapes, and revels in each step of the way in the winemaking process with a passion that is infectious....
If you have driven past Peltier Winery at E. Peltier and N. Kenneflick Roads lately, you may have noticed some big changes wrought by owners (and third generation Lodi growers) Rodney and Gayla Schatz. There is dramatically evolving landscaping as well as a tasting room now open seven days a week, although construction of a new tasting room on the property is scheduled to begin any day.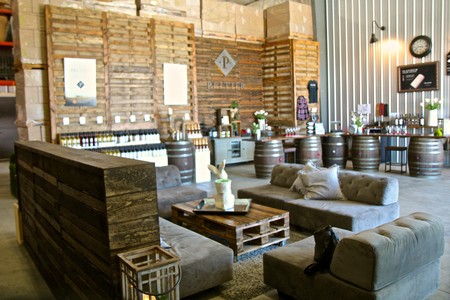 It was Ms. Vasquez's talent and experience that prompted the Schatz family to invite her to help their winery grow into the next phase; and with just one vintage (2016) under her belt, the decision is already reaping dividends. At the 2017 Rosé Today Competition held in Sonoma County this past March, the 2016 Peltier Black Diamond Lodi Rouge Rosé ($18) was awarded a Gold Medal (along with McCay Cellars for their 2015 Lodi Reserve Rosé), out of a field of 238 other dry style rosés representing the finest made in 12 states and 9 countries.
This is how we described the award winning Peltier Winery rosé in a recent blog post after being wowed by it at the Lodi Wine & Food Festival earlier in April: Unabashedly pink – a bright, coral reef-like blaze of pink color – with strawberry/cherry aromas and slinky, slurpy flavors giving a medium-full feel; bouncy fruit zipped by mild tartness (think cranberries with twists of lemon peel), as the wine hops joyfully back and forth across the palate.
So here's the scoop – and great example of how Vasquez is able to follow an unerring instinct – that we learned after chatting with the winemaker last week.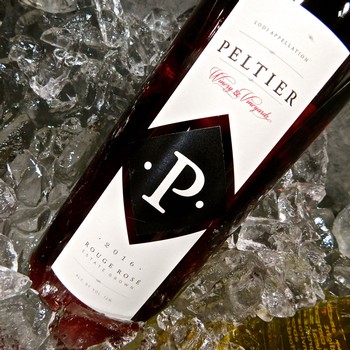 According to Vasquez: "The 2016 was the first time the winery made this style of dry rosé. We had an old vineyard planted to Cabernet Sauvignon that we could tell was not going to get fully mature. But the grapes had good aromatics, so I decided to ferment it as a rosé. We got so much color, at first we thought we'd need to strip a little of it out, but we decided to go with the deeper color in preserve the wine's fresh, intense fruitiness. In fact, we enhanced the color even more by blending in a little bit of Pinot Noir (a red wine cuvée), which also added a nice strawberry quality."
Vasquez attributes her willingness to take wines in new directions to her experience at E. & J. Gallo. "Doing research and trials comes naturally to me," she tells us, "which I got a lot of practice doing while working for Gallo. A winery (Peltier) this size allows me to experiment even more. The logistics of working in the corporate world, for a large company like Constellation, never allows you to do experimental trials. Working for Constellation was an amazing experience, but you're pretty much stuck making the wines that the corporation tells you to make. Under those circumstances, a wine like Rouge Rosé would never have been made."
Where Vasquez really show her chops, however, is where she has already taken the Peltier Winery Sauvignon Blanc program; even with its established track record of bright, light, crisply balanced, herby "gooseberry" style whites (similar to New Zealand Sauvignon Blancs) reflecting the high quality fruit grown by Rod Schatz in his Cosumnes River-Lodi AVA vineyards. The winery's current release – the 2015 Peltier Lodi Sauvignon Blanc ($18), crafted by its previous winemaker – falls into this vein, with an ease of soft, mildly tart, airy drinkability.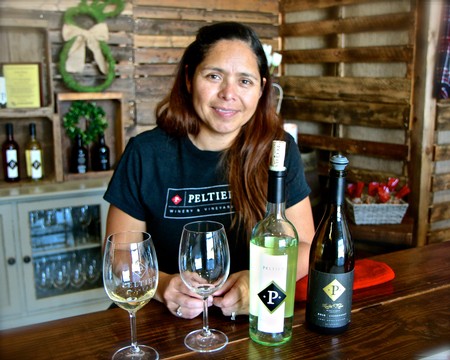 The Vasquez-crafted 2016 Peltier Lodi Sauvignon Blanc ($18), on the other hand, takes things into another dimension. The core of puristic, herby-green, fresh fruit is even brighter and more luscious than in previous vintages, highlighted by floral tropical notes. On the palate, the acid balance is a little more razor-sharp – tasting like a squeeze of the freshest imaginable lemon through silken fine cloth, transporting the wine through a long, penetrating, energetically fruited yet steely dry finish. At just 11.5% alcohol, the wine touches every part of the mouth, yet tastes light as air – Lodi-fresh air.
The success of the soon-to-be-released 2016 Sauvignon Blanc was no accident of Nature or vintage. It came by Vasquez's detailed oriented approach; particularly her bold move to skin contact fermentation (about 60% of the 2016), along with multiple yeast trials which brought additional flavor profiles to the winery's estate grown Sauvignon Blanc.
According to Vasquez: "Sauvignon Blanc from this area is naturally more tropical, even picked at just 19° to 20° Brix, which we did for the 2016. But I like a little greenness, even a touch of asparagus, which makes a Sauvignon Blanc a little more interesting, as long as there isn't too much.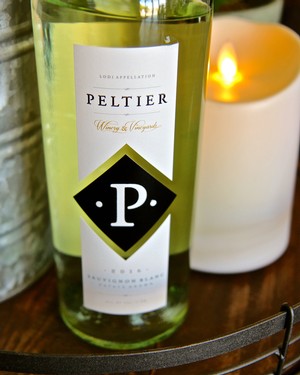 "Fermenting the Sauvignon Blanc on skins helps to enhance all the different qualities of the fruit. In 2017 we'll be able to go even further, with more yeast trials, picking grapes at different Brix levels, some greener, some riper, and maybe focusing on different vineyard blocks."
It helps, of course, to be able to work with winery-owned vineyards. Says Vasquez, "Rod makes things easy. He lets me know the sugar readings and waits for me to go and out and look at the grapes myself, before we make any picking decisions.
"I am very happy with the 2016 Sauvignon Blanc. It has that green, crisp acidity and intense fruit I look for, and is still absolutely dry with no residual sugar. But this was my first year, and I know we can make it even better. I will look to expand the mouth-feel and get a little more perfect with the skin contact fermentation, where can get all the good parts of the phenols (flavor compounds in grape skins) without any of the bitterness from the skins."
"Skin contact" white wine, in case you hadn't heard, has largely been relegated to a miniscule faction of mostly younger, experimentally minded American winemakers; many of them seeking to make so-called "orange" wines – which have coppery colors, as well as drying tannins, derived from fermentations on grape skins (in conventional white wine production, skins are immediately separated from juice precisely to avoid the orange-tinged colors and bitter tannin derived from skins).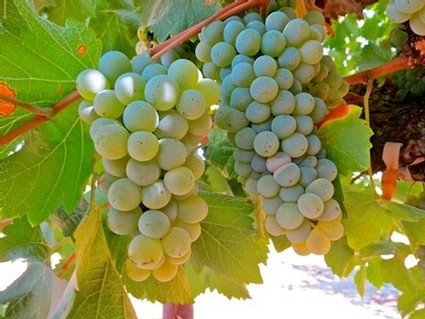 Vasquez's own adroitness with skin contact fermentation is entirely divorced from this school of "cool kid" winemakers – many of whom are following Old World (i.e. European) traditions, while conscious of "reinventing" the slowly grinding wheel of the domestic wine industry. Vasquez, as it were, came by her innovative approach through her work at E. & J. Gallo – that goliath-sized bastion of conventional wine production.
Says Vasquez, "Fermenting white wines on skins was one of the research trials I was able to do at Gallo. I can't begin to tell you how much experimentation goes on there, but in many ways Gallo is way ahead of the rest of the industry.
"My approach to Sauvignon Blanc is a result of a step-by-step progression. At Constellation, for instance, I was able to work a full vintage (in 2015) in New Zealand at Kim Crawford (part of the Constellation Brands portfolio), and I picked up a lot of ideas there."
With this unique set of skills and experiences, Ms. Vasquez is clearly bringing an extra dimension to the entire Lodi winegrowing industry. Bravo to her, and kudos to Peltier Winery & Vineyards for being bold enough to take this on.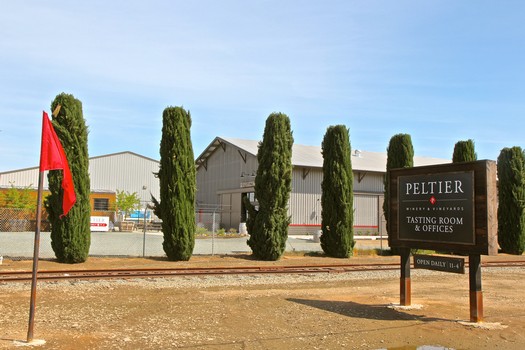 Comments