Letters from Lodi
An insightful and objective look at viticulture and winemaking from the Lodi
Appellation and the growers and vintners behind these crafts. Told from the
perspective of multi-award winning wine journalist, Randy Caparoso.

July 5, 2018 | Randy Caparoso
Paskett's summer releases reflect abiding respect for regional history and sense of place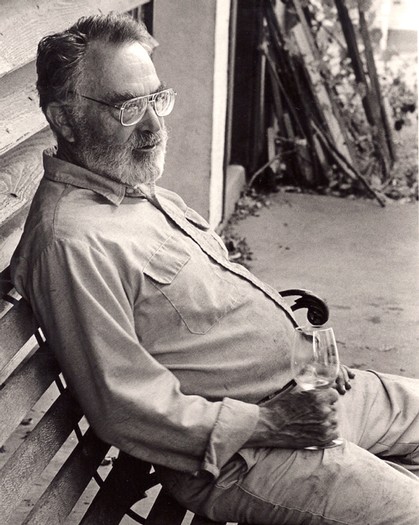 Since opening their tasting room doors just this past Thanksgiving weekend (2017), Paskett Vineyards & Winery's reputation as an artisanal estate has grown steadily.
This past June 30, 2018, about 45 friends, family and winery club members came together to taste Paskett's latest summer releases, under the shade of stately trees that (once upon a time) were part of the historic Langford Colony – a 320-acre showcase ranch farmed by Benjamin F. Langford, known as the "Father of the California State Senate," where he served between 1879 and 1900.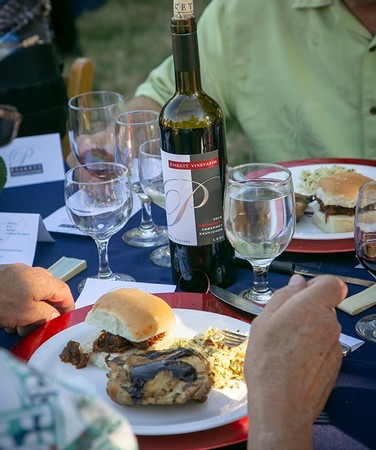 Living up to this illustrious past, owner/grower Lorraine Paskett doesn't do wine release parties in casual fashion. Reflecting the a painstaking attention detail seen throughout the restoration of the old Langford property – which includes a landmark planting of head trained Charbono (a.k.a. Douce noir, Corbeau or Bonarda), tucked along the Mokelumne River on Lodi's east side – Ms. Paskett also treated her guests to a full 4-course supper with the intention of showing off her wines the way she believes all wines should be appreciated: with good food, family and friends.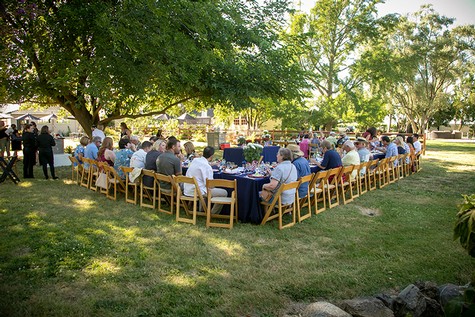 The 2018 Paskett summer release party (Goff Photography)
Case in point: The tasting started off with a lavish cheese and charcuterie spread assembled by Cindy Della Monica, the renowned cheesemonger/owner of Downtown Lodi's Cheese Central; enjoyed with the 2017 Paskett Espinosa Vineyards Lodi Albariño ($28). When wine lovers first visit Lodi wine country, they quickly become cognizant of the fact that Albariño is, in a sense, "Lodi's Chardonnay" – you find more bottlings of Albariño than Chardonnay in Lodi tasting rooms.
The Paskett Albariño also represents what's best about Lodi, figuratively and organoleptically speaking. First, it is grown by the Anaya family; consisting of four brothers – the sons of a bracero farm laborer who first came from Mexico to the San Joaquin Valley during the 1940s – in partnership with one of their nephews, Gerardo Espinosa (a full-time architect as well as talented winemaker). Secondly, the Albariño is crafted by Heather Pyle; Paskett's winemaker of note, also widely followed as the winemaker/co-owner of The Lucas Winery, following a stellar career as a director of winemaking for Napa Valley's Robert Mondavi Winery and Opus One Winery (between 1985 and 2001).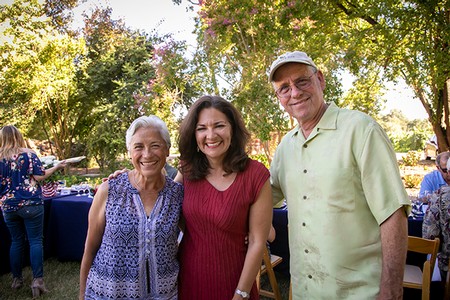 Third, and most important, is the 2018 Paskett Albariño itself: A white wine of precision dryness and tongue-tingling natural acidity – in keeping with the taste of more and more wine lovers – with a lemon drop nose and refreshingly crisp, light, minerally sensations. No wonder this varietal has become "Lodi's white."
To showcase the second and third wines, Paskett utilized the talents of Richard Berardi, chef/owner of Lodi's Tin Roof BBQ. Ever wonder what the ideal wine is for a classic wedge salad of crisp iceberg, sweet tomato, bacon and blue cheese? We learned that it is a good, bone-dry rosé. But not just any dry rosé. The transparently pale pink 2017 Paskett Estate Lodi Rosé of Charbono ($28) is, as the name infers, made from the Charbono grape, which is rare enough. How many people have tasted a rosé made from Charbono? This is, simply put, not a common thing.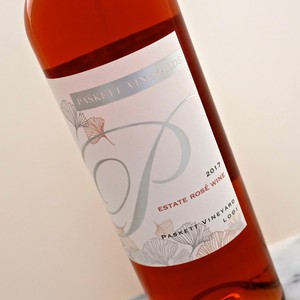 Nor is the taste of a Charbono rosé such as Paskett's; with its slightly puckery tartness counter-balanced on a coil so tense you can feel the snap, crackle and pop of natural fruit qualities as the wine skips across the palate, while the nose is tickled with flowery, lacy, rose petal and sweet tea perfumes like whispers of sweet nothings – or suggestions of tinkling ice cubes, cool mint and slow southern drawls on warm summer days. Nor is there any doubt that few rosés handle wedge salads with blue cheese dressing with as much ease and aplomb as Paskett's. A wine that is utterly, and uniquely, "Lodi."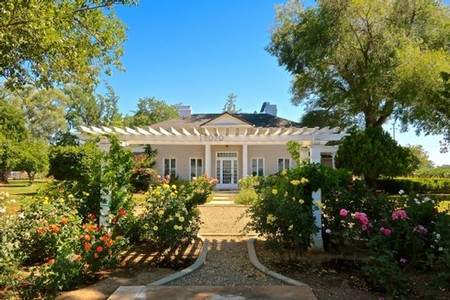 To go with a mixed plate of smoky chicken with a dripping of zesty, mildly vinegary, fresh berry gastrique, along with a pulled beef slider, fresh basil orzo and fire roasted root vegetables, we were treated to a stunningly fresh, vivid (in both purplish color and blackberry fragrance), sturdy, sharply etched yet round and lip-smacking 2015 Paskett Leventini Vineyard Lodi Barbera ($28). Longtime aficionados of Lodi wines may recognize Paskett's fruit source, Leventini Vineyard: old (planted in the early '70s in Lodi's Jahant AVA off N. Kennefick Rd.), gnarly, trellised vines yielding stingy crops of tiny berried/clustered Barbera, still going into highly regarded bottlings by St. Amant Winery (a local institution) and the Napa based Uvaggio Wines.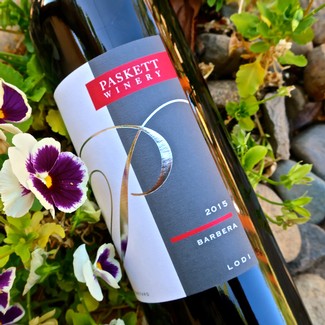 A couple of things distinguish Paskett's own rendering of Leventini grown Barbera. First, intriguingly nuanced herbal/weedy notes underlying the bright, fresh blackberry fruit aroma, mercifully free of obvious "oakiness" (just a subtle sprinkling of French oak spice, just hinting at vanilla). Second, there is a small yet judicious blending of Zinfandel in this Barbera, just enough to give the wine a lankier, fruit focused feel; the Zinfandel coming from the west-side Mokelumne River-Lodi vineyard farmed by Lorraine Paskett's father, Herb Paskett, along Lucas Rd. since the late 1960s. Mr. Paskett's planting, in fact, was one of Lodi's first vineyards dedicated primarily to Cabernet Sauvignon.
Says Ms. Paskett: "Barbera-Zinfandel was my dad's favorite red wine blend, which he made and bottled (for home consumption) for decades. We always added a small amount of Zinfandel to our own Barbera to help bring the fruit around, and the result is beautiful mouth-feel and finish. When my dad and I first mentioned the Paskett family approach to blending to Heather, she embraced the tradition and created an even better blend, leaning much more on the Barbera to stay true to the fruit."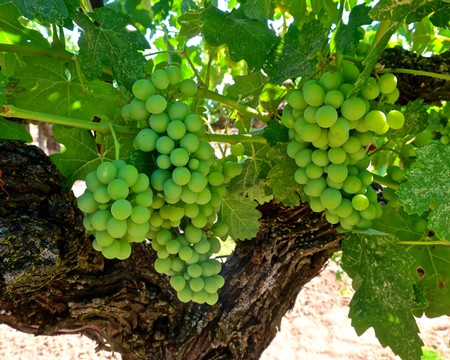 As the fourth and final match with Phillips Farms' iconic, Lodi-grown blueberry pie along with salted caramel cakes by Lodi's Frosted Flour (amazing cakes), the 2016 Paskett Estate Lodi Cabernet Sauvignon ($42) showed off the round, supple, yet solidly muscular structure and herby, beefy aromatics of the family's Lucas Rd. planting in particular, and the Lodi style of Cabernet Sauvignon in general.
If you, like more and more wine aficionados, have a yen for wines that 1) have a distinct sense of place (out of respect for the style and terroir-related parameters of that place) and 2) endeavor to achieve handcrafted qualities (as opposed to the expectations of big production/broad market commercial wine production), Paskett Vineyards & Winery is indubitably a brand to follow.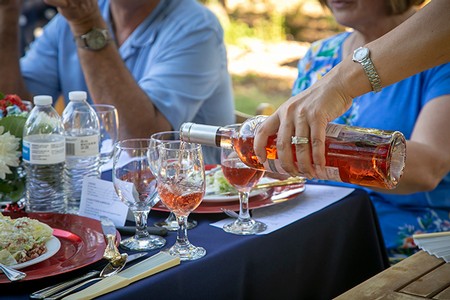 Comments