Letters from Lodi
An insightful and objective look at viticulture and winemaking from the Lodi
Appellation and the growers and vintners behind these crafts. Told from the
perspective of multi-award winning wine journalist, Randy Caparoso.

December 19, 2018 | Randy Caparoso
Our best (that is, most educational) blogs of 2018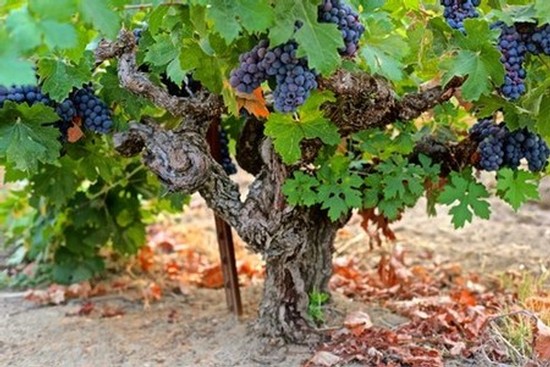 We call this page on lodiwine.com a "blog," but obviously it isn't like other blogs. It is not a forum from which we invite you (our dear readers) to rant and rave and freely opine, and neither do we. Our blog's purpose is to communicate stuff having to do with Lodi grapes, wines, vineyards, our growers and vintners, and their history and long held values.
Above all, the lodiwine.com blog is meant to educate. The thinking being, the more you know about Lodi wine country, the more you'll appreciate it. That said, the last thing we try to do is sell anyone on Lodi winegrowing. The objective is to be truthful, hype-free, and hopefully entertaining from that perspective. We don't dance, cheer or sensationalize, but we're not sorry about that.
The way we see it, Lodi grapes, vineyards, wines and people are what they are. They are neither "better" nor lesser than that of any other region in the world. If anything, our job is to point out all the ways Lodi is different from any other region. After that, it's up to you to decide whether it's to your taste or interest.
Needless to say, there is always plenty to talk about, as might be gleaned in the collection of posts below, which we consider our "best" or most educational of the past year. We started off 2018 with a special focus on the history of the City of Lodi, which, of course, is inextricably tied to the history of Lodi's winegrowing industry.
Zinfandel, one of Lodi's two original heritage grapes (the other being the commercially departed but never-to-be-forgotten Flame Tokay), has been very much on our mind over the past year. Plain and simple, more and more of Lodi's old vine plantings of Zinfandel are disappearing each year, and the question is how to keep that from reaching a point where the grape is no longer symbolic of Lodi winegrowing. Hence, the number of 2018 posts focused specifically on Zinfandel, culminating in November's National Zinfandel Day technical workshop takes a keen, sobering look at the future of Lodi Zinfandel.
Nonetheless, if Zinfandel should ever go the way of Flame Tokay, what remains is the fact that Lodi is, after all is said and done, incredibly friendly to wine grapes. It is why the AVA is easily the largest (in terms of acres planted) in the U.S., and among the largest in the world. And so, in 2018, we have continued to talk about exactly what it is that makes Lodi so conducive to winegrowing (see our pieces on Revising our assumptions and classifications of wine regions and The nitty-gritty on Lodi's seven AVAs), as well as the implications on actual wine quality (re How do Lodi grown wines compare to the rest of the world's?).
When connoisseurs of wine wax philosophical about wine, they are apt to talk about terroir: unique vineyards, and regions, with a distinctive "sense of place" perceived in the wines sourced from those vineyards and regions. The finest wines of the world are not so much judged by standards associated with anyone's sense of quality as they are by how well they express where they are grown. The idea that a truly fine wine is that way precisely because it can't be duplicated elsewhere. If anything, we'd say that this is why, over the past twenty or so years, Lodi as a wine region has been carving out its own distinctive identity, leading to its economic success. Not for producing wines that are "as good as" other regions, but for producing wines that are indubitably "Lodi." In other words...
We've come a long way, baby...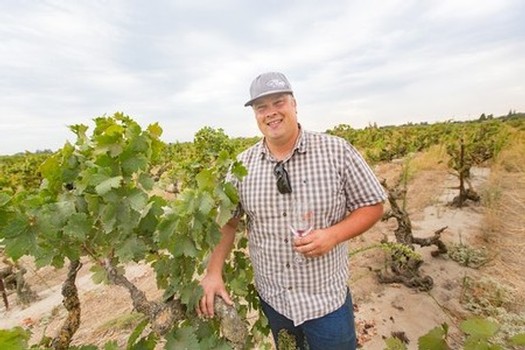 January 26, 2018 - This past Saturday (January 20, 2018), Turley Wine Cellars winemaker Tegan Passalacqua announced, during our talk at Zinfandel Advocates & Producers' (a.k.a. ZAP) Zinfandel Experience in San Francisco, that he recently purchased the old, abandoned Eastside Meats building on the east side of Lodi, where he intends to establish the winemaking facility for his personal brand, called Sandlands.
Passalacqua had much more to say on subjects bearing a number of implications for the rest of the wine industry. When Mr. Passalacqua talks, the entire wine world – not just Zinfandel lovers – listens. Why?
It comes with the territory. Since early 1990s Turley Wine Cellars has been producing the most coveted Zinfandels in the industry. Sure, Ridge Vineyards in the '60s and Ravenswood in the '70s were the first producers to take California Zinfandel seriously – as important as any varietal in the world. But their Zinfandels were always accessible – "wines of the people," both figuratively and commercially.
Turley, on the other hand, turned Zinfandel into a prestige commodity; something that could command a "cult" following, notwithstanding the fact that the grape was never exactly something of incredible rarity – but in fact the opposite. You can still find exceptional Zinfandel vineyards all over the state; many of these plantings still going into $9 reds or one of the true wines-of-the-hoi-polloi – fruity, pink White Zinfandel.
What the American wine industry owes most to Turley Wine Cellars is simply the fact that they have consistently nailed an uncompromisingly high level of Zinfandel; demonstrating that the varietal belongs, as owner Larry Turley likes to put it, in the "big leagues." In doing so, they have retained a position of leadership in the somewhat quixotic quest to preserve long neglected, or hardly respected, vineyards planted to the grape. What do we mean by that? Just asked any avid consumer of, say, Napa Valley Cabernet Sauvignon or Russian River Valley Pinot Noir whether or not Zinfandel deserves to be mentioned among the "great" wines of the world. Or if a 90-year old Zinfandel planting in Lodi, Paso Robles or Calaveras should be mapped out and enshrined in wine books, like we do with La Tâche or Château Margaux. It is to laugh.
Turley deserves credit for not only keeping attention focused on Zinfandel, but also for taking the extreme step of buying up or establishing long term leases with all the old vine Zinfandel growths they can, and lavishing as much care and respect on wines grown in Lodi, Paso Robles or Calaveras as any coming from Napa Valley or Sonoma County... Read more.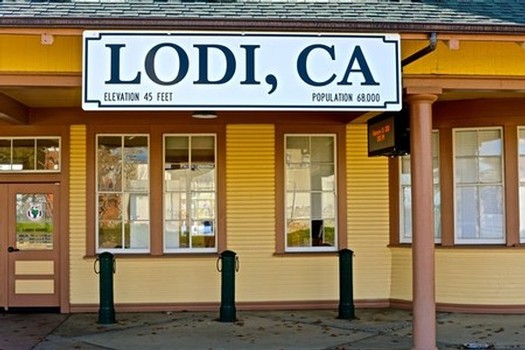 February 23, 2018 - Lodi is not just America's most widely planted wine region. It is also inextricably anchored to the City of Lodi – first settled in 1846, and incorporated in 1906 – which has its own proud past, prosperous present, and even brighter future.
When the vast majority of people visit Lodi wine country today, they arrive by car. Which is a shame, since they are not stepping foot upon the platform of the beautifully restored Lodi Transit Station where they immediately learn that the City of Lodi sits at about a 45-ft. elevation, and is now home to about 68,000 residents – not exactly a tiny community, yet far from a big one. Lots of people would call that "just right."
The Amtrak San Joaquin rail line currently disembarks a modest average of 20 passengers a day at its Lodi stop. All the same, the Lodi Transit Station, which also functions as a Greyhound, San Joaquin Regional Transit District (RTD) and Lodi GrapeLine stop, lies at the very heart of Lodi, geographically and historically. Although the question of what came first, a train station or a city, is like asking about a chicken or an egg... Read more.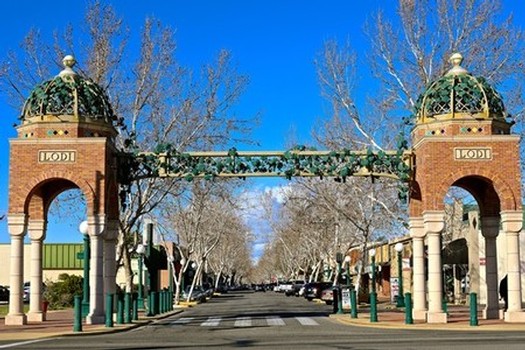 March 1, 2018 - The City of Lodi, like the Lodi Viticultural Area surrounding it for 134 square miles, is built on an abiding foundation; its winegrowing industry nourished by the generosity of Mother Nature (particularly the region's mild Mediterranean climate and deep, fertile soils), and the City itself shaped by the steady hands of enterprising farmers, founding fathers and businessmen, well organized women and social groups, and generations of fully invested families.
Hence, during the early 1990s when the City initiated its Central City Revitalization Planfor its original 55-acre "Old Town," visible aesthetics were prioritized as much as practical capital improvements. Construction of a Lodi Gateway (in the photo above) was completed in 1997, and it now sits astride School St. at the corner of Lodi Avenue, ushering car and pedestrian traffic down a handsomely brick paved road into the historical heart of the City.
The School St. Gateway now compliments the Mission Revival style Lodi Arch just a few blocks away. There is a reason for its architecturally chimeric look; as it incorporates an iron grapevine sculpturing reflecting one of the region's key agricultural industries, earthen red Italian Renaissance-style brick masonry recalling the Lodi City Hall (erected on W. Pine St. in 1928), and the majestic, classical columns of the former Lodi Union High School (now the site of Hutchins Street Square), beloved by generations of Lodi graduates.
While Lodi's City Hall at 221 W. Pine St. (also, up until 1967, the location of the Lodi Police Department) has undergone several million dollars of upkeep since 1928, its exterior has been unchanged over the past 90 years; its Italian inspired architecture holding up handsomely against the test of time... Read more.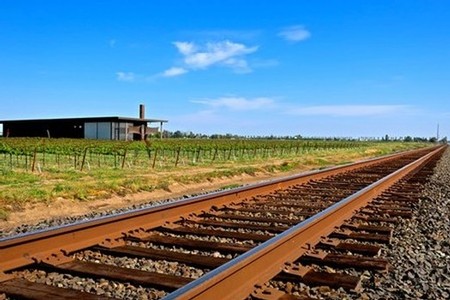 April 26, 2018 - More and more wine consumers, as well as journalists and online scribes, are starting to notice that the Lodi Viticultural Area produces light, refreshing, perfectly crisp and natural white wines without any winemaker "adjustments," like the addition of acidity in the winery.
Lodi is also known for Zinfandel – the region crushes nearly 40% of the entire state's production each year. With the advent of smaller, artisanal Lodi based producers over the past 10 or so years, Zinfandel lovers are starting to notice another salient fact: Lodi produces a more delicate, gentle, fragrant style of Zinfandel – in comparison to the bigger, thicker, riper, jammier styles associated with, say, Napa Valley and most of Sonoma County.
What gives?
For those who still think Lodi is a wine region as hot as the Sahara – or, maybe, the Madera Viticultural Area in Fresno County – this recent evolution seems to defy preconceptions. In one recent online report filed by well-known blogger, Lodi's growing season temperature was described as "Region V," making it similar to Madera (re wine-searcher.com's Too Hot to Handle). The Roman-numerical description of Lodi's climate was in reference to the "heat summation" system originally devised by Professor A.J. Winklerof U.C. Davis during the 1940s to classify the different California wine growing regions: Region I being the coolest climate region, and Region V being the hottest.
To set the record straight: A growing production of white wines with natural, zesty acidity, as well as delicate Zinfandels with floral (as opposed to raisiny) aromas, would be virtually impossible in a Region V region. Ergo: Lodi is no more a "Region V" than, say, Napa Valley (which we explain below). Lodi is far from Madera both climatically and geographically. The driving distance between the cities of Lodi and Fresno is approximately 137 miles; more than twice the distance between Lodi and Napa (about 56 miles).
Thus, not coincidentally, Napa Valley is the wine region with a growing season climate most often compared to Lodi's... Read more.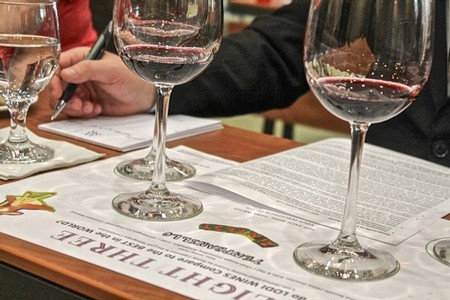 May 23, 2018 - Exactly how do Lodi wines compare to not only those of the rest of California, but also to counterparts in France, Spain, New Zealand, or other wine regions of the world?
This was the question addressed at our 16-wine blind tasting held last week Friday (May 18, 2018), as a ZinFest pre-event. The goal was not to find who makes the "best" wines. As the classic British wine writer André Simon once put it: We can all have good taste, but not the same taste. Our purpose, rather, was to "discover" sensory distinctions. What makes Lodi different – and in that sense, what makes Lodi wines worthwhile?
Putting it another way: How can, say, a California Sauvignon blanc begin to compare to a Sauvignon blanc based white from France's Sancerre or New Zealand's Marlborough regions, when a Sauvignon blanc grown in Napa Valley barely resembles one grown a few miles away in Lake County, or Lodi? Differences in both terroir – the catch-all term for climatic and topographic conditions adding up to "sense of place" – as well as style and purposes can be so divergent that wines often end up with more dissimilarities than similarities in terms of both aromas and palate sensations, even when made from the same grape varieties. As well they should.
Which was exactly what the 60 or so wine lovers experienced in one of the four rounds of wines – comparing bottlings made from Grenache blanc (a.k.a. Garnacha blanca), Sauvignon blanc (a.k.a. Fumé blanc), Tempranillo and Mourvèdre (a.k.a. Mataró) – in our particular blind tasting. Neither the participants nor our three panelists, lending their verbal skills as professional tasters, were told the exact identities of each wine (only the grape varieties)... Read more.

August 7, 2018 - What are the top Lodi Viticultural Area vineyards identified as vineyard-designate wines on highly regarded Lodi grown bottlings, and why do they matter?
They matter because of the precedent set in European countries long ago: The simple fact that the finest wine regions are associated with vineyards known to produce great wines.
One could make the argument, for instance, that Napa Valley first emerged as a wine region of some significance or prestige during the 1960s and '70s when wineries first began bottling wines with single-vineyard designations. Cabernet Sauvignons such as Heitz Cellar's Martha's Vineyard and Freemark Abbey's Bosché, Chardonnays such as Acacia Winery's Winery Lake Vineyard, and the Three Palms Vineyard Merlot by Duckhorn Vineyards are all historic examples of wines that served to underline this basic premise:
• Napa Valley has vineyards that produce distinctive wines that deserve to stand alone as vineyard-designate wines
• Great wine regions are associated with great vineyards with boundaries that can be clearly identified geographically as well as on maps
• Ergo, Napa Valley is a great wine region
Old vine vs. terroir related qualities
In Lodi, the top vineyard-designate wines are primarily associated with "old vine" plantings – a distinction organizations such as Historic Vineyard Society identify as vineyards dominated by plants that are at least 50 years old. On the other hand, in wine regions such as Napa Valley – as well as Bordeaux and Burgundy in France, the Mosel and Rheingau in Germany, Piemonte or Chianti in Italy, and most top wine regions of the world – once young vines are established, old age is neither here nor there when it comes to vineyard quality or prestige.
Old vines, in fact are a peculiarity of Lodi – there are more plantings over 50 years old in this American Viticultural Area than in any other in the U.S. The reason for this is because Lodi's most distinctive wines have long been produced from grape varieties conducive to the region's particular variation of Mediterranean climate – a climate zone defined by warm summer days (in Lodi, average temperatures of about 91° F.) and cooler temperature nights (average lows below 56°)... Read more.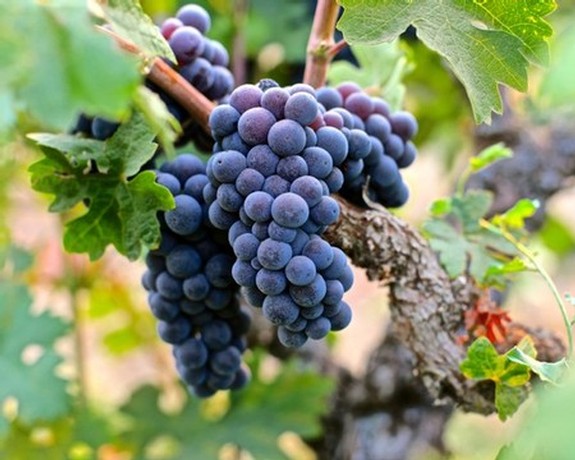 August 9, 2018 - Ready to geek out further on Lodi's old vine growths, and what makes them utterly unique in the entire world of fine wines? Let's start with this...
Impact of sandy loam soil
When nineteenth century growers first began farming in the areas surrounding the burgeoning community of Lodi, they chose properties with the deep (20 to 50-ft.) sandy loam soil now classified in the Tokay series (named for the pinkish-red Flame Tokay grape, the Lodi region's #1 grape crop between the 1880s and 1980s).
Why sandy loams rather than, say, the gravelly clay loam soils found closer to Galt north of the City of Lodi, or the redder, rocky clay slopes around Clements further to the east? Simple reason: The shallower gravelly or rocky clays required arduous plowing to break up the soil and hardpans. Planting grapes – which always benefit from deep rooting – in the softer, friable, well-drained, yet richly organic sandy loam soils surrounding the growing community of Lodi was much easier. A no-brainer.
In 2006 the TTB (Alcohol and Tobacco Tax and Trade Bureau) recognized the region around the City of Lodi as its own AVA (i.e. American Viticultural Area), called Mokelumne River, to delineate this area from other regions within the larger Lodi AVA that growers began to plant in earnest during the 1980s and '90s. With modern-day machinery, it became much easier to plant in Lodi's shallower, rockier clay based soils in AVAs such as Jahant, Clements Hills and Borden Ranch (today, most of Lodi's vineyards are found outside the historic Mokelumne River appellation).
The primary differentiating factor of Mokelumne River is the appellation's Tokay sandy loam soil; found in predominantly flat topography conducive to furrow irrigation, at mostly 50 to 100-ft. elevations. This was where the Tokay grape thrived – as much as because of this ideal soil series as the region's moderate Mediterranean climate – and where, today, most of Lodi's old vine Zinfandel (to be specific: vineyards planted prior to the mid-'60s) is still to be found. This knowledge became empirical: Wherever Tokay thrived, so did Zinfandel; and vice-versa... Read more.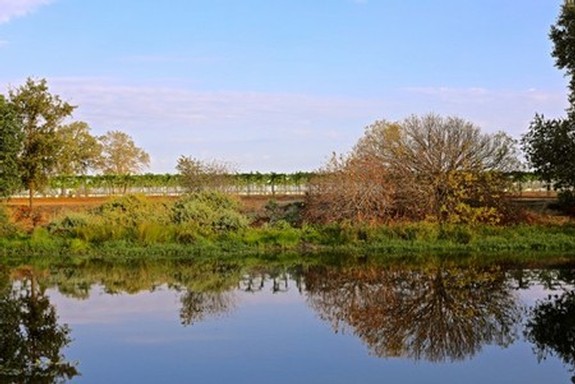 Why sub-divide a region by smaller AVAs?
October 18, 2018 - In August 2006, when the TTB (Alcohol and Tobacco Tax and Trade Bureau) approved the usage of seven new American Viticultural Areas (a.k.a. AVAs) within the broader Lodi AVA(originally established in 1986), the question in the minds of a lot of people among the wine industry, the media and consumers was: why?
Isn't getting anyone to recognize Lodi as an existing wine region hard enough, without complicating the matter with seven more sub-regions?
The question is legitimate. Then again, so is the answer – the reasons for establishing the Lodi sub-appellations even if, in the beginning, they are unfamiliar to just about everyone outside the growers who actually work these vineyards.
The first reason is historical: Because the best and most recognizable wine regions in the world are all defined by multiple appellations based upon differences, from subtle to drastic, in climate, soil, topography, etc.
Take, for instance, France's famous Burgundy region, which is divided into 44 villages controlled by their "appellations of origin" (the French system of geographical certification known as Appellation d'Origine Contrôlée, or AOC); each defined by physical differences in growing conditions that make them slightly different from the other. Within these villages are over 500 recognized vineyards (or climats) which, like Burgundy's villages, are delineated by precisely defined boundaries that have gone unchanged for centuries. You cannot take grapes from, say, the commune of Meursault and put them into wines bottled as Puligny-Montrachet, even though the two villages are right next to each other and you may own properties in both (which many producers do).
Taking it further: Within the Burgundian commune of Puligny-Montrachet there are a total of 21 vineyards; some of these vineyards having as many as 40 owners, each managing their own tiny parcel. Wines made from the vineyard called Chevalier-Montrachet (totaling 17.5 acres) may not be lawfully bottled by the name of the adjoining vineyard, Bâtard-Montrachet (27.4 acres), and vice-versa. You could blend the two together, but you would have to call it "Puligny-Montrachet," a village name that usually fetches a lower price than the single-vineyard wines. In Burgundy – as in the rest of France controlled by AOC regulations – location is everything, and names are sacrosanct. Why? Because characteristics of the country's finest wines are tied directly to the growing conditions of where they are grown – a concept better known as terroir, or "sense of place."
Therefore, if Lodi was ever to begin to be considered a region worthy of any degree of respect or prestige, establishment of sub-regions based upon terroir-related distinctions had to come sooner than later. The Napa Valley Viticultural Area, for instance, consists of 16 different sub-AVAs. You can ask the same question – why? Isn't saying "Napa Valley" good enough? But if you ask a Cabernet Sauvignon producer in Napa Valley's Coombsville AVA, he/she would tell you that Coombsville Cabernet Sauvignons are significantly different from Cabernet Sauvignons from, say, the Rutherford, Howell Mountain, Calistogaor Los Carneros AVAs; and in fact, the soil types, aspects of slopes, elevations and climate zones differ drastically among those sub-AVAs. Of course, these Napa Valley Cabernet Sauvignons come out different; and it's silly to expect them to taste, or be rated (attention wine critics!), the same way. Consumers have the right to know these distinctions... Read more.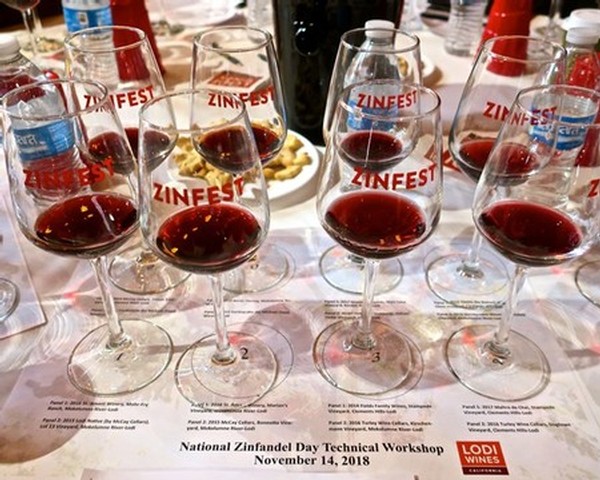 November 28, 2018 - To kick off 2018's National Zinfandel Day week, this past November 14, over 100 winemakers and growers came together from both inside and outside the Lodi AVA for a Technical Workshop co-sponsored by the Lodi Winegrape Commission and ZAP (Zinfandel Advocates & Producers). This educational industry event took place in Oak Farm Vineyards' historic redwood barn, built in 1864.
On the agenda were two 4-man panels – one representing "Growers' Perspectives," and the other "Winemakers' Perspectives" – who addressed the current and future state of Lodi grown Zinfandel. Particularly, exactly what steps can be taken to save many of Lodi's venerated old vine Zinfandel plantings, now in danger of disappearing as a result of the recent market plunge of both White Zinfandel and value priced red Zinfandels ($10 and under). Each panelist also presented two Zinfandel bottlings representing what they grow or produce.
Lodi Winegrape Commission Executive Director (as well as St. Amant Winerywinemaker/owner) Stuart Spencer kicked off the proceedings by reminding the audience of vintners and growers: "Zinfandel has a place in the hearts and minds of the Lodi community. Most of it is grown by independent growers who have been farming their vineyards for generations – something you don't see as much anywhere else in the world, except in Lodi.
"Our goal is to keep these vineyards for generations to come by connecting them with winemakers across California and in other states, and find these grapes a home. We also know that, with the cost of farming today, these vineyards probably need to go into more premium priced wines..." Read more.
Comments