Letters from Lodi
An insightful and objective look at viticulture and winemaking from the Lodi
Appellation and the growers and vintners behind these crafts. Told from the
perspective of multi-award winning wine journalist, Randy Caparoso.

June 18, 2019 | Randy Caparoso
Onesta Rosé of Cinsaut (crafted from 133-year-old vines) is a rosé master's pièce de résistance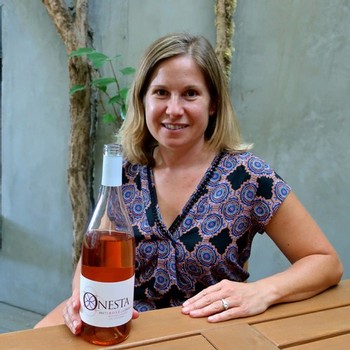 Over the past fifteen years Bechthold Vineyard, planted entirely to the Cinsaut grape, has developed an almost legendary, international renown, going far beyond its Lodi Viticultural Area roots.
This 25-acre-planting, in fact, has thrived on its own natural or "wild" roots – planted in 1886, long before Lodi growers thought to graft vines on to more root louse-resistant rootstocks – and is still owned by the descendants of Joseph Spenker, the original owner.
The neighboring Phillips family (who own Michael David Winery) took over the care of the vineyard in 2007, and since then they have lovingly restored the planting and brought it to its full potential through hands-on, organic methods. It is no wonder that some of the state's most prestigious handcraft wineries – such as Turley Wine Cellars and The Scholium Project, and local wineries such as Fields Family, Estate Crush, McCay Cellars and (of course) Michael David Winery – are standing in line each year to get their share of Bechthold Vineyard fruit.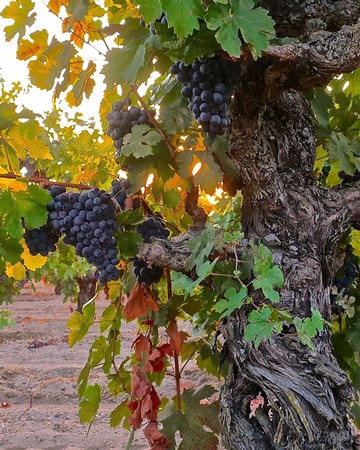 Cinsaut grown anywhere produces large clustered fruit with berries the size of typical table grape varieties. Hence, it produces red wines that are relatively light and soft in tannin; but from vines as ancient as Bechthold's, that lightness becomes ethereal in its laciness and kitchen spice perfumes.
By the same token, that intrinsic lightness can produce the most caressing of rosés – tickling the nostrils and palate with sensations that suggest red fruit, like strawberry/cherry/rhubarb, but also an earthy minerality that takes it far beyond the standard or mundane.
Of all the artisanal producers sourcing from Bechthold Vineyard, Onesta Wines' Jillian Johnson DeLeon has been working with this ancient vine Cinsaut the longest. Hence, she has become particularly crafty when it comes to rosé. There are local vintners, like Michael David Winery co-owner David Phillips, who unabashedly calls her pink product his absolute favorite – pretty impressive, considering the staggering number of good to great rosés now produced all around the world.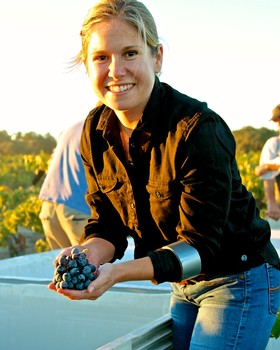 Johnson DeLeon's 2017 Onesta, Bechthold Vineyard Lodi Rosé of Cinsaut ($20) is flush with fresh strawberry fragrance, etched out by a rhubarb prickliness in the nose. The feel of this pale pink wine is bone dry and scintillatingly crisp, lifted by a freshening tweak of tartness; the bright strawberry quality coming across as lush, silky, fine and seamless, which then pulls back just enough to allow the tart, mineral sensations to push through, and flow joyously across the palate.
The 2017, says Johnson DeLeon, represents a slight stylistic departure for the Onesta brand, as all the fruit going into her 2017 was picked and immediately pressed for rosé production, whereas in past years at least half of the Onesta rosés were saignées – wines made from juice drained off of fermenting tanks of red wine.
According to Johnson DeLeon: "The rosé market has changed drastically in recent years in terms of color. When I first started working with Bechthold Vineyard (back in 2004, when Johnson DeLeon was the winemaker at note for Bonny Doon Vineyard), the slightly pink color of our rosés were considered on the lighter side, but now it's considered darker. Today's rosé drinkers are embracing even paler colors – a lot of that influenced by the huge amounts of pale colored rosé now coming out of Provence in France.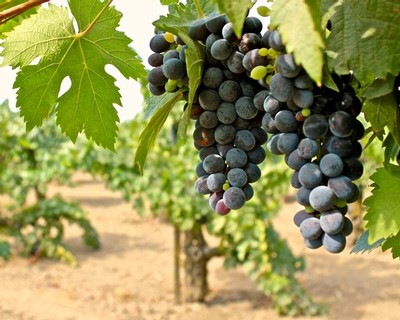 "As a vintage, I adore 2017. It's become one of my all-time favorites, recalling the 2014, although it was not without its challenges. If you recall, all the Lodi winemakers picked most of their red wines in the middle of an extended heat wave in 2017. This was especially stressful for vines like Bechthold's, which are dry farmed. When vines are hit by 100° weather they go into shock – leaves cease photosynthesizing, and the plant stops producing sugars and flavors going into the grapes.
"The high heat makes it difficult for red wines when you are still waiting for optimal ripeness. But it's perfect for rosé because to make pink wines you don't need as much sugar. Unlike red wines, you don't need the additional molecules for the formation of anthocyanins, phenolics, etc. – the things that give you more intense flavor and structure when you are making red wines.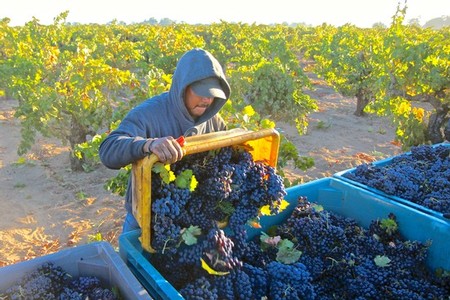 "My 2017 rosé was aged in stainless steel drums and completely neutral barrels. I recently spent time with an enologist from Provence, who gave me a lot of ideas on how to flesh out the natural complexity you get from Bechthold Vineyard's 133-year-old vines. He talked about 'stabulation,' a technique recently developed in Provence where you hold just-pressed juice at cold temperatures, on the grape solids. By stirring the solids every 24 hours for 4 or 5 days, you can increase flavor and enhance mouth-feel."
To demonstrate the effects of techniques like stabulation, Johnson DeLeon served up a tank sample – still aging in stainless steel drums and neutral oak barrels – of her 2018 Onesta Rosé of Cinsaut from Bechthold Vineyard. The wine is a revelation – every bit as savory as her 2017, maybe even more – with its very "contemporary" transparent pink color, youthful peachy/flinty aroma with just tinges of strawberry, and tart, zippy, light and minerally sensations dancing on the palate, despite the wine's dry-as-a-desert quality.
With deftly crafted rosés like Onesta's, there has never been a better time to be a dry rosé lover!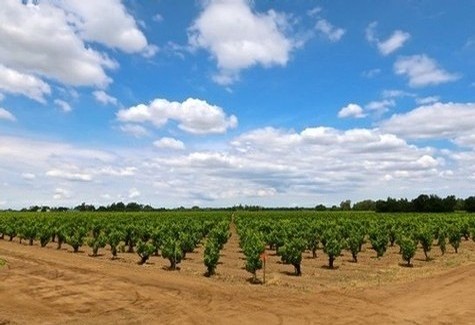 Comments