Letters from Lodi
An insightful and objective look at viticulture and winemaking from the Lodi
Appellation and the growers and vintners behind these crafts. Told from the
perspective of multi-award winning wine journalist, Randy Caparoso.

June 23, 2020 | Randy Caparoso
Nostra Vita Family Winery'a serendipitous growth into a major traditional method sparkling wine company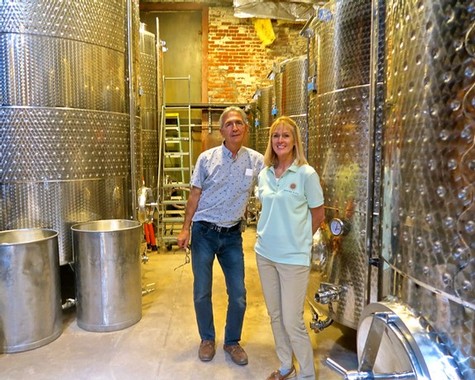 Lodi's Nostra Vita Family Winery is, as the name implies, a family affair: nostra vita being Italian for "our life," and the famiglia consisting of the owners Robert Indelicato (Winemaker) and Leslie Bloudoff (President), and their children Katie Bloudoff-Indelicato (Sales & Marketing) and Kyle Bloudoff-Indelicato (Assistant Winemaker/Cellar Master).
Although they are still, visibly speaking, "new" to the Lodi wine community — in September 2018, establishing their tasting room at the W. Turner Rd. location once occupied by the Mencarini family's Abundance Vineyards — they first started up their specialty champagne style sparkling wine business in 2014, and their production facility has been housed in the historic "Old Ice House" in Downtown Lodi since 2017.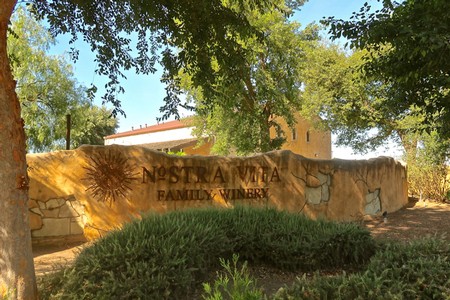 Construction of their own winery facility next to the Nostra Vita Family Winery tasting room on W. Turner Rd. is scheduled to be completed by August 2020. Coupled with the family's 90-acre vineyard property planted 21 years ago in Lodi's Clements Hills AVA, the Nostra Vita Family brand will soon become a 100% Lodi family owned and grown "estate" (the definition of "estate bottled" according to U.S. wine label laws requires that a winery listed on a label owns or controls all grapes going into a bottle, and the wine is crushed, fermented, finished, aged and bottled all in the same place, which must be within the same AVA declared on the label).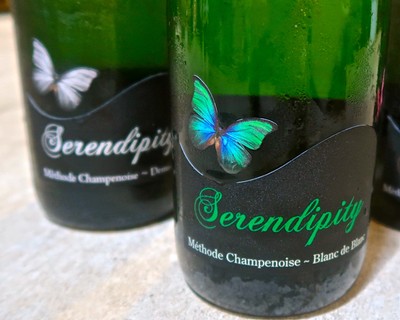 That's the basic story, here are the goods: If anything, the Bloudoff-Indelicato family's current signature wine is probably their 2016 Serendipity Lodi Blanc de Blanc ($36), crafted entirely from their Clements Hills estate grown Chardonnay and finished in the true, traditional style of champagne (what the French call méthode Champenoise) whereby the fine and frothy bubbles in the bottle are created by a secondary fermentation taking place in each individual bottle.
This style, recalling the famous sparkling wines of the Champagne region in France, is known to produce a more intense yet delicate, silky style of sparkler. In the case of Serendipity's 2016 Blanc de Blanc: a lemony fresh fragrance with creamy, yeasty subtleties suggesting fresh rising bread, and refined, steely tart and tingly sensations that come across as very dry and snappy, despite 1.2/liter grams of residual sugar added to the dosage (i.e. the small addition of wine when the sparkling wine is recapped with wired cork, following aging in contact with spent yeast cells in the bottle — for the Serendipity Blanc de Blanc, a period of time lasting 24 to 30 months).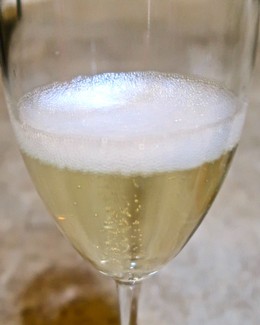 Why are Nostra Vita Family Winery's sparklers bottled as "Serendipity?" Ms. Bloudoff tells us: "If you were to tell me, 20 years ago when we first moved into our vineyard home out in Clements Hills, that in 2020 we'd also be making our own wine — and champagne style sparkling wine, at that — I would have told you you were nuts."
According to Mr. Indelicato: "The story is we like sparkling wine, but when our daughter got married a few years ago we bought a couple of bottles of a California sparkling wine — we're not naming names, but it was a Napa Valley brand — we found it to be so unpleasant that we poured them down the drain. As the old saying goes, any good wine 'begins in the vineyard.' I felt that we have very good grapes in our vineyard, and so in 2014 I decided to make my own sparkling wine."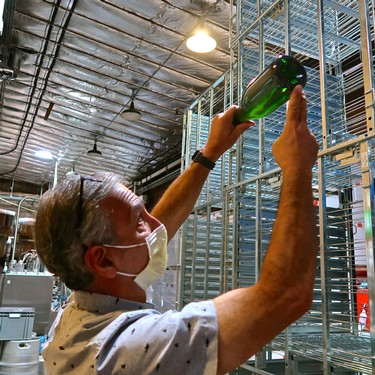 Adds Ms. Bloudoff. "I told Robert that if you consider yourself an exceptional winemaker, then you can make a good sparkling wine. Somewhere along the line this turned into our own winery, and so in a way we came about this serendipitously."
Mr. Indelicato, as it were, already possessed the training, experience and pedigree to approach this in orderly fashion. As the son of Vincent and Dorothy Indelicato, he is part of the powerful Indelicato family behind the Manteca based Delicato Family Wines, one of Lodi's biggest grape growers (producing 11 million cases of wine a year, DFW now ranks as the sixth largest wine company in the U.S.).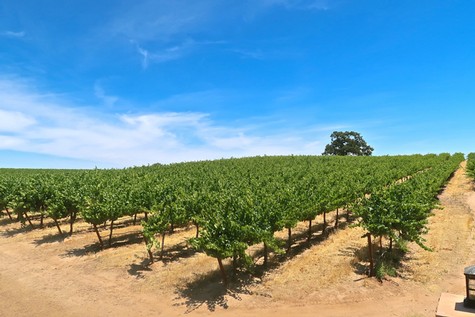 "You can say I've been in the wine industry 'forever,'" says Mr. Indelicato. " I got my degree in winemaking from Fresno State and worked for Delicato for 19 years, although for the family I was focused primarily in sales and marketing, not winemaking. I'm still a shareholder, but I left Delicato in 1999 to do my own thing. We planted our own vineyard property that same year, and in 2006 I purchased an export company called California Wine Classics."
In 1999 Ms. Bloudoff left her career as a criminal defense attorney to join her husband in their newly independent pursuits. The couple's 2014 venture into champagne style sparkling wine production — particularly the business of producing "shiners" (i.e. bottlings under other wineries' labels) — not only created enough demand to enable them to establish their own brand, but was also a great opportunity for their two children to pitch in on the family business with their own respective degrees (Katie with her MBA from University of Colorado, and Kyle with his degree in enology and viticulture from U.C. Davis).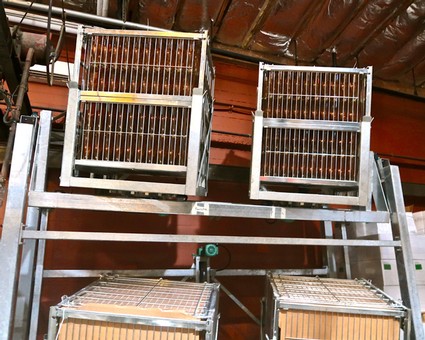 The current size of Nostra Vita Family Winery — which includes thirteen 1,600 to 3,200-gallon temperature controlled tanks, several gyropalettes (automated riddling machines), and a disgorging and bottling line — is just the right scale to produce customized sparklers for wineries not quite large enough to fulfill minimum requirements of other custom sparkling wine companies, such as Rack & Riddle in Mendocino County.
Say Mr. Indelicato, "Every batch has its own story, but we try to achieve European standards by giving the wines extended aging on the yeast (called en tirage in Champagne) — 24, 30, up to 36 months, which gives you a creamier texture, whereas most California sparkling wines are aged less than half that time. For our own program we have a 2016 'Reserve' quality Blanc de Blanc that we'll age for even longer before we finally finish it.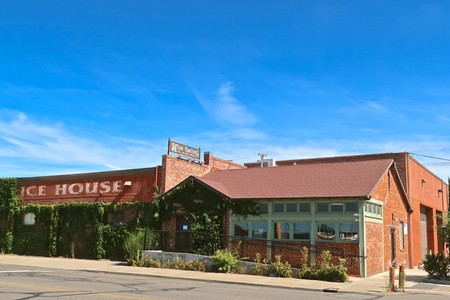 "But our most popular wine is our Serendipity Lodi Demi-Sec ($28), which with 40 grams/liter of residual sugar is notably sweeter than our Blanc de Blanc." The Demi-Sec, another 100% estate grown Chardonnay, may come across as soft and fruity, but the increased sweetness also gives the wine an intriguingingly exotic, spicy fruit fragrance, only enhanced by a wispy yeastiness. "It's not my personal preference," admits Indelicato, "but it outsells our Blanc de Blanc by more than three to one."
"As sappy as it sounds," says Ms. Bloudoff, "it's serendipity that drives our business. We can do it while surrounded by extended family. As we grow we become surrounded by wine club members who also become friends, and more like family. You can say we want to make exceptional wines while building inclusive relationships. It's like, if you open your heart then something good will find you."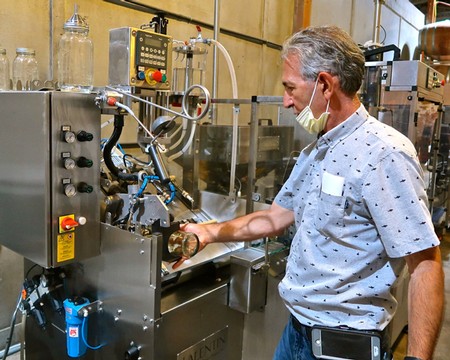 Comments