Letters from Lodi
An insightful and objective look at viticulture and winemaking from the Lodi
Appellation and the growers and vintners behind these crafts. Told from the
perspective of multi-award winning wine journalist, Randy Caparoso.

February 26, 2019 | Randy Caparoso
New things (and incredible values) afoot at Oak Ridge Winery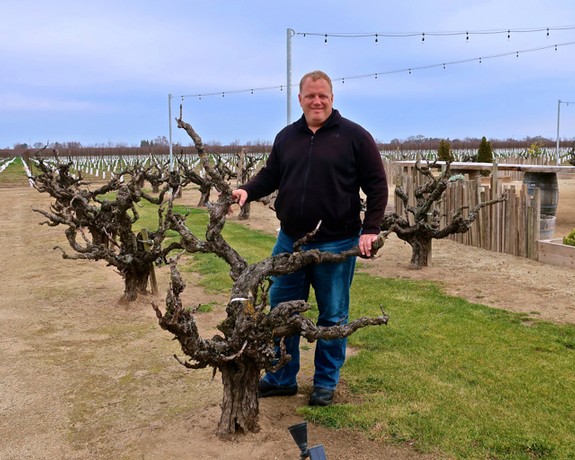 There are a few new things afoot at Lodi's Oak Ridge Winery, which is good news for wine lovers who appreciate a good $10, $12, $16 or $18 wine. And who in their right mind doesn't appreciate a good $10 to $18 wine? Man does not live by fancy-schmancy $100 wine alone.
While Oak Ridge Winery was founded in 2002, its Lodi ties go back a long ways. The winery sits on the10-acre site of the old East-Side Winery, one of Lodi's historic old co-ops once operated by as many as over 100 growers at a time, specializing in fortified sweet wines (which was what most of America drank when it came to "wine" up until the late '60s). Today, the historic feel of Oak Ridge Winery is reinforced by a visit to the winery's tasting room, which is housed in a beautiful 50,000-gallon redwood tank that used to be part of the long-defunct Roma Wine Co. facility located across the street.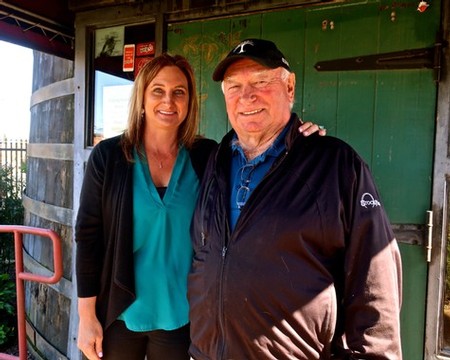 Lodi's Maggio family joined the East-Side Winery co-op in 1982, which eventually led to the establishment of Oak Ridge Winery with co-owners Don and Rocky Reynolds. The Maggios brought the grape growing power, and foundation, to the partnership. Between all the properties owned by Co-Owner Rudy Maggio and all his grown kids, the Maggio family farms some 2,500 acres of grapes, over 90% of that located in the Lodi Viticultural Area. Not all of the fruit goes into the winery's multiple brands – which includes OZV, Old Soul, Maggio, Oak Ridge, MossRoxx, Silk Oak, Blazon and 3 Girls – since two-thirds of the family business is still custom crushing, entailing wine production for other wineries or brands.
All of the Maggio vineyards are located west of the City of Lodi, which started with the family's original 60-acre property on N. Ray Rd., and now includes a huge parcel (called Rio Blanco Vineyard) in the Delta west of I-5, tucked into the far south-west corner of the Lodi AVA., closer to Stockton.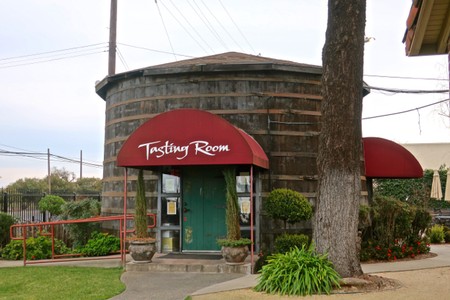 In a conversation this past week, Mr. Maggio told us: "Before joining the co-op, for nearly 40 years my family was in the grape packing and shipping business (re a history of Lodi's grape packing industry). My grandfather first came to California in 1906 from Rapallo, a little town in the Italian Riviera, close to Portofino. My grandparents on my mother's side came from Lucca in Tuscany, in 1910. Both sides of the family were farmers. My grandfather landed in San Francisco right after the big San Francisco earthquake. He was there for five years before moving to Stockton, and in 1928 he bought the ranch on N. Ray Rd."
Maggio speaks very frankly about the realities of the grape and wine market. Like how the Zinfandel market has recently fallen to such a low that he has been forced to replace the family's higher-cost head trained old vines with newer, mechanized trellised vines, including almost all of the beautiful own-rooted plants that he personally put into the ground on N. Ray Rd. back in 1952.
"Right now," says Maggio, "the Zinfandel and Cabernet Sauvignon grape market is in the dumps, but we'll still focus on these grapes because of the cyclical nature of the industry. I remember when grape prices were sky-high in 1988, and that was only two years after we couldn't give our grapes away. While Zinfandel is in over-supply, it is still our bread-and-butter because it can be used in so many ways – as a red wine blender or in a dry rosé, and it is still the varietal driving over 50% of our sales.
"And despite the slowdown over the past year, our production and sales have risen dramatically over the past five years. Because of that, we're in the middle of a big winery expansion. We're increasing our tank space, the number of crushers and presses, we've put in a new bottling line and filtering equipment, and are right about to break ground on a large, new storage facility on the west side of the tracks along Victor Rd., where there used to be a little block of 100-year-old vines.
One of Rudy Maggio's three daughters, Raquel Maggio-Casity who, serves as Oak Ridge Winery's CFO, gave us an update on the winery's recent growth:
"Our flagship wine, OZV Zinfandel, is what keeps the lights on. It sells in the $9.99 to $12.99 range, and has grown to 200,000 cases. A recent addition is the OZV Red Blend – a Zinfandel based (70%) red, with Cabernet Sauvignon, Petite Sirah and Merlot – which has been quickly growing, and is now up to 50,000 cases.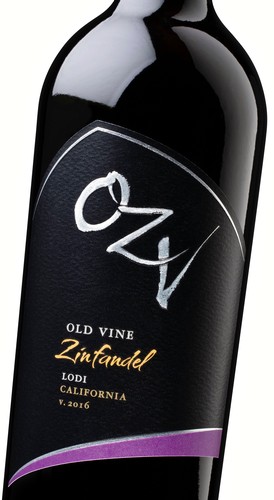 "We're also excited about our first vintage (a 2018) of OZV Rosé of Primitivo, which is basically a dryer style of White Zinfandel (Primitivo being a clonal variant of Zinfandel) meant to fill the growing consumer demand for dry rosés. So far the response has been very positive.
"Everyone, of course, is talking about the recent uptick in sales of $15-$17 wines. In that price category, sales of our Old Soul brand have seen a dramatic increase across the U.S., especially in California. Our Old Soul Cabernet Sauvignon has been doing the best, and Old Soul Pinot Noir second best. We've also been very competitive with our Old Soul Petite Sirah, Zinfandel and Chardonnay. Although recent bottlings of our Old Soul and OZV wines have been carrying a California appellation, all the wines are Lodi grown. Therefore, we are in the process of making the label correction, and all the new wines will go back to a Lodi appellation."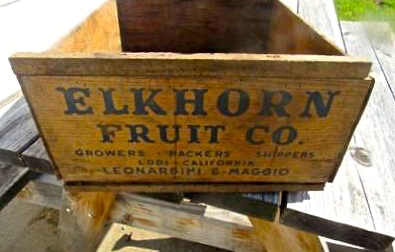 But the news that the Maggios are most excited about is the work of their new winemaker, Noel Basso, who came aboard in May 2018. Says Maggio-Caisty, "Noel brings a wealth of experience in brand production, coming to us from The Wine Group (the Livermore based multi-brand group that recently purchased Lodi's 7 Deadly Zins, and already works with over a dozen other top selliing brands, including Almaden, Benzinger, Big House, Concannon, Cupcake, Franzia and Glen Ellen).
"It's been less than a year, but we're already seeing the differences – a lot of changes in our winemaking, like a breath of fresh air. He has introduced different oaks, distinctly improving our Chardonnays and reds. There is more consistency in all our wines, and quality has been measurably improved. More importantly, we are seeing more differentiation in all our wines, which is what we've needed to make each brand and price point more distinctive.
"Noel is passionate about his work, and has family ties in San Joaquin Valley. We also feel good about the fact that he went California State University Fresno with Adam Mettler (Wine Enthusiast Magazine's 2018 Winemaker of the Year)."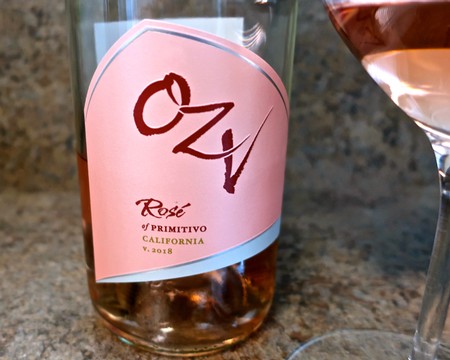 Oak Ridge Winery's bright, new, dry style OZV Rosé if Primitivo
Adds the elder Maggio, "We may be a longtime, five-generation Lodi family, but we're constantly updating. Like all successful companies, we've learn from mistakes, and the important thing is that we've been getting better and better each year."
A sampling of some of the latest Oak Ridge Winery wines, with notes and commentary:
2018 OZV, Rosé of Primitivo ($15) – A blend of this Zinfandel clone grown, picked and pressed as a pink wine, with 10% Pinot noir saignée (i.e. a pink "bleed" of juice from a fermenting vat of red wine). Pretty, pale salmon-pink color and airy, floral, bright fragrance, with the lightest touch of leafy herbiness underlining the fresh fruit quality. Soft, easy, light-medium bodied feel with a silky, svelte feel, with just a trace of sweetness (5 grams of residual sugar arrested in the primary fermentation) finishing this otherwise dry tasting wine. Say winemaker Noel Basso: "The acid in this wine is completely natural, coming entirely from the fruit, which was picked after midnight at just 19.5° to 20° Brix (i.e. sugar reading), all coming from our Rio Blanco estate in the Delta. I think this wine has everything a rosé drinker is looking for in the way of harmonious, smooth balance of fresh acidity and red berry-like fruit."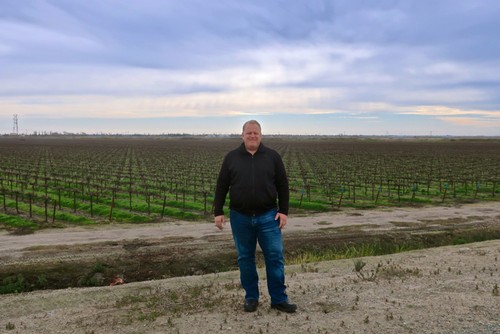 2017 Old Soul, Chardonnay ($16) – A gently tart, silken fine and floral style of Chardonnay, tasting light on the palate with scents of fresh cream, spring flowers and lemon tingling the nose. While fermented and aged entirely in stainless steel, according to Basso, this Chardonnay is seasoned with "the equivalent of 40% new barrels."
2016 OZV, Red Blend Blend ($15) – 70% Zinfandel with 15% Cabernet Sauvignon, Petite Sirah, Merlot, Petit Verdot and Tempranillo, adding up to a purplish red wine with an aroma of unsuspected depth of cedarwood, black fruit, and a trail mix of nuts and berries tinged with oak spices. Smooth, rounded medium-full body with a smidgen of tannin backing up the cedar and spiced fruit qualities.
2017 OZV, Zinfandel ($13) – Maggio-Casity makes no bones about the fact that the expected character of this, the winery's most popular wine, is a "jammy fruitiness." The nose is plump with ripe black and red berryish fruit, and this lush, juicy quality in the nose is delivered in a round, soft, pliant package on the palate.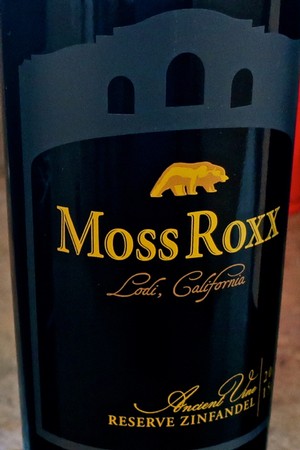 2015 MossRoxx, Lodi Reserve Ancient Vine Zinfandel ($24) – This is Oak Ridge's premium level cuvée, hand picked from the shrinking stands of generally +50-year-old head-trained vines still cultivated by the Maggios. A purplish-red color is coupled with a deep, lush, black cherry aroma tinged with a faint loamy earthiness, coming across as round, velvety, full yet giving on the palate. A sweet dose of oak (12 months in the barrel) fills out the fulsome feel.
2016 Old Soul, Petite Sirah ($16) – Found in some retail outlets for as low as $12, this is undoubtedly the family's "best buy" (Rudy Maggio calls it his "favorite Oak Ridge wine"). Grown primarily in the family's far west Delta property (Rio Blanco Vineyard), the wine has the black-purplish, teeth staining color expected in a good Petite Sirah, and the nose has the peppery spiced, blue and black berry qualities of the varietal, filled out with cedary oak and just enough tannin to give a dense, moderately full (a proportionate 13.5% alcohol), compact feel.
2016 Old Soul, Pinot Noir ($16) – Burgundy-red color and forward, fragrant red berry nose, and soft, light feeling, almost Beaujolais-like easiness on the palate. If your expectations are not too high, this makes the perfect, no-nonsense, all-around red for any table of mixed plates, from fish (especially salmon or tuna) to steaks, salads to pastas.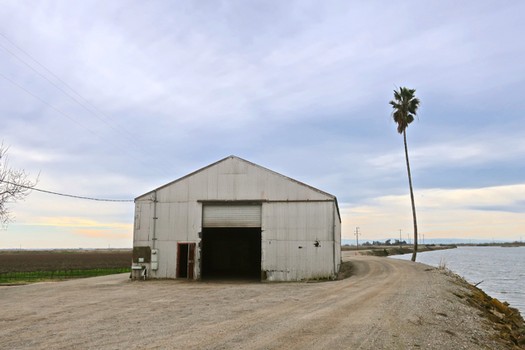 Comments