Letters from Lodi
An insightful and objective look at viticulture and winemaking from the Lodi
Appellation and the growers and vintners behind these crafts. Told from the
perspective of multi-award winning wine journalist, Randy Caparoso.

September 26, 2016 | Randy Caparoso
Mourvèdre (in gentle Lodi) is a red wine that compels, not panders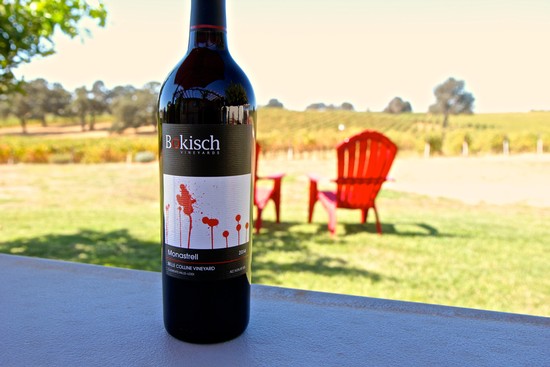 First, the skinny: this coming Friday/Saturday/Sunday (September 30-October 2, 2016), Bokisch Vineyards is offering a golden opportunity at their tasting room in Lodi's Clements Hills area. Visitors will be able to taste 4 vintages of their Bokisch Vineyards Belle Colline Vineyard Monastrell; 2007 being the oldest, and 2014 the latest.
What's the big deal? According to the winery:
Monastrell fans and newcomers to this unusual varietal, this event is for you! Monastrell is known by many names throughout Spain and France such as Mataro and Mourvèdre. With juicy flavors of dark forest fruit, mission figs and blackberry tea, this wine is one of our favorites. If you're a fan of Cabernet Sauvignon, you're bound to like Monastrell.
There is also a little vinous tragedy to this story. According to the Bokischs:
We have been sold out of our Monastrell for months and we are about to release the new 2014 vintage... This is our last vintage from beautiful Belle Colline Vineyard. The vineyard is under new ownership and will no longer be growing our beautiful Monastrell grapes. To commemorate this last vintage, we are offering a very special vertical tasting of three vintages from our library and the new 2014 vintage; all four tastes for $5.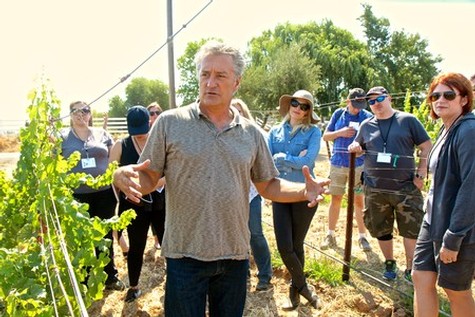 When tasting this vertical of Belle Colline Monastrells, the other tragedy coming to mind is that the most recent vintages clearly demonstrate that this lost planting – originally planted in 2003 on a hillside slope of red, volcanic based, gravelly clay soil typical of the Clements Hills AVA – was just beginning to come into its own: aromas, fragrances and flavor sensations becoming more and more distinct as the vines matured.
But here's the thing about the Bokisch Monastrells: despite the winery's allusion to Cabernet Sauvignon, this wine was never, ever a "big," dark, powerful wine. Aromas were never effusive, and the wines' body and tannin were never exactly like abs of steel – more like trim, svelte, and comfortably rounded.
In a way, this is why the Bokischs have never been known for its Monastrell like they have been for their Tempranillo, Grenache, or even their esoteric Graciano, which have always been brighter, bouncier, promiscuously fruit driven reds. Monastrell doesn't flirt or pander with excess. It challenges you to come to it, not the other way round.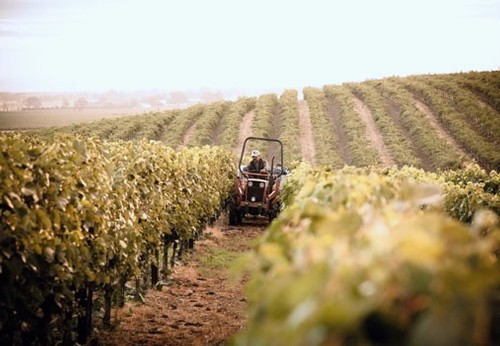 Case in point: the 2014 Bokisch Belle Colline Vineyard Clements Hills-Lodi Monastrell ($23) represents a culmination of this growth's quiet evolution: red ruby color; smidgens of dried currant, fig and cherry skin in the nose, mixed in with suggestions of forest loam and twigs, parched sagebrush, and sweet kitchen herbs. On the palate, the 2014 is squarely medium-bodied, bolstered by moderate tannin, and otherwise based upon an attraction not unlike a plain white ceramic plate that allows the colors and shapes of a dish to stand out. In this wine, you can taste the skins of the Monastrell grape, with whiffs of the grassy hillside in which the vinees were grown tingling the nose.
The bad news is that after the 270-case production of 2014 Belle Colline Monastrell is sold out, this wine is no more. History. The good news is that two years ago the Bokischs planted a new block of Monastell, a.k.a. Mourvèdre; this time, in their Sheldon Hills Vineyard at the north end of the Lodi Viticultural Area, where it will be defined by the distinctly river-rock strewn soils and Delta breezes of the Sloughhouse AVA. If all goes well, there is a possibility of a 2016 Bokisch Sheldon Hills Monastrell, released some time in 2018.
Why do growers and winemakers persist in pursuing wines made from Mourvèdre, even though this grape has never had the sexiness and market success of varietals like Cabernet Sauvignon, Merlot, Pinot Noir, or even Syrah, Sangiovese or Tempranillo?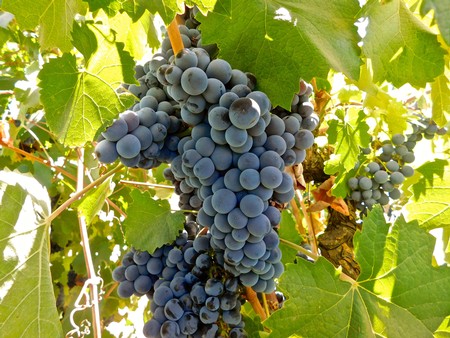 Spanish grown Monastrells – often from miniature, head trained vines over 50 or 75 years old – have had a modest (i.e. microscopic) appeal to American consumers since importers began combing the Iberian Peninsula for alternative products in the 1990s.
In Southern France, however, Mourvèdre is far better known to Americans as one of the three major black skinned grapes - along with Grenache and Syrah – often blended together because of this threesome's well known synchronicity: Grenache for its soft tannin, red fruit aroma and peppery spice; Syrah for its floral, high flying perfume and depth of fruit and phenolics; and Mourvèdre for its dense, meaty, blocky, bass-toned fruit sensations. Hence, the common parlance in New World wine marketing, "GSM."
But when bottled on its own, as a predominant or 100% varietal, Mourvèdre can produce something with its own magic; especially when grown under favorable circumstances, which is when the grape's intrinsically sturdy characteristics combine with distinctions peculiar to a region or vineyard. Like all of the world's great wine grapes, Mourvèdre can exhibit a compelling transparencey.
For instance, there is a profound and mysterious red wine that comes from the South of France. This wine appellation is Bandol, named after the little Provençal city/commune called Bandol, located along the Mediterranean coast; and by law, it is made mostly from Mourvèdre (French vintners are also permitted to blend smaller proportions of Grenache and Cinsaut in Bandol).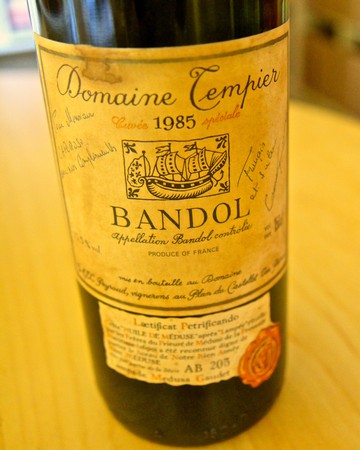 Bandol reds are typically earthy, faintly briny, yet filled with savory fruit sensations. It fills the mouth, but does not weigh heavily on it. You can enjoy it with hearty stews of red or game meats, or turn around and enjoy it just as much with brothy seafood stews (like saffron and garlic spiked bouillabaisse, or tomato laced cioppino), grilled oysters or redfish. Incidentally, perhaps more than any other American grown Mourvèdre, Bokisch's Monastrells have had a similar limber culinary versatility, although not the sinewy meatiness of the finest Bandols.
Even at its gentlest, Mourvèdre-based reds of Bandol often surprise devotees because they never seems to grow up. In fact, like Peter Pan, good Bandols seem to gets younger as they age – often deepening in color (which is odd enough) and flavor after 10 or 20 years in a bottle.
One legendary Berkeley importer (Kermit Lynch) fell so deeply in the thralls of Bandol, he purchased a home in Plan du Castellet just above the seaport of Bandol, where he has been living six months out of each year for over thirty years. Lynch's wife, photographer Gail Skoff, is known for never allowing any wine except Bandol (particularly Bandol Rosé) to pass her lips. Seriously.
Subsequently, over the past 40 or so years there have always been a few Americans on the West Coast who have endeavored to produce Bandol inspired red wines. Not a lot, since the varietal has never managed to break out of the category of unconventional or misfit wines.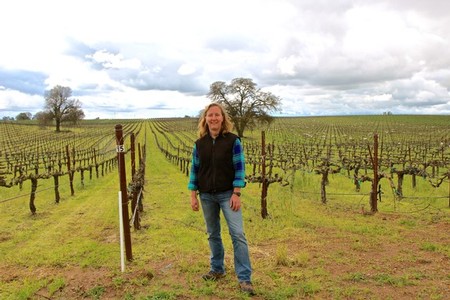 Wherefore "Bandol" in Lodi? Despite a common misperception, Lodi is also a coastal region; a toothsome green belt sandwiched between two inland seaport cities (Sacramento to the north, Stockton to the south). Typical of California coastal regions, Lodi's average daily day/night growing season temperatures swing considerably more wildly (over 35° F.) than in Provence; but the climate is still distinctly Mediterranean, thus ideal for grapes like Syrah, Grenache and Mourvèdre.
We know from our own blind tastings – particularly in wine competitions, where wine professionals are not prejudiced by labels when drawing their conclusions – that Syrahs produced by Lodi wineries such as Michael David, Fields Family, and Klinker Brick, compare favorably with the finest grown anywhere on the West Coast. Lodi grown Grenache invariably emerges as the spiciest and most perfumed, yet (typical of Lodi) most gentle in texturing, when compared to Grenache bottlings grown in other parts of the state.
Ergo, it is not a giant leap to imagine Mourvèdre someday emerging as a varietal of some prestige. After all, consumer preferences in wine styles are in constant flux. The grape itself certainly has the chops and European history to back it up. Certain parts of California, Washington and Southern Oregon have the Mediterranean type climates and requisite stingy topographies to grow the grape well; and, in fact, there are more than a few scattered plantings around the state (notably Contra Costa, Sierra Foothills, Chalone and Lime Kiln Valley), that are already showing a little bit of the grape's fabled magic; including its unique propensity towards terroir related transparency. Until its premature demise, Clements Hills' Belle Colline Vineyard was certainly headed in this direction.
It can happen again in Lodi. Mediterranean grapes love this environment; although like many things in life, we'll probably need to wait for it. But for a winegrowing region that that has always thought in terms of generations, not years, the possibilities are propitious.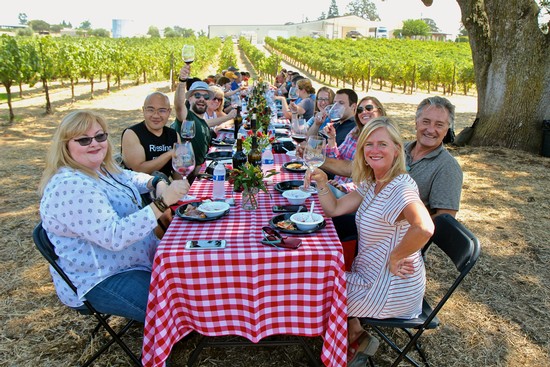 Comments