Letters from Lodi
An insightful and objective look at viticulture and winemaking from the Lodi
Appellation and the growers and vintners behind these crafts. Told from the
perspective of multi-award winning wine journalist, Randy Caparoso.

October 14, 2022 | Randy Caparoso
Monte Rio Cellars declares red blend from Lodi's regeneratively farmed Teresi Vineyard to be its finest wine yet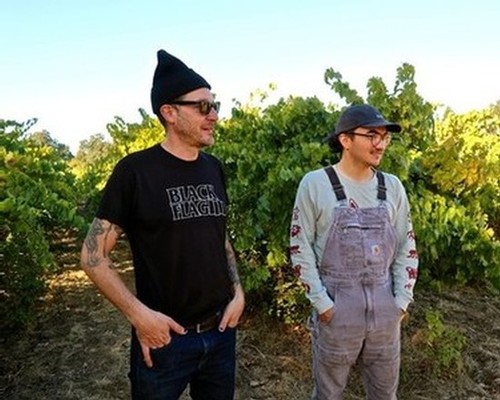 What does a career sommelier-turned-winemaker see in Lodi? Lots.
In 2017, Monte Rio Cellars owner/winemaker Patrick Cappiello "fled" (in his words) a perfectly good, 25-year, multi-award-winning restaurant career in New York City after the closing of Rebelle, for which he served as operating partner and wine director.
Mr. Cappiello began his next phase in California; first, by working under Pax Wines' Pax Mahle, a talented winemaker with a 20-year track record and personal philosophy for which Cappiello felt, as he puts it, "a kismet connection." Adds Cappiello, "I never looked back."
The challenge, of course, was to carve a niche in a wine industry where talented winemakers practically grow on trees. "The only thing I knew I wanted to do," says Cappiello, "was to make a difference by producing something that has the soul of the Old World, and over-delivers on value."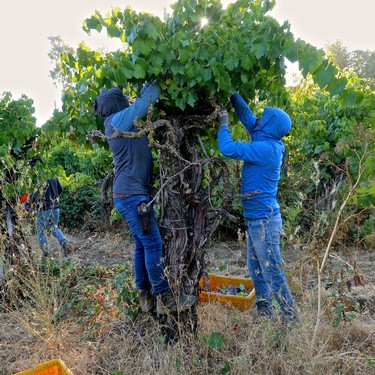 As a sommelier, one of Cappiello's favorite wines and role models was the maverick, Rhône style red blend grown in France's Ardèche region called Les Champs Libres "Lard des Choix Rouge." There is, of course, no Ardèche in California. Instead, says Cappiello, "I discovered Lodi."
The door-opener was a Lodi vineyard called Somers, planted to old Mission vines well over 6 feet tall, yielding soft, light wines transparent in both color and the type of flowery perfume common to almost all Lodi-grown reds. "Mission is a historic grape," says Cappiello. "It also made me think of what the old wines of California from the 1800s and early 1900s might have been like"—about a time when everything was fermented with natural yeasts, sulfur was barely used, and a 5-year old barrel was still considered "new." Natural fermentation with large percentages of whole clusters as well as neutral barrel aging has become standard practice for all Monte Rio Cellars wines.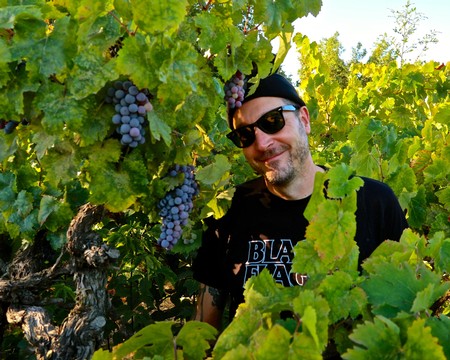 Since 2019 the Monte Rio Cellars portfolio has grown rapidly. Cappiello relishes, for instance, producing an homage to light, zingy, old-school Chianti, complete with a straw-covered fiasco-shaped bottle, from 100% Biodynamic-farmed Sangiovese grown in the Ledbetter family's River's Edge Vineyard, on the banks of Lodi's Mokelumne River. Because Lodi has become Cappiello's de facto Ardèche, he has been producing varietal Carignan, Zinfandel, Primitivo as well as Petite Sirah in his signature, lightweight (barely over 12% alcohol), acid-driven style—totally contrarian, at least by California's industry standards.
Most recently, however, Cappiello has taken to calling his 2021 Monte Rio Cellars Teresi Vineyard Red ($26) his finest wine of all; mostly because of the way it captures a distinct sense of place—qualities Cappiello has valued the highest throughout his career as a wine professional—not unlike the way "Lard des Choix Rouge" rings out "Ardèche."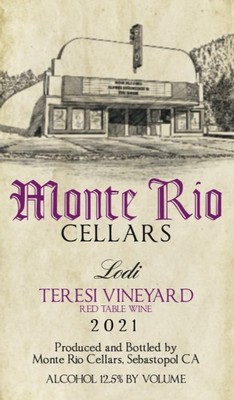 A 50/50 Zinfandel/Petite Sirah blend, the Teresi Vineyard is a vivid purplish ruby and crafted in Cappiello's moderately weighted (just 12.5% alcohol), acid-zinging style. Where it sings is in its wild berry fruit aroma, almost liqueur-like in concentration. The nose, however, is not just about fruit—it is tinged with a sense of meatiness and faint earthiness, along with sweet peppercorn and suggestions of Mediterraneanish herbs (particularly thyme/rosemary-like resiny notes, with anise and lavender).
In his announcement of the Teresi Vineyard's release this past week, Cappiello unabashedly declared: "I can truly tell you that not only is Teresi Vineyard the best wine of the Monte Rio 2021 vintage, but it's also possibly the best wine I've made in the five years I have been on my winemaking journey. I truly believe that is the result of the vineyard's spectacular farming."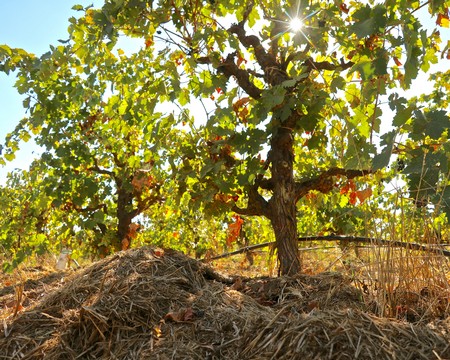 Cappiello attributes the success of this wine almost entirely to Teresi Vineyard's owner/manager, Nico Teresi, a fourth-generation Lodi farmer. Says Cappiello: "After taking over his family vineyard he continued farming conventionally, as those before him had been taught. It wasn't until a few years ago that things changed. He was out spraying pesticides when the canister he was using ran dry with a few rows of vines left to go. Nico decided that he wouldn't bother going back for another canister and just headed home for the day.
"That summer a miraculous thing occurred, the rows he sprayed were infected with a mite that caused significant damage. The unsprayed rows did not get this mite damage. This opened Nico's mind and unlocked a curiosity that has propelled him to explore regenerative farming practices. The vineyard is now farmed with biodynamic practices, and Nico experiments yearly with new regenerative techniques."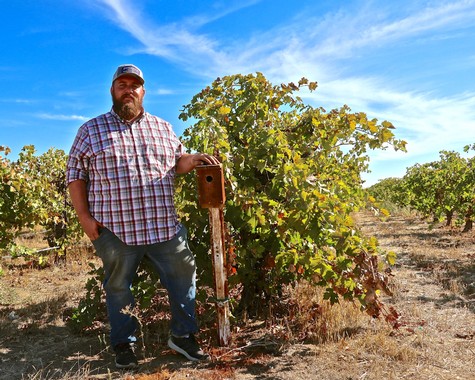 Teresi Vineyard's regenerative farming
Teresi Vineyard, a property first acquired by the Teresi family in 1970, consists of 67 planted acres. 36 of those acres is Zinfandel on stakes, planted on Freedom rootstock in 1991 as vertical cordon-trained vines. The other 31 acres are Petite Sirah planted in 2007 on a bilateral cordon trellis. Within the next year or two, according to owner/grower Nico Teresi, Teresi Vineyard will become eligible for certification by CCOF (California Certified Organic Farmers).
On the morning earlier this week that Cappiello announced the release of the 2021 Monte Rio Cellars Teresi Vineyard Red, we visited Mr. Teresi in his vineyard and asked if he could tell his own story.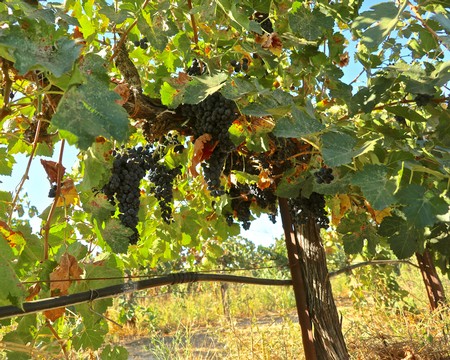 In his words:
"I've been really happy working with Patrick at Monte Rio because he's so enthusiastic and supportive of what I've been trying to do. He says that because of the nutrition in the soil at Teresi Vineyard, he doesn't need to add nutrients to the fermenting wine, unlike the grapes coming from other vineyards. Now he's saying that Teresi Vineyard is his finest wine, which only confirms all the hard work that's been put into this vineyard.
"The vineyard is farmed as a no-till property to encourage microbial growth in the soil. There are many reasons why leaving the soil alone is a positive. Following the harvest, I'll lay down compost, which directly contributes to soil health. I'll also use it as a compost tea as a natural fertiliser for the plants. Right now, there are 225 tons of compost sitting in piles along Buck Rd. on the west side of the vineyard—this will go to the Petite Sirah. There is another 325 tons of compost on the other side of the vineyard for the Zinfandel.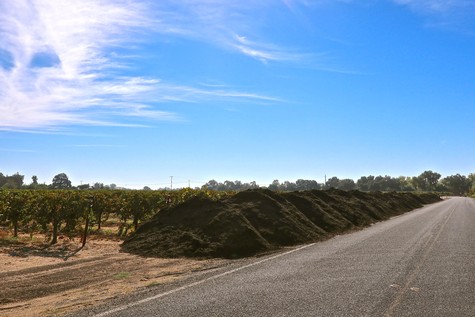 "My basic philosophy is that if you want your vines to be healthy and produce the best grapes, you need to put focus most of your attention on rebuilding the soil. Last year [in 2021] I took this one step further by planting a literal garden between the rows—tomatoes, zucchini, peppers, melons, pumpkins, and other things that I would normally have in my garden at home. I laid down straws to help retain moisture and build up microbial activity. I immediately noticed an increase in the worm population, and the grapevines began looking healthier than ever. This is a 'full circle' thought process—I'm improving the soil and vineyard, and feeding my family with healthier food.
"You'll notice that we keep plants such as buckbrush at the end of the Petie Sirah rows, and a row of French prune trees, which produce delicious fruit, alongside the Zinfandel. There are bird boxes [for bluebirds and tree swallows], lots of them, to welcome natural predators. There are families of owls and raptors nesting in the trees, and wasps in some of the boxes that are not adopted by the birds.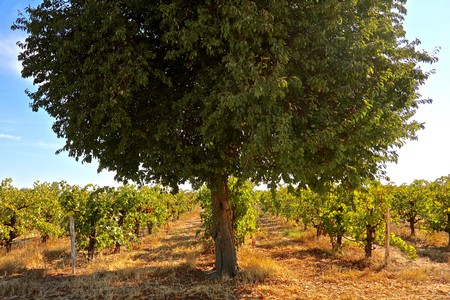 "Lately, I have been working closely with The Xerces Society [for Invertebrate Conservation]. They have helped with suggestions for native plants to create habitats for butterflies and a host of beneficial insects. My next project is to plant an entire hedgerow of these plants, across the north end of the vineyard.
"I've noticed that when we planted things such as comfrey, rye, and clovers between the rows, they compete with the weeds and help suppress them. You could compare that to the rows where we didn't do this, and there we would have a lot more weeds. The straw that was laid down with the pumpkins and melons also helped to suppress weeds. These are the things that have helped us get completely away from having to use organic herbicide sprays.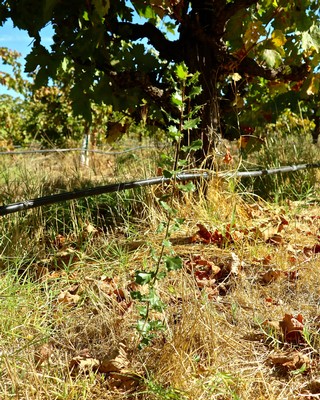 "I'd describe this as 'letting the vineyard do the work,' which also gives you fewer issues with pests like leafhoppers and mites.
"I'm not a biologist—I wish I had the time to go back to school and study it—but recently I've been doing my microscope analysis of the soil to monitor the progress. It is not yet at the level I'd like to see, but there is an increase in our fungal to bacterial ratios.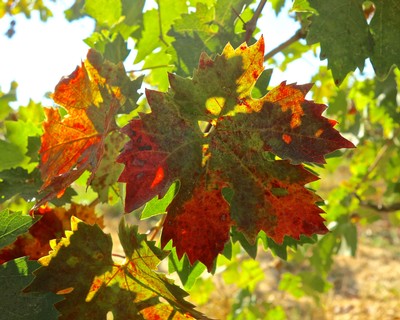 "I noticed, though, that when we stopped spraying herbicides, there were immediately sprigs of live oak popping up all over the property, all coming from the giant oak I first planted next to our old family home, when I was just a kid. This tells me that a large bird population has come back, and they are spreading the seeds everywhere. I'd love to keep some of these oaks that are naturally coming up from the ground, but of course, most of them between or under the vines have to be pulled up.
"Another sign that the vineyard is turning back into a healthier natural environment is the larger number of rabbits and coyotes. It's almost funny, watching them chasing each other all around the vineyard. The progress also comes with a few extra rattlesnakes, who are here because they, too, are finding more critters to prey upon. The drawback is that we've had a few workers who have walked out on us because they didn't want to deal with this either!"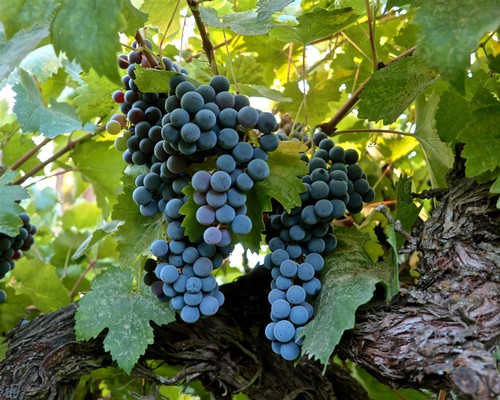 Comments