Letters from Lodi
An insightful and objective look at viticulture and winemaking from the Lodi
Appellation and the growers and vintners behind these crafts. Told from the
perspective of multi-award winning wine journalist, Randy Caparoso.

May 24, 2023 | Randy Caparoso
Mio Vigneto releases its first Lodi estate Ribolla Gialla while finishing its winery and visitor facility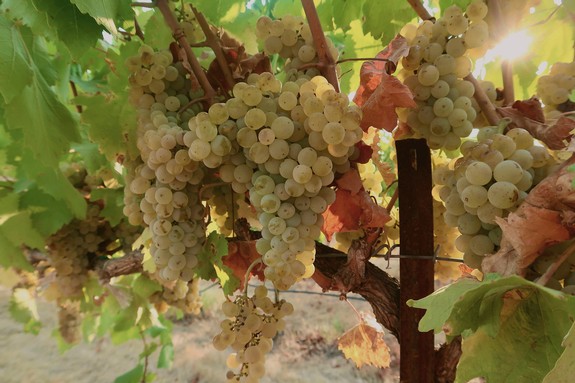 Mio Vigneto, a Clements Hills-Lodi project that has taken about eight years to come to fruition in terms of commercial production, has just released its first wine: the 2022 Mio Vigneto Clements Hills-Lodi Ribolla Gialla ($29).
Ribolla Gialla is a varietal that, over the past fifteen or so years, has become one of the hottest white wines among consumers and sommeliers with a thirst for alternative-style wines, often made from unfamiliar grapes. Ribolla Gialla may be new to you, but it is not considered unusual in its native region of Friuli, in Italy's northeastern corner, or in Slovenia where it is grown just across the border from Italy. There is documented proof of demand for wines made from this grape going back to the thirteenth century.
Across the pond from the Old Country, certain lesser known varietals become hot items for any number of reasons; obscurity, in and of itself, being one of them. Not too long ago, for instance, Albariño was totally obscure in the United States, despite the fact that this grape was one of Spain's most important white wine varieties for longer than anyone can remember. California's first plantings of Albariño didn't go into the ground until the mid-1990s, yet today the varietal is arguably the single most popular white wine in the Lodi appellation (there are now more Lodi wineries producing Albariño than, say, Chardonnay or Sauvignon Blanc).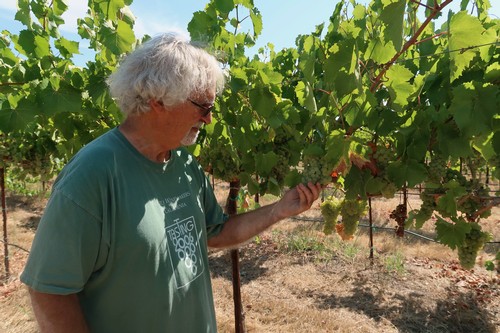 Albariño, however, became popular because 1) the grape has taken so easily to Lodi terroirs, and 2) because of the wine it produces: a white wine that comes across as light and refreshingly dry, citrusy crisp, and fragrant as well as a little minerally. Local consumers began developing a taste for this style of white wine about twenty years ago, and they seem to crave more and more of it every day.
But will they go for Ribolla Gialla? The most common descriptors of Ribolla Gialla bottlings from around the world include lemony acidity (first and foremost), white flower notes, peach and various nuts, and thick, briny or saline characteristics amounting to sensations that are as savory as they are lip smacking. In other words, a white wine that is similar to Albariño in a degree of tartness, but a little more substantial in terms of weight or feel than a typical Albariño.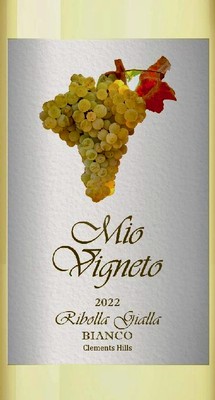 The first commercial vintage of Mio Vigneto Ribolla Gialla is, in fact, true to type: It is an intensely fragrant, straw-gold colored white wine exuding sweet cream, preserved lemon and notable almond paste; and on the palate, a medium-full bodied juxtaposition of lemony crispness and texturings that are both meaty and fleshy, indicative of the phenolic richness (i.e., complexities derived primarily from the grape's skins) that has kept the cultivar in good stead for well-nigh a thousand years.
Mio Vigneto owner/grower Dwight Busalacchi (you may contact him at dwightb@miovigneto.com) planted his first 2 acres of the grape in 2015. One of the reasons was because he had heard that this was an "in" grape. Imported bottlings of varietal Ribolla Gialla, for intance, retail for $25 to $60, although the finest examples go for over $100—which translates to about $200 a bottle in hoity-toity restaurants.
According to Busalacchi, however, "Sharon [Busalacchi's wife] called over 300 wineries over three years, and only seven wineries showed an interest in it." Busalacchi ended up selling small lots of Ribolla Gialla to multiple wineries "from Monterey to Mendocino."
In a recent email exchange, Mr. Busalacchi shared further insights on the grape, while shedding some light on his own winery project, located on the far eastern edge of the Lodi appellation off E. Kettleman Lane. Our conversation:
R.C.: Why the decision to plant Ribolla Gialla in the first place?
Busalacchi: In 2005, our tank manufacturer brought over several cases of wines from Slovenia. One of them was "Rubio," the Slovenian version of Ribolla Gialla. I liked the wine, finding it similar to Sauvignon Blanc. I think the grape makes a wine that can be enjoyed by both Chardonnay and Sauvignon Blanc lovers. Truly a wine that bridges a gap.
R.C.: Tell us a little about your vineyard estate.
Busalacchi: We grow six varieties—Cabernet Sauvignon, Fiano, Ribolla Gialla, Nero d'Avola, Barbera and two clones of Sauvignon blanc [FPS 01 and Musqué] on seven of our 18 total acres. In the future we plan to explore other Italian varieties. I honestly believe we can grow high quality grapes of any variety due to our weather and the range of well-drained soil types found in the Lodi AVA.
R.C.: What type of soils do you have in your part of Lodi?
Busalacchi: The soil series is Cometa [a well drained alluvium of granitic origin], which we ripped down to about seven feet to break through the hard pan lying about 40 inches below the surface. The hard pan was only about 4 inches thick, but was as hard as concrete. I believe our vineyard is in a sweet spot with a constant cooling breeze from the west, which makes it possible to use very little mildicide. Most of the time one application in the early spring is enough for the whole season.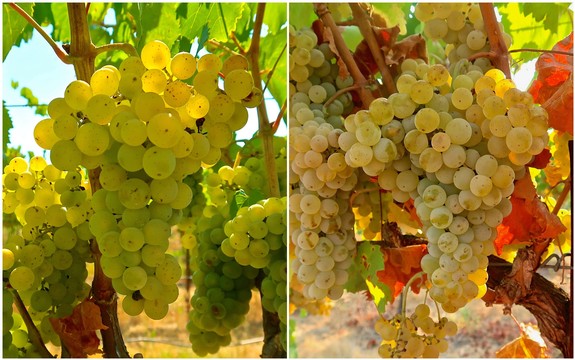 R.C.: Tell us a little bit about what went into the Ribolla Gialla harvested for your 2002 bottling.
Busalacchi: Our grape customers actually make the decision on when to harvest. To help them, I graph out the ripening trend that we have seen from year to year, along with pH and TA [i.e., grape acidity] to base their decision on. Normally they want it picked at 23° Brix [sugar reading]. It seems to hold at that sugar level for the rest of the season. What changes, is the skin color goes from a greenish yellow to a transparent orange. The pH rises slowly from about 3.2 to 3.5 over a two to three week period after initially reaching 23° Brix.
This past season [2022], I asked the picking crew if there were any white wine grapes left in the vineyard after they were picked for our winery customers. Their answer was, "just a few vines." With that, I went back to working on our tasting room construction. About three weeks later, I went out in the vineyard to check on the Cabernet grapes and was shocked to see that there were about a ton of Ribolla grapes left on the vines. At this time they were in pretty poor condition due to yellow jackets and birds. We also had some clusters turning purple.
A few days later we harvested the grapes. Due to their poor condition, we whole cluster pressed to about one bar of pressure. The juice was cold settled for four days and the clear juice was racked into a 500-liter oval tank to ferment. We used a AEB yeast "Fermol Elegance" for the fermentation, and set the fermentation temperature as low as possible. Fermentation was trouble-free, lasting about four weeks, and the wine was left on the lees [i.e., spent yeast cells] for another month, and temperature slowly raised back to about 60 degrees. What is great about our oval tanks is that the bottom to height ration is about six time greater than a cylindrical tank of the same ratio. Thus a very thin lees bed and a large surface contact area.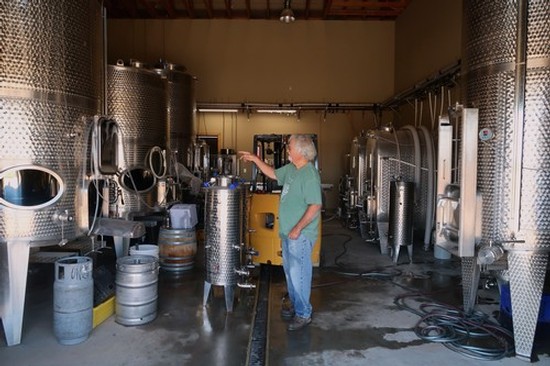 R.C.: What are some of your personal thoughts on the varietal and its sensory qualities.
Busalacchi: Ribolla Gialla seems to go with any food, especially, hard cheese and seafood. I like its creamy finish, and when having it with cheese the wine seems to give a long flavorful finish to the cheese. As I've mentioned, the wine combines the best qualities of a Sauvignon Blanc and Chardonnay.
This coming season [2023] I plan to reserve about two tons of Ribolla Gialla to make an orange wine [i.e., white wine fermented on grape skins]. Currently we have enough red and white wine fermenters to take all of what we have planted, but still want to supply our customers with enough grapes for their programs.
R.C.: When can your own customers finally be able to visit a Mio Vigneto winery?
Busalacchi: Hopefully, we will have our tasting room and surrounding grounds completed this year. Our new building will consist of a private tasting room, public tasting room, 1,300 square feet of outdoor covered patio, and 1,600 square feet of outdoor seating for those nice evenings.
As we grow our wine customer base, we will expand our wine production from 500 cases to 2,000 cases a year. This will mean that we will need to plant more vines to provide to our grape customers along with our wine program.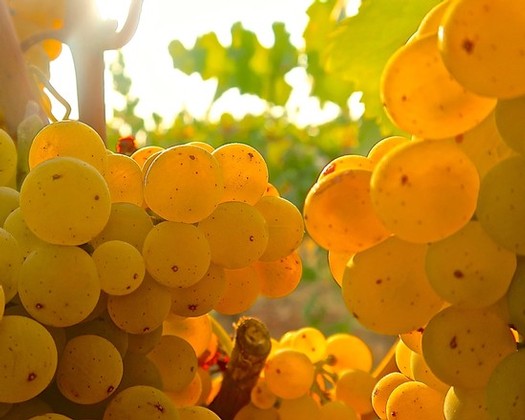 Comments