Letters from Lodi
An insightful and objective look at viticulture and winemaking from the Lodi
Appellation and the growers and vintners behind these crafts. Told from the
perspective of multi-award winning wine journalist, Randy Caparoso.

March 21, 2023 | Randy Caparoso
Mikami Vineyards continues to forge its identity by rolling with the flow of its provenance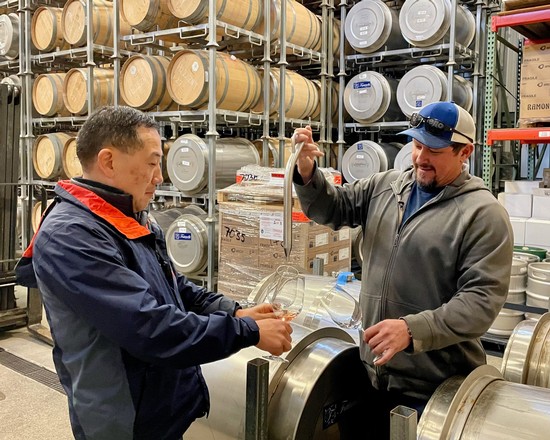 After 15 commercial vintages, Mikami Vineyards is still a tiny brand. Current total production barely tops 500 cases. By comparison, most Lodi wineries falling in the "small" category produce a few thousand cases. Woodbridge by Robert Mondavi winery churns out several million.
Still, Mikami Vineyards' first vintage, a 2008 estate-grown Zinfandel, totaled just 50 cases. Modest progress has been made. The important thing, as owner/grower Jason Mikami recently told us, is, "We still sell out everything we make... we feel lucky to have such a loyal following."
From the beginning, though, the Mikami Zinfandels have been garnering gold medals in virtually every recent San Francisco Chronicle Wine Competition, including for the current vintage (2020). In the most recent San Francisco judging, Mikami's 2020 estate-grown Petite Sirah received a "double gold," meaning by unanimous decision (it's extremely difficult for panels of persnickety wine judges—whose tastes are varied as anyone's—to agree on anything).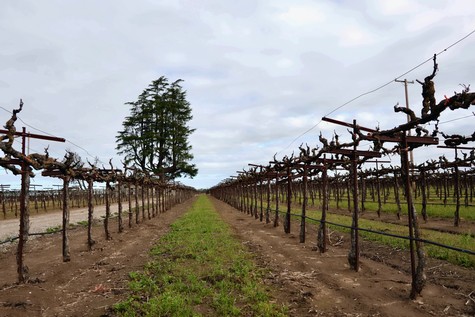 But here's the thing: Unlike other Lodi wines of note, these are not "old vine" wines. The Zinfandel is crafted from split-canopy trellised vines planted in 2004; the Petite Sirah was planted in 2005. To increase diversity, in 2020 some of the trellised Zinfandel was regrafted to the classic Southern French grapes, Grenache, Syrah, and Mourvèdre. Most of the grapes grown in the sustainably farmed 15-acre vineyard are sold to other wineries, and everything bottled under the Mikami Vineyards label is estate grown.
While there is absolutely no doubt that sheer vine age plays a huge part in the quality of most top-shelf Lodi Zinfandels—vines over 50 or even over 100 years old have the advantage of deeper roots and stronger sap flow coming up through thickened trunks and long, muscular arms—there is still a pervasive advantage shared by all vineyards, young and old, growing in the heart of Lodi's Mokelumne River Viticultural Area, on the appellation's west side: That is, an extremely deep and fertile sandy loam soil (consistent to depths of 80 to 100 feet), and the region's sun-soaked Mediterranean climate. Grapes such as Zinfandel, Petite Sirah, Grenache, Syrah, and Mourvèdre have a natural affinity with these growing conditions.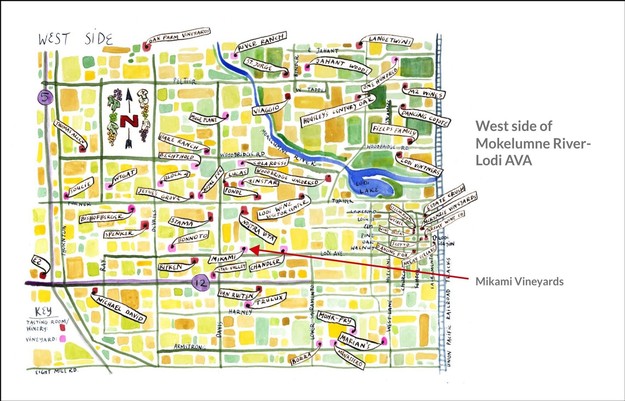 The multi-award-winning Mikami wines, in other words, are the beneficiaries of a built-in advantage in the way of an ideal terroir. When you think of it, it's this very terroir—i.e., endemic factors defining a "sense of place" detectable in resulting wines—that explains why there are more old vine plantings in Lodi than in any other wine region in California. In order for a vineyard to grow "old" in the first place, you need a healthy environment conducive to productive wine growing, year after year after year.
Whenever wine scribes talk about terroir, they are also talking about the people, and culture, associated with vineyards and regions. In the case of Mikami Vineyards, the people in question are three generations of a Japanese-American family: Jason Mikami's grandfather first began farming in Lodi in 1895, planting his first blocks of Flame Tokay in 1902. Zinfandel was added in 1923.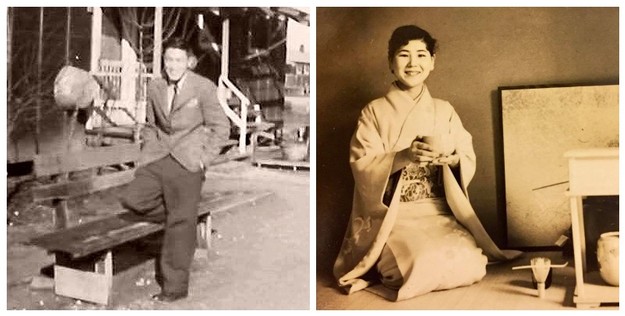 Integral parts of Lodi terroir: Second generation Lodi grower Jim Mikami—in a photograph taken in a Japanese-American internment camp during World War II—and his wife Aiko, a survivor of Hiroshima who for many years also served as an ambassador of Japanese culture, teaching Japanese musical instruments and performing countless demonstrations of tea ceremonies, origami crafts and flower arrangement from San Francisco to San Joaquin Valley.
In previous conversations, Jason Mikami has told us, "My father [Jim Mikami] toiled single-handedly in this vineyard for over 40 years. Although he passed away before seeing the first release of a Mikami wine, I think he would be proud of what we've done thus far."
Of the two current vintages of red wines, the 2020 Mikami Vineyards Lodi Zinfandel ($39) personifies the Mokelumne River-Lodi style with its come-hither convergence of plump, fresh, and fragrant red, black, and blue-colored berries in the nose and a full yet round, sumptuous palate-feel, mingling with faint, intriguing undertones of loamy earthiness—the entire profile lifted by dashing notes of vanillin oak.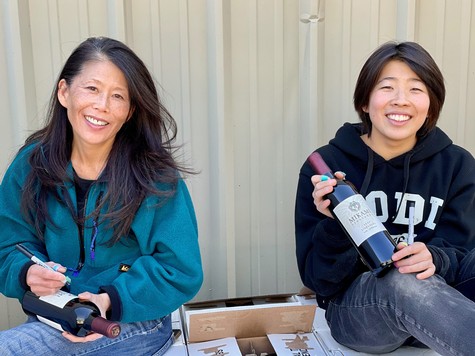 The 2020 Mikami Vineyards Lodi Petite Sirah ($39) is muscular and mouth-filling, the way any Petite Sirah lover would want it to be; yet its fruit and oak tannins are svelte and fleshy, rather than hard or coarse, while the lush plummy, blueberryish profile of the fruit sings with floral femininity reflecting a Lodi typicity.
Now that most of the recent replantings are approaching their twentieth leaf, Mr. Mikami has noticed some changes over the past few vintages: "Varietal characteristics, particularly for the Petite Sirah, are becoming increasingly concentrated. But more than that, the wines are now truly expressing the vineyard with greater consistency. Being on the west side of the Mokelumne River AVA, we are more fruit-forward and exhibit consistent brambly and black cherry notes in our Zinfandel, and blueberry and black plum in the Petite Sirah."
If there is an emerging Mikami Vineyard's "house style," it has been a matter of rolling with the flow in terms of what the vineyard wants to express. Says Mikami, "We have not been influenced so much by the recent interest in 'natural' style wines, but for us, it all starts with carefully managing the fruit load and the vigor of the vines and ends with careful choices in the winery to make sure we preserve the prime characteristics of our wines."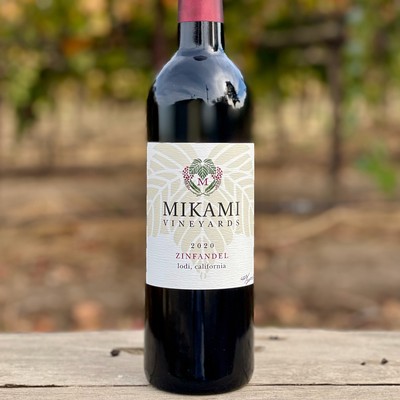 The current oak regime for the reds—calibrated to enhance the generous fruit profile typifying west-side Lodi grapes without incurring a dominating "oakiness"—reflects the Mikami Vineyards approach. As Mr. Mikami puts it, "The program is a combination of new French and new American (medium toast) that makes up approximately 40% of the barrelling. The remainder is neutral [i.e., previously used barrels imparting minimal oak flavors and tannin], a total of 16 to 18 months in barrel."
While a red "GSM" (i.e., Grenache/Syrah/Mourvèdre blend) has just been bottled and is yet to be released, there is a 2022 Mikami Vineyards Lodi GSM Rosé ($29) on the current docket. But as rosés go, this is not a light or delicate wine; rather, it is full-bodied, grippy, desert-dry, tart, and plucky in its cherry/strawberry fruit profile. It is pink in color but almost red wine-ish in its assertiveness. I'd even drink it with a steak, if not a bacon and grilled chicken layered Cobb salad.
Mikami Vineyards wines, in other words, are not meant to fall into predictable categories. They are meant to be "Mikami," and proudly "Lodi" in that provenance.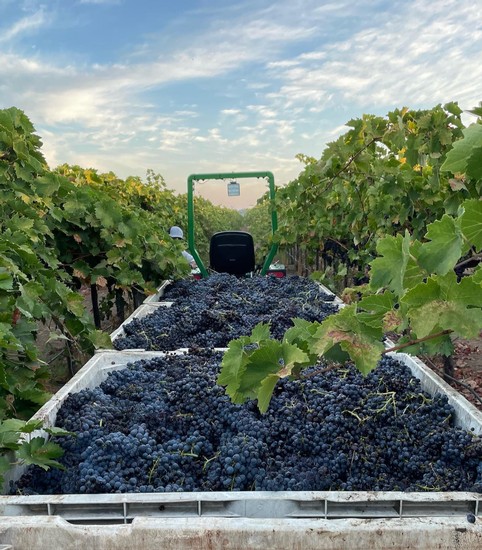 Comments