Letters from Lodi
An insightful and objective look at viticulture and winemaking from the Lodi
Appellation and the growers and vintners behind these crafts. Told from the
perspective of multi-award winning wine journalist, Randy Caparoso.

March 22, 2021 | Randy Caparoso
Lodi's Stama Winery hits its stride with a sleek Cabernet Franc and Petit Verdot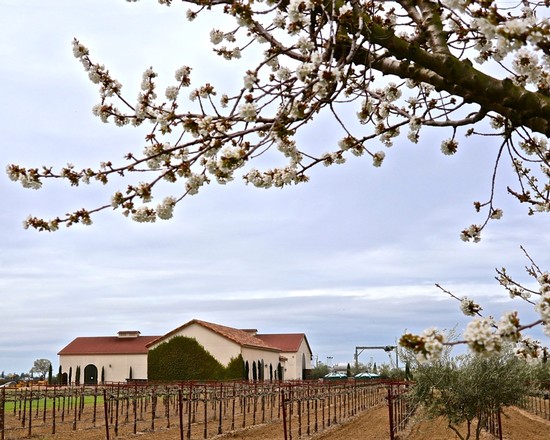 Lodi's Stama Winery is not exactly "new," but it might as well be because it is just now beginning to find its niche — which it has!
The winery quietly opened the doors of its winery facility on its 10-acre "home" property nearly six years ago, in May of 2015, on N. Davis Road, just south of W. Turner Road. The stark white walls and Romanesque red-barrel tiled roof of its two current structures have a strikingly Mediterranean look, and for good reason: 2021 will mark 55 years since Stama owner Konstantino "Gus" Kapiniaris first arrived in Lodi from Southern Greece — for thousands of years the cradle of Mediterranean civilization.
It is not just the blood of Greek ancestors that runs through Gus Kapiniaris' veins. It is also wine. According to his son Frank Kapiniaris, who manages Stama Winery, "It was my grandfather that instilled the love grape growing into my father, who was the youngest of six children. If it wasn't for my grandfather taking him out into the vineyards, showing him how to prune the vines starting when he was 8 years old, there would be no Stama Winery today."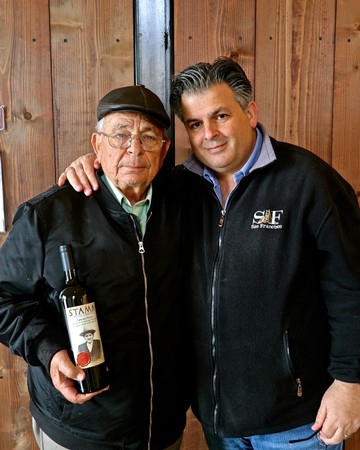 Gus Kapiniaris planted his first 30 acres of grapevines on the east side of Lodi in 1987. The family-owned and farmed vineyards have since expanded to 250 acres, primarily in two east-side blocks located in the Mokelumne River and Clements Hills appellations of Lodi.
The two most distinctive wines in the current Stama Winery portfolio, however, actually come from the Kapiniaris family's youngest vines, planted less than six years ago on the west side Davis Road property, alongside the winery: The beautifully bright and perky 2018 Stama Lodi Cabernet Franc ($38), and the denser, meatier 2019 Stama Lodi Petit Verdot ($38). The latter is packaged in a commemorative label depicting Gus Kapaniaris's father, Foti Kapaniaris, identified as the "Kapiniaris Patriarch."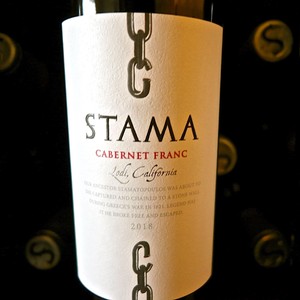 Despite the fact that these two red wines were made from vines only in their third and fourth leaves respectively, they have three things going for them:
1. The west side of Lodi's Mokelumne River AVA has a proven track record for outstanding reds made from Bordeaux grapes (case in point: the perennial gold medal-winning Cabernet Sauvignon, Cabernet Franc, and Petit Verdot bottlings by Michael David Winery are sourced from vineyards close to Stama's winery estate).
2. Gus and Frank Kapaniaris were smart enough to hire a top-notch winemaker in the person of Franck Lambert, a University of Montpellier trained oenologist who has not only worked throughout France but who has also contributed to the past successes of wineries like Michael David, Oak Farm Vineyards and Watts Winery & Upstream Wines.
3. According to Monsieur Lambert, it took an "all-out effort" to hit the bullseye on these wines. "To get the concentration of polyphenols [molecules contributing to color, tannin, and much of the flavor of red wines] and tannin that we wanted, we spent a lot of time in the vineyard in May and June thinning out the leaves to get the perfect amount of shading, and dropping grape bunches to reduce the yields to about 4 tons [per acre]. There were some days when we were out there in the fields and hot sun for so long, we had to say, 'no more, it's done!'"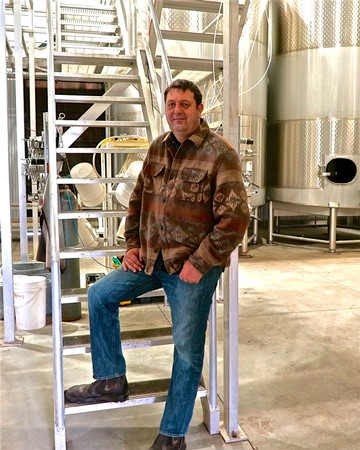 The Stama Cabernet Franc in particular absolutely exudes pure, ringing, mouth-jiggling raspberry-like fruit and extremely fine, silky textures overlaying a moderately gripping mouthfeel. The wine has all the things a wine lover looks for in a Cabernet Franc, which is one of the parent grapes (along with Sauvignon blanc) of Cabernet Sauvignon: It has an aromatic intensity similar to a Cabernet Sauvignon, but a much finer, softer feel of tannin reflecting the slightly thinner skins typifying Cabernet Franc berries.
Petit Verdot, a genetically unrelated black-skinned grape that also originated in France's Bordeaux region, is known for growing in smaller, more compact clusters, producing fruit that is just as dark in color and dense in tannin as Cabernet Sauvignon, but is typically sharper in acidity while having a more floral, almost violet-like fragrance, as opposed to the herby-green qualities of both Cabernet Sauvignon and Cabernet Franc. Stama's 2019 Petit Verdot reflects how the grape typically grows in the rich, deep, and sandy soils of Lodi's west side, which tends to take the edginess off of high tannin/acid grapes like Petit Verdot. The result in Stamp's bottling is a dark, zesty, fairly sinewy texture, yet a rounded enough feel to allow the dark, plummy fruit and a dark roast coffee-like spice (the latter, reflecting nuances of oak) to predominate in the nose and palate. Vive la Lodi!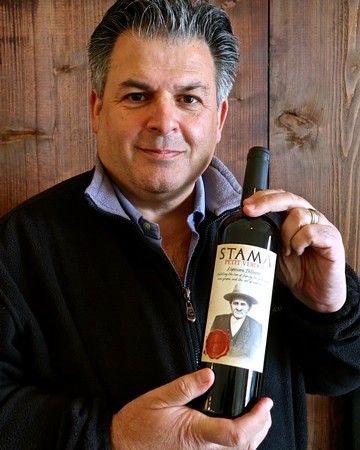 According to Frank Kapiniaris, "It is also thanks to Franck [Lambert] that we are where we're at today." Stama Winery's primary business, as it were, involves custom crushing of their fruit, as well as of fruit purchased from other Lodi vineyards, and producing finished wines for other wineries located primarily in regions like Napa Valley and Sonoma County. Stama's 176,000-case-capacity winery currently produces over 5,000 cases of these wines each year in their rapidly growing "bulk wine program."
"It is Franck who originally suggested that we venture into the bulk wine business," adds the younger Kapiniaris, "and he has been guiding us ever since. The fact that we are able to sell bulk wine on long-term contracts to bigger wineries outside our area says a lot about the quality of grapes coming out of Lodi. This is the future of how growers such as ourselves will be able to market our grapes and continue our family traditions.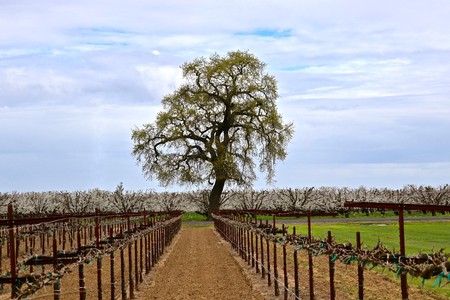 "If we kept all the fruit from our own vineyards, we'd be able to produce 140,000 cases of Stama wines each year. We now have the capacity, thanks to the most recent build-out of our 'tank farm.' But right now, for our own labels, we are producing less than 5,000 cases a year. The ability to grow and sell fruit as well as bulk wine gives us a much healthier diversification.
There are a number of other Stama Winery bottlings worth booking a visit to the winery soon; including a refreshingly bone-dry 2019 Stama Lodi Dry Rosé of Zinfandel ($22) that Lambert describes as "Provence-like." Keep this wine in mind as our spring days become warmer.
Among the reds, the 2016 Stama Lodi "Zany Zin" ($24) is unabashedly fresh, light, soft, zesty-edged, and fruit-driven, without the excess of oak, tannin, and alcohol so common to most other red Zinfandels. Finally, there is a bottle-aged nugget: the 2013 Stama Lodi Winemaker Reserve Zinfandel ($35), which has seen some generous new French oak barrel aging, adding a cedary, smoky spice to sleek, bright, wild berry varietal fruit, with just a tinge of herbiness adding to the complexity.
If you like a brand that produces wines with a sense of restraint, plus the authenticity of being truly family and estate-grown, Stama just might be your ticket!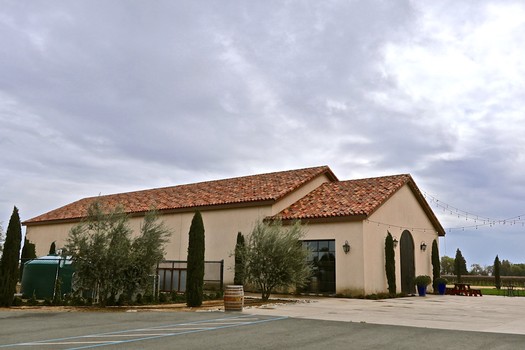 Comments