Letters from Lodi
An insightful and objective look at viticulture and winemaking from the Lodi
Appellation and the growers and vintners behind these crafts. Told from the
perspective of multi-award winning wine journalist, Randy Caparoso.

June 13, 2023 | Randy Caparoso
Lodi's McCay Cellars explores the wilder, meatier, savory side of dry rosé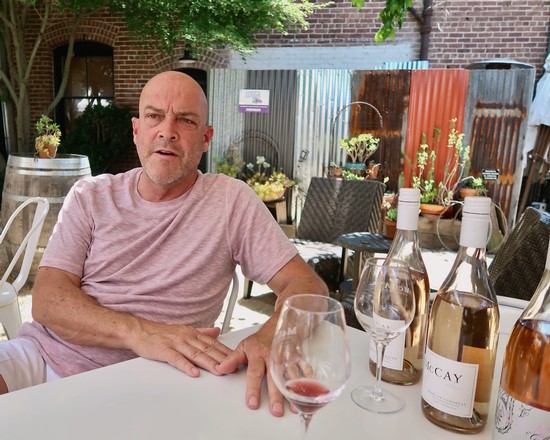 Thirteen years ago Mike McCay produced his first dry rosé from Lodi-grown Grenache grapes under his McCay Cellars label.
That wasn't long ago, but at that time the vast majority of consumers were still in their Chardonnay or White Zinfandel stage. If you drank red Lodi wines, you mostly drank overly fruited or oaky Zinfandel. The wine industry, if anything, has always aimed to please, but it's only recently that consumers have been pleased by dry-style rosés. Thirteen years ago, most vintners couldn't give those wines away.
So what's a rosé-crazy winemaker to do, now that dry rosé has become such a popular wine category? If you're Mike McCay, you start producing five or six different rosés each year. This, mind you, is not normal. Even giant-sized wineries in Southern France—where more dry rosés are grown, produced, sold, and consumed than anywhere else in the world—typically bottle just one brand-defining rosé.
Mr. McCay, however, produces multiple bottlings of rosé each year for the exact same reason he produces five or six different Zinfandels: He believes blending them all together is a shame.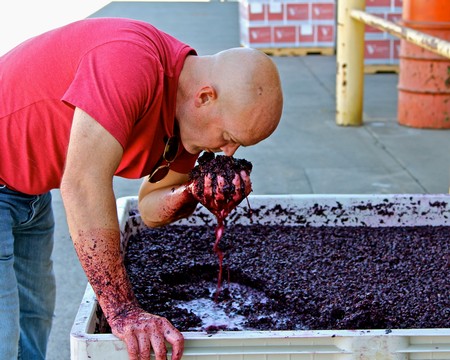 In the case of red wines made from Zinfandel, it's a matter of each of the primo vineyards sourced by McCay producing a distinctively different wine. A TruLux Vineyard Zinfandel, for instance, may be round, pungently earthy, and black-fruited, whereas a Faith Vineyard Zinfandel is a little edgier with perfumey red berry/cherry fruit and absolutely no earthiness. Blending the two together may, indeed, make a very interesting wine, but a winemaker like McCay doesn't think that way. To him, it's the sensory differences that make for an interesting wine. Therefore, blending the two to make one wine is no bueno.
In the case of rosés, for McCay it's also a matter of vineyard sources; although more so, a matter of different grapes. For his rosé program, McCay focuses on Southern French grapes (good rosés can be made from any black-skinned grape, from France's Cabernet Sauvignon and Pinot noir to Italy's Barbera and Aglianico or Spain's Tempranillo and Graciano): primarily Grenache, also Cinsaut, Carignan, Mourvèdre and Syrah.
Why Southern French grapes? Because McCay is convinced that Lodi's Mediterranean climate is ideally suited for grapes that are grown along France's Mediterranean coast (i.e., the vast Southern French regions of Provence and Languedoc-Roussillon).
The French, incidentally, follow the same logic. That's why they don't grow Grenache or Cinsaut further away from the Mediterranean coast in regions such as Bordeaux, Burgundy, Alsace, or the Loire; and why they don't grow Bordeaux, Burgundian, Alsatian, or Loire grapes along the Mediterranean. At least not typically—the French, too, have the occasionally crazed vignerons (the French word for "winegrower") who veer from tradition.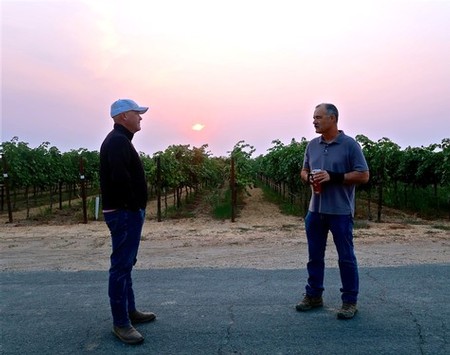 In any case. to most vintners with winegrowing experience going back, say, a thousand or so years, cultivating grapes in regions where the odds are against you in terms of sufficient grape ripening or quality of resulting wines doesn't make a lot of commercial sense. They'd rather work with Mother Nature, not against her.
Mr. McCay may be a little crazy himself—what can you say about a vintner who bottles numerous different rosés?—but he is, if anything, something of a sensible vigneron. He plays the odds and respects Nature. This is why, speaking of which, he also ferments rosés (as well as all the wines he produces) with the use of the native yeasts already found on the skins of grapes growing in the vineyards, rather than with the use of laboratory-developed yeasts the way over 99% of commercial wines are made in this country. McCay prefers the sensory qualities that come naturally from grapes—for good or bad.
Before I dive into notes on four of the rosés currently offered by McCay Cellars, I'll say this: These wines are as much a byproduct of their respective grapes and vineyards as the McCay winemaking style. So-called "low intervention" native yeast fermented styles do, indeed, result in flavor profiles that are slightly off the beaten path.
Most commercial rosés, especially Californian, are on the exuberant side in terms of fruit fragrances. Native yeast fermented rosés tend to be a little less monochromatically fruity. That is, their fruit profiles are tinged by a little more perceptive minerality, and can also be somewhat organic (i.e., smelling more like earth or non-fruit parts of plants). These profiles may not be to your personal taste; but if it is, you'll love a McCay style rosé.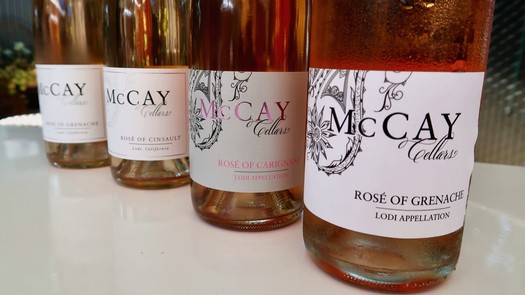 The four (out of a total of six) current releases presented by Mr. McCay earlier this month (June 2023):
2021 McCay Cellars, Lodi Rosé of Grenache ($24)—Pale, translucent brick pink color and fresh, bright fruit perfumes suggesting strawberry, peach, strawberry, and a grapefruit-like citrusiness. A mineral note creeps into the picture as the fruit qualities become tangible on the palate, which is outwardly round and soft, yet slightly tart in its core; ending up coming across as lean and slightly edgy in its dryness. Sourced from Abba Vineyard, consisting of vertically trellised vines planted in the early 2000s in sandy soils on the east side of Lodi's Mokelumne River AVA.
With respect to winemaking protocols, Mr. McCay tells us: "This wine follows the procedure I use in all of my rosés. It's 100% native yeast fermented and has nothing [like acidity] added or subtracted. Typically, I gently press the grapes and stick them into 55-gallon stainless steel drums, tucking them away for three or four weeks in a cold room, where they're kept at about 40°. I usually forget about them—I'll back get to them after all the other grapes are harvested. The wines can't ferment in the cold room, but it benefits from the contact with the grape solids extracted from the skins. Once I pull the drums out of the room to warm up, it takes another three or four more days to start fermenting on their own.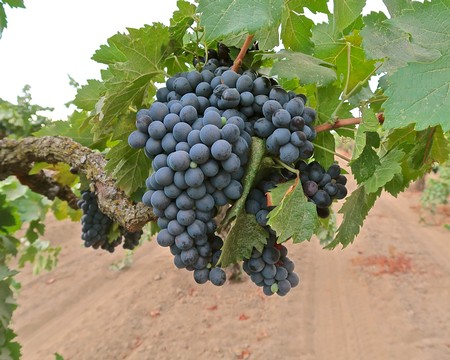 2021 McCay Cellars, Lodi Rosé of Cinsaut ($35)—The provenance of this wine, Mokelumne River's historic Bechthold Vineyard, is of significance. Anytime you produce a rosé from gnarly, 135-year-old, own-rooted grapevines, it's significant. But just because a wine is made from incredibly old, world-famous vines, it doesn't mean it's incredibly "intense." If anything, McCay's Bechthold rosé is, if anything, incredibly delicate, or downright subdued—a very pale pink color followed by low-key fragrances suggesting strawberry, cherry pit (this being the time of year when our bowls are littered with cherry pits), a touch of pomegranate and a bit of leafy/floral rose petal, backed by whiffs of an organic turf. On the palate, the wine is firm, lightly tart, very dry, more minerally than fruit-driven, round, and fluid in its medium-full weight.
2020 McCay Cellars, Lodi Rosé of Carignan ($32)—Once McCay's rosé bottlings approach their third year in the bottle they enter this winery's "reserve" program. Under McCay protocols, they typically shift in color from a translucent pink to a slightly more orangy brick-pink, and the aromas and palate sensations deepen considerably. They become, as Mr. McCay likes to say, more like a "big boy rosé," which is exactly how he describes this wine which exudes aromas of wild, almost weedy chaparral, dried herbs, and shriveled rose petals mingling with fruit notes suggesting strawberry and rhubarb. On the palate, the feel is round, rich, and meaty; medium-full in weight, and long and savory in the finish.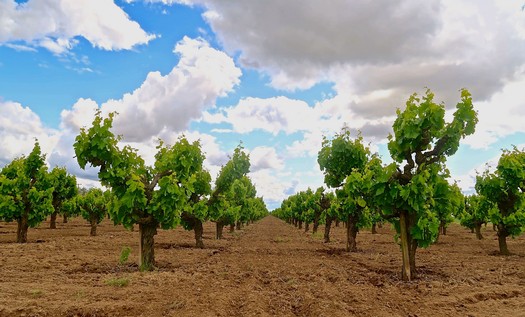 According to Mr. McCay: "This is precisely why I keep my rosés separate—this wine is unique, grown by the Manassero family [from a block located on the south side of the Mokelumne River-Lodi AVA, planted on their own roots during the late 1950s], and deserves its own attention. Unlike the younger rosés, which I'll drink by themselves next to a pool, I prefer a rosé like this with food like salmon coming off a grill or even a rack of lamb. It's meaty enough to go with a main course!"
2020 McCay Cellars, Lodi Rosé of Grenache ($32)—Compared to McCay's 2021 bottling, this vintage has taken on more of a rusted orange-tinged pink, and the aromas are not so much earthy or minerally but more exuberantly strawberry-like—to Mr. McCay, it is very "olallieberry-like," referring to the wild berry variant now popular among pie-bakers)—approaching a nearly jam-like concentration, without being overripe or raisiny. What a difference a year makes. In an almost contradictory fashion, 2020 comes across as lighter and fresher than 2021, although it retains round, fleshy qualities with mineral undertones.
Like McCay's 2020 Rosé of Carignan, the profile of this pink Grenache (also sourced from Abba Vineyard) suggests entrées or meaty appetizers rather than a usage as an apéritif—think seared/raw tuna or crispy salmon skin handrolls, high in the savory taste of umami. Plainly put, if you're into dry rosés that are a little less dainty, and have a little more "oompf," these older styles of McCays might be right up your alley.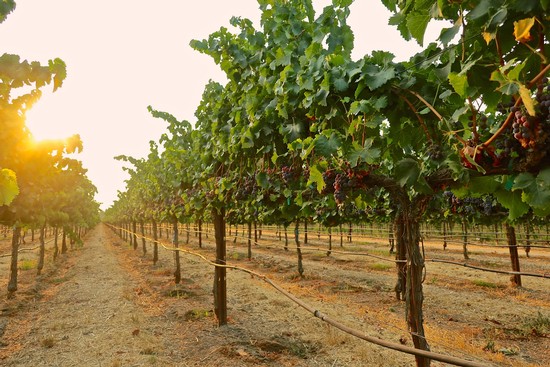 Comments