Letters from Lodi
An insightful and objective look at viticulture and winemaking from the Lodi
Appellation and the growers and vintners behind these crafts. Told from the
perspective of multi-award winning wine journalist, Randy Caparoso.

December 18, 2019 | Randy Caparoso
Lodi's LVVR Sparkling Cellars leads way with two new champagne style sparklers meeting demand for dryer, finer tastes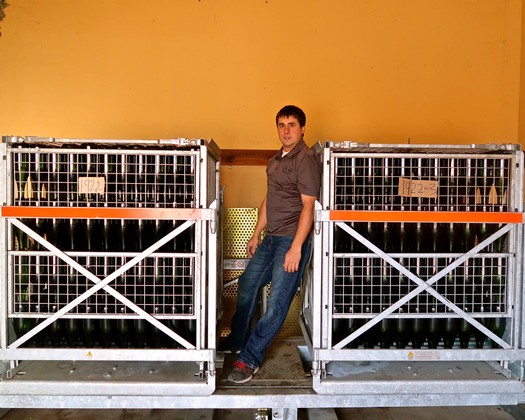 LVVR Sparkling Cellars' Eric Donaldson, Lodi's one and only champagne-style wine specialist, is apparently just beginning to spread his wings. He has just added two more wines to his more "traditional" line-up of Brut, Blanc de Blancs, Rosé, and Demi-Sec bottlings, all made primarily from the classic grapes of Champagne, France (Chardonnay and Pinot noir).
Donaldson's new wines are different in two ways:
1. One is made from a decidedly untraditional (in the entire world of champagne-inspired sparklers) black-skinned grape long associated with red wines from Northern Italy — Barbera.
2. Both new bottlings are vintaged single-vineyard wines, with the names of grape sources prominently designated on the label — something that is also very unusual in the world of sparkling wines, where multi-vineyard blending is generally considered the way to go for branding and style considerations.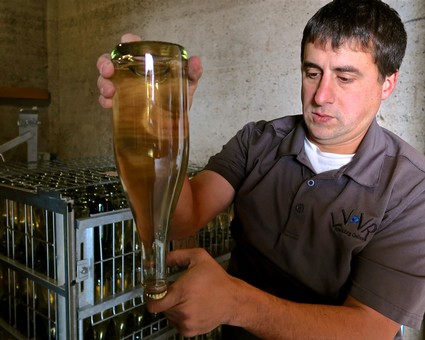 This past weekend, while setting up for his December wine club pick-up party (wine geeks join winery clubs to pick up bottles, not other wine geeks), Mr. Donaldson explained:
"Over the past two years, I've been producing small batches of champagne for over two dozen other winery clients from all sorts of grapes, such as Albariño, Verdelho, or Zinfandel. We produced a Sparkling Verdelho under our own LVVR label (see our December 2018 post on LVVR's new sparkling Verdelho), which is nice, but I also thought one made from the Barbera grape turned out especially good. So I said, why not? — let's produce an LVVR sparkling Barbera, which comes from a vineyard in the Clements Hills AVA of Lodi. Barbera is actually an ideal grape for sparkling wine because it is naturally high in acid, more than any other red wine grape, and the best sparkling wines are high in acid.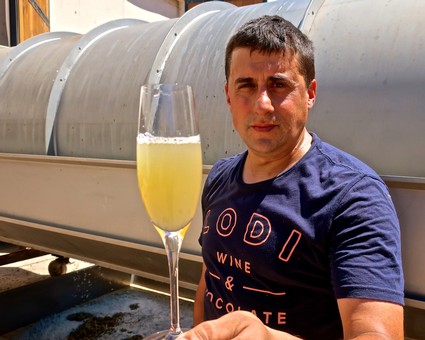 "Now that we are a little more established, I've also been able to build up some cuvées achieving what I would consider more of a 'reserve' quality — wines we can hold longer en tirage (i.e. the champagne process by which wines are held in contact with their lees, or spent yeast cells, following their second fermentation in the bottle). So I bottled a pure Pinot noir sparkler that spent 17 months on the lees. It comes from Alan Ranch on the far west side of Lodi's Mokelumne River AVA, just south of Flag City. This is the vineyard we've been working with from the beginning to get our Pinot Noir and Chardonnay. I think it deserves a vineyard designation because it's an ideal spot for these grapes, being closer to the Delta and a little cooler in climate than the rest of Lodi."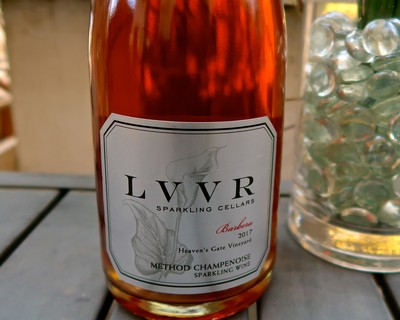 That said, the 2017 LVVR Heaven's Gate Vineyard Clements Hills-Lodi Sparkling Barbera ($34) is a delight by anyone's standards. First of all, it is "virtually" dry (just 3 grams of residual sugar — less than the Brut style sparklers of most California producers and French Champagnes) and outwardly tart, having none of the annoyingly sweet fruitiness that you might expect from the wine's come-hither, pale pink color. Yet the sparkling Barbera's nose tingles the nose with a subtle rising bread yeastiness mingling with fragrances suggesting cranberry and rose petals. The whisper of sweetness cushions the tart, zesty edginess of the wine, which lays across the palate with a fine, silky, finely beaded (i.e. bubbly) effervescence.
Donaldson elaborates on the sparkling Barbera: "I picked the grapes at just 17.6° Brix (i.e. a sugar reading that would be considered grossly underripe and acidic if the grapes were picked for red wine production), and the finished wine is just 10.6% alcohol, which adds to the wine's lightness and freshness. I backed off on yeastiness, keeping the wine en tirage for just 6 months, because I was afraid that a longer period of time might mask the berry fruit qualities. The dosage (i.e. the mixture of sugar and wine added to bottles when the spent yeast cells are disgorged and the bottles are corked) is below the threshold, so you don't perceive any sweetness. By comparison, my regular Sparkling Rosé (crafted from Pinot noir) is actually 10 grams of residual sugar per liter, and that wine ends up tasting off-dry."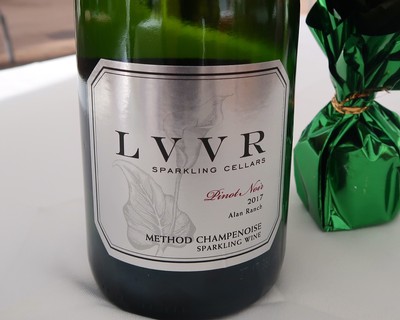 If anything, however, Donaldson's latest pièce de résistance has to be considered his LVVR Alan Ranch Mokelumne River-Lodi Sparkling Pinot Noir ($49). The wine does not have a completely clear straw color, but rather the barest tint of transparent salmon. Extremely fine beads and an intricate nose of baking bread, toasted almonds, lemon peel, and slivers of red berry/pomegranate-like fragrances become tangible in a palate feel that is bone dry (this cuvée is au natural, finished with zero residual sugar), silken fine, yet frothy and incandescent. A party in the bottle (imagine Cate Blanchett kicking off her heels and ripping off her scarf to channel Patti Smith).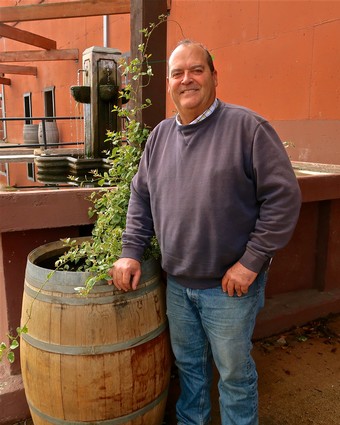 Says Donaldson: "The sparkling Pinot noir really shows its bottled aged character with its deeper, more evolved flavor. I wanted to bottle an Alan Ranch because I really like the grower, Pat Costa, who does a great job getting the grapes picked when they need to be picked, really zeroing in on the chemistry you need for champagne. I can say the same thing for Mike Johnston, who dedicates a small block of Barbera for our Heaven's Gate Vineyard sparkler.
"With these new, reserve-level single-vineyard wines I feel that we are starting to cover more of our customers' tastes. Many of them still like an easier drinking, fruity style of the sparkler, but more and more of them prefer a dryer taste, which these wines truly deliver."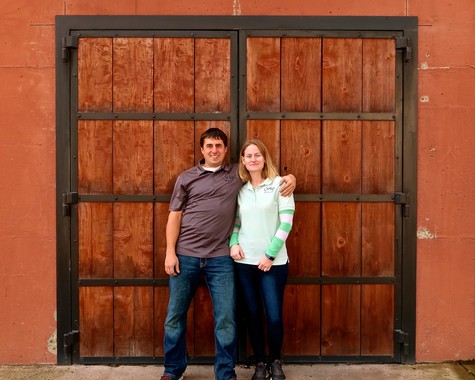 Comments