Letters from Lodi
An insightful and objective look at viticulture and winemaking from the Lodi
Appellation and the growers and vintners behind these crafts. Told from the
perspective of multi-award winning wine journalist, Randy Caparoso.
October 30, 2018 |
Lodi continues efforts to reach new audiences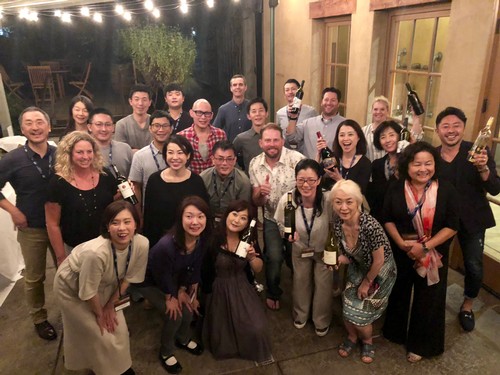 Hiro Tejima is a wine professional new to his job as Japan Director with the California Wine Institute after working many years in the Australian wine industry.
Tejima, who is based in Sydney, Australia, recently brought a group of 20 acclaimed Japanese wine professionals to Lodi. The contingent included sommeliers, wine educators, restaurateurs, media and representatives from the top 10 most successful restaurants in the 2018 California Wines by the Glass Program.
The group spent less than 24 hours in Lodi to start a whirlwind week-long tour of Northern California wine country. Lodi put out the red carpet, beginning with an introductory presentation and dinner at Wine & Roses, followed the next day with a tour of the historic Bechthold Vineyard of Cinsault planted in 1886 on Lodi's west side, a tour of the impressive LangeTwins Family Winery and Vineyards facility in Acampo, and a walk-around tasting of six Lodi wineries and a sit-down lunch inside LangeTwins' Barrel Room. Then, the group boarded a bus and headed for the next region on the California Dreamin' Tour, organized by the California Wine Institute.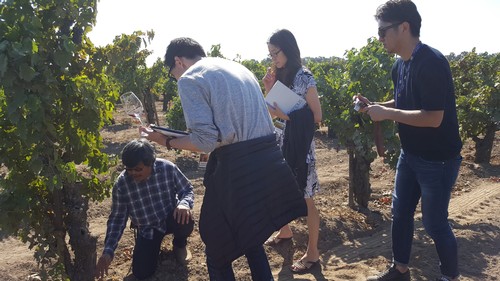 "The first thing that really came to mind was the kind of camaraderie that you have, the togetherness as a community," said Tejima, nine weeks into his job with the California Wine Institute. "The pioneers and the next generations are key to get the people outside of the region to know more about Lodi and what you guys do, so that was really felt."
The Japanese group learned about Lodi's winegrowing history, its artisanal winemaking movement, its diversity as a winegrowing region and its multi-generation farming families, who have been the impetus behind the region's commitment to sustainable farming practices. The visitors touched the soil, examined the vines and sampled the region's cuisine and diverse wines – from Lodi's iconic old vine Zinfandel to out-of-the-ordinary varietals, which Lodi is becoming known for, such as Albariño, Cinsault, Symphony, Clairette blanche, Carignan, Nero d'Avola, Barbera, Petite Sirah and Grenache blanc, to name several.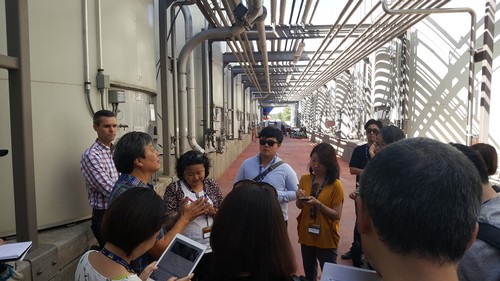 The visit was historic, in that, it was the largest Japan-based group ever to visit Lodi and the first visit to Lodi by winners of Japan's California Wine by the Glass Program, whose California tour is in its 24th year.
"We bring this group every year and they usually start in the Central Coast, Santa Barbara, and they work their way up north," said Diane Berardi with the California Wine Institute's International Program.
"Lodi is gaining traction on the market. It's a new discovery for them. It's generating a lot of interest."
The visiting group included several of Japan's top wine professionals, including members of the Japan Sommelier Association, which numbers some 14,000 members. The group's approach to wine was more academic, they were keenly interested in Lodi's terroir, including climate, soil, topography and latitude/longitude. For instance, the group took copious notes during the visit to the Bechthold Vineyard led by noted wine writer and restaurateur, Randy Caparoso, and as they tasted Cinsault crafted by Greg Burns of Jessie's Grove, Mike McCay (McCay Cellars) and Ryan Sherman (Fields Family).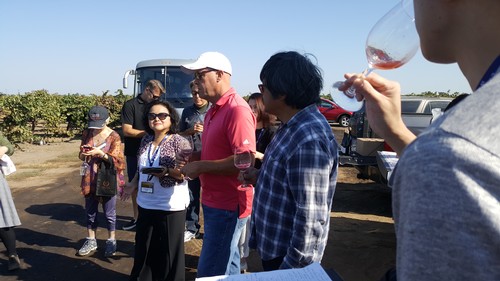 "I talked to some of the people and many are commenting about the Cinsault," Tejima said. "That was really well-represented."
The stories about Lodi's multi-generation farming families appeared to resonate.
"LangeTwins' story really made a strong impression personally," Tejima said. "That kind of story where a family took a great risk (to open a winery) for the sake of the future. Similar stories can be heard in other places, not just in the U.S. but in other countries. Those stories collectively make a place great, so I think Lodi is a great place because of people and stories like that."
The wines appeared to excite the group, too. During the welcome dinner, many were enthusiastic about the Albariño from Oak Farm and Klinker Brick.
"They were floored by the Albariño and not just mine but Klinker Brick's as well," said Dan Panella, owner and assistant winemaker at Oak Farm Vineyards in Lodi. "They were really interested, and I think they were interested in general, whether it was an alternative white or red. But Albariño, in particular, seemed to be the one that garnered a lot of excitement from them."
The visitors also seemed to enjoy the six different top-of-the-line Lodi old vine Zinfandels from LangeTwins, Ironstone, Michael David, Mettler, Oak Farm and Klinker Brick that were served with a barbecue lunch featuring chef Nick Kubitz's glazed pork belly and grilled Lockeford Sausage.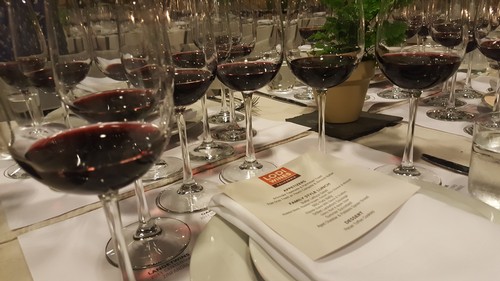 "Our efforts on focusing on the Zinfandels and tasting the six Zinfandels side-by-side to show how they compare and contrast and having the vineyard tour before, that was a pretty nice way to give them an overall look at the different soil types in Lodi and different Zinfandel styles," said Joseph Lange, International Sales Manager and part of the fifth generation at LangeTwins Family Winery and Vineyards. "Leading up to that, being able to show them what we can do outside of Zinfandel with Nero d'Avola and Grenache blanc and all of the other more obscure wines, I think that really opened up their eyes to Lodi's potential."
Which was the goal: exposing influencers in the global market to Lodi's unique place in the wine world.
"I guess I'm a changed person because I have been to Lodi now and met with people and have the understanding," said Tejima, "so the next time someone asks me about Lodi, I can tell them about the people and the same can be said by each person."
This year, Lodi has participated in tastings and trade shows domestically and abroad, including the first Lodi tasting in London; ProWein in Dusseldorf, Germany, the largest wine trade show in the world; VinExpo in Hong Kong, the largest wine trade show in the Asia-Pacific region; and the Food and Wine Classic in Aspen, Colorado. Lodi also has hosted several groups from overseas.
"This past year we've really elevated our international marketing efforts by both attending international shows and hosting groups from Europe, Canada and now Japan, which is really starting to sink home," said Stuart Spencer, Executive Director of the Lodi Winegrape Commission. "We have a great group of vintners that are partnering with us on this and are interested in developing those markets. They are spending the time and energy that's needed to develop a global brand for Lodi wine."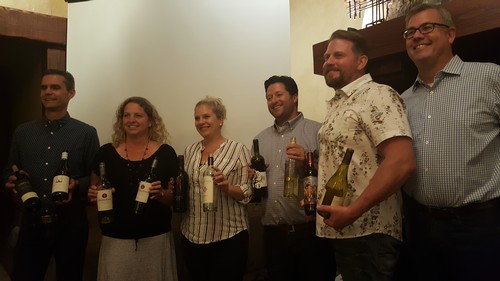 Among the Lodi vintners tackling the global wine market are Lange, Panella, David Phillips with Michael David, Joan Kautz with Ironstone, Kim Mettler-Eells with Mettler Family Vineyards and Farrah Jolley with Klinker Brick. In addition to taking part in the Lodi in London tasting, ProWein and Vin Expo, Jolley has traveled this year to Canada and twice to Europe. She said the Japan visit was important for Lodi.
"It was good for them to come over and see that we aren't a small wine region anymore," said Jolley, Klinker Bricks' Vice President of Marketing and Sales, "but that we are competing on the international level with other wine regions."
Mettler-Eells, General Manager of her family's winery, Mettler Family Vineyards, which has conducted business with Japan for several years, also said the group's visit to Lodi was beneficial.
"It's great exposure and if nothing comes from it at that moment for some of the brands at least it's relationship-building," she said. "Sometimes those things take time and I think it's fantastic they got to come over and they got to see what Lodi is all about."
Comments