Letters from Lodi
An insightful and objective look at viticulture and winemaking from the Lodi
Appellation and the growers and vintners behind these crafts. Told from the
perspective of multi-award winning wine journalist, Randy Caparoso.

July 18, 2016 | Randy Caparoso
Lodi & state of wine blogging to be addressed at 2016 Wine Bloggers Conference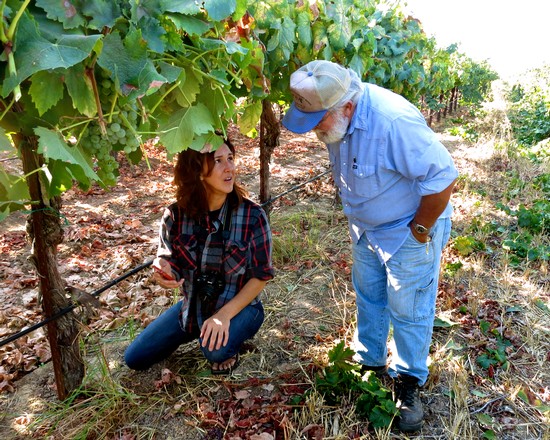 Next month on August 11 through 13, 2016, Lodi wine country will be invaded by several hundred online wine scribes gathering for the 2016 Wine Bloggers Conference. This will be a "9th Annual" – earlier Wine Bloggers Conferences, starting in 2008, happening in places like Santa Rosa, Portland, Walla Walla, New York's Finger Lakes, Charlottesville in Virginia, and Penticton in British Columbia, Canada.
Wine blogging, winefolly.com once posted in 2013, has got to be "the world's drunkest job." But like Julie (Powell) in Julie & Julia, wine bloggers tend to be unremittingly passionate in their pursuit of the fermented grape; and forever hopeful that they, too, may someday wear the golden fleece accorded best selling authors or internationally acclaimed journalists. Indeed, some (albeit precious few) have managed to don some coat or another.
But mostly, these dedicated followers of vinous fashion perform a function, wrought by the internet age, involving the dispensing of knowledge and enthusiasm in a wine world that not too long ago was dominated exclusively by just a handful of periodicals and the few authors who seem to retain a stranglehold on all major book contracts (ever notice that the titles in book store wine sections are all authored by the same handful of writers?). Wine bloggers have democratized wine appreciation, which is a good thing. Power to the wine peeps.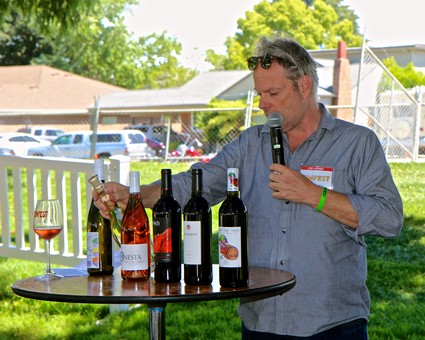 Nonetheless, as winefolly.com quotes Zachary Sussman, one of the more widely read combination-wine blogger/print journalists, as saying: "I've found that most people harbor a rather romantic notion of what it means to be a wine writer, as if it involves leading some posh and fancy lifestyle where you're always jetting off to Tuscany. Usually, it's just me in my underwear, drinking two-day-old Riesling in front of the computer screen with a takeout carton of Chinese."
If anything, the 2016 Wine Bloggers Conference comes at an interesting time in the blogging world; when some of the better known (and industry affiliated) bloggers, such as Tom Wark and Steve Heimoff, have recently speculated that wine blogging is in something of a state of death throes. Or, at very least, steadily disappearing into the maw of that gigantic entropy called social media: an ultimate state of disorderly uniformities if there ever was one – where wine information sharing is increasingly being dispensed in smaller, quicker, sugar coated communal pills such as Facebook or Instagram, or else label scanning applications like Delectable, Vivino and Wine-Searcher.
Is it? Other popular bloggers, like 1winedude's Joe Roberts, do not think that the precipitous dip in Google tracked visits to wine blog sites necessarily indicates that blogging is "dead." Roberts has speculated, "I think that wine blogging has matured and slowed down a bit, chiefly because its most visible and influential members are getting older; they've more responsibilities, less time to blog, etc."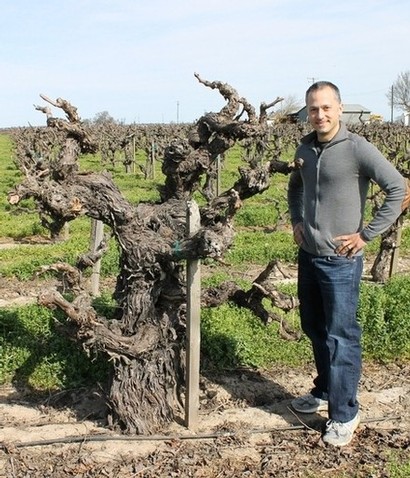 Roberts himself blogs as furiously as ever, undeterred by recent changes in his own personal life. Still, signs of many others finally "growing up" and moving on with their lives – six or seven years removed from the once-heady heights of wine blogs' popularity – are clearly visible in sites either abandoned or updated just once or twice over the past year. Dallas Wine Chick's Melanie Ofenloch recently posted an accounting of her year thus far, telling her readers:
"A journey is defined as the passage or progress from one stage to another... In December, I left my job as Chief Marketing Officer for a software company.... My goal was to finally exhale, spend time with the family and enjoy the ability to have some funded time to decide what I want to be when I grew up... Little did I know where that journey would take me."
Ofenloch, as it were, has continued to regularly chronicle her life of wine, taking her followers on recent escapades through Sonoma, Napa Valley, and Paso Robles, while finding the time to move into a new home closer to her kids' school and start up a new job as a technology marketing consultant. Oh, so that's what wine bloggers do in real life...
That said, this is the official schedule of what will be happening at the 2016 Wine Bloggers Conference, mostly taking place in Lodi's Hutchins Street Square (unless noted otherwise):
WEDNESDAY, AUGUST 10
2:00 PM – Arriving bloggers picked up at Sacramento International Airport and whisked away to Pre-Conference Excursions in several wine regions (in Lodi, bloggers will walk through vines and meet winegrowers showcasing "Experimental and Ancient Vines")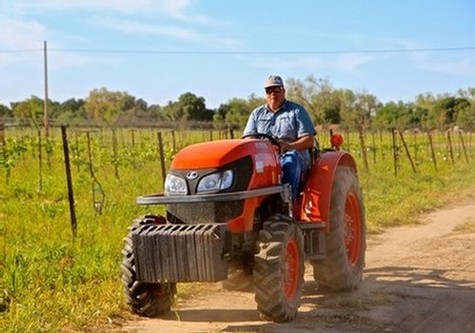 THURSDAY, AUGUST 11
4:00 PM - Drop Off at Host Hotels from Pre-Conference Excursions
6:00–8:30 PM - Registration and Lodi Opening Reception
FRIDAY, AUGUST 12
8:00–9:00 AM - Registration
9:00 AM - Opening & Welcome
9:10 AM - Keynote Address by Master Sommelier Andrea Robinson
9:55 AM - History of Grape Growing and Winemaking in Lodi: A talk on how Lodi became a pre-eminent wine region; moderated by Mark Chandler (Lodi City Mayor and former Executive Director of the Lodi Winegrape Commission), with panelists Aaron Lange (LangeTwins Family Vineyards Manager and Vice Chair of California Association of Winegrape Growers), Kevin Phillips (Michael David Winery/Phillips Farms Vice President of Operations), and Markus Bokisch (Bokisch Vineyards Owner/Grower).
11:00 AM - The Truth About Viticulture Panel: Moderated by Stuart Spencer (Program Director of Lodi Winegrape Commission and St. Amant Winery Owner/Grower/Winemaker), with panelists Tegan Passalacqua (Turley Wine Cellars Director of Winemaking), Stan Grant (Viticulturist, Progressive Viticulture), and Chris Storm (Viticulturist, Vino Farms).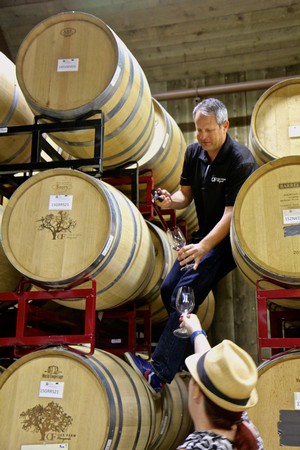 11:55 AM - Lunch and Expo (including the new Writers Corner)
1:45 PM Wine - One of three Wine Discovery Sessions, including sessions hosted by
• U.C. Davis : U.C. Davis alumnus Loyal Miner discusses Clarksburg Viticultural Area and Miner's Leap family estate.
• Visit Oakland
• Consorzio Italia diVini & Sapori: Deborah Parker Wong DWSET presents the varied and delicious wines of Italy's Veneto, from Prosecco to Amarone
3:00 PM - Live Wine Blogging (White & Rosé): The Wine Bloggers Conference's pre-eminent event, in which 25 winemakers have five minutes each to pour their wine, present their story, and answer questions from a table of bloggers. At the end of five minutes, winemakers will rotate to a new table. Bloggers will analyze and describe their impressions live via social media or their blogs.
4:00–8:30 PM - Excursions into Lodi Wine Country: Eight different excursions going to eight different Lodi winery/estates; each excursion to include hands-on winery or vineyard activities, tastings, and dinner.
SATURDAY, AUGUST 13
9:15–10:15 AM - Breakout Sessions, including
• Advanced Social Media for the Wine Industry: Beth Peluse (Zephyr Adventures) and Maria Frangieh (wine industry digital marketing consultant) discuss their favorite social media platforms and how to utilize them to promote blogs and Web sites.
• Traffic Analysis – Dan Morris and Rachel Martin of Blogging Concentrated discuss data usage such as Google's Search Console, BrainstormTools, and Facebook Insightsto increase traffic and revenue.
• Wine Samples: Marisa Indelicato (Fox Run Vineyards), Frank Morgan (Drink What YOU Like), Rebecca Gomez Farrel (The Gourmez) and Chris O'Gorman (Rodney Strong Vineyards ) discuss the intricate, often indelicate dance involving procurement of bottle samples from the wine industry.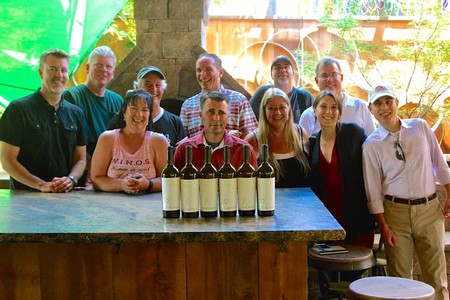 10:30–11:30 AM - Breakout Sessions, including
• Social Media Platforms: Beth Peluse (Zephyr Adventures) and Maria Frangieh (wine industry digital marketing consultant discuss Instagram, Pinterest, Snapchat and Periscope, the four hottest photo and video social media platforms on the internet, and best practices and tips and tricks of the trade for building community and audience.
• Climate Change: Michael Fagin (West Cost Weather LLC) discusses how climate change in United States wine regions will impact the major wine growing regions of Washington, Oregon, California, and New York, and how the industry is adjusting.
• Monetization: Dan Morris and Rachel Martin of Blogging Concentrated discuss earning a respectable income through blogging with use of Ad Networks, Adsense, Affiliate programs, display ads, product sales and by becoming a paid consultant.
1:00–2:00 PM - Wine Discovery Sessions, including
• Discovery Session : Wine Educator May Matta-Aliah DWS presents Au Natural Alsace: The leadership role taken by France's Alsace region in Organic, Biodynamic and Sustainable Wines, sponsored by Wines of Alsace.
• Discovery Session: Yealands Family Wines Winemaker Tamra Kelly-Washington leads a tasting/discussion of the world's first carboNZeroCertTM certified winery, located in Marlborough, New Zealand's extremely windy, cold, coastal Awatere Valley.
2:15–3:15 PM - Wine Blog Award Winners Panel: Five winners of the 2016 Wine Blog Awards tell their stories; including Sophie Thorpe from Berry Bros. & Rudd, Mary Cressler from Vindulge, Jill Barth from l'Occasion, Susan Manfull and Jerry Clark from Provence WineZine, and moderator Sujinder Juneja from Town Hall Brands.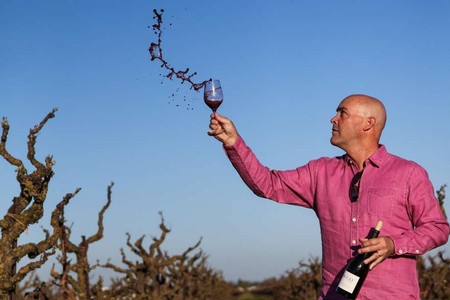 3:15–4:15 PM Live Wine Blogging (Red Wines): The Wine Bloggers Conference's pre-eminent event, in which 25 winemakers have five minutes each to pour their wine, present their story, and answer questions from a table of bloggers. At the end of five minutes, winemakers will rotate to a new table. Bloggers will analyze and describe their impressions live via social media or their blogs.
4:30–5:30 PM - From Passion to Pro – Getting Paid to Write About Wine: Moderator Randy Caparoso (LoCA's lodiwine.com and The SOMM Journal Editor Editor-at-Large) discusses how to make the jump from personal blogging to paid wine journalism, while sharing secrets of their success, with panelists Debra Meiburg MW (Debra Meiburg Master of Wine), Jameson Fink (Wine Enthusiast Magazine) and Deborah Parker Wong (The Tasting Panel Magazine, Vineyard & Winery Management, and Consorzio Italia diVini & Sapori).
5:30-7:00 PM - Wines of the World Receptions featuring Wines of Alsace from France, Yealands Family Wines from New Zealand, and wines from the Consorzio Italia diVini & Sapori from Italy.
7:00–9:00 PM - Dinner with LoCA (Wines of Lodi)
9:00 –9:30 PM - Wine Blog Awards Presentation: Presentation of 2016 Wine Blog Award winners will be presented their awards.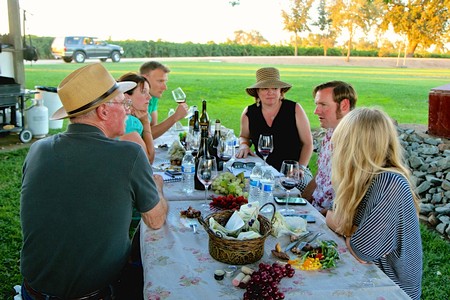 SUNDAY, AUGUST 14
9:30 – 10:30 AM - Breakout Sessions, including
• The Big Jump – Austin Beeman (of Understanding Wine, former Ohio wine retailer and Bonny Doon Director of Marketing) discussws why wineries are "desperately seeking" the skills of wine bloggers.
• Increase Your Audience & Engagement: Mary Cressler and Sean Martin of Vindulge discuss going from social media groups to television producers, freelancing to working with other media sites, and finding ways to promote your blog and increase your community engagement.
10:45 – 11:45 AM - Blogger Reports: Five-minute reports shared by fellow bloggers describing what they are doing to contribute to the world of wine blogging.
11:45 AM – 12:00 PM - Conference Closing
12:15 PM – Departure for Post-Conference Excursions to Ironstone Vineyards in Calaveras, and in Lodi (an exploration of Lodi's "Heritage Vineyards and Ancient Vines"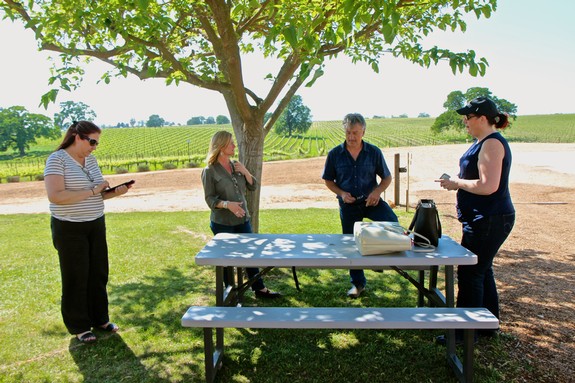 Comments