Letters from Lodi
An insightful and objective look at viticulture and winemaking from the Lodi
Appellation and the growers and vintners behind these crafts. Told from the
perspective of multi-award winning wine journalist, Randy Caparoso.

July 18, 2022 | Randy Caparoso
Little Trouble Wine Co. is brewing hands-off, one-of-a-kind Zinfandel field blends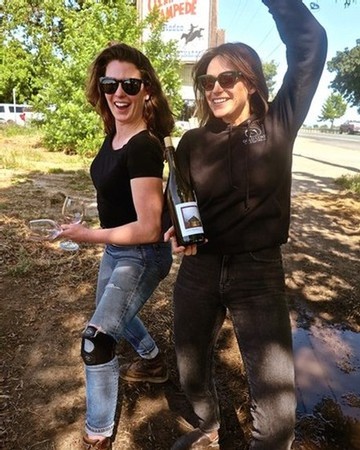 Women winemakers of like minds
Jennifer Reichardt and Sara Morgenstern, co-owner/winemakers of Little Trouble Wine Co., emanate joy and sensibility. You can taste this in their wines, hear it in their story, and see it in their faces. They are like a breath of fresh air in this day and age of cold, calculating wine companies, doing business as usual, producing the same ol' wines for mass market tastes.
Reichardt and Morgenstern met in 2016, after discovering a number of mutual loves—particularly, as they put it, for "bright, fresh wines, low intervention vineyard practices, and fluffy dogs"—they began "dreaming," sometimes "joking," about starting a wine label together. This did not happen, though, until 2020, when the opportunity to purchase Zinfandel field blends from Stampede Vineyard, located in Lodi's Clements Hills AVA, came up.
Reichardt was the one who brought Stampede Vineyard to Morgenstern's attention. At the time, Reichardt was operating her own brand, Raft Wines, which she founded in 2016 after working six harvests in the Sonoma Coast and Australia. Morgenstern's experience entailed working (as she still does) as Director of Operations for Ruth Lewandowski Wines in Healdsburg as well as the founder/winemaker of Killer Quail Wines. A wine industry equivalent of a supergroup, consisting of women!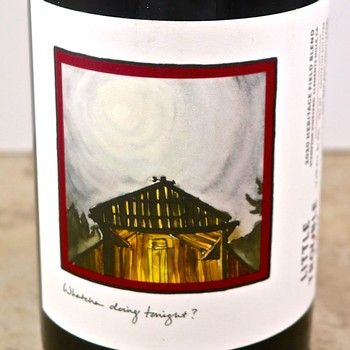 "Our goal." says, Reichardt, "is to make wines that highlight the fantastic vineyards we are privileged to work with. We won't call ourselves 'natural,' but we source solely organic fruit and do as little as possible to intervene in the winery. You can call that what you like." In lockstep, Morgenstern adds that the goal of Little Trouble Wine Co. is "to express fun and transparent expressions of fantastic vineyards," and "getting in the way of Nature as little as possible."
Three Zinfandels in one
Reichardt explains that the "thrill" of working with Stampede Vineyard is that "these are the oldest vines we get to work with, and there's for sure some magic to walking the rows—it's like you're walking through history."
To get the most out of the opportunity, Reichardt and Morgenstern have been producing no less than three different wines from Stampede. All are delightful.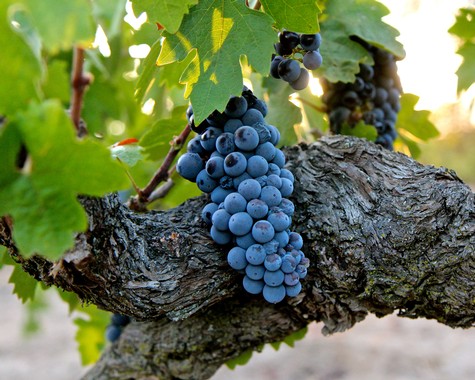 The lightest and undoubtedly the most accessible is the 2020 Little Trouble Wine Co. Heritage Field Blend Sparkling Piquette ($26), which also notates Stampede Vineyard, Clements Hills on the label. Piquettes are an old style of wine—low in alcohol because they are typically made from leftover grape pomace, traditionally by French farmhands for personal consumption—making a modest "comeback" around the world. Little Trouble's bright yet barely pigmented, unfined, and unfiltered reddish Piquette is light as a feather (just 8% alcohol) and redolent of effusively scented red berry and strawberry fruit; these pure and unadulterated fruit expressions floating across the palate like a cloud, in lightly tart, mouth-watering sensations.
Reichardt and Morgenstern bottle this wine as a "Heritage Field Blend" because Stampede Vineyard, which consists primarily of Zinfandel, was also planted to small percentages of Mission and Mourvèdre grapes, plus smatterings of Alicante Bouschet and Flame Tokay, between the 1920s and 1940s. All of these grapes were picked as a field blend for Little Trouble's cuvées.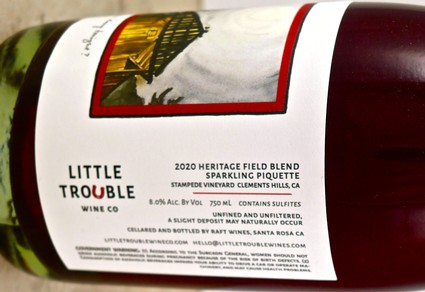 Reichardt explains the process of producing their Piquette, actually as a byproduct of their rosé from the same vineyard: "We pressed the grapes for the rosé lightly to ensure we had some grape matter still left for the Piquette. We added water to the must and let the grapes soak for three days. Once they started fermenting, we pressed them and let the wine ferment in the barrel. We bottled the wine after about 8 months in a barrel. Piquette is a very light wine, but we love how it still expresses the personality and expression of the vineyard."
The 2020 Little Trouble Wine Co. Heritage Field Blend Rosé ($33), Stampede Vineyard, Clements Hills is significantly fuller, weighing in at 13.2% alcohol. The unfined, unfiltered, pure fruit-focused style of the vintners makes this a round, sumptuous, pale brick-ish pink wine redolent with watermelon/raspberry fruit. A touch of pomegranate gives the mouth-filling, gushy fruit a crunchy/fleshy quality on the palate feel.
This rosé, in fact, does not fall in with the current trend for deliberately understated rosés. Reichardt explains how they achieved an ultra-rich texture and fruit expression in the wine: "When the Stampede Vineyard fruit came in, we destemmed the grapes and put half of them into the press to make the rosé. The rosé was pressed to a tank, settled for about a day, then racked into neutral oak barrels. During primary fermentation, there was bâtonnage (i.e., a stirring of spent yeast cells) done to the barrels to build out the palate. The wine went through first and secondary fermentation in a barrel, racked just once, and bottled after 7 months in a barrel with about 20 ppm SO2."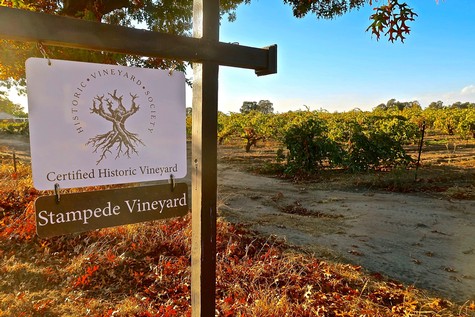 It is the 2020 Little Trouble Wine Co. Heritage Field Blend ($36), Stampede Vineyard, Clements Hills that really captures the essence of the vineyard, which combines intense, pure red berry perfumes and an acid/tannin structure that is significantly edgier than what you typically find in Lodi-grown Zinfandels. Reichardt and Morgenstern's hands-off, unfined/unfiltered regimen and better-left-alone mentality lend themselves to a laser-focused, super-concentrated sensory composition: exuberant red berry/cherry perfumes with a nostril-tingling touch of white pepper/allspice/clove-like spice, followed by pure, front-and-center sensations of this fruit profile in a long, svelte yet sturdy, medium-full body (a moderate 13.2% alcohol).
Reichardt remarks: "The 2020 red was 100% destemmed and fermented naturally [i.e., with native rather than laboratory yeast] for 10 days on the skins. Only gentle punch-downs [i.e., of skins], twice a day. It finished primary fermentation and completed secondary [i.e., malolactic fermentation, when sharper malic acids convert to milder lactic acids] in neutral oak, and was bottled after 7 months in barrel."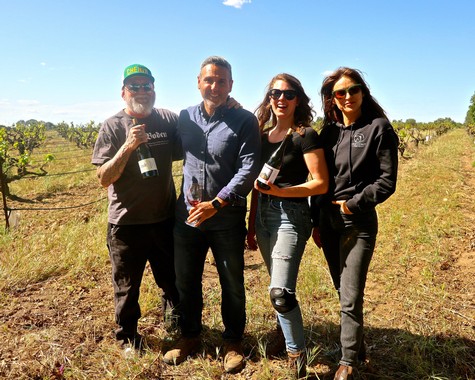 As a sneak preview, Reichardt also shared barrel samples of the prospective 2021 Little Trouble Wine Co. Heritage Field Blend red from Stampede Vineyard. In this vintage, the women employed 25% whole cluster fermentation—that is, instead of destemming the entire lot, they fermented it with a quarter of the grapes kept completely intact as bunches, stems, and all—which is clearly resulting in a deeper colored, thicker red wine.
While 2021, when finally bottled, will retain a stronger tannin grip than 2020, it will also be deeper in the vineyard's characteristic black cherry fruit perfume, more pungent in peppery spice, and richer and more velvety in texture. If you're an aficionado of one-of-a-kind California Zinfandel, look out!
The even better news? "Our work in Lodi is just beginning," says Reichardt, "we are excited about the possibilities of other Lodi-grown wines!"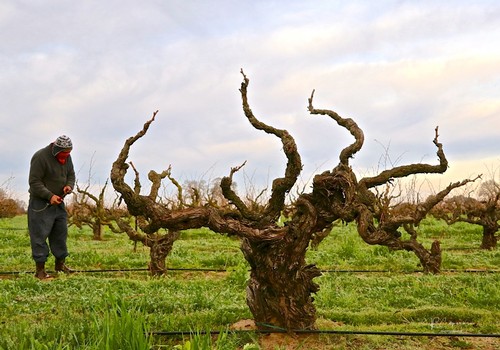 Comments